Titus expects to endorse a presidential candidate before Christmas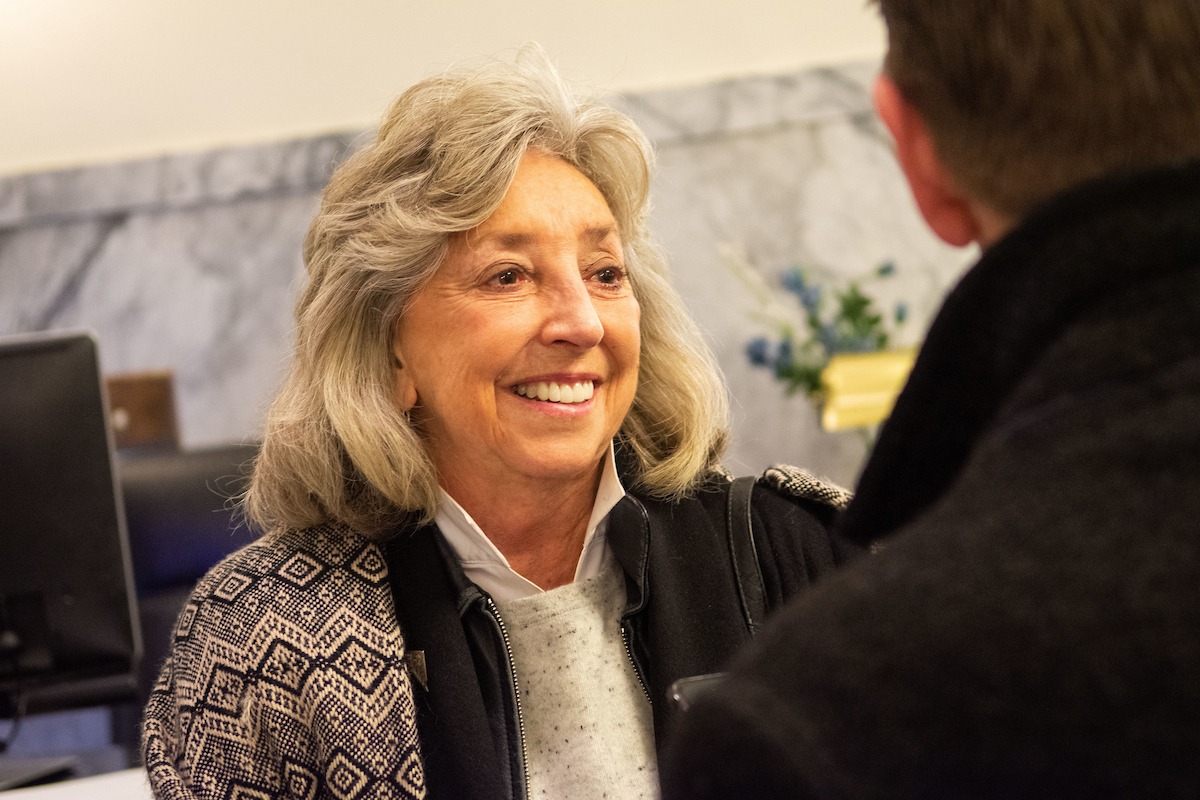 Rep. Dina Titus expects to endorse a Democratic presidential candidate before Christmas and is sizing up potential nominees based on their opposition to storing nuclear waste in Nevada, their interest in expanding health care coverage and their dedication to preserving public lands, among other issues. 
"I'd like to time it to some event in the district when I'm back there," Titus said in an interview. "I haven't got it time certain, but it will be before Christmas." 
She kept her cards close to her vest with regard to which candidate would get the nod. She told The Nevada Independent last year that she might be partial to former Vice President Joe Biden should he run. 
"He's been consistently ahead in the polls," Titus said, but added that Warren is hot on his heels.
Her endorsement would come before Nevada's Democratic caucus on Feb. 22, which Titus believes "seems like it's pretty wide open," with no candidate having any particular edge. It is an important caucus because it is the first in the western U.S., meaning a victory in Nevada could provide candidates with crucial, early momentum.
"It's hard to tell because with the new caucus system" -- which is based on  in-person early caucusing,  "is that gonna bring in more people who haven't participated in the past?" she said. "And where will they likely fall? The caucus has such low turnout compared to a primary that it's difficult to project."
She said that candidates with better ground games, such as Massachusetts Sen. Elizabeth Warren and Vice President Joe Biden, which can motivate people to turn out, should do well. 
But she added that none of the candidates is taking Nevada for granted. "They're all building up pretty strong field teams, and they show up," Titus said, noting, for example, that most of the candidates had tables at a dinner hosted a couple of weeks ago by the Women's Democratic Club of Clark County.
Rep. Steven Horsford has also said he is considering endorsing before the nominating contest—the third in the nation after Iowa and New Hampshire
Part of the reason that Titus will make an endorsement is that she frequently hears from constituents in her heavily Democratic district asking her who she supports. She said that she wants to help them decide. 
"In my district, whenever I run into people, or even if I don't run into them, they call me, [and] they always want to know 'who should I vote for,' 'how should I vote,' 'do you know anything about this person,' things like that," Titus said.
She also feels that making an endorsement is part of her responsibility as dean of the congressional delegation, the state's longest-serving federal lawmaker. But she demurred when asked if she was filling a void left by former Sen. Harry Reid, who retired from office as Senate majority leader in 2017. 
"I would be complimented if that were the case," she said, referring to the influential Reid, who is credited with helping elect Nevada Democrats and building up the state's relevance in presidential elections with his push to make the Nevada caucus the first in the West beginning in 2008.
Titus also likened her decision to make an endorsement to her decision in July to call for an impeachment inquiry into President Donald Trump, which was in response to questions she also received from constituents. 
"I explained it to the public," she said of the video she released detailing her decision. 
Along with expanding health care, opposing building a national nuclear waste repository at Yucca Mountain, and preserving public lands, electability is also an important criterion for Titus.
"First, I want to be sure that they agree with my general policies, that they support the issues that are important to my district, and that they've got the wherewithal to get elected," she said. 
She also wants the candidate to have "the experience to put together a good team, to surround yourself with good folks," she said. 
She suggested that members of the Democratic field would make excellent cabinet secretaries, such as Washington Gov. Jay Inslee, who dropped out of the race last month, to head the Department of Energy or the Environmental Protection Agency. During his campaign, Inslee had argued that tackling climate change should be the nation's top priority, and he made his opponents take a stand on the issue.
Titus recommended South Bend Mayor Pete Buttigieg, who served as a lieutenant in the U.S. Navy Reserve and fought in Afghanistan, to head the Department of Veterans Affairs, should he not win the presidential nomination. 
Asked if Trump can win the state, Titus said "he can, but I don't think he will."
She believes the demographics in the state, where one in five Nevada residents was born in another country, favor Democrats. 
"We're more representative of the general population because we're more diverse," Titus said.
A poll out Wednesday had Warren leading Biden by six percentage points nationally following the last debate. 
Titus was upbeat on Warren, praising her history fighting big banks during the 2008 recession and her call to rein in Wall Street banks.
"And I'd like to see a woman president. Sure," Titus said.
She called California Sen. Kamala Harris a "great debater" and said former Texas Rep. Beto O'Rourke is a kindred spirit on gun violence. O'Rourke, who represented El Paso, reached out to Titus, whose district was the site of the Route 91 Harvest Festival shooting, after the tragic shooting in El Paso.
Titus said she has done events or spoken with almost all of the candidates, including Biden, Warren, Harris, Buttigieg, and Jullian Castro. 
The Nevada Democrat will be eagerly watching the next debate, which will include billionaire Tom Steyer, who has strongly advocated for Congress to impeach the president. 
"There's just such a broad field, as it turns out, so many people in it and so many of them are exciting for different reasons," Titus said. "I'm interested to see the next debate. And it'll have Tom Steyer in there. That should mix it up a little bit."
This article was updated on at 9:29 a.m. on Oct. 7, 2019, to add a comment from Rep. Dina Titus that she does not believe President Donald Trump will win Nevada in 2020.
Comment Policy (updated 4/20/2021): Please keep your comments civil. We reserve the right to delete comments or ban users who engage in personal attacks, use an excess of profanity, make verifiably false statements or are otherwise nasty. Comments that contain links must be approved by admin.