Titus facing hardest race in recent years to retain seat in newly competitive district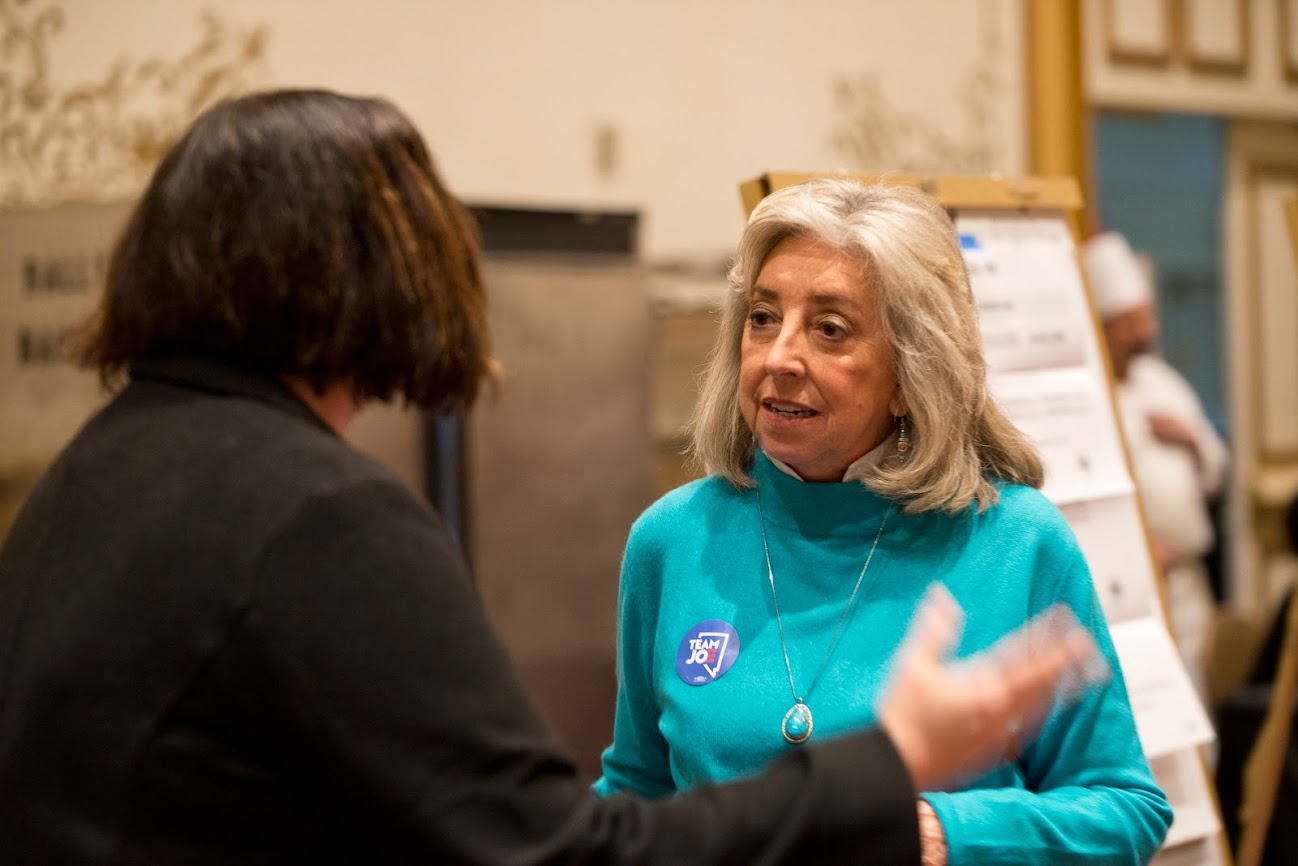 In April, Rep. Dina Titus (D-NV) made her way to the front of a room in downtown Las Vegas to address what could be considered a friendly audience — the Latin Chamber of Commerce. The longtime congresswoman has relied on Latino support to propel her to victory year after year in Congressional District 1 when it encompassed the heart of urban Las Vegas.
But last year's redistricting process altered her district boundaries, adding in more Republican-heavy suburban areas and suddenly making her re-election bid less of a sure thing. The newly lively race to represent the reshuffled district has attracted 12 candidates — including eight Republicans and Bernie Sanders-aligned Democrat Amy Vilela running to Titus' left.
Titus put a positive spin on the situation during the Latin Chamber campaign stop, noting that she previously represented some of District 1's newly added areas as a state legislator.
"It's really like coming home. It's just a matter of reintroducing myself," she told The Nevada Independent. "We're looking forward to meeting new people and hearing what they have to say … You either run scared or run unopposed and that's what we've always done."
Several Latino leaders and organizations announced their endorsement for Titus at the event, which was part of a "Todos con Titus" campaign: the Nevada Hispanic Legislative Caucus, former state Sen. and chief of staff for Gov. Steve Sisolak Yvanna Cancela, Las Vegas City Councilwoman Olivia Diaz and North Las Vegas Councilman Isaac Barron, among others. 
At the podium, Titus pointed to her years-long relationship with Latino leaders and the Hispanic community and her voting record on issues that affect District 1 and its diverse population.
"We make immigration a priority because we have the most ethnically diverse district in the state and one of the most in the country," Titus said. "And we have many mixed-status families in this district … We have introduced and passed a number of bills out of the House that deal with immigration and a pathway to citizenship."
Titus has openly expressed her unhappiness with the redrawn district, recently calling it "the worst district in the state" in an interview on the public affairs show Nevada Newsmakers.
During the "Todos con Titus" event, Titus told The Nevada Independent that it would be a challenge to reach the newly included residents of CD1 who may not agree with her, especially on immigration policies.
"That's one of the reasons that I was opposed to the way the lines were drawn, because it broke up the Hispanic community, and I think that district should have that sense of community," she said. "Now we've got the east side that wants immigration reform, and then you've got Boulder City and Anthem where they have different priorities."
The new District 1 encompasses the heart of the Las Vegas Valley, extends further east in Clark County and includes more of Henderson and Boulder City, adding more Republican voters to the once safely blue district.
Before redistricting, District 1 had more than 147,000 registered Democrats and fewer than 66,000 registered Republicans — a more than 2-to-1 advantage for Titus' party. The most recent voter registration statistics, published in March, show District 1 has 153,790 Democrats and 108,616 Republicans, or an 11-point Democratic advantage.
Those margins aren't cause for comfort for Democrats, given the high number of nonpartisan voters and likelihood of Republican gains in the midterm elections. FiveThirtyEight gives the revised district a partisan lean of "D+4," a measure of the "difference between how a state or district votes and how the country votes overall."
Titus also has sought to differentiate herself from her primary challenger Vilela, who is a Socialist Democrat and served as the Nevada state co-chair for U.S. Sen. Bernie Sanders' presidential campaign in 2020.
"I am a progressive, but I don't believe in defunding the police. I'm for Medicare for all, but you've got to do it in a step-by-step process," Titus told Nevada Newsmakers host Sam Shad in March. "I am for every environmental issue out there … But I can't just say overall the 'Green New Deal' because that is a push toward nuclear power. And until you solve the nuclear waste issue, I don't think we need to be developing more nuclear power."
Titus has held the seat since 2013, serving five terms. Prior to representing District 1, Titus represented Congressional District 3 for just one term between 2008 and 2010 before losing in a close race against Republican Rep. Joe Heck. Before that, Titus served in the Legislature starting in 1988 and was state Senate minority leader from 1993 to 2008. She was also a political science professor at UNLV before retiring in 2011.
Vilela ran for the 4th Congressional District in 2018 with a platform focused on Medicare for all, and sharing the story of her young adult daughter's death, which she blames on an inadequate health insurance system. While she took 9 percent of the vote, Democratic Rep. Steven Horsford won the primary in a landslide and ultimately won the election.
Titus has far outraised her opponents heading into a big election year. She reported raising more than $360,000 in the first three months of 2022 — nearly $90,000 more than she brought in during the fourth quarter of 2021 — and has $1.12 million cash on hand. Vilela raised nearly $112,000 in the first quarter. In the same fundraising period she spent about $101,000 leaving her with $47,000 cash on hand.
'Do-nothing leadership'
The congresswoman serves on the transportation and infrastructure, foreign affairs and homeland security committees. She's a vocal opponent of locating the Yucca Mountain nuclear waste repository in Nevada, active on animal rights issues and outspoken on the need to legalize marijuana at the federal level.
But Vilela criticized Titus for "failed do-nothing leadership" during a canvassing kickoff event in February, where about a dozen volunteers wearing hot pink shirts and carrying signs gathered at a park near Harry Reid International Airport.
Vilela said Titus is no longer doing enough for District 1 residents, arguing that Titus has grown complacent and has been influenced by donations from large corporations.
"Time and time again, [Titus] has never faced a serious threat to her re-election from either party. With that kind of security, she has the opportunity to be a leading voice for bold, real progress," Vilela said to the crowd. "But she's declined to do so … She's embraced that security to make excuses to take her foot off the gas when it comes to organizing our community and mobilizing voters to show up to the polls."
Before her canvassing launch, Vilela held a press conference about climate change on a Lake Mead overlook, which showcased the shrinking reservoir. There she said she would support the Green New Deal to combat climate change and to get "100 percent off of fossil fuels once and for all." She also denounced the Clark County lands bill introduced by Sen. Catherine Cortez Masto (D-NV), which would expand the Las Vegas metro area through more development and designate additional public land for conservation.
"It's about making sure we have a livable wage, that we have Medicare for all, that we are fighting against corporate influence in our politics, that we're getting money out of politics, that we're fighting for a Green New Deal," Vilela told The Nevada Independent during her campaign launch. "We need fighters in Congress that are going to bring that power and that passion so that we're not just showing up to vote but actually doing the work and using every tool at our disposal to make sure that they get passed."
In her own interview with Shad, Vilela emphasized that in her view Democrats need to "[deliver] on the promises that we've made" and called herself the "real Democrat." Vilela has been endorsed by Our Revolution, a progressive political action organization spun out of Sen. Bernie Sanders' 2016 presidential campaign.
"This race has never been about who's more progressive. It's about what type of leadership this district needs and deserves," Vilela told Shad on Newsmakers. "And when it comes to having power in Congress … I would not be just coming in by myself, but joining other progressives who are also fighting for these policies that are so important to the working class."
Republican candidates
With the new district boundaries and demographics, Republican candidates are sensing the opportunity to flip the seat held by Titus. The last time a Republican won District 1 was more than 20 years ago, when Rep. John Ensign coasted to re-election.
The Cook Political Report ranks District 1 as competitive but leaning Democrat. In 2020, the district was not even mentioned in Cook's report of competitive districts, while Nevada's 3rd and 4th congressional districts were included. This year, both have been labeled as a "toss up."
The eight Republicans running in District 1 include conservative activist David Brog, former District 4 Rep. Cresent Hardy, retired U.S. Army Colonel Mark Robertson and former Latinos for Trump leader Carolina Serrano. Robertson and Serrano both switched districts to run in District 1 — Robertson was previously running for District 3, and Serrano for District 4.
During the candidate filing period last month, Brog called on Titus to retire before she turned in her paperwork on the last possible day, making her the last of the incumbent House representatives to file for re-election.
"The people of Nevada's First Congressional District deserve a representative who's grateful for the opportunity to serve them and passionate about fighting for them," Brog's statement said. "Rather than file for reelection, she should announce her retirement so that someone who wants the job and will fight against Joe Biden's radical agenda can serve the people of Nevada's First Congressional District."
He also cited a New York Times article stating that Titus was seeking an ambassadorship, but didn't get one "because Democrats couldn't risk losing her seat." Brog said in the statement that if Titus "much rather sit in an embassy abroad" and leave Congress, then she "should go ahead and leave."
Brog is the executive director of the Maccabee Task Force, a group that aims to combat the spread of antisemitism on college campuses. According to his website, Brog "helped propel" former President Donald Trump's America First agenda. Brog raised a total of $284,000 in the six weeks after announcing his bid for candidacy in mid-February, including a $50,000 loan from himself, and had $263,600 cash on hand at the end of the first quarter.
Former attorney general and Senate candidate Adam Laxalt endorsed Serrano in January. In her video advertisement, Serrano defends the America First movement and says she won't stand by and let Democrats "attack" conservatives. In her advertisement, she switches to Spanish and closes by stating she is Democrats' "worst nightmare."
The Nevada GOP announced in April its endorsements for congressional district candidates, which included Serrano for District 1. In the first quarter of 2022, Serrano raised nearly $283,000, all from individual contributors, and she ended the period with $262,000 cash on hand.
"Polls continue to show I am the only candidate who can beat her in a head to head matchup in the newly drawn district that has a large Hispanic population," Serrano said in a statement.
Hardy filed his statement of candidacy on the last possible day, which prevented him from doing much fundraising before the quarterly deadline. In a release announcing his candidacy, the former two-term assemblyman said he has "unfinished business in Congress" and pointed to high inflation and his desire to improve Nevadans' quality of life as reasons for running. He has yet to hold any campaign events or update his campaign website and social media.
Hardy previously represented District 4 from 2015 to 2017 until he lost re-election against Rep. Steven Horsford by 7 percentage points. Prior to entering Congress, he was a partner in a construction company. He also served in the Assembly from 2011 to 2015 and was part of the Mesquite City Council from 1997 to 2002.
In January, Robertson's campaign announced January was his biggest fundraising month, bringing in $90,000. By the end of the quarter, he raised more than $176,000, including a nearly $60,000 loan to himself.
Robertson spent 30 years in the U.S. Army and its reserves, and according to his campaign website, he is also a certified financial planner. He also taught finance as an adjunct professor at UNLV.
Robertson also aligns with the America First agenda. He supports building Trump's wall on the southern border, opposes abortion except in cases of rape or incest and supports renewable energy, including nuclear, geothermal, hydro and solar. He has been endorsed by Arizona Republican Congressman Andy Biggs, the former chairman of the conservative House Freedom Caucus. Although Rep. Mark Amodei (R-NV) has not endorsed Robertson, he donated $500 to his campaign in 2021.
"I'm [running for Congress] because I don't like the direction our country is going. I don't like the loss of personal freedoms that we've experienced," Robertson said in a video statement. "I decided I can no longer sit back and just hope that somebody else will do something about it. I decided I need to get involved."
Voters will winnow down the Democratic and Republican fields during the primary election on June 14. To learn more about primaries and how to participate check out our recent primary explainer, as well as our brief informational video.