Cortez Masto introduces Clark County lands bill to expand Las Vegas footprint, designate public land for conservation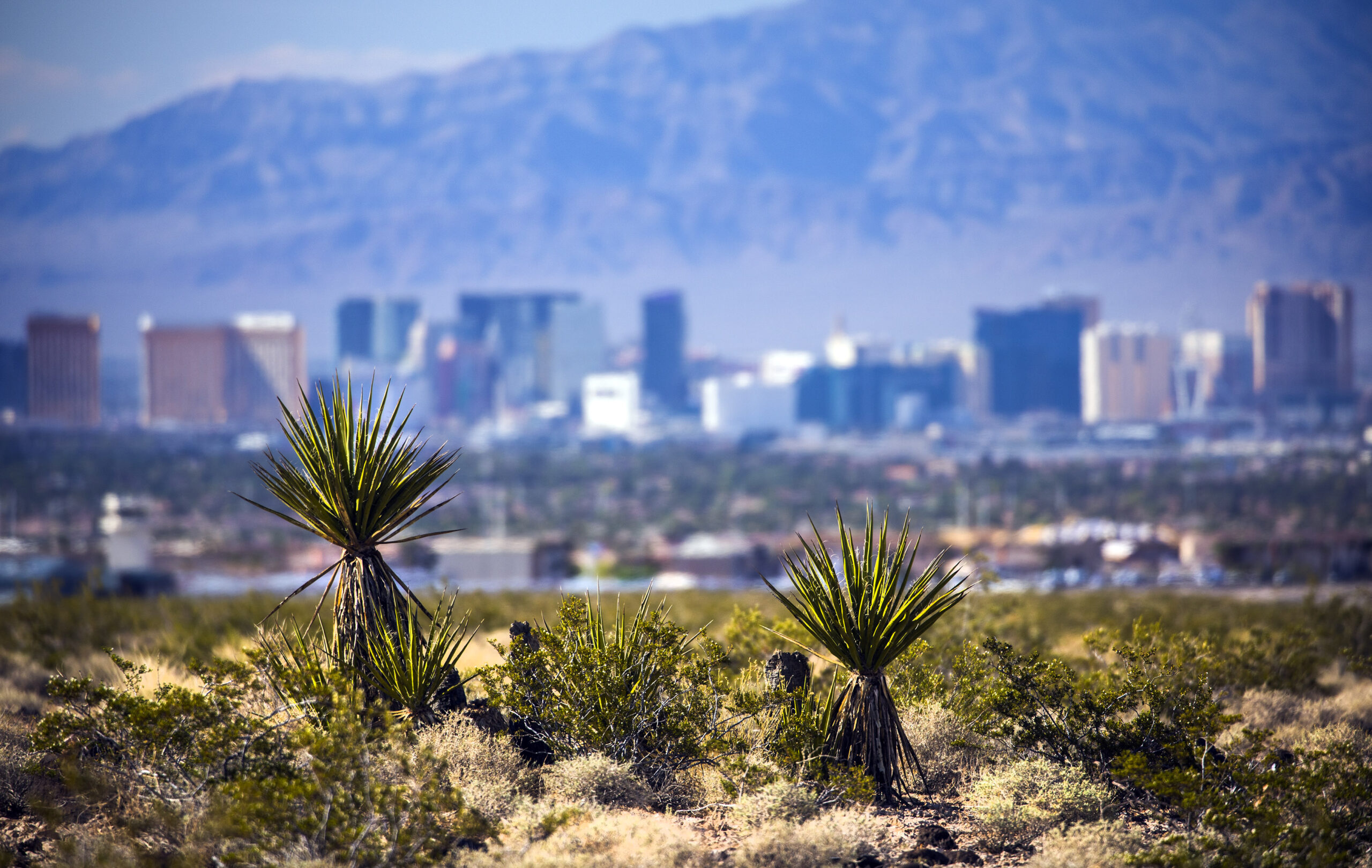 Good morning, and welcome to the Indy Environment newsletter.
As always, we want to hear from readers. Let us know what you're seeing on the ground and how policies are affecting you. Email me with any tips or suggestions at [email protected]
To get this newsletter in your inbox, subscribe here.
---
Democratic Sen. Catherine Cortez Masto introduced long-awaited legislation Wednesday that would change the way public land is managed in Clark County, creating a path to grow the Las Vegas metro area toward California while setting aside land for conservation and recreation.
The introduction of the legislation comes almost three years after the Clark County Commission, then-chaired by Gov. Steve Sisolak, asked the state's delegation to introduce a public lands bill.
For years, elected officials, county staff and real estate developers have predicted a demand for more developable acreage with the Las Vegas area, encircled by federal public land, forecast to grow. In an interview, Cortez Masto said the bill looks to balance new growth with conservation.
Cortez Masto said she worked to answer the question: "'How do we find a balanced approach?"
She said the goal, drafting the bill, was "that we actually look to diversify our economies through this bill, that we build more affordable housing but that we also then continue to preserve the outdoor spaces that we have across Southern Nevada for outdoor recreation and conservation."
"That's why it took us some time to really talk with folks, engage the cities, engage the county and make sure that everybody had an opportunity to weigh in," she added.
The bill, as introduced, would open up a large stretch of federal public land, running south along the I-15 corridor toward Jean and the California border, for potential commercial and residential development. It also opens up public land near Indian Springs, Laughlin and the Moapa Valley.
At the same time, the legislation proposes conserving about 2 million acres of public land. The bill would establish 337,406 million acres of wilderness in the county and protect about 1.3 million acres of the Desert National Wildlife Refuge as wilderness. The refuge is the largest in the contiguous United States and has faced recent threats with the Air Force looking to expand a training range. The bill would also set aside about 350,000 acres of land for wildlife habitat.
In Nevada, the U.S. Bureau of Land Management oversees about 67 percent of the land. As a result, the federal government — and Nevada's congressional delegation — play a role in how land is managed. Accordingly, the bill proposes changes to land management across the county.
It would convey 41,255 acres to the Moapa Band of Paiutes, whose lands originally consisted of more than two million acres in 1874 and were substantially reduced by Congress one year later. The bill would also convey public land currently leased for municipal use (parks, schools, etc.).
How the legislation came to be is the result of a long, arduous and often controversial process. The county's original proposal took heat from environmental groups. It protected a fraction of the acreage that Cortez Masto's bill does and was viewed by several groups as subverting the spirit of the Endangered Species Act. In October 2019, 14 groups sent a letter of concern to the delegation.
Then there was a wait. A discussion draft came out in January 2020, and Cortez Masto signaled that the bill would be introduced in December. In that time, Cortez Masto's office reached out to dozens of groups to make changes to the county's original proposal. When the legislation was introduced on Wednesday, my inbox is proof that many groups, though not all, were in support.
The county put out a supportive press release. The homebuilders. The commercial real estate developers. The Nevada Conservation League. Friends of Nevada Wilderness. Save Red Rock.
Shaaron Netherton, executive director of Friends of Nevada Wilderness, said that the bill "would be the single largest designation of wilderness acres in the state's history, ensuring continued public access to these lands and critical wildlife habitat and cultural resource protection."
But some environmental groups remain skeptical of the tradeoffs in the bill: future sprawl for conservation. Patrick Donnelly, state director for the Center of Biological Diversity, said the bill was an improvement over what the county had originally proposed. But he said he rejected the premise that conserving more land would offset the environmental impacts of increased sprawl.
Donnelly said in an email that the growth pattern contemplated in the bill "perpetuates a pattern of development that has brought our society to the brink of ecological and climate collapse."
Dexter Lim, an organizer with the Sunrise Movement Las Vegas, echoed these concerns.
"Our current reality of environmental crises have intrinsic roots in the irrevocable effects of urban sprawl," Lim wrote in a statement. "Continuing this practice over more sustainable and land-efficient strategies such as infill development is ignorant of the intersectional climate, housing, and transportation injustices that already plague residents of Clark County."
While the earlier iterations of the legislation did not address climate change, Cortez Masto's bill does include a provision aimed at climate action. The legislation would allow funds generated through the sale of public land to benefit projects to address climate change in Clark County.
What's next? Cortez Masto said that the entire delegation supports the proposal. The senator said the bill could potentially move as part of other congressional legislation or independently.
She also said she expects to continue hearing from constituents about the legislation.
"This draft that we're going to put out now, I'm sure there are some people that have not had a chance to see it," Cortez Masto said. "We're open to making sure it gets in front of them, and if they have thoughts on something in this draft, we're open to listening to them as well."
Here's what else I'm watching this week:
---
THE LEGISLATURE
Blockchains, Sisolak and a new city: During a roundtable on Friday, my colleague Michelle Rindels asked the governor about environmental concerns, specifically related to water, in his administration's legislative effort to create Innovation Zones. The proposed legislation would allow a technology company to develop a self-governing community near Reno. Sisolak said the company would be required to find water for the project. The company has, as we reported. The plan is to import water from rural Nevada, raising several environmental and equity concerns.
Where the wild things are: April Corbin Girnus writes in the Nevada Current about legislation, backed by the state's natural resource agency, that would limit the public release of information on sensitive species: "State officials contend they are trying to protect species. Environmental groups fear the state is aiming to protect proposed industrial developments from public scrutiny."
Fixing injustices in geographic naming: Lawmakers are considering a bill that would give Indigenous communities more representation in naming geographic places. As my colleague Jazmin Orozco-Rodriguez wrote in our legislative newsletter Monday, "Native voices could be given more prominence in such decisions if the Legislature approves AB72, which would add a Nevada Indian Commission member to the state geographic names board." On a related note, if you are not already subscribed to our biweekly legislative newsletter, you should sign up here.
Is the mining industry paying its fair share? My colleague Riley Snyder talked with Nevada Mining Association President Tyre Gray about efforts to change limits on the mining tax.
Spending big: Nevada Gold Mines, a joint-venture between Barrick and Newmont, donated $500,000 to a PAC affiliated with Sisolak. The PAC gave money to Senate Democrats as the Legislature is looking at increasing mining taxes. My colleague Jacob Solis has a story on it.
WATER AND LAND
Supreme Court rules on domestic wells: The Supreme Court ruled in favor of Nevada's top water regulator in a long-running and closely-watched dispute over domestic wells in Pahrump, Robin Hebrock reports in the Pahrump Valley Times. For background on the issue, I wrote a piece back in 2018 looking at some of the complexities (and misinformation) around the issue.
The Colorado River negotiating table: Colorado River water users are set to begin discussing how to manage the watershed as the climate changes and populations continue to grow. Luke Runyon reports for KUNC on the conversations about what the negotiating table might look like.
ENERGY AND CLIMATE
A Nevada lithium mine and a new rush: A second lawsuit was filed last week challenging the Trump administration's decision to permit the Thacker Pass lithium mine north of Winnemucca, Brian Bahouth reports for the Sierra Nevada Ally. Last month, High Country News reporter Maya Kapoor and photographer Russel Albert Daniels wrote about the project in the context of a rush to develop lithium mines in the Western U.S. and Nevada. This story is definitely worth reading.
Reuters reporter Ernest Scheyder explores the tensions around permitting mines and supplying the raw materials needed to transition the economy away from fossil fuels.
USDA puts brakes on land transfer for Arizona mine, the AP's Felicia Fonseca reports.
Could it happen here? Is Nevada's power grid prepared for more extreme heat waves? Is it prepared for climate change? Utility regulators are investigating that question, my colleague Riley Snyder reports following the winter storm in Texas that led to a devastating power crisis.
OUTDOOR RECREATION
Outdoor recreation hit by COVID-19: Despite anecdotal evidence that more and more people are turning to the outdoors during the pandemic, the recreation industry in Nevada ended last year with 3,600 fewer jobs, according to a new report. Mike Shoro reports for the Las Vegas Review-Journal: "State officials had previously suggested the pandemic had accelerated the growth pattern. The new report suggests that may have been true in some cases, but not all."
Lake Tahoe ski resort sued over 2020 avalanche: "The widow and a friend of a man killed in an avalanche at a Lake Tahoe ski resort last year have filed separate lawsuits accusing the resort of negligently rushing to open the slopes in unsafe conditions for a holiday weekend that's typically one of the busiest of the season," Scott Sonner writes for the Associated Press.
The Nevada Independent is raising $200,000 by Dec. 31 to support coverage of the 2024 election.
Tax-deductible donations from readers like you fund this critical work.
If you give today,your donation will be matched dollar-for-dollar.
Give + Get Matched
Featured Videos