Top Republican candidates line up behind Question 3, extol Nevada's low-tax 'exceptionalism' at forum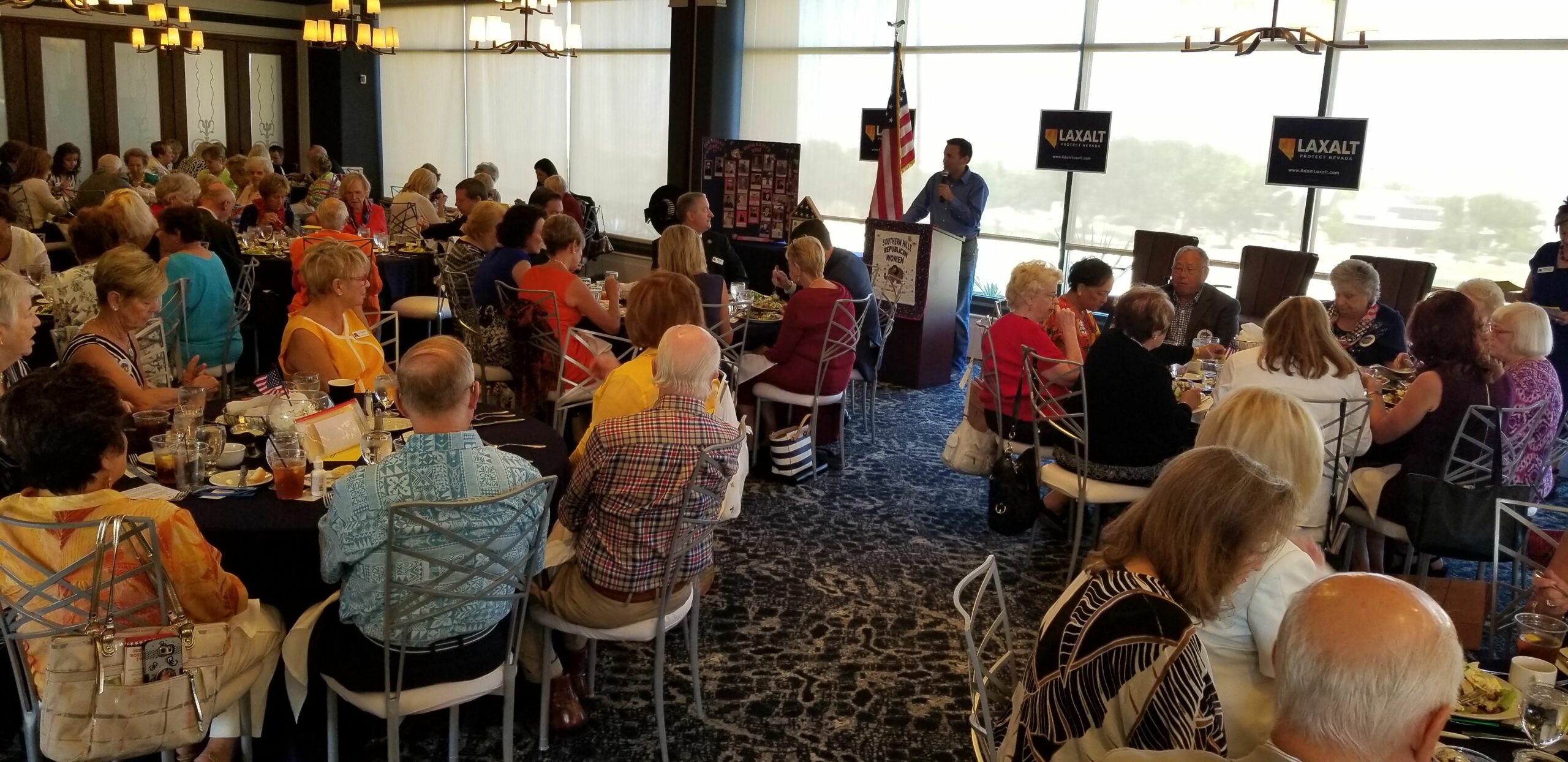 Republicans running for three of Nevada's top statewide offices said they would back Question 3, the ballot measure known as the Energy Choice Initiative that seeks to end monopolies among utility companies and has been the subject of a pricey proxy war between billionaires.
Gubernatorial candidate Adam Laxalt, lieutenant governor candidate Michael Roberson and attorney general candidate Wes Duncan all threw their support behind the ballot measure during a forum hosted by the Southern Hills Republican Women's Club in Henderson on Tuesday. All offered arguments extolling the virtues of a free market.
"I believe that any chance we have to deregulate something and make sure there isn't a monopoly will lower prices. That's why I support it," Laxalt said. "You're kind of only hearing one side right now, that it's going to make it more expensive. I don't believe that, or I wouldn't support it."
The candidates also touched on a variety of other issues, including their plans to improve education, the need to be tougher on crime and the outlook for an election that'll take place in fewer than 70 days.
Here are some highlights.
Energy Choice Initiative
The proposed constitutional amendment to open energy markets to further competition is shaping up to be the most expensive and highest stakes contest on the ballot. While it passed overwhelmingly in 2016, true opposition hasn't emerged until now, and total spending in the campaigns is expected to reach as high as $30 million to $60 million.
The pro-Question 3 campaign is backed almost entirely by Las Vegas Sands (owned by Republican mega-donor Sheldon Adelson) and data center company Switch. Opponents are backed by NV Energy, owned by Warren Buffett's company Berkshire Hathaway. A steady drumbeat of endorsements and commercials have been rolling out.
Republicans are divided: Rep. Mark Amodei and Gov. Brian Sandoval are undecided, while candidate and former Rep. Cresent Hardy raised doubts about the measure although he says he's technically neutral. But on Tuesday, the candidates in attendance were heartily in favor of it.
"I support Question 3 for the same reasons I supported competition for the taxi cartel in 2015: monopolies aren't good for consumers. It's not good for free enterprise," Roberson said, before turning to push back against assertions that breaking up the monopoly would cause the problems California saw through deregulation in the early 2000s. "If you look at Texas, it's worked very well. I understand everyone sees the TV ads ... I understand good people can disagree on this. But I think the ads right now, funded by Warren Buffett and NV Energy, are scare-mongering. It's not deregulation. It is re-regulation."
Laxalt argued that any problems could be headed off through the governor's office or the Legislature.
"It's also important to note that the way it is written, there's five years to put together the plan that does what Question 3 is supposed to do," he said. "And so there's all sorts of opportunities for a governor or the Legislature to make sure that it does what it's supposed to do. So certain parts of the state that may have troubles, the Legislature can figure out a way so that no consumer ends up being left behind."
Duncan backed the ballot measure on the argument that a freer market will lead to lower prices.
"I think it breaks down pretty simply. In a free market system, if you have many choices, competition reigns and prices go down," he said, adding that whatever the result, his office would fight for a good deal for ratepayers. "There's a consumer advocate in the attorney general's office that advocates on behalf of ratepayers so whatever the outcome is, we will continue to advocate on behalf of ratepayers."
Roberson also sought to frame the debate as a political fight, with Democrats staking out the "no" position. Democratic former Sen. Harry Reid supports Question 3, but many other Democrats who formerly supported it have turned against it — including Democratic gubernatorial candidates Steve Sisolak and Chris Giunchigliani.
"Just so you know what a partisan issue this has become, they have gotten virtually every high profile Democrat elected official and every Democrat special interest group in the state to oppose Question 3. Why? Union issue," he said, to some "boos" from the crowd. "But I want to give you some good news. Yesterday, the largest teacher's association in the state, the Clark County [Education Association], came out for Question 3. And the reason they did that is because the school's being soaked by NV Energy."
The union has aligned closely with Roberson and is in the middle of a nasty split with its statewide affiliate, the Nevada State Education Association, which aligns more consistently with Democrats.
"Don't fool yourselves," Roberson concluded. "The Democrats have all picked their side. So think about that."
Crime
The three candidates sought to draw a contrast on criminal justice policies between themselves and Democrats who controlled the Legislature last year — and are likely to control it again in 2019. Duncan's campaign motto is "A Safer Nevada," and he said he was troubled that penalties for some crimes are not stronger.
"When you start to watch the news or really pay attention, things like home invasions, burglary, property crime, violent crime, is up in this community," he said. "I will tell you that the Legislature in the past 10 years or so has really weakened a lot of the criminal penalties."
Duncan offered some examples: a person convicted of a home invasion might only get probation.
"I think that's wrong and I think that if you come into the sanctuary, the place of someone's home and you enter that home, you should be doing prison," he said.
He also doesn't like the reduction of "enhancements" that automatically extend a sentence when, say, a deadly weapon is present during the commission of a crime.
"If you went in and you robbed a 7-11, and the judge gave you 8 to 20 years and you used a deadly weapon, you would get a consecutive sentence on top of that of another 8 to 20 years," he said. "The Legislature's totally eroded that. Now its 1 to 20 years … So we need to be tough on the criminals that are preying on our communities and we need to be smart on mental health, domestic violence."
Duncan's Democratic opponent in the attorney general's race, Aaron Ford, spearheaded a slate of criminal justice reforms in the Legislature while Senate majority leader in 2017. Roberson, who led Senate Republicans during that time, frequently derides the session as the most pro-felon in Nevada's history.  
"They wanted felons to be able to serve on juries. I'm not kidding! And they wanted to hide a felon's criminal history from his and her employers, potential employers and the general public," Roberson said, referring to bills on criminal record-sealing and "ban the box" — aimed at helping formerly incarcerated people get jobs upon their release. "And to top it off, Aaron Ford … actually said on video that if it were up to him he would like prisoners to vote from prison, while in prison."
Roberson said he wondered why Ford supported voting rights for felons during a legislative hearing.
"Well now we know why — he's a tax-dodging tire thief!" he said, referring to a series of Ford arrests from the early 1990s that recently came to light, as well as an IRS tax lien.
Ford's legal troubles have become the subject of a new ad campaign from the Republican Attorneys General Association, which is supporting Duncan's bid. Asked in an interview whether, as RAGA contends, the arrests during Ford's college years are reason enough for voters to oppose Ford, Duncan said it's natural for someone's criminal background to come up in a race and it's one more factor for voters to weigh in their decisions.
"I do believe that Mr. Ford's record is a valid consideration in the race to be Nevada's top law enforcement officer, especially not fully paying his taxes until 2016," Duncan said in a follow-up message. "Attorney General is a leadership position, and that requires setting an example by following the law."
Education and Economic Development
Laxalt highlighted a platform he released earlier in the day that calls for increased funding for Career and Technical Education (CTE) as part of a $500 million investment in education. While Laxalt did not answer follow-up questions from reporters about the plan, the $500 million appears to mirror the amount that Gov. Brian Sandoval is working into his budget proposal as a result of increased revenue from existing tax sources.
"Just know that education will be my top priority if I'm elected your governor," Laxalt said, adding that he was excited to see schools that were focusing on science, technology and math, as well as training in the trades.
Asked by a moderator about charter schools, Laxalt laid out a vision for more of them, as well as a focus on programs that send public dollars toward private schools.
"We want to expand charter schools. I'm also a big believer in expanding our Opportunity Scholarships and being able to push as well for ESAs, something that we defended," he said.
The Opportunity Scholarships are a part of a program created in 2015 that allows businesses to get tax credits if they donate to scholarship funds that in turn help low- and middle-income applicants pay for private school tuition.
Laxalt indicated he would "push" for Education Savings Accounts (ESAs) — a program that puts public funds into accounts that parents can use for private school tuition or other qualified educational expenses. Unpopular among Democrats who say the setup diverts money from public schools, funds for the program are likely to meet opposition even if Laxalt is elected, although his office won a key legal victory on the overall legality of the program.
"We don't need to debate whether ESAs are constitutional in the state anymore," he said. "We now need to debate how much money are we going to put in to give children across this state, their parents, choice, to be able to find what's the best educational system for them."
Taxes
Laxalt, who has said he'd sign a no-new-taxes pledge, also decried his opponent's statement during a primary debate that "everything's on the table" in terms of a possible tax increase.
"Folks, we cannot afford to elect somebody where everything is on the table for taxes," Laxalt said. "How many people are ready to have your property taxes raised? I think a lot of people, certainly in Las Vegas, they're on fixed incomes, they come here for a reason, it pencils out. To wake up and suddenly have your property taxes doubled or tripled would be something that's simply unaffordable."
He argued that he and Sisolak offer two very different paths.
"Our path is the forward path, the path that embraces Nevada's exceptionalism, embraces us as a low-tax, low regulatory, libertarian-leaning, independent, Western state," he said. "I'm not elected governor, how quickly is all that going to be gone? Weeks? Months? One session. One session a lot of those values we hold dearly could evaporate. Yes, folks, the stakes are that high."
Roberson, on the other hand, argued that in the lieutenant governor's job as president of the Senate, he could help bring Laxalt's vision to fruition for the betterment of the state's education system and economy.
"I have more legislative leadership experience than anyone who has ever run for lieutenant governor in the history of this state. I'm going to be able to use that as president of the Senate to push the Laxalt agenda in the Legislature," he said. "Education is inextricably tied to economic development so you will see me in the most pro-education, pro-economic development lieutenant governor you've ever seen in this state."
Disclosure: Several Indy donors are mentioned in this story. You can see a full list of donors here.
Updated on Aug. 29, 2018 to add a quote from Duncan on relevance of Ford legal issues.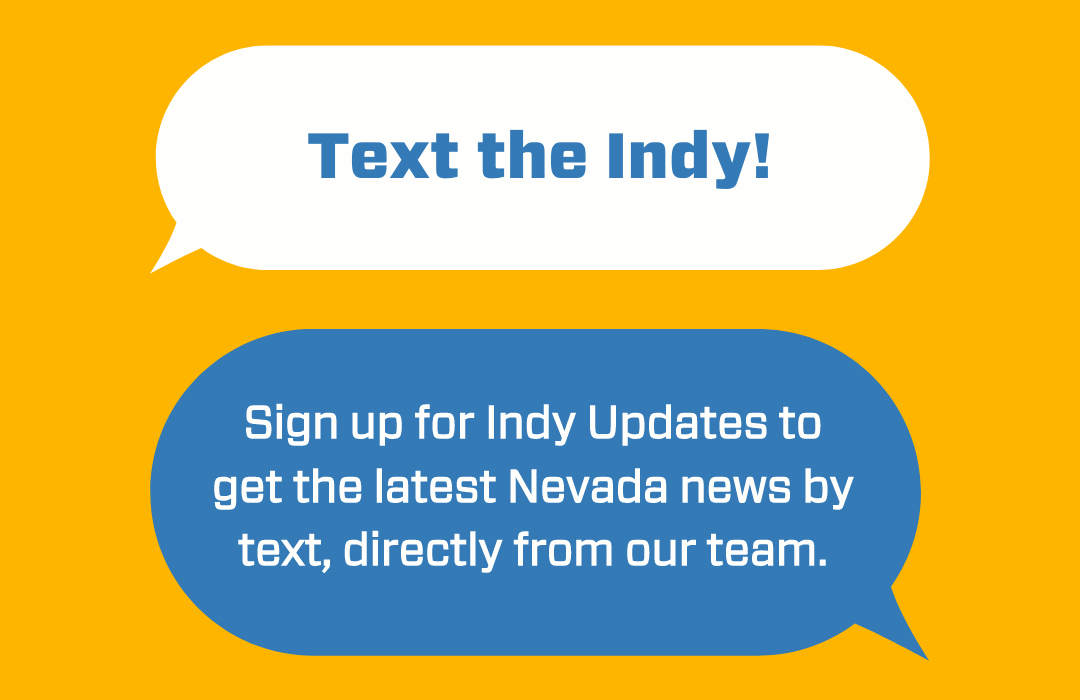 Featured Videos
Comment Policy (updated 4/20/2021): Please keep your comments civil. We reserve the right to delete comments or ban users who engage in personal attacks, use an excess of profanity, make verifiably false statements or are otherwise nasty. Comments that contain links must be approved by admin.