People gather as legal experts discuss Temporary Protected Status (TPS) during a meeting at St. Anne Catholic Church on Tuesday, Nov. 28, 2017. (Jeff Scheid/The Nevada Independent)
Trump administration cancels TPS for El Salvador in move that could force thousands to leave Nevada
January 8th, 2018 - 2:05am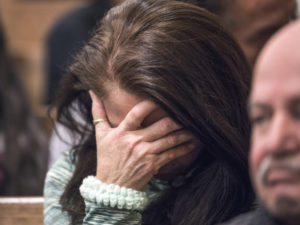 Nearly 200,000 immigrants from El Salvador — some of whom have lived in the U.S. for more than two decades —  learned Monday they will be obligated to leave the country because of the cancellation of the Temporary Protected Status program that offers them legal status and work permits.
The Trump administration announced its decision on Monday morning, adding that the legal status will end on Sept. 9, 2019 "to allow for an orderly transition."
"The decision to terminate TPS for El Salvador was made after a review of the disaster-related conditions upon which the country's original designation was based and an assessment of whether those originating conditions continue to exist as required by statute," the Department of Homeland Security said in a statement. "Based on careful consideration of available information … the Secretary determined that the original conditions caused by the 2001 earthquakes no longer exist. Thus, under the applicable statute, the current TPS designation must be terminated."
Since a devastating earthquake hit the Central American country in 2001, after it had already suffered a violent civil war in the 1980s, the TPS program has offered Salvadorans protection from deportation and permission to work in the U.S. rather than returning to their homeland. 
In a 2016 renewal order, the government cited further issues there that make it impractical for Salvadorans to move home: natural disasters, a housing shortage, increasing violence and gang extortion, a lack of potable water and widespread poverty and unemployment.
The status doesn't offer a pathway to legal permanent residency or citizenship and is subject to the discretion of the Trump administration, which has moved to scale back the program for others among the 10 participating countries.
There are an estimated 4,800 TPS recipients from El Salvador in Nevada.
Nevada's congressional representatives respond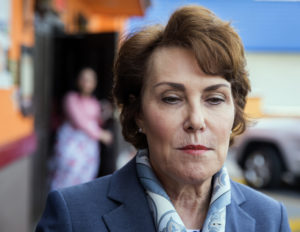 "It is unconscionable for this administration to uproot the lives of thousands of Salvadorans who have come to call Nevada home," said Democratic Rep. Jacky Rosen in a statement after the decision was announced on Monday. "This administration's cruel decision to end TPS will upend lives and cause unnecessary instability, leaving the lives of tens of thousands of Salvadorans and their families across the country hanging in the balance."
Democratic Sen. Catherine Cortez Masto also criticized the decision while asking Congress to come up with a long-term legislative solution.
"Today's decision is a poignant reminder that we have an anti-immigrant president who turns his back on hardworking families and insists on governing by fear and intimidation," she said in a statement. "Congress should not ignore the economic, cultural and social contributions of TPS recipients. I call on my colleagues to find a permanent solution for TPS recipients … to provide a path to citizenship for those who have been living, working and contributing to our communities for decades."
Rep. Ruben Kihuen criticized the decision as cruel and short-sighted.
"For generations, the United States has offered safety to immigrants and refugees from all over the world," he said. "Congress must find a long-term solution for these individuals in order to continue our long national tradition of providing safety to people in need."
Rep. Dina Titus pointed out she's co-sponsoring a bill that seeks to offer legal residency and a path to citizenship for TPS recipients.
Republicans should join me in defending the valuable contributions these folks "make in our community every day and the $200 million Salvadorans generate in Nevada every year," she said. "Voting on the bill now is the best way to find a permanent solution to this attack on immigrants."
Republican Sen. Dean Heller did not respond to a request for comment from The Nevada Independent, but did issue a statement to the Reno Gazette-Journal that appeared to advocate a compromise on immigration.
"Our immigration system is fundamentally broken, and this is yet another reason why Congress needs to come together on a solution that prioritizes border security while also preserving the opportunity for individuals who came to this country seeking a better life," he said.
Republican Rep. Mark Amodei, who was traveling on Monday, didn't immediately comment.
TPS holders speak out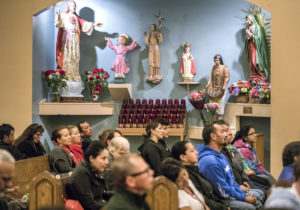 In Nevada, nearly 7,000 people benefit from the TPS program, which has covered people from Honduras, El Salvador, Haiti, Nepal, Nicaragua, Somalia, Sudan, South Sudan, Syria and Yemen — countries that have been affected by epidemics, armed conflict and natural disasters.
One of those is Elda Membreno, who's lived in Las Vegas for 14 years and, like her daughter has participated in the TPS program since it was extended to El Salvador in 2001. She joined in a lunch meeting with Rosen on Thursday and said that she was a single mother, is the breadwinner of her family and fears she'll lose the benefits she's gained when her TPS permit expires in March.
"I've been in this country for 17 years, I've paid my taxes and I've worked since I arrived," Membreno said. "It wouldn't be fair to my 14-year-old son and my 22-year-old daughter to send them back to our country. This would be inhumane for me."
Membreno said that because of a case of sexual abuse in her family, both she and her daughter applied for a U-visa, which is given to immigrants who are victims of crime or domestic violence and can help authorities with prosecuting the offender.
Membreno said that this alternative would permit her to rectify her legal status in the U.S. for the short term. But while her case has been pending since 2013, she still hasn't received answers from the authorities.
"I went to immigration officials and they told me to wait," Membreno said. "But while I wait and they cancel TPS, what am I going to do? Right now I'm counting much more on TPS than a U-visa."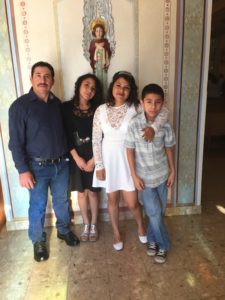 Jose Echeverria, a native of El Salvador who has relied on TPS since 2001, also had that question.
Interviewed on Friday after participating during a pro-TPS press conference featuring Democratic Rep. Dina Titus, he said he didn't know what would happen with his family, because he hadn't returned to his country since he arrived in the U.S. and his children have never been there.
Echeverria said he's not only worried about his status, but also for that of one of his children, who's a beneficiary of the DACA program that was canceled in September. His other three children were born in the U.S.
"I don't know what's going to happen," he said. "My children say they don't want to return because they've never been there."
An estimated 5,200 people in Nevada are the American-born children of TPS recipients from Haiti, El Salvador and Honduras, according to the Center for American Progress. The cancellation of the program could separate them from their parents.
Echeverria said that TPS has allowed him to work and pay his taxes, as well as support his family in the U.S. as well as in El Salvador. He financially sustains his parents, who still live there.
"I beg our congresspeople, the Senate and the president that they keep allowing us to stay in this country. We're not delinquents. We came to fight for our families," he said.
Economic benefits
According to Rosen's office, terminating TPS would cost Nevada $269.5 million annually in economic activity.
The foreign ministry of El Salvador said on its Twitter account that 97 percent of Salvadorans with TPS are considered economically active, with almost one-third working in the service sector, 22 percent in the construction industry and 69 percent living in homes they own.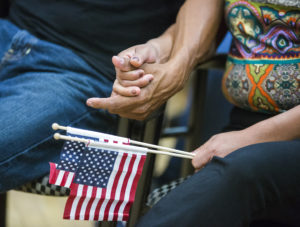 The economic contributions of Salvadoran, Guatemalan and Honduran immigrants benefit their own countries as much as they do the U.S., because they not only sustain families in America, but many send money back to their loved ones in their home countries.
According to the Pew Research Center, remittances sent from those Central American immigrants back to their home countries has increased even while remittances to other developing countries generally fell in 2016.
That year, remittances to those three countries — known as the Northern Triangle — rose to almost $16 billion dollars, and most of it came from the U.S.
Salvadoran immigrants sent $4.6 billion, Guatemalans sent $7.5 billion and Hondurans sent $3.9 billion to their home countries.
That point was accentuated by Jonathan Henriquez, a coordinator with the Network of Salvadoran Youth Expatriates, which focuses on maintaining connections between Salvadoran citizens living abroad and the happenings of their country.
"We're a little upset with the situation that were being given," Henriquez said on Wednesday in a phone interview. "What we're doing as a network is promoting that we're maintaining a united front, because together we're stronger. We're also looking into how we can help the thousands of Salvadorans who have TPS.
Tirso Sermeño,  the consul of El Salvador in Las Vegas, said on Monday in an interview with The Nevada Independent that the consulate had received a lot of phone calls asking about the process of renewing in the upcoming extension period that DHS allows.
"We're waiting for the full document to be published that will let us know if this is going to be paid, free, if they'll have to fill out a form, what dates the renewal will happen," said Sermeño. "The U.S. talks about an orderly transition and this is what we're hoping to do — properly inform our community about that."
The consul advised people to discuss their legal situation with immigration attorneys not only to find out if they can adjust their immigration status through other avenues, but also so they don't fall victim to people who want to take advantage of the situation.
"We have to stay calm. Just because the government has canceled TPS doesn't mean we're going to let the community become victims of fraud," he said. "What we don't want it that people in search of a solution fall victim to a worse situation."
Action in Washington
Lawmakers from both parties have introduced bills that seek to offer a long-term fix for TPS beneficiaries. They include:
American Promise Act: Introduced on Nov. 3, this bill is sponsored by New York Democratic Rep. Nydia Velazquez, and Titus said she will co-sponsor it. During a press conference on Friday, Titus said that this bill aims to establish legal residency and provide a path to citizenship for TPS beneficiaries.
Aspire-TPS Act: Introduced on Nov. 14. Sponsored by New York Democratic Rep. Yvette Clarke, this bill proposes a work permit that lasts for six years but doesn't include a path to legal permanent residency or citizenship.
Esperer Act: Introduced Oct. 31. Sponsored by Florida Republican Rep. Carlos Curbelo, the bill would adjust legal status only for TPS beneficiaries from Haiti, Honduras, Nicaragua or El Salvador.
Secure Act: Introduced Nov. 16. Sponsored by Maryland Sen. Chris Van Hollen, it's the only TPS-related bill in the Senate. It would affect all countries that have received TPS or that will receive it in the future.
Changes in TPS
On Nov. 6, the Department of Homeland Security announced the end of the TPS program for thousands of Nicaraguan immigrants, and two weeks later, it announced the cancellation for Haiti.
DHS said that after the latest extension for Nicaragua ends on Jan. 5, there will be another extension until January 2019 to give immigrants time to find legal alternatives that will allow them to live and work in the U.S., or to prepare to leave the country in an orderly manner.
DHS announced in November that it was extending TPS for Honduras for another six months, adding that it hadn't made a final decision for that country.
According to the Pew Research Center, about 195,000 Salvadorans and 57,000 Hondurans nationwide are covered by TPS.
This is a developing story. Check back for updates.
From the Editor
The Nevada Independent
is a 501(c)3 nonprofit. We need help to attain the elusive goal of sustainability. We depend on recurring donations from you, the readers who believe in our mission of nonpartisan, transparent journalism. I know you are busy. I know you have many commitments. But if you would take a moment to
support our work
or bump up your current donation, I would be forever grateful.
Thanks for all of your support.
Best,
Jon Ralston
get our morning newsletter,
The Daily Indy
Thanks to everyone who made our October #IndyGive drive a huge success.
With your help, we raised more than $461,000 and welcomed 397 new donors to The Indy family.
If you are new to The Indy, please take a moment to read more about our nonprofit news venture — and consider supporting our work.
@TheNVIndy ON TWITTER