Trump rallies thousands of supporters at indoor rally in defiance of state COVID-19 health rules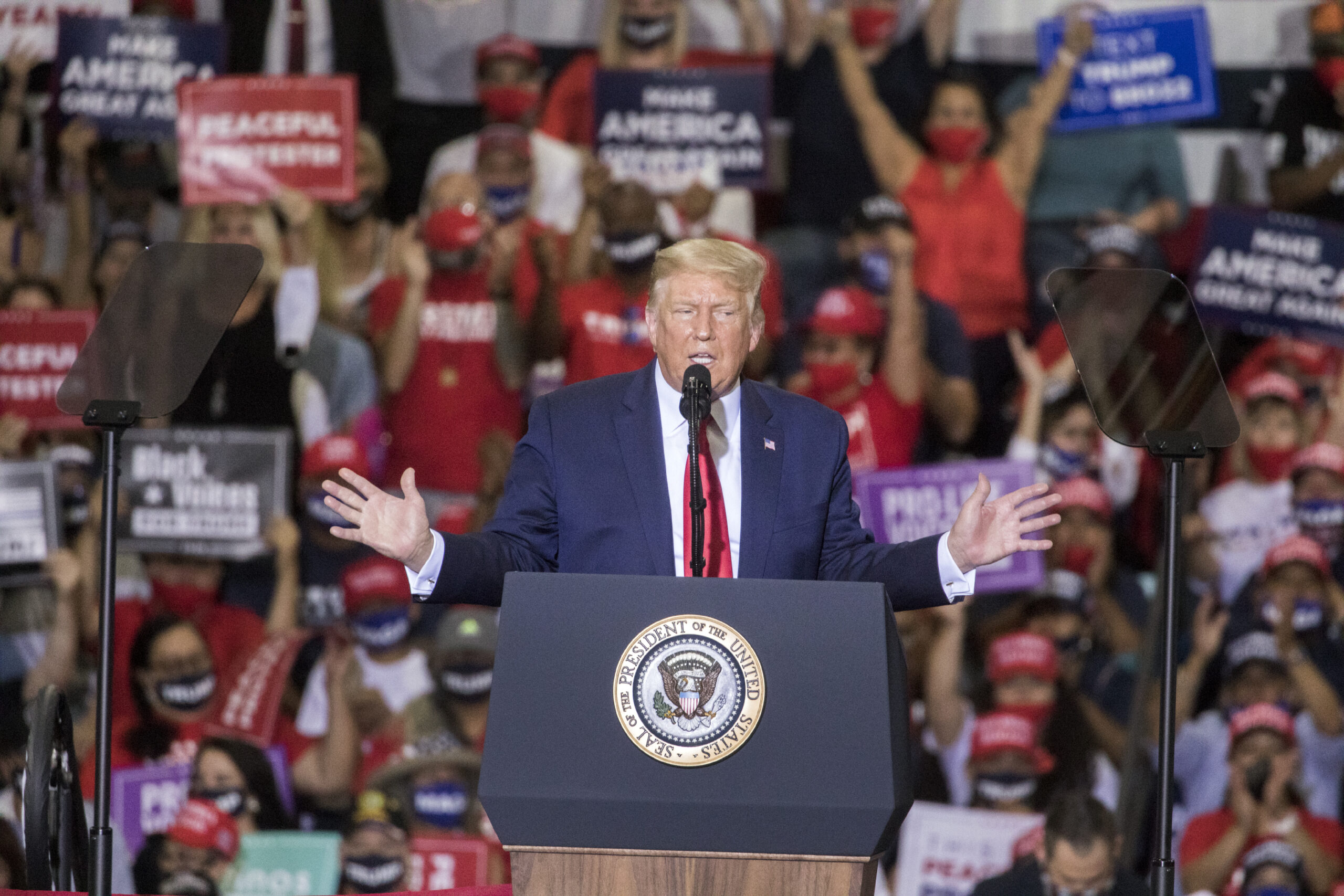 President Donald Trump flouted a state emergency coronavirus directive limiting the size of public gatherings Sunday evening, rallying thousands of his supporters inside a Henderson warehouse and capping off a two-day swing through the Silver State.
Though the state of Nevada prohibits gatherings of more than 50 people because of the ongoing coronavirus pandemic, about 5,600 supporters congregated to hear Trump speak at Xtreme Manufacturing, according to the Henderson Fire Department. Security at the rally estimated that 20,000 people turned out to the event both inside and outside the facility.
Trump, who has primarily been rallying supporters in outdoor settings at airports, defended the selection of the indoor venue as the location for the campaign rally by saying that Don Ahern, the CEO of Ahern Rentals who owns Xtreme Manufacturing, had offered up the site, though the campaign had five other outdoor sites under consideration. The Ahern Hotel hosted an "Evangelicals for Trump" event in June and was fined about $11,000 for violating the state's coronavirus directive.
"We had many sites, by the way, all exterior sites, all outside," Trump said.
The City of Henderson sent a letter to Ahern on Friday warning that the event was "in direct violation of the Governor's COVID-19 Emergency Directives" and that Xtreme Manufacturing could face penalties for proceeding, including suspension or revocation of its business license, civil fines or applicable criminal penalties.
"If you have received approval for the event from the Nevada Department of Business & Industry, Division of Industrial Relations, please let us know as soon as possible," Michael Cathcart, the city's business operations manager, wrote. "Otherwise, the City will enforce the Governor's Directive in the ordinary and due course."
Ahern, in remarks before Trump took the stage, did not address the letter and thanked the City of Henderson, who he said had "been just phenomenal." He also did not touch on Xtreme Manufacturing's own COVID-19 policy posted to its website that says the company has "restricted meetings and gatherings to no more than 10 people in large areas."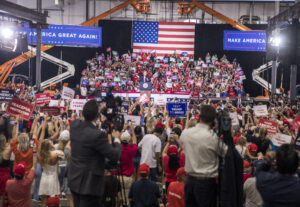 Gov. Steve Sisolak, in a statement, thanked City of Henderson officials for doing "all they could to ensure businesses and visitors follow the state COVID-19 directives" but criticized Trump's decision to proceed with both the Henderson rally and a Saturday evening event at Minden-Tahoe Airport in Douglas County as "shameful, dangerous and irresponsible."
According to the White House's own recommendations, gatherings in "red zone" counties, like Clark County, where Henderson is, should be limited to 10 people or fewer.
"Tonight, President Donald Trump is taking reckless and selfish actions that are putting countless lives in danger here in Nevada," Sisolak said. "Despite reports from his own White House, despite local officials in Southern and Northern Nevada reiterating to the venues the existing restrictions in State emergency directives, tonight, the President of the United States is knowingly packing thousands of people into an indoor venue to hold a political rally."
Some of the president's supporters, however, have framed Sisolak's indignation about the rallies as hypocritical as thousands have continued to flock each weekend to the Las Vegas Strip. Though a vacation to Las Vegas may not be essential during a pandemic, the Strip is a major economic driver in the state with about 275,000 people employed in the gaming and tourism industry statewide. As COVID-19 cases spiked this summer, the state shuttered bars but not casinos.
"We know they said it's because of COVID is why the other rally had to be canceled, but we know that there have been thousands of people in Walmarts and grocery stores for six months since the beginning," former Attorney General Adam Laxalt said at the Saturday evening rally in Minden, which was originally slated to be held in Reno. "We know that there are thousands of people in casinos as we speak right now."
Additionally, mask-wearing is mandatory at casinos. At both of Trump's rallies this weekend there was little to no mask-wearing, though supporters were encouraged to wear masks.
Trump stuck significantly more to the facts on a number of Nevada-related issues during the hour-long rally in Henderson after falsely telling supporters in Minden Saturday that Sisolak controls millions of ballots, that mail-in ballots can be accepted without signatures and that Republicans likely wouldn't be sent mail-in ballots.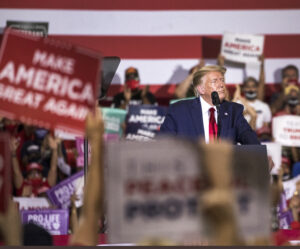 He also told supporters in Minden that there was no possibility he is tied with former Vice President Joe Biden in Nevada — despite a Saturday poll showing them statistically tied — and suggested that the only way they could be tied in the Silver State is "if they screw around with the ballots."
Trump vaguely suggested during the Henderson rally that Sisolak is "playing around with the ballots," a repeat of the more specific assertion he made Saturday night that the governor controls "millions of votes." However, it is Republican Secretary of State Barbara Cegavske who is charged with overseeing the election in Nevada, and there are only about 1.7 million active registered voters in the state.
The president urged his supporters to tell Sisolak to "open up your state," though it was not clear to what extent specifically he wants Nevada to open up. Restaurants, movie theaters, gyms, salons, casinos and churches are all allowed to be open with capacity restrictions.
He suggested, without evidence, that the decision to keep states closed was "all political" and that governors would ease coronavirus restrictions the day after the November election.
"They're only doing it to affect your November 3rd great election, most important election," Trump said.
Trump also told Nevadans to mail their ballots in and then "check that your ballot is counted, because they might not count your ballot in this state." The president has previously instructed residents of other states to mail in their ballots and then show up to the polls on Election Day and try to cast a second ballot to check that their first one was counted, though casting a ballot twice is illegal and election officials have urged voters not to show up in person on Election Day just to check that their ballot was counted.
During the rally, Trump correctly cited the number of people and businesses who have benefitted from federal coronavirus relief programs — half a million and 42,000, respectively. He also accurately noted that Nevada's unemployment rate hit a record low before the pandemic — 3.6 percent in January, the lowest rate dating back to 1976, when modern recordkeeping began.
"Under my administration before the virus we quickly achieved the lowest unemployment rate in Nevada's history, and we'll soon be there again," Trump said.
Earlier Sunday, Trump attended a roundtable with Latino supporters and a fundraiser. The weekend visit marked Trump's second trip to the state since the beginning of the year and his first of the general election campaign.
Though Democrats were once significantly favored to win the Silver State in November, the pandemic has stymied Democratic organizing efforts and narrowed the race between the president and Biden. Trump lost the state by 2.4 percentage points four years ago to former Secretary of State Hillary Clinton.
Savanna Strott and Kristyn Leonard contributed to this report.
The Nevada Independent is raising $200,000 by Dec. 31 to support coverage of the 2024 election.
Tax-deductible donations from readers like you fund this critical work.
If you give today,your donation will be matched dollar-for-dollar.
Give + Get Matched
Featured Videos