Trump's visit surprised some and drew others to the streets in protest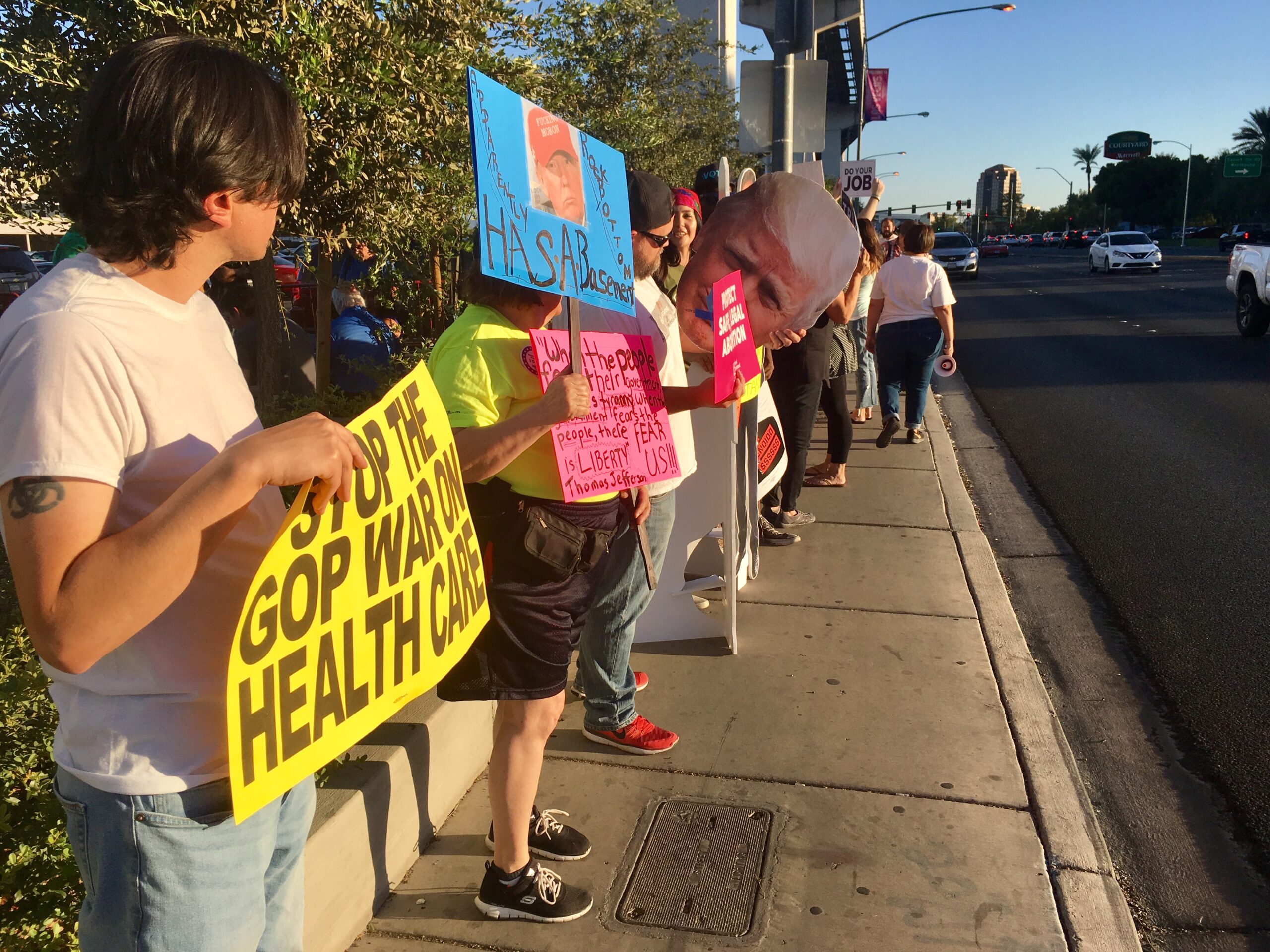 The slender, gold-tinted Trump International Hotel was on their list of must-see attractions, but when an Idaho couple and their Chinese relatives arrived outside it late Thursday afternoon, they found a heavy police presence.
Two Metro Police buses blocking the street. Police cars stationed at the entryway. Uniformed officers milling around the perimeter.
The reason: President Donald Trump, the billionaire businessman whose last name graces the top of the tower, was headed to Las Vegas — and maybe later that night — his very own property.
"I had no idea he was coming out here," said Rick B., who didn't want his last name published.
But here he was standing in front of the security-blanketed hotel, along with his girlfriend and her relatives from China, who wanted a glimpse at the building owned by the American president.
Rick shrugged, rather nonplussed by the situation. He voted for Trump, whom he called a "wild card," in 2016, mostly because he couldn't fathom voting for Hillary Clinton.
Now, nearly two years later, he had this to say about the president headed to town to stump for several Nevada Republican candidates: "You need to stir the pot, and I think he has done that," he said. "I don't like his tweeting. I think that's ridiculous."
Then his group continued on its way, hoping to sneak a peek of the Trump hotel lobby.
A mile east of the president's eponymous property, protesters were gathering on a sidewalk outside the Las Vegas Convention Center. Meanwhile, supporters decked out in "Make America Great Again" gear waited in a lengthy line to get inside the rally.
Life-sized cutouts of two Republican candidates — Sen. Dean Heller, who's running for re-election, and Attorney General Adam Laxalt, who's running for governor — greeted passing motorists on Paradise Road. Posters etched with disparaging messages hung from their necks: For Laxalt, "Bought & Paid For," and for Heller, "Trump's Rubber Stamp."
Barbara Hartzell, 36, stood behind the cutouts and groused about the men pictured. The registered Democrat couldn't stand Heller's "doublespeak" about health care, and she worried about the vibe Laxalt might bring to the office of governor.
"He would open the gateway for D.C. politics in Nevada, and that's not what we want," she said.
The group wasn't limited to registered Democrats or die-hard liberals. Jack Levine, a Long Island native who retired to Las Vegas more than seven years ago, considers himself a nonpartisan. His rationale is simple: "I believe there are good people in both parties."
But as a Type-2 Diabetic who relies on insulin, Levine said health care has become a chief concern for him. He pays $5,000 to $6,000 out of pocket each year despite being on Medicare.
"If I didn't have that coverage, I don't know that I'd be alive today," he said.
Levine fears Heller could do more damage to the health-care system if re-elected.
"We have to put Dean Heller out to permanent pasture," he said. "The man is no good for anybody in this state except for rich people."
Clark County Commissioner Chris Giunchigliani — a Democrat who lost the gubernatorial primary this year to her colleague, Steve Sisolak — expressed similar disappointment with Heller. He's not the "pretty moderate" lawmaker she worked with in the Legislature and grabbed hamburgers with at the now-closed Penguin Drive-In, she said.
Giunchigliani said Heller should have stood his ground over certain issues in Washington, D.C.
"You don't just change in the political winds," she said.
Still, her reason for attending the demonstration outside the president's rally — organized by groups such as Battle Born Progress, NextGen Nevada and For Nevada's Future, among others — was far broader. Trump and his supporters, she said, jeopardize progressive family values.
"I'm out here to make sure our voice is not drowned out," she said.
So before Trump even arrived at the Convention Center, the several dozen protesters lining Paradise Road began their chants. A chorus of passing vehicles honked in solidarity, while more Trump supporters — some laughing or throwing the demonstrators dirty looks — streamed toward the massive building where the president would soon speak.
Disclosure: Steve Sisolak and Chris Giunchigliani  have donated to The Indy. You can view a full list of donors here.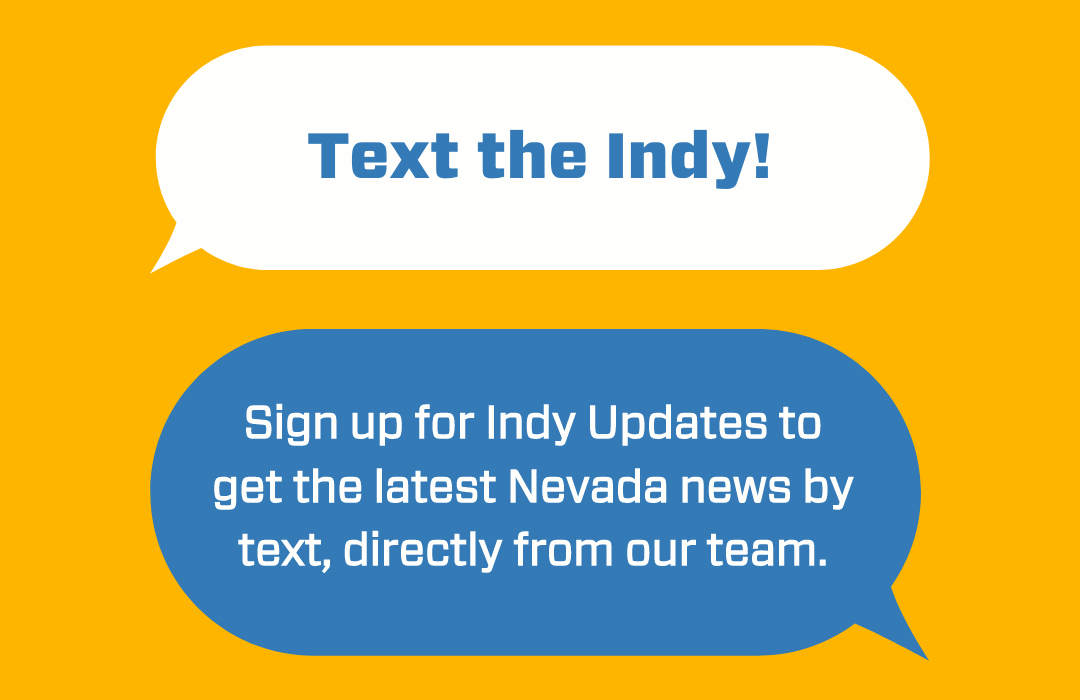 Featured Videos
Comment Policy (updated 4/20/2021): Please keep your comments civil. We reserve the right to delete comments or ban users who engage in personal attacks, use an excess of profanity, make verifiably false statements or are otherwise nasty. Comments that contain links must be approved by admin.