Vegas marijuana magnate sues, alleging competitor is waging a jealous campaign of slander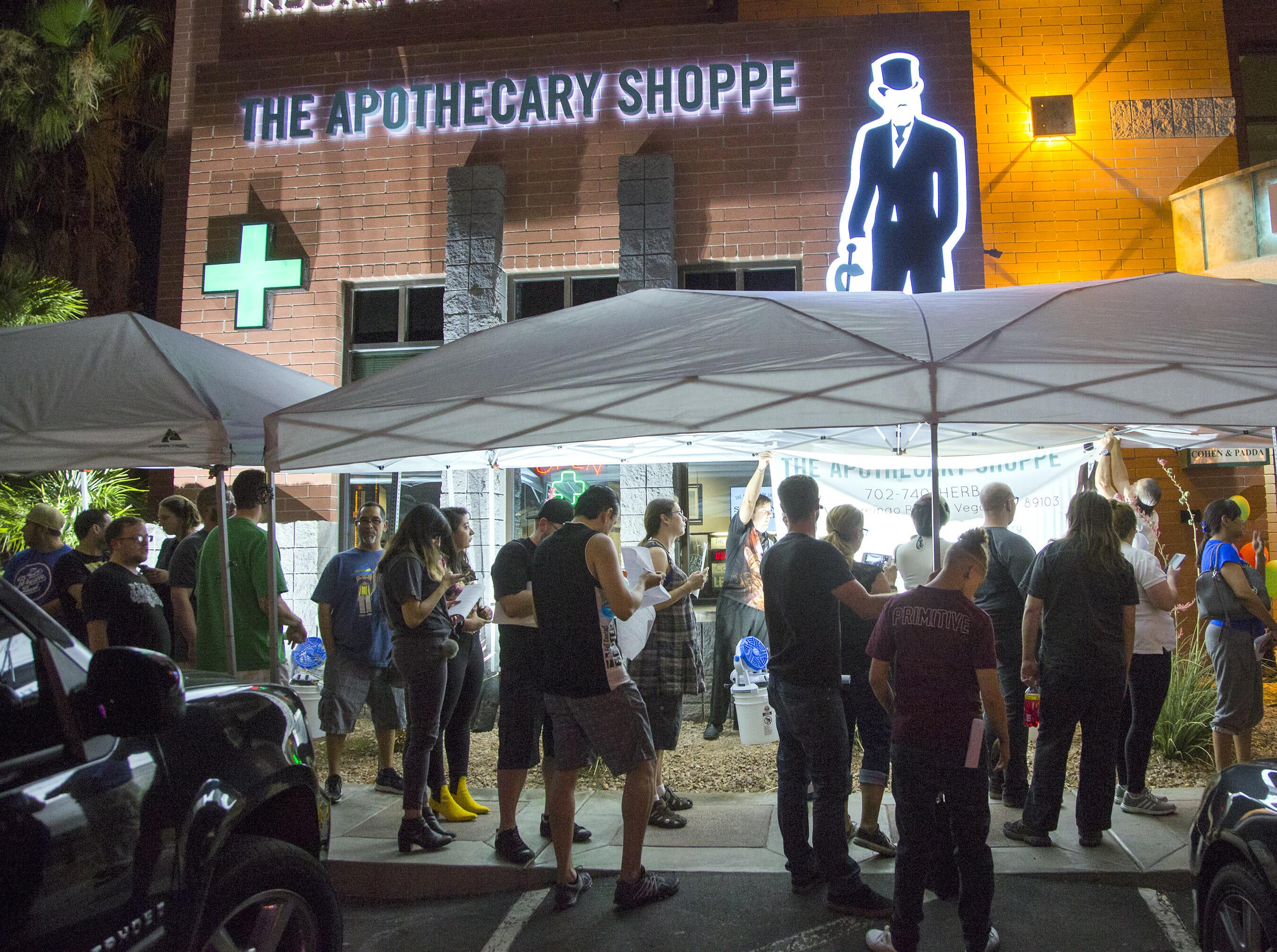 A dispute between two prominent Las Vegas marijuana business owners has reached the courts, with the proprietor of Essence dispensaries accusing a former owner with The Apothecary Shoppe of embarking on a jealous campaign of slander aimed to do him more than $1 million in damage.
Armen Yemenidjian, a former casino executive who's affiliated with three dispensaries, won another eight dispensary licenses last year and is part of a company that was recently acquired for $290 million, filed a lawsuit in Clark County Nov. 4 against Dr. Nick Spirtos. Yemenidjian alleges that Spirtos has accused him of criminal activity to other people, including lobbyist and former Assembly Speaker John Oceguera during an encounter at Gov. Steve Sisolak's inaugural ball.
"Spirtos, in concert with others, undertook a scheme to slander Mr. Yemenidjian, because he has proven to be one of the most successful businessmen in the legal cannabis business," the complaint says. "Rather than own his failures, Spirtos has resorted to smearing and spreading lies against others to harm their existing and future business opportunities."
Spirtos, a gynecologic oncologist, was formerly affiliated with The Apothecary Shoppe, which has one dispensary in Southern Nevada but fell short in its attempt to win three other licenses in 2018. Reached by phone on Friday, Spirtos said he was travelling overseas and referred questions to his lawyer, who did not immediately respond to messages seeking comment on Friday and Monday.
The suit alleges that Spirtos made about a dozen private phone calls to George Kelesis, a member of the Nevada Tax Commission, to discuss undoing the result of the licensing round. Spirtos and Kelesis attend the same Greek church and are godparents to each others' children, the suit says, but Kelesis spearheaded criticism of the state's licensing process as a commissioner without disclosing the relationship.
Yemenidjian accuses Spirtos of talking to Oceguera at Sisolak's inaugural ball this year and accusing Yemenidjian of "outright corruption" and criminal activity. He also said Spirtos surreptitiously recorded a meeting with Nevada Department of Taxation officials as part of an attempt to dupe the state employees in a meeting they had set up to review Spirtos' application scores with him.
"Spirtos also hoped and planned that his slander would interfere with the State of Nevada's licensing process for recreational marijuana, since he did not obtain a license," the complaint says. "Spirtos and those acting in concert with him have simply decided that maintaining their own market share and delaying competition in the marketplace is preferable."
Yemendijian's lawyer, Todd Bice, said that in a deposition for one of the lawsuits challenging the licensing process, and then when personally confronted by Yemenidjian, Spirtos denied making such comments and said he didn't have a factual basis for making such allegations.
Bice said that to "insinuate that they were only chosen because of some nefarious criminal activity is just outrageous" in light of Essence scoring highly in licensing proceedings in different years in Nevada, and also in jurisdictions in California with different scorers. Bice also said the allegations could get published and then would be brought up in licensing reviews going forward.
"He's just got to fight back against this. He can't allow that kind of stuff to stand. It will then be weaponized ... against him in the future," Bice said in an interview.
The suit is the latest stemming from a contentious round of marijuana business licensing, in which more than 400 applications were submitted and 61 licenses awarded to 17 different companies including Essence. Many dispensary owners who did not win have sued the state, including Spirtos' former company, whose suit alleges the state engaged in "rampant illegality and corruption."
Spirtos has been a vehement critic of the licensing process, testifying to the Tax Commission that he believes that levels of corruption similar to that in the Nixon White House took place. The suit brought by his former company also alleges that Yemenidjian offered a job to the state's former top marijuana regulator, Jorge Pupo.
Bice said there was no job offer, just a "passing reference," and that Yemenidjian's conversations with Pupo have been "wildly mischaracterized."
Yemenidijan - Complaint by Michelle Rindels on Scribd
For more on the marijuana industry, check out our series "The Cannabis Files" — an analysis of a recently released trove of state data that paints a picture of a cannabis industry at a crossroads.
Comment Policy (updated 4/20/2021): Please keep your comments civil. We reserve the right to delete comments or ban users who engage in personal attacks, use an excess of profanity, make verifiably false statements or are otherwise nasty. Comments that contain links must be approved by admin.