Voter registration changes hint at party dissatisfaction, eagerness to participate in primary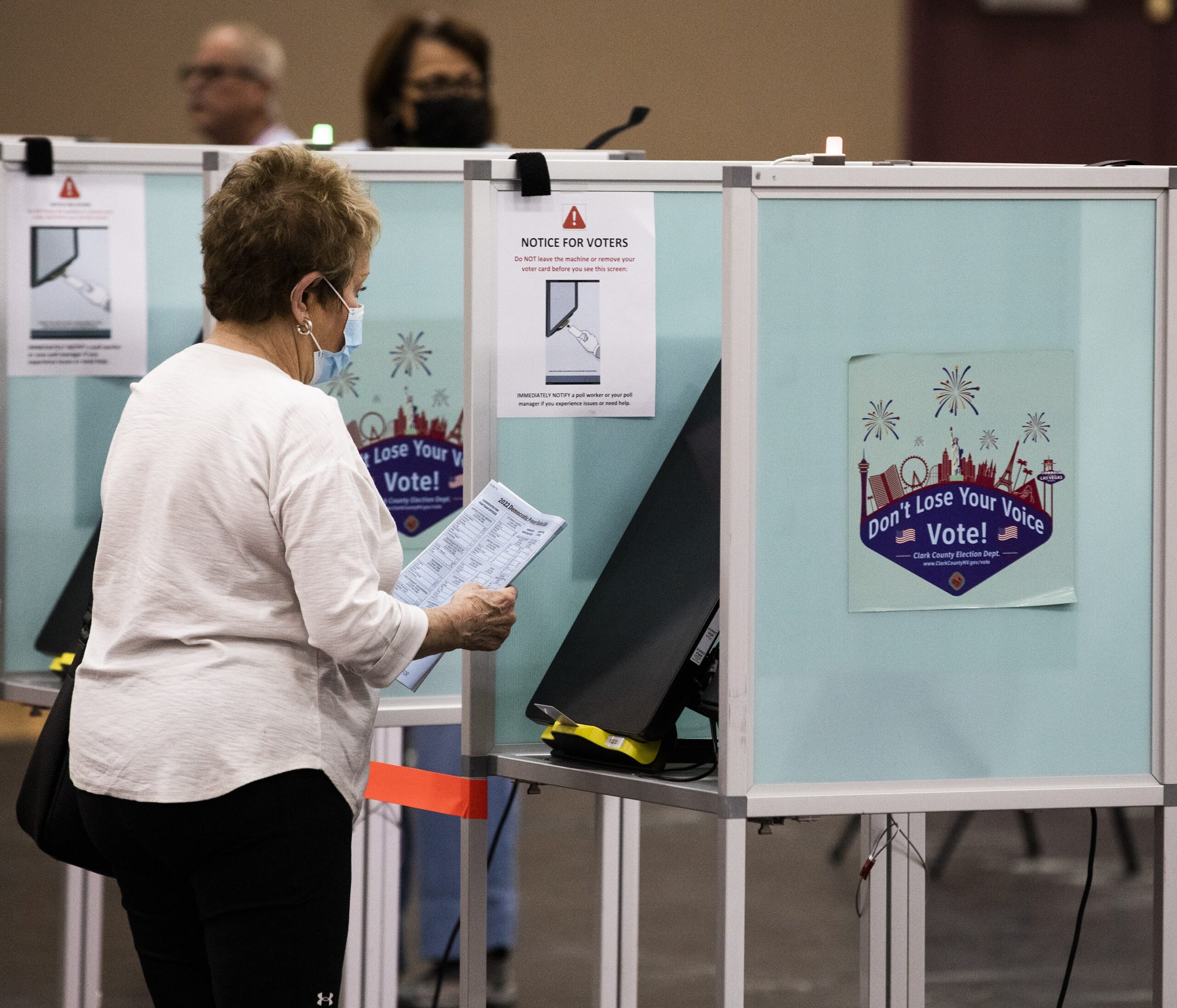 Marjorie Bleam considers herself a moderate voter who doesn't always have a "home" in either major political party, so leading up to the primary election, she switched her voter registration from Democrat to Republican.
"My vote counts more at the primary level, and I didn't want to waste it," she said. "I'm not worried about the Democrats. I'm worried about the Republicans."
The 74-year-old Las Vegas resident is among a steady stream of voters who have changed their party registration before the primary election — a decision that could signal dismay with a particular political party or simply an eagerness to participate in the primary contest.
Nevada is one of nine states that uses a closed primary system, meaning only registered party members can cast ballots in partisan races, according to the National Conference of State Legislatures.
The secretary of state's office reported that the number of active registered voters increased again in May (up 15,403 voters, or 0.85 percent) — and it was Republicans who saw the largest increase. Democrats recorded a 0.6 percent increase in active registered voters statewide, while Republicans notched a 1.3 percent increase and nonpartisans saw a 1 percent increase.
The move toward the Republican Party follows a months-long trend. Over the last three months, 2,331 Democrats have switched their registration to the Republican Party, far exceeding the 665 Republicans who switched to Democrat during the same time period, according to data from the secretary of state's office. Meanwhile, 5,016 nonpartisans switched to Republican, and another 3,395 nonpartisans switched to Democrat.
Nonpartisan registration, however, also increased, with 2,431 Democrats and 1,207 Republicans choosing to become unaffiliated voters over the last three months.
At the end of May, roughly 33 percent of active registered voters were Democrats; 30 percent were Republicans; 29 percent were nonpartisans; and the remaining 8 percent were spread out across other minor political parties.
Dan Lee, an assistant professor of political science at UNLV, said he's not surprised to see the voter registration changes favoring Republicans. It's a midterm election year — typically a time when the president's party loses ground — and Nevada's primary ballot includes a number of competitive Republican races, he said.
"A lot of Republicans are throwing their hat into the primary race," he said. "With all these options, you're seeing all this campaigning going on by these primary candidates that's going to kind of stir up enthusiasm and … mobilize voters to turn out to bolster the primaries — and part of that is also going to draw some people into the Republican primary."
Bleam doesn't necessarily count herself among those who have been drawn into the Republican Party, though. She just wants a say about who moves forward to the general election and, ultimately, into elected office.
"Even if the Democrat lost, at least we'd have a reasonable Republican," said Bleam, who describes herself as someone who votes for the "person, not the party."
Even so, Lee said he suspects people like Bleam — who changed their registration to influence the primary outcome — represent a "negligible" amount of overall voters.
"There are people who do change their party affiliation," he said. "But, in this day and age, it's a relatively small number."
Disenchantment with the two-party system also drove some Nevada voters away from partisan registration. Joshua Russo, a Carson City resident in his mid-30s, switched his registration from Democrat to nonpartisan earlier this year. A Bernier Sanders supporter, Russo said he's "definitely way more on the left" but has not been pleased with the Democrat candidates put forward by the establishment.
"I don't know why we have to pick between the lesser of two evils," he said. "There's never a good option. There's never someone who actually follows through and wants to put the needs of the working-class first."
Although sidelined from casting votes in partisan primary races, voters like Russo could be the deciding factor in the general election. Nonpartisan voters have grown by 5 percent since the 2020 general election and now make up 29 percent of Nevada's active registered voters.
A proposed ballot initiative is trying to change the participation limitations by adopting open primaries and ranked-choice voting in Nevada. The initiative backers say they have gathered enough signatures to qualify the measure for the ballot, but it now has another hurdle to clear before then — the Nevada Supreme Court.
Last week, the high court heard oral arguments after opponents of the proposed ballot question filed an appeal, bringing a legal challenge against the initiative to that level. Justices did not immediately rule on the appeal; a decision is expected in the coming weeks.
If the initiative moves forward and is approved by the majority of voters in 2022 and 2024, voters could participate in primary elections regardless of party affiliation. It would also let voters rank their top five candidates by order of preference while casting ballots in the general election.
Proponents have framed the ballot question as a win for the growing segment of nonpartisan voters, though the ranked-choice voting concept has received strong pushback from prominent Nevada Democrats, including Gov. Steve Sisolak and Sens. Jacky Rosen and Catherine Cortez Masto.
In the absence of an open primary system right now, though, Bleam said she was glad she switched her party affiliation to Republican and was able to weigh in on those races.
"Whatever the outcome, it's a good feeling and the best that I can do," she wrote in a follow-up email.