Warren tells Culinary Union members 'experience' of their union health care won't change under her Medicare-for-all plan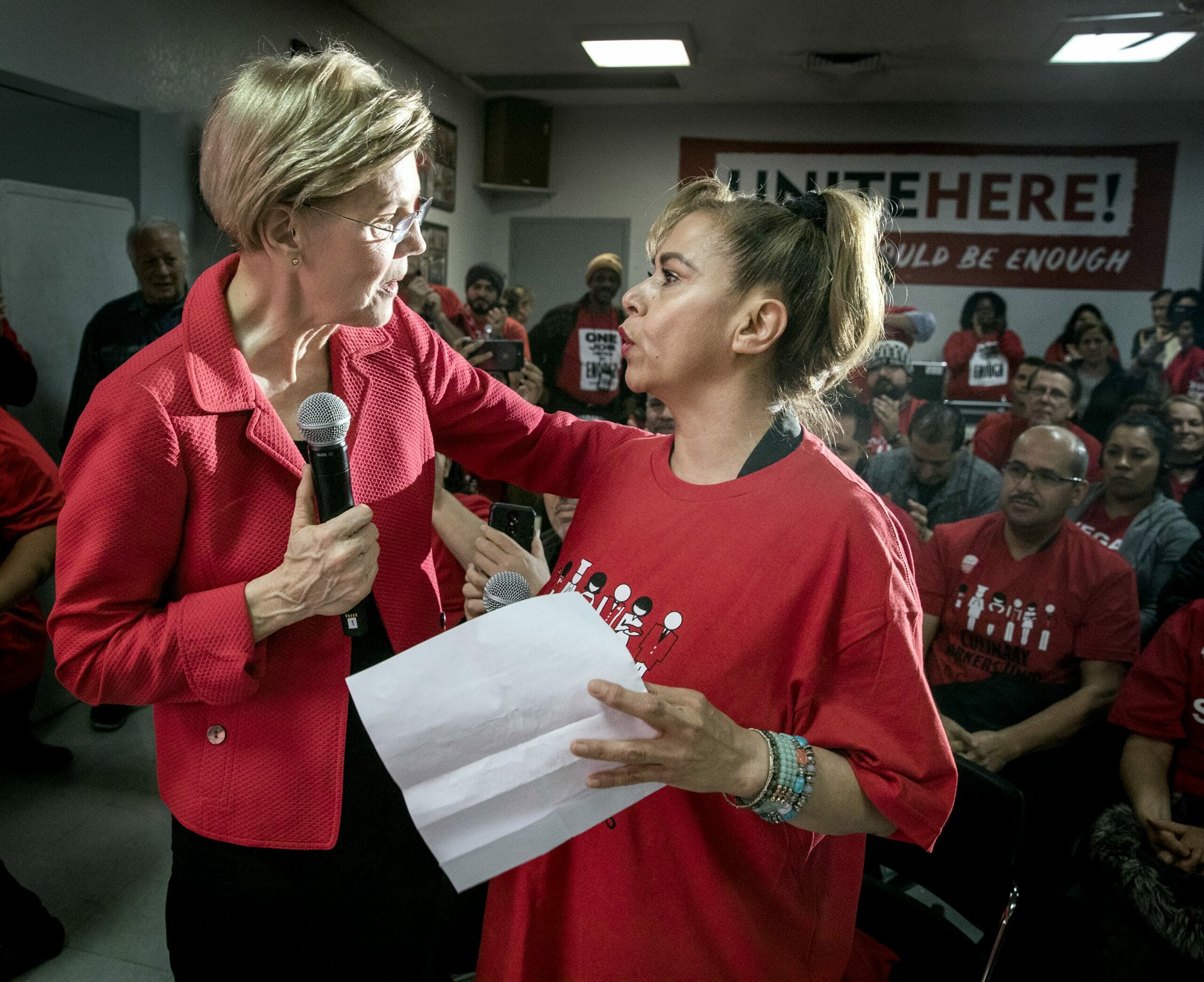 Massachusetts Sen. Elizabeth Warren said Monday that she was "just totally knocked out" during a tour of the politically powerful Culinary union's health facility, but she remained vague about whether the labor organization's Cadillac-standard health plan would continue to exist under the health care future she envisions for the country.
Warren, whose comments came during an evening town hall, told union members "what you experience, what you count on for yourself and your family [isn't] supposed to change" under the single-payer, government-run health care plan she backs, often referred to as Medicare for all. What would change, she told them, is how it's paid for.
"Because here's my bottom line about this," Warren said. "We need to ask those at the very top, the top 1 percent, the big corporations — my personal favorite — the tax cheats, to kick in a little more, so we can afford health care for everybody in this country."
Warren is the second Democratic presidential hopeful the union has hosted at its Las Vegas headquarters. The union could be pivotal in Nevada's first-in-the West caucus on Feb. 22, and the president of its parent union told The Nevada Independent he hopes to endorse before then.
Although the Massachusetts senator told union members at the town hall that their experience wouldn't change under her health plan, she didn't directly say whether the actual plan — which union members have bargained for over many decades — would continue to exist. Instead, she touted their health plan as a model for the rest of the country.
"To me, what you've got is not something we want to make harder. What you got is something I want to see replicated all around America," Warren said. "That's what I'm looking for.'
Roughly 130,000 workers and their family members receive health insurance coverage through the Culinary Health Fund, a special union trust fund paid into by employers for each hour worked. Employer contributions are negotiated through the collective bargaining process, and the trust is administered by a board of trustees with equal employer and union representation.
In her introduction at the event, Geoconda Arguello-Kline, the union's secretary-treasurer, stressed the sacrifices the union has made to get that health plan it has today.
"That sacrifice is an investment to protect our families and we can have peace in our mind when we are asleep and when people get sick in the middle of the night," Arguello-Kline said. "We know we're going to do everything we can to protect that health care."
The issue of Medicare for all is a particularly fraught one for the politically powerful union, whose endorsement Democratic presidential hopefuls are clamoring for ahead of the state's caucus. Vermont Sen. Bernie Sanders will attend a town hall at the union's headquarters on Tuesday morning, and former Vice President Joe Biden will attend a similar event on Wednesday. California Sen. Kamala Harris was the first to speak to the union last month, but dropped out of the race last week.
D. Taylor, international president of the Culinary Union's parent union UNITE HERE, told The Nevada Independent in an interview after the event that his hope is that the union will endorse on a national level — meaning collectively as UNITE HERE — ahead of Nevada's caucus.
"If we could, that would be great," he said.
But he wouldn't say whether candidates' positions on Medicare for all would be a litmus test in the endorsement process.
"I don't know," Taylor said. "I'm unclear about everybody's position and that's why we have these town hall meetings."
Taylor said the union has expressed its concern to Warren over her support for Medicare for all but expressed some general hope that her plan "will get fleshed out some more." Asked whether that means some union carveout under Medicare for all, Taylor said he doesn't believe in that.
"I don't think that's fair," he said.
Taylor did, however, jump in after Warren's answer to say that the union does support health care reform overall.
"The health care system in this country has to change," Taylor said. "Health care should be a right and not a privilege and no one should go without."
Some of Warren's best-received moments of the event were when she touted the importance of strong unions and called out Station Casinos as an example of who "Washington is working great" for. The Culinary Union has been locked in a yearslong fight with Station Casinos in its attempt to unionize the company's properties, beginning with Boulder Station in September 2016. Fiesta Henderson became the seventh Station Casinos property to vote to join the union in Las Vegas in September, but none of the properties have reached contract agreements with the company yet.
She asked the crowd what Station Casinos had gotten out of the 2017 tax bill backed by congressional Republicans and signed into law by the president.
"Does anybody know?" she said.
"A lot of friggin' money," Taylor chimed in.
Warren continued: "Why? Because Washington works for them."
She also earned a round of applause for her proposal to allocate require large companies to have at least 40 percent of their board of directors selected by company employees.
"At least we can have employees in the room and voting, I think that's going to make a real difference," Warren said.
But at other points, the crowd didn't seem to resonate quite as well with the Massachusetts senator, including with her opening stump speech.
"I grew up out in Oklahoma. Dead silent. No Okies out there? Okay," she said, to light chuckles from the crowd. (The Culinary Union is Nevada's largest immigrant organization with members who hail from 178 countries.)
At points, she even asked the relatively subdued crowd to react, which it would, with a rousing chorus of applause.
"Can we hear it for America's public school teachers?" she asked.
"Can I get an amen for that?" she asked later, talking about the country's health care ills.
But she built steam throughout the town hall by returning to bread-and-butter issues for the union, including immigration and labor. She called for a pathway to citizenship for "yes, DREAMers, but not just DREAMers — we need grandmas, we need uncles, we need friends, we need neighbors, we need everybody out of the shadows and for a fair and achievable pathway to citizenship," to applause from the crowd.
Asked how she would not just raise the minimum wage but help workers exceed it, Warren had a simple answer for the group.
"Make it easier to join a union and give unions more power when they negotiate," she said.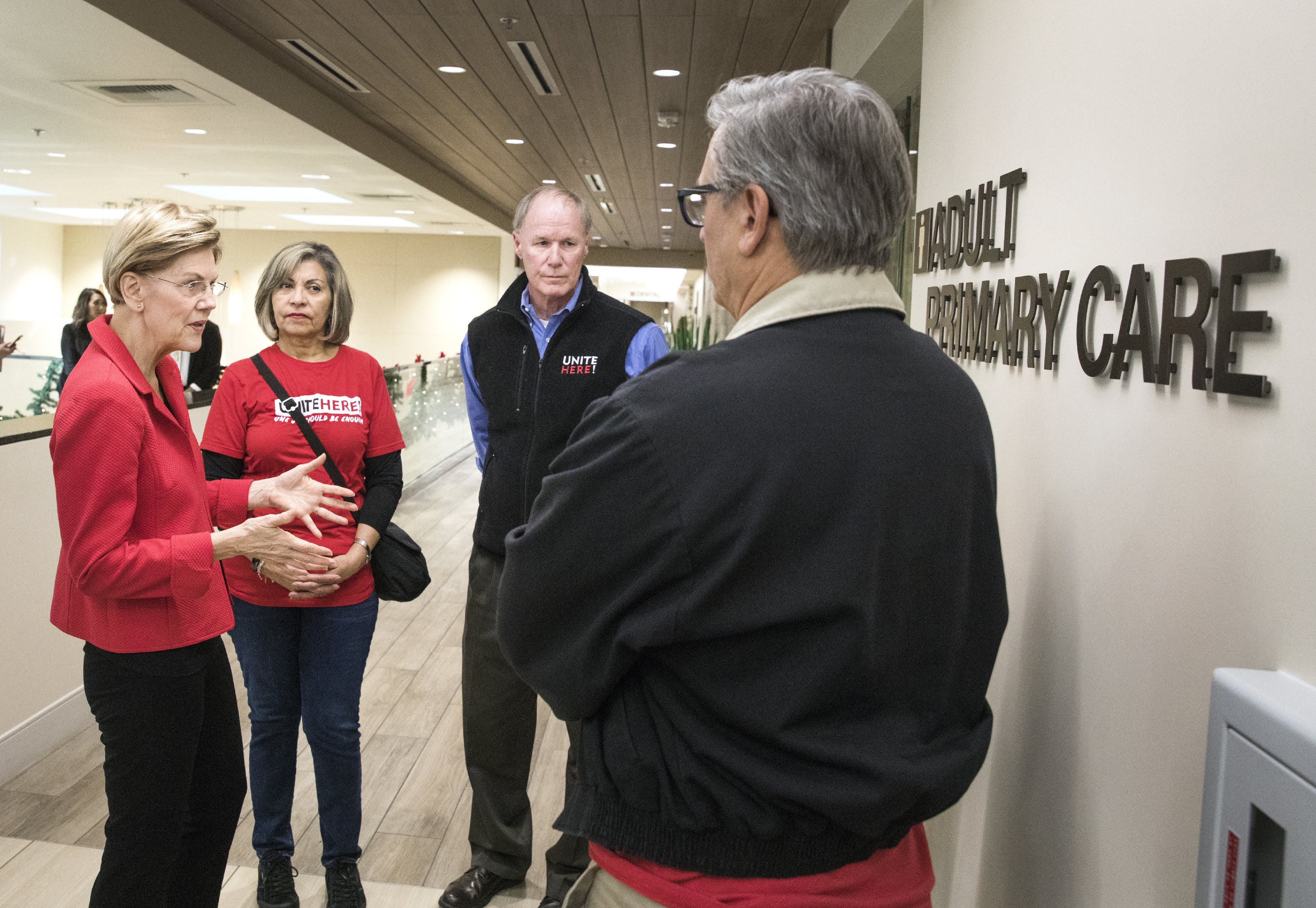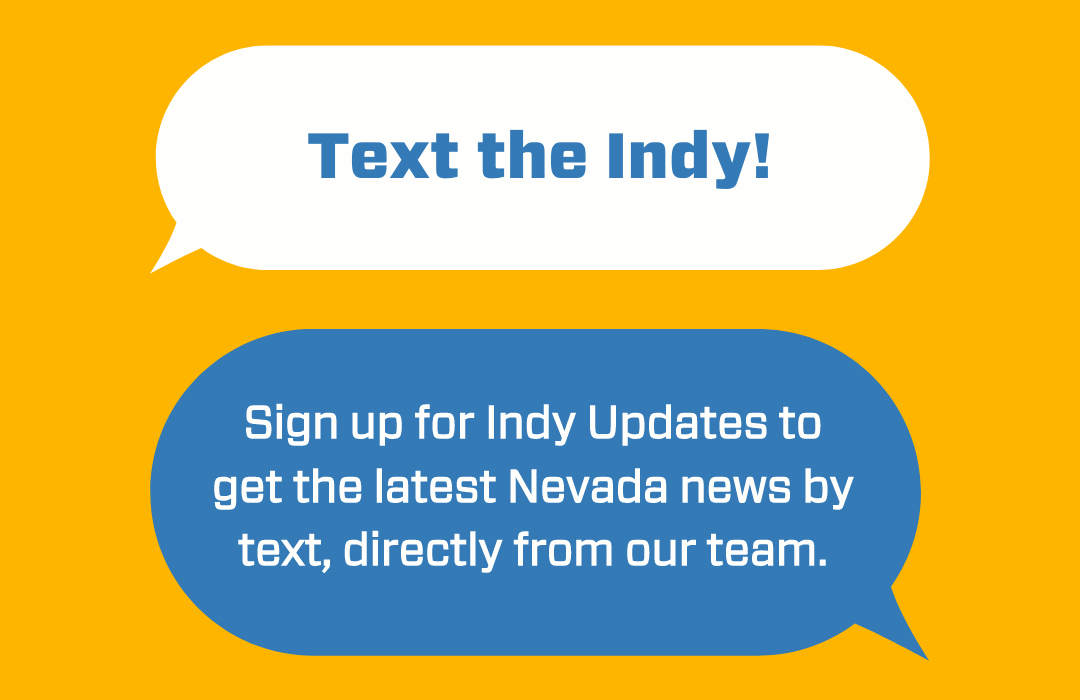 Featured Videos
Comment Policy (updated 4/20/2021): Please keep your comments civil. We reserve the right to delete comments or ban users who engage in personal attacks, use an excess of profanity, make verifiably false statements or are otherwise nasty. Comments that contain links must be approved by admin.