Warren's campaign is a 'monster.' Harris's is 'top-tier.' How presidential campaigns are stacking up in Nevada
Glimmering towers jeweled with neon. Pool parties brimming with bikinis and alcohol. Casino floors pulsating with the dings of slot machines. 
There are a lot of things that are sexy about Las Vegas.
Carrying out the day-to-day of a presidential campaign in the middle of the summer half a year before the caucuses — sending organizers and volunteers out to traverse sprawling beige stucco suburban neighborhoods, traipsing to community event after community event, and begging candidates to please, please for the love of God, come west to Nevada  — not quite so sexy.
The formula for winning Las Vegas — and the other quarter of the state's residents in northern and rural Nevada — is straightforward: Get here early, build connections with the community, maybe persuade a politically powerful union to endorse and send out foot soldiers and, above all else, hold those house parties, knock those doors and make those phone calls.
"Field wins the day," said Megan Jones, a longtime Democratic strategist who worked for former Senate Democratic Leader Harry Reid and is now a senior adviser on California Sen. Kamala Harris's campaign. "That is something I learned working for Senator Reid. You either run scared or run unopposed."
Talk to Democratic operatives, labor leaders and progressive organizers here on the ground, and there is fairly widespread agreement about the two campaigns whose operations are the ones to beat: Massachusetts Sen. Elizabeth Warren and Harris. 
Warren's team landed the earliest in the Silver State, in January, and has the biggest team at roughly 45 full-time staffers, according to the campaign.
"Even the other campaigns are saying they're the monster," said Clark County Democratic Party Chair Donna West. "They're here. They have staked a claim."
Vermont Sen. Bernie Sanders' team is just behind Warren's in size, with 40 staffers on the ground, according to his campaign.
Harris's team is actually the smallest of the top tier campaigns at 28 staffers — South Bend Mayor Pete Buttigieg's team didn't land here until June but has now exceeded that total at 30 staffers — but is widely credited as making some of the smartest hires. Her team includes Jones, state director Ernie Apreza, deputy political director Lauren Brooks, and national senior adviser Emmy Ruiz, who's worked the last three presidential cycles in Nevada including, most recently, serving as former Secretary of State Hillary Clinton's state director in 2016. 
"I think everyone has to admit they have one of the most impressive top tier campaign staffs around," West added. "So they may not have the numbers, but they certainly have the knowledge and they're definitely out there working."
(The Nevada Independent independently verified staffing totals for the Harris and Buttigieg campaigns; most other campaigns provided approximate numbers and did not disclose a full list of staff names for verification purposes.)
Then, there are two smaller campaigns that often get singled out for punching above their weight. New Jersey Sen. Cory Booker has nearly 20 staffers on the ground, according to his campaign team, while former Housing and Urban Development Secretary Julian Castro has only three. But both are frequently named among the most engaged and visible campaigns here in the Silver State despite the candidates themselves only polling in the low single digits.
There is, however, one name that was frequently left off of lists of the best campaigns among the nearly two dozen Democratic strategists, progressive organizers and labor leaders The Nevada Independent interviewed for this article: Joe Biden. 
The former vice president's team landed in late April and has since hired 34 staffers, according to his campaign. But several people said that his campaign has felt like a scarce presence compared to other operations in the state. Some, when prompted about his campaign, said that they had seen his team around and that he has a good staff, but didn't on their own suggest Biden's team as one of the top operations in Nevada, despite his current frontrunner status.
Biden defenders, including his campaign, note that he doesn't need to do as much as some of the other candidates to get his name out there. People know who he is. They're still getting to know some of the other candidates.
But Battle Born Progress Executive Director Annette Magnus, who credited Biden's team as "pretty strong" despite his late start, said she'd still like to see more investment from him as she has with Warren and Harris, both in terms of the campaign operations on the ground and time spent by the candidates in the state. (Harris has been here seven times, Warren five, and Biden three.)
"I think you're going to see that early investment and that early time spent in a state like Nevada is going to go a long way," Magnus said. "We have to organize here. It's not like other states where you can — pardon my language — half-ass it. You can't half-ass it in Nevada. Organizing still reigns supreme, old fashioned organizing, calls, doors. You can't just do some digital ad buys and call it good here."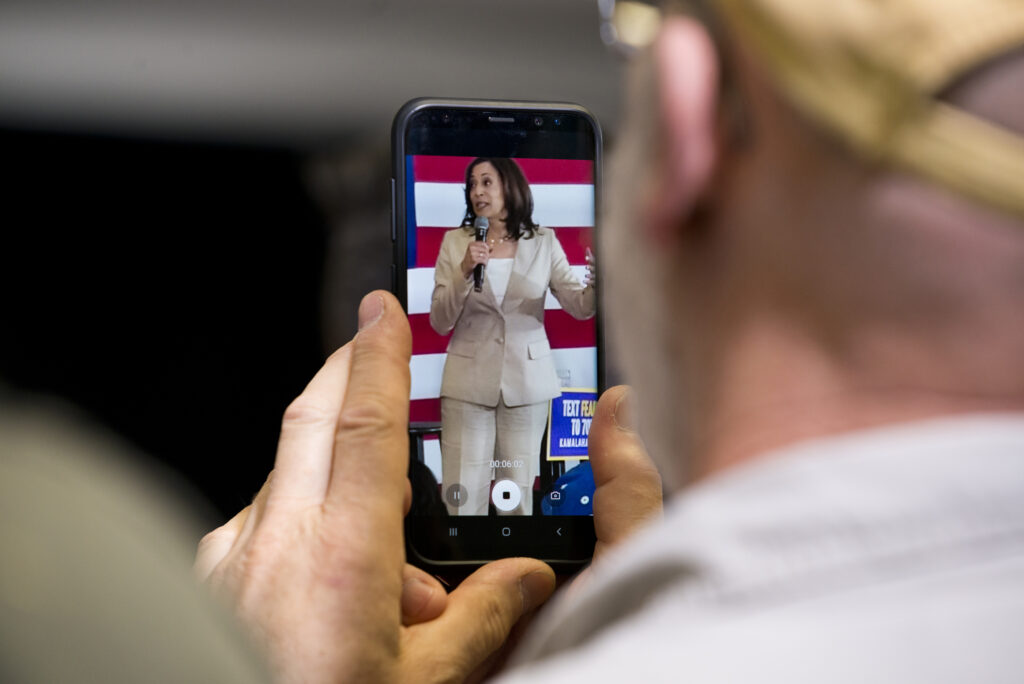 The top five
If there's one team that's been singled out for its "old fashioned organizing" so far this cycle, it's Warren's.
Suzy Smith, Warren's state director, said that when the campaign started engaging with voters in March and April, they weren't ready to commit to a candidate yet. But they got to know the team, and the team, in turn, started building relationships with those individuals. The organizers make contact with a voter at an event, at the door or on the phone, find out what they're interested in, and then follow up with them about Warren's plan on those issues, often via text.
Smith said it takes a lot of preparation for those organizers to familiarize themselves with all of Warren's plans.
"Learning her plans and how they impact Nevadans is a priority for us," Smith said. "Our organizers come armed with a lot of information and can talk to a person about an issue that they care about."
And now, she says, some of those folks are beginning to commit to Warren as their top candidate.
The campaign started knocking doors on June 29 and has six offices in the state, including the campaign headquarters. The campaign also says it has more than 20 paid interns and unpaid fellows, in addition to its roughly 45 full-time staffers.
Harris's campaign, by contrast, didn't kick off its operations in the state until April 1 but now has 28 paid staffers and one office. According to the campaign, it has reached out to tens of thousands of Nevadans through door knocking, phone calls, text messages and canvassing or tabling in high-traffic areas, such as on college campuses.
In addition to hiring experienced staffers, the campaign has also focused on making sure its Nevada staff is diverse. According to the campaign, the senior leadership team here in the state is 75 percent people of color, roughly two-thirds women, more than a third Asian American and Pacific Islander and one quarter Latino, a diversity campaign officials say is reflected in its organizing staff as well.
"I think there's definitely a winning formula to campaigning, but I think it's in how you do it and making sure that you are representing the communities that you're hoping to connect to your candidate, that you're not parachuting in, that you're walking the walk in terms of having diversity at the top and everywhere in between," Jones said. "I don't think that we're necessarily approaching winning Nevada or winning this campaign in any kind of new approach other than facilitating opportunities for leaders to lead and to be developed."
That's a priority for the Biden team as well, which says it has staffers dedicated to organizing not only in the Latino, AAPI and African American communities but also on college campuses, in senior communities and in the state's rural counties. Of the 34 people on its staff, Team Biden says 57 percent are women, 27 percent are Latino, 18 percent are AAPI and 12 percent are African American, and the campaign has plans to hire about 25 more in the month of September. It also has five offices across the state with plans for three more in Mesquite, Pahrump and Carson City in the coming months.
Voter contact is a focus for the team — which says it has collected nearly 1,000 commit-to-caucus cards from across the state this month — but its priority is laying the groundwork for a precinct-by-precinct voter turnout operation.
"It's a long runway to February," Vedant Patel, Biden's Nevada spokesman, said. "This is a caucus state, not a primary state."
Pushing back on the perception that the campaign hasn't been as active in the community, Biden officials said that the campaign is participating in all the same kinds of events that other campaigns are, though it started a little bit later than the other campaigns did. But they also note that they're running a different kind of operation.
"People try to paint sort of every campaign as in the same light and draw those comparisons in the same light when it really is apples and oranges," Patel said. "For us, this is a state that Vice President Biden is incredibly familiar with, and it's a state where Nevadans are incredibly familiar with Vice President Biden."
And though he hasn't been to the state as much as other candidates, his team says they're not overlooking Nevada.
"We're really not taking anything for granted," said Hilary Barrett, Biden's Nevada state director. "We're making sure that we're doing everything we can, and we're building a staff to touch every community and reach voters where we can."
Sanders' team, meanwhile, has a substantial 40-person operation in the state, according to the campaign, with six offices open, including the campaign's headquarters. His Nevada team was unavailable for an interview for this story but has previously talked about how much earlier it set up operations in the state this year compared to the last presidential election cycle.
"I would say that it's a very methodical and well-organized program both nationally in the state," said Sarah Michelsen, Sanders' state director, in an interview last month. "We're thinking about things a lot differently than we were in a two person race."
The campaign has been focused on hosting so-called barnstorming events, where Sanders supporters can learn about the campaign's strategy and get involved, and training volunteers to self-organize and run phone banks out of their own homes.
Buttigieg was the last of the top-tier candidates to arrive on the ground in Nevada in June but has since hired five senior staff, seven deputy staff and 18 field organizers and opened one headquarters. The campaign says it is now focused on engaging the more than 4,300 people who have signed up to volunteer in Nevada.
Paul Selberg, Buttigieg's state director, said that Nevada is "very important" to the campaign despite the late start.
"They're running aggressive campaigns in all four of the early states including Nevada," Selberg said. "There's no exception that Nevada's not an early important state."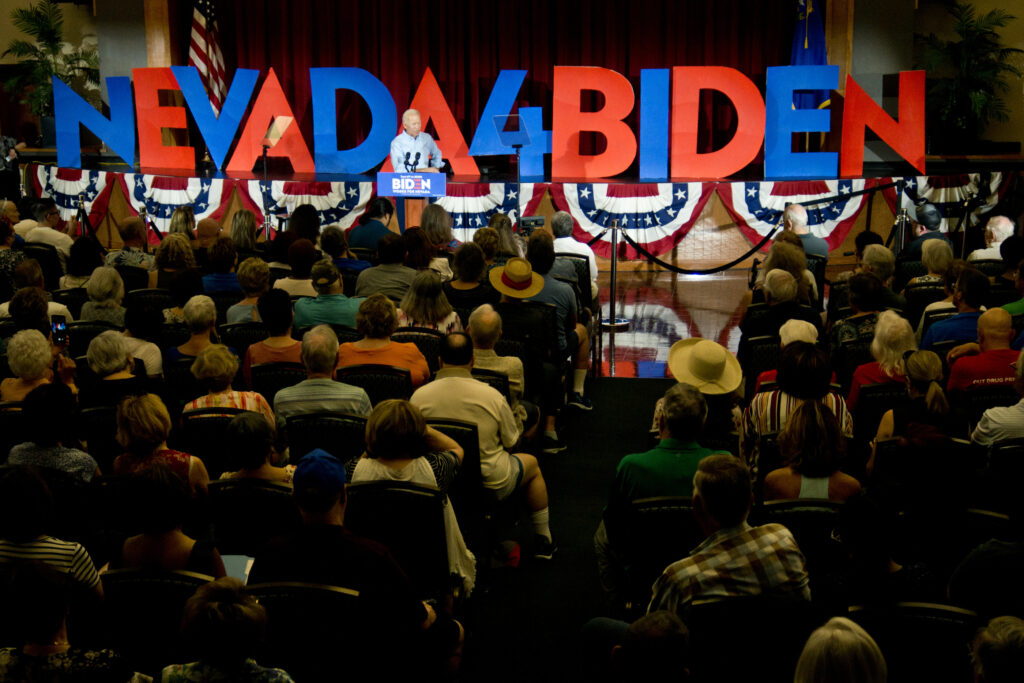 The undercard
Of the rest of the candidates, Booker has the biggest staff in the Silver State, with nearly 20 staffers on the ground since the campaign launched in early April. The campaign says it has reached out to 60,000 voters through phone calls, text message and door knocking and more than 3,000 people have engaged with the campaign at events.
Booker has made a serious play for Nevada, and his team says it isn't just because his mom lives in Las Vegas.
"I would love to tell you it's because Cory's mom said, 'Come visit me early and often,' but it was a lot more than that. We recognize there are a lot of reasons why Nevada is going to play a pivotal role in next year's primary process, and we recognize that you don't build these things overnight," said Booker senior adviser Matt Klapper. "Being there in caucus states and being there early is actually vital if you want to be successful."
By comparison, the campaign says it has about 50 staffers in Iowa, 30 in New Hampshire and 20 in South Carolina. Klapper said it's part of a comprehensive strategy.
"When people ask the question where Nevada fits into the plan as we look at the early states, asking if one state is more important than the other, it's like asking if one wing is more important than the other," Klapper said.
Castro's team — which right now only consists of a state director, political director and organizing director — is prioritizing staffing up over the next couple of months. The campaign has one office open in Reno right now and is looking to open a space in East Las Vegas, a predominantly Latino neighborhood, in the next month.
Both Booker and Castro have focused on making a splash with nontraditional events when they're in town. Booker visited Florence McClure Women's Correctional Center when he was here last month, while Castro toured the storm drains that run under Las Vegas and are home to a significant population in April. Both have also been to rural Nevada.
The two outsider candidates also have a presence in the state. Self-help author Marianne Williamson has a four-person team in the state and has identified 340 volunteers since it launched here in March, according to her campaign. 
David Bagley, Williamson's state director, said support for Williamson has evolved organically in the state but that the campaign is now focused on bringing additional people into the fold through phone banking, text messages and door knocking. In total, the campaign says it has knocked 3,500 doors already and sent 70,000 text messages.
Bagley said that Williamson's campaign is playing for the number two spot with caucusgoers in the event that their number one preference isn't viable.
"I hear, 'I like Biden, and I really like Marianne. I really like Bernie Sanders, and I really like Marianne.' I ask to have Marianne as your number two, and that's the strategy because we're a caucusing state," Bagley said.
By contrast, the Andrew Yang campaign launched in the state in mid-August by bringing on Mark Peckham as its state director and is working on securing office space, hiring additional staff and connecting the official campaign with informal groups of local supporters known as Yang gangs.
"While our base of support is still growing, the folks we do have on our side is very enthusiastic. There have been self-organized volunteer groups on the ground for months and months," Peckham said. "They've been very active doing their own phone banking, doing pamphleting, and things like that that isn't at the direction of the campaign."
The campaign hasn't had the resources until recently to play in Nevada, Peckham said, but now that they do "Nevada is where we're putting them."
Former Texas Rep. Beto O'Rourke announced in July the hiring of four Nevada staffers last month, but a spokesman and O'Rourke's state director did not make anyone on the campaign available for an interview or provide metrics on their Nevada operations. 
Billionaire Tom Steyer and Colorado Sen. Michael Bennet each have a state director here, but their campaigns did not provide further details about their Nevada operations or plans for them.
None of the remaining campaigns responded to requests for comment about whether they have staff in Nevada or plans to soon do so other than former Pennsylvania Rep. Joe Sestak's campaign, which said that it has been establishing contacts in Nevada and is aiming to kick off operations here in mid-September.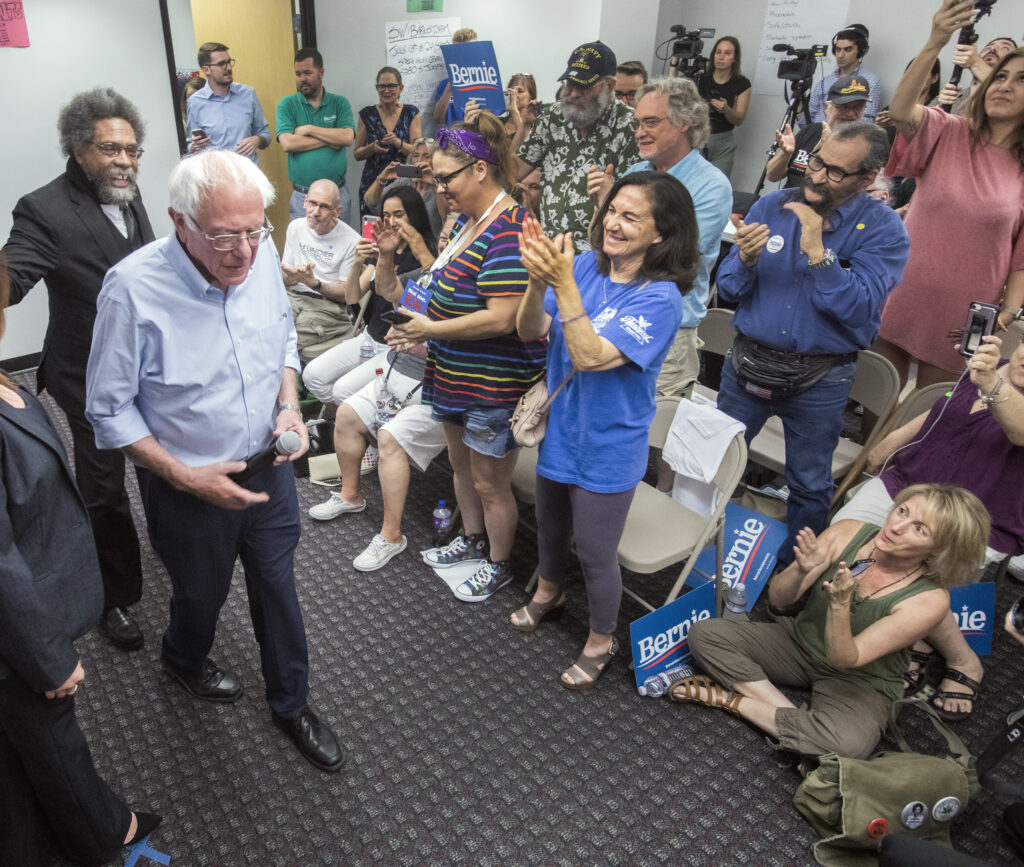 Investing in Nevada
Though the campaigns have invested to varying degrees in Nevada, there is a perception among those on the ground here that the candidates themselves have not spent enough time here. With eight visits, Castro has been the state's most frequent visitor, followed by Harris at seven; Booker, Minnesota Sen. Amy Klobuchar and Williamson at six; and Sanders and Warren at five.
A case in point: Booker is the only candidate who has planned to be in Nevada for the Labor Day weekend, while Biden, Buttigieg, Klobuchar Bennet, Sestak, Montana Gov. Steve Bullock and Hawaii Rep. Tulsi Gabbard have a total of 25 events scheduled between them in Iowa, according to the Des Moines Register's candidate tracker.
"I don't think that anybody has been here enough, if I'm being completely honest. Even the ones that have come through, I don't feel like they've come through enough," Magnus, the executive director of Battle Born Progress, said. "The thing is that, yes, Iowa is important in getting the nomination, but after that, Iowa is not important anymore in the grand scheme of winning the election, whereas Nevada continues to be important even after the primary is over."
Brian Shepherd, chief of staff for SEIU Nevada Local 1107, has the same feeling. He said that of the top tier candidates, Biden, Buttigieg and Harris still have not taken the time to sit down with their union members. (Harris did, however, walk a strike line at McDonald's with SEIU members.)
"If I was not in the top tier of candidates, I would invest in Nevada as a way to break out," Shepherd said. "Candidates aren't really pushing in Nevada."
Laura Martin, the executive director of the Progressive Leadership Alliance of Nevada, noted that there are a host of different issues that candidates have to address when they come to the Silver State.
"It's important to talk about water, climate, immigration, wages, unionization," Martin said. "A lot of that is what Nevadans are dealing with everyday."
West, the chair of the Clark County Democratic Party, said that she still thinks there is time for campaigns to play catch-up, even if they haven't put as much effort into the state yet.
"It's disheartening to me to hear cable news — they always talk about Iowa, New Hampshire and South Carolina — like, hello, we're third, and we're diverse. Out of those four states, we are the most diverse. I know we're way the heck out here and we're a small state, but we have a history here," West said. "I'm just not sure national media remembers the role that we play and how significant we can be, but the candidates certainly do."