Washoe County interim registrar reflects on the state of election officials as Election Day approaches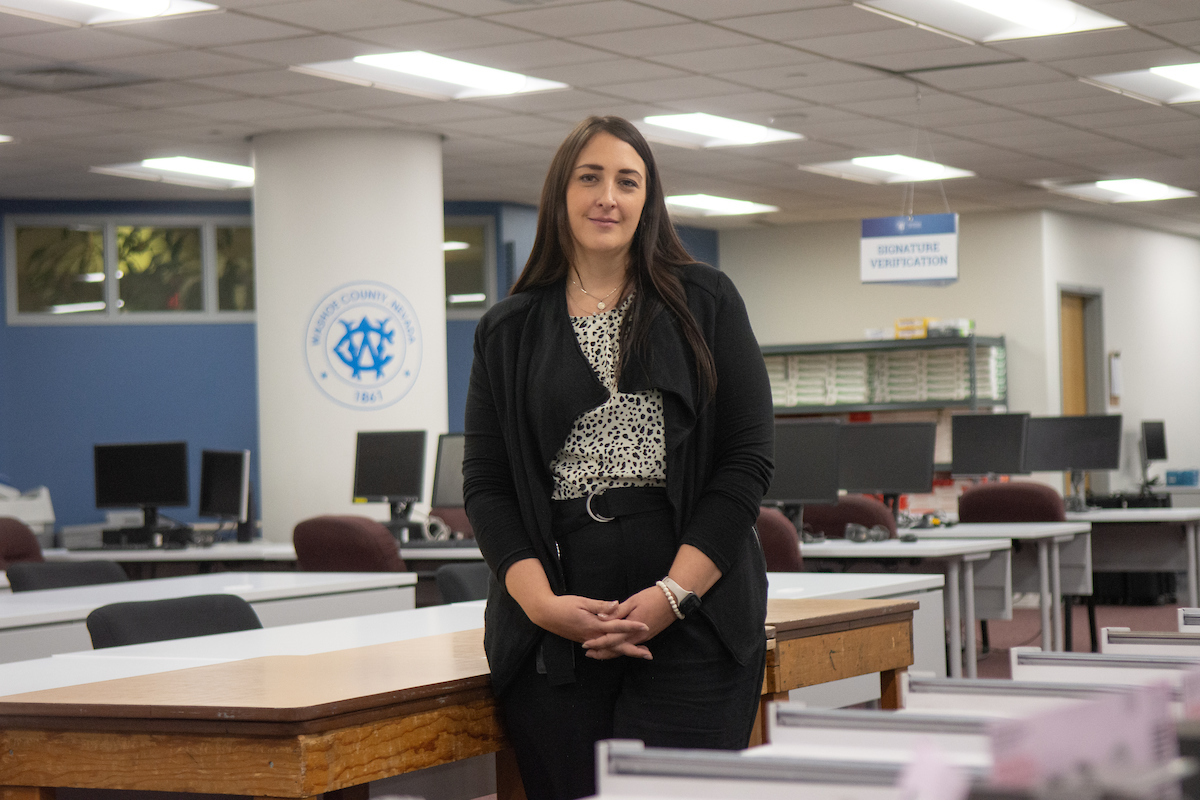 New election officials are gearing up for a major game day of sorts — the 2022 midterm election, in which Nevada will play a key role in determining House and Senate leadership.
Jamie Rodriguez, Washoe County's interim registrar of voters, is among those stepping into an election oversight role at a time marked by mass misinformation and distrust that has driven away scores of election workers in Nevada and nationwide over the past two years.
For her, it's like entering the season in the middle of the playoffs. She assumed the interim role in August after the county's prior registrar, Deanna Spikula, resigned and left the post at the end of July.
The challenges of the political environment and responsibilities of her position haven't dimmed her enthusiasm.
"I do love elections, right? I love the thought of an election. I love the implementation of elections. I love the energy around elections," Rodriguez said in an interview with The Nevada Independent. "So I do love this job. I really do."
Despite the many county-level election administrators calling it quits, the position for Washoe County's new registrar has garnered around 20 applicants, said Bethany Drysdale, the county communications manager. And Rodriguez is one of them.
If you had told her this as a child, though, she probably wouldn't have believed it. Despite her almost decade-long career in politics, Rodriguez didn't always have an interest in government work. Her father, a Nevada lobbyist, nudged her in that direction by encouraging her to intern in Washington, D.C.
"One half of my family was very Republican and the other half of my family was very Democrat. As a kid, I always associated politics with fighting because my grandparents were my babysitters and while they never talked politics together, I remember watching debates … with them," Rodriguez said. "It was very stereotypical, when their candidate was speaking they're like, 'Yes, absolutely. You're correct.' And I remember thinking like you're talking over them, you don't even know what they're saying."
Born and raised in Nevada, Rodriguez went to college at UNR and by 2006 was ready for something new. She decided to intern for former Sen. Harry Reid's office in Washington, D.C. When Reid's staff heard Rodriguez was from Nevada, she was immediately assigned to work the phones and field questions from constituents.
During her internship, Rodriguez became fascinated with the policies and procedures that go into politics.
"I was sucked in from that point forward. I thought it was the coolest thing ever," Rodriguez said.
After her internship, Rodriguez went on to work for a political consulting firm and, for the past six years, has worked for Washoe County as the government affairs liaison until becoming the interim registrar of voters this year.
Though Rodriguez didn't take the title of interim registrar until after Spikula's resignation, she played a key role in helping shepherd the county through the primary election.
Spikula went on a leave of absence last spring with no expected return date before eventually submitting her resignation in late June. In an interview with the Reno Gazette-Journal, Spikula said that harassment and the increased workload were among the reasons for her departure.
Spikula was one of six county clerks who, after working the 2020 election, opted to leave their posts before the next election cycle. Clerks in Carson City and Lyon County have said they plan to leave after this election cycle, meaning new officials will make up more than a third of the top 17 county election positions.
Lyon County Clerk Nikki Bryan is among those who are leaving, after deciding not to run for re-election this year.
"I'm really, really tired of the distrust and anger," she said in a phone interview with The Nevada Independent.
The "Big Lie," a conspiracy theory originating with former President Donald Trump that the 2020 presidential election was stolen, has had its consequences. Election officials have received death threats, faced harassment and taken on bigger workloads while dealing with many allegations and questions from the public.
Sondra Cosgrove, a professor at the College of Southern Nevada and political activist, said that while there's always lying on the campaign trail, it has crossed the line such that certain candidates are advocating for policies or making claims that are actually dangerous for election workers.
"The problem that we have is that we all tolerate a lot of lying [in campaigns] — candidates bending the truth and fibbing a little bit. So then what do we do when we think that the line has gotten to the point where somebody might get … physically hurt?" Cosgrove said in a phone interview with The Nevada Independent.
Washoe County election workers were subject to several threats during the primary, according to the Reno Gazette-Journal. In the same article, Rodriguez said people had looked in her offices' windows with night-vision goggles to watch staff during observation periods, and had physically blocked employees from leaving the county parking garage.
These instances have become common among election staff, causing many longtime election department employees to leave or retire early. Rodriguez said her mindset is different from those who are leaving office because she is going in expecting criticisms.
"I haven't received a death threat yet. I fully expect at some point, sooner rather than later, I probably will," Rodriguez said.
Another consequence of the Big Lie and the misinformation surrounding it was the Jan. 6 insurrection at the U.S. Capitol. Rodriguez said it was particularly difficult to witness because she used to work on the Hill.
"I'm hoping that as we get farther from that date that we continue to move forward from it," she said. "Unfortunately, I think we're still too close to know whether [we can]. But I hope that we do."
Rodriguez said misinformation is the biggest obstacle to restoring faith in elections. While she doesn't think the public should be required to know all of the ins and outs of the election process, she said it's disheartening to see people claiming misinformation is true without reaching out to her directly.
She wishes more people would call and ask questions rather than seek answers in places that may misinform them. She hopes to share her knowledge of the election process to inform those who are worried about the integrity of elections.
She said the county is also installing two new cameras to eliminate some blind spots while live-streaming vote-counting operations.
Additionally, the Washoe County registrar's office has an infographic named "Life of a Ballot" that shows the election process from the time the office receives a ballot to the point at which it is archived.
Informing the public is not the only part of Rodriguez's job, though. She also has to uphold voting laws and prepare for the fast-approaching Election Day.
Despite the long hours, stress, harassment and possible death threats that have become the reality of a registrar, Rodriguez said it's little things that make her job worth it. Sitting at her office desk, where her computer is flanked by photos of loved ones, Rodriguez said helping people register to vote and seeing enthusiasm from new staff members keep her going in the tough environment.
"At my core I believe that as human beings, our one job should always be to leave this world in some way better than we found it," Rodriguez said. "I believe voting is the most fundamental way that we can encourage and help people. It's your most fundamental way, as a citizen, to be able to make a change in your life for the better."
Updated on 10/31/22 at 9:23 a.m. to correct that Sondra Cosgrove is a professor at the College of Southern Nevada, not UNLV.
The Nevada Independent is raising $200,000 by Dec. 31 to support coverage of the 2024 election.
Tax-deductible donations from readers like you fund this critical work.
If you give today,your donation will be matched dollar-for-dollar.
Give + Get Matched
Featured Videos