What does the looming government shutdown mean for Nevada?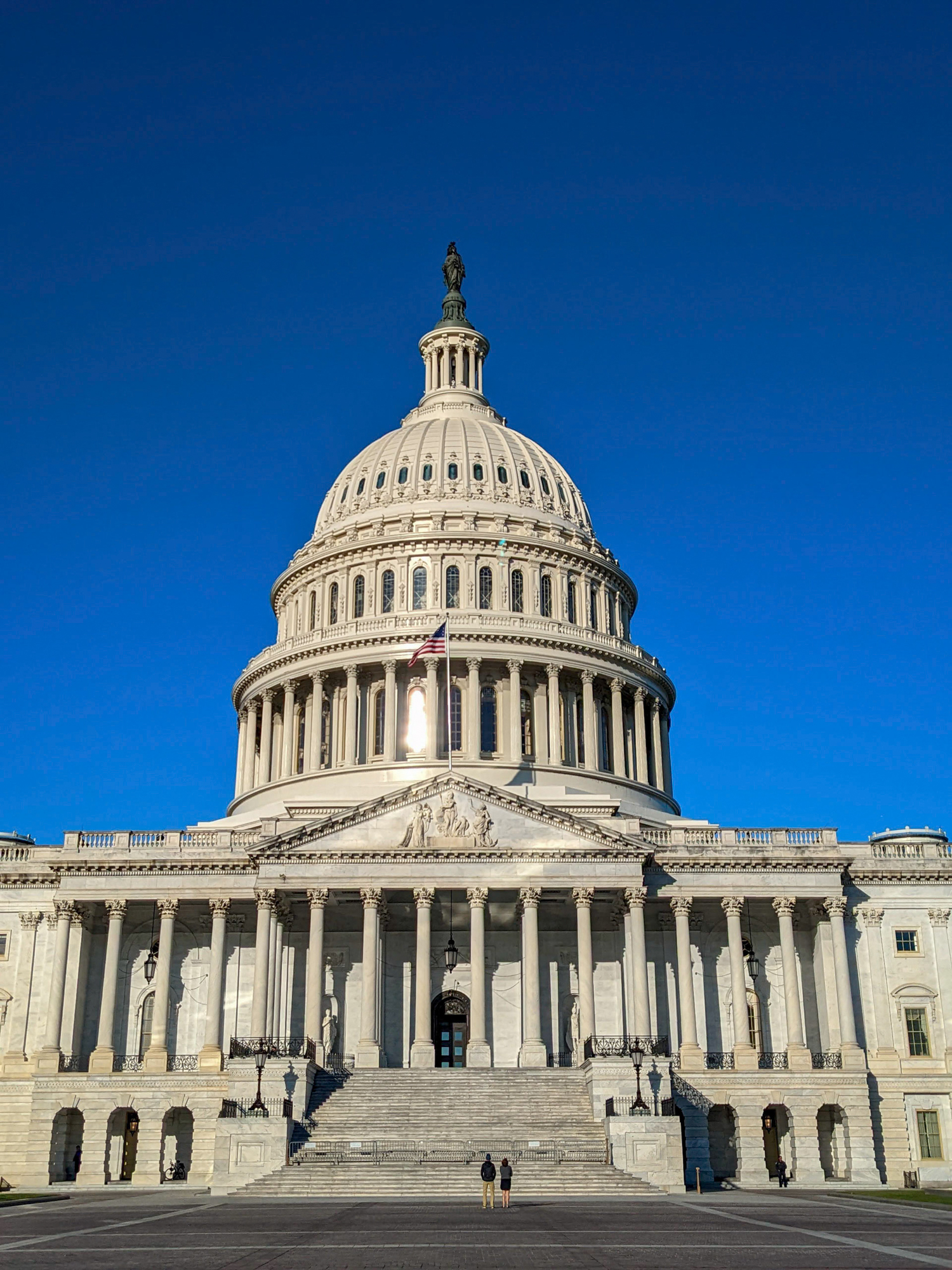 There are just seven days until government funding lapses, and with House Republicans yet to pass a spending bill, federal agencies are preparing to close. The last government shutdown — the longest in U.S. history — lasted 35 days in 2018 and 2019. 
Meanwhile, Sen. Jacky Rosen (D-NV) got a new bill through committee, and it was Fly In Week for the Vegas Chamber of Commerce, which hosted a packed schedule of events in Washington this week to advocate for its priorities.
Shutdown woes
September is spending season on Capitol Hill, when both chambers of Congress must pass appropriations bills to set government funding levels for the next fiscal year, which starts Oct. 1, and earn the president's signature.
When those bills cannot be agreed upon by the House, the Senate or the president, and an agreement does not emerge before the prior year's spending authorizations expire, then the government shuts down.
Government shutdowns have effects far beyond Washington, D.C. Federal employees, from the military to Transportation Security Administration workers to the staff at national parks, can get furloughed. Federally funded programs such as food assistance, which require annual authorization, do not get paid out. (The Department of Agriculture is typically authorized to send out food stamp benefits for 30 days, so they may not lapse if the shutdown is short.)
Unlike a breach of the debt limit — a congressional battle from earlier this year — government shutdowns do occur, but infrequently.Three have lasted for more than a week: the aforementioned partial shutdown of 2018-19, a 2013 saga that cost the economy billions of dollars, and a 1995-96 battle between congressional Republicans and then-President Bill Clinton.
For Rep. Dina Titus (D-NV), the longest-serving member of the Nevada delegation, a shutdown at the end of next week would be her fourth, counting a brief 2018 shutdown that lasted three days. As a shutdown veteran, she's worried about the impacts on Nevada's economy, particularly in travel and tourism.
"Training for air traffic controllers stops," she said. "It'll impact air travel. And also, money for Lake Mead, recreational areas. So those are two direct impacts on Nevada."
And Las Vegas, which is expecting an influx of foreign tourists for the F1 race in November, could be harmed by a long, drawn-out shutdown — Titus mentioned that visa processing, which has already been slow, could get worse.
While entitlement programs such as Medicare, Medicaid, and Social Security are considered mandatory spending and unaffected by shutdowns, grants to groups in Nevada dealing with issues ranging from conservation to education to health care will be on hold.
Federal agencies are now beginning to put out contingency plans to deal with the stoppage of funds for a host of priorities the White House has outlined.
Furloughed employees will get back pay once a shutdown has ended — something Rep. Mark Amodei (R-NV), who has voted with the bulk of House Republicans for a stopgap funding measure, noted, though he added in his e-newsletter that "shutting down the government doesn't benefit anyone."
In an interview, Sen. Catherine Cortez Masto (D-NV), who was in the Senate for the 35-day shutdown, said she was worried about servicemembers at Nevada's numerous military bases.
"Anybody who has any relationship with the federal government in our communities is going to be impacted," she said. "It's going to be devastating."
Both Cortez Masto and Titus laid the blame squarely at the feet of House Republicans. In May, Speaker Kevin McCarthy (R-CA) and President Joe Biden agreed to set spending levels for the 2024 fiscal year at a topline 1 percent greater than the last fiscal year. This agreement passed both chambers of Congress — without the support of the far-right members who have been a thorn in McCarthy's side since his 15-round speakership battle.
But McCarthy gave into his right flank's demands to write appropriations bills at levels lower than that agreement. Still, that bloc blanched at a stopgap funding bill that would have given the House more time to pass appropriations bills, voting it down. Now, House Republicans will try to pass 11 individual spending bills next week.
Even if Republicans manage to pass funding bills — something they've been unable to do over the last two weeks — their proposals, which would slash government spending, would be dead on arrival in the Democrat-controlled Senate and in the White House.
The Senate, meanwhile, passed its appropriations bills in committee with large bipartisan majorities. Majority Leader Chuck Schumer (D-NY) said he is negotiating with Minority Leader Mitch McConnell (R-KY) to try and pass a short-term stopgap bill to avoid a shutdown and send it to the House, even though spending bills are supposed to originate in the House.
"The Republicans and the Democrats in the Senate don't want to shut down," Cortez Masto said. "We're working for just the opposite."
Sen. Jacky Rosen (D-NV), who previously served in the House, acknowledged in an interview Tuesday that the ball is in the House's court. And she noted that she is part of a bill to keep lawmakers from getting paid during government shutdowns.
"I hope that cooler heads prevail, because this really impacts real people, and their ability to pay their rent or ability to buy their medication," she said. "People need to stop the shenanigans."
One potential option could be a stopgap funding bill endorsed by the bipartisan Problem Solvers' Caucus, of which Rep. Susie Lee (D-NV) is a member. The caucus' proposal would fund the government through January, with money for Ukraine, disaster relief and stricter border policies.
Rosen's nursing shortage bill passes out of committee
A new bipartisan bill introduced by Rosen to alleviate nursing shortages passed out of the Senate Health, Education, Labor, and Pensions (HELP) Committee Thursday.
The Train More Nurses Act, which Rosen partnered on with Republican Sens. Mike Braun (IN) and Susan Collins (ME), would mandate that relevant federal agencies study existing grant programs to identify strategies for increasing faculty at nursing schools.
"The shortage of nurses in Nevada is hurting families' ability to get the care they need," Rosen said in a statement.."
The bill was praised by the presidents of UNLV and UNR and nurses in leadership positions. It would also make it easier for licensed practical nurses (LPNs) to become registered nurses (RNs).
A UNR analysis found that 4,000 additional nurses would need to come to Nevada in order for the state to meet national RN averages.
Vegas Chamber hosts fly-in week
The Vegas Chamber brought a group of about 250 elected officials, education experts, and business leaders to Washington, D.C. this week to meet with all six members of the state's congressional delegation and discuss and advance the business group's federal policy priorities.
Attendees included:
Secretary of State Cisco Aguilar
Treasurer Zach Conine
Four state senators: Scott Hammond (R-Las Vegas); Roberta Lange (D-Las Vegas); Dina Neal (D-North Las Vegas); Rochelle Nguyen (D-Las Vegas)
Seven Assembly members: Tracy Brown-May (D-Las Vegas); Melissa Hardy (R-Henderson); Brian Hibbetts (R-Las Vegas); Duy Nguyen (D-Las Vegas); Shondra Summers-Armstrong (D-Las Vegas); Selena Torres (D-Las Vegas); Toby Yurek (R-Henderson)
Five Las Vegas city council members,
Former Rep. Jon Porter (R-NV)
Multiple education leaders and mayors
In an interview, Vegas Chamber CEO Mary Beth Sewald said the biggest topics of conversation were water policy, transportation interests around congestion on I-15, expanding I-11, and the Brightline funding grant to run a high-speed train along I-15, and how to ensure Nevada takes advantage of all possible federal funding opportunities. She said the electoral importance of Nevada in political circles as a bellwether state was a frequent theme over the week.
"With all eyes on Nevada, with us being in the spotlight, that is absolutely an opportunity for us to parlay that into extra benefits, extra attention," Sewald said.
Around the Capitol
Lee and a group of bipartisan members of Congress from Arizona introduced a bill to create a matched-savings program for low-income students' higher education expenses, modeled after an existing program in Arizona.
Cortez Masto's bills to allow the Southern Nevada Water Authority to run a new pipeline through the Sloan Canyon National Conservation Area in order to serve Henderson's water needs and to ease the permitting process at North Las Vegas' Apex Industrial Park passed out of the Senate Natural Resources Committee.
Republicans for Ukraine, which aims to bolster GOP support for Ukraine in its war against Russia, gave Rep. Mark Amodei (R) an "A" grade in its latest report card — which just 91 of the caucus' 221 members earned.
The United Auto Workers' strike expanded Friday to include more plants, including those at the Reno Parts Distribution Center in Reno.
A revised proposal to allow legal cannabis businesses access to the banking system — a bipartisan interest that might actually have a shot at passage — was introduced in the Senate, with Rosen as a cosponsor.
Titus hosted a Democratic roundtable with experts on handling extreme heat, and its impacts on workers, water, the economy, health care, and residents of cities including Las Vegas.
Notable and Quotable
"That is certainly a project that I can tell you has our attention, and I know the enthusiasm for it in your district and across the Southwest."
Transportation Secretary Pete Buttigieg, on the status of Brightline West's funding application, at an oversight hearing with the House Transportation & Infrastructure Committee Wednesday
Legislative Tracker
CATHERINE CORTEZ MASTO
Legislation co-sponsored:
S.Res.347 — A resolution designating the week beginning on Sept. 11, 2023, as "National Hispanic-Serving Institutions Week."
S.2843 — A bill to amend the Help America Vote Act of 2002 to require states to provide for same-day voter registration.
JACKY ROSEN
Legislation sponsored:
S.2853 — A bill to require the secretary of Health and Human Services and the Secretary of Labor to conduct a study and issue a report on grant programs to support the nursing workforce.
Legislation co-sponsored:
S.Res.347 — A resolution designating the week beginning on Sept. 11, 2023, as "National Hispanic-Serving Institutions Week."
S.2860 — SAFER Banking Act
S.2871 — A bill to advance federal government innovation through the implementation and use of multi-cloud computing software technology, and for other purposes.
S.2880 — A bill to amend title XVIII of the Social Security Act to expand the scope of practitioners eligible for payment for telehealth services under the Medicare program, and for other purposes.
DINA TITUS
Legislation co-sponsored:
H.Res.698 — Expressing support for the designation of the week of Sept. 18 through Sept. 24, 2023, as "Rail Safety Week" in the United States, and supporting the goals and ideals of reducing highway-rail grade crossing-related incidents, fatalities and injuries.
H.R.14 — To amend the Voting Rights Act of 1965 to revise the criteria for determining which states and political subdivisions are subject to section 4 of the act, and for other purposes.
H.R.5601 — To decriminalize and deschedule cannabis, to provide for reinvestment in certain persons adversely impacted by the War on Drugs, to provide for expungement of certain cannabis offenses and for other purposes.
H.Res.719 — Supporting the designation of the week beginning Sept. 24, 2023, as "National Source Water Protection Week."
SUSIE LEE
Legislation sponsored:
H.R.5598 — To amend the SUPPORT for Patients and Communities Act to reauthorize a youth prevention and recovery initiative.
H.R.5645 — To establish a matched-savings program for low-income students.
Legislation co-sponsored:
H.R.14 — To amend the Voting Rights Act of 1965 to revise the criteria for determining which states and political subdivisions are subject to section 4 of the act, and for other purposes.
H.Res.708 — Supporting the designation of the week of Sept. 18 through Sept. 23, 2023, as "Malnutrition Awareness Week."
H.Res.719 — Supporting the designation of the week beginning Sept. 24, 2023, as "National Source Water Protection Week."
STEVEN HORSFORD
Legislation co-sponsored:
H.R.14 — To amend the Voting Rights Act of 1965 to revise the criteria for determining which states and political subdivisions are subject to section 4 of the act, and for other purposes.
H.R.5573 — To establish within the Department of Justice an Office for Missing and Murdered Black Women and Girls.
The Nevada Independent is raising $200,000 by Dec. 31 to support coverage of the 2024 election.
Tax-deductible donations from readers like you fund this critical work.
If you give today,your donation will be matched dollar-for-dollar.
Give + Get Matched
Featured Videos