With hypothermia deaths at high levels, advocates call for more action for homeless
2022 brought a high in deaths from exposure to extreme temperatures statewide, but local leaders say some ideas to shelter Nevadans are impractical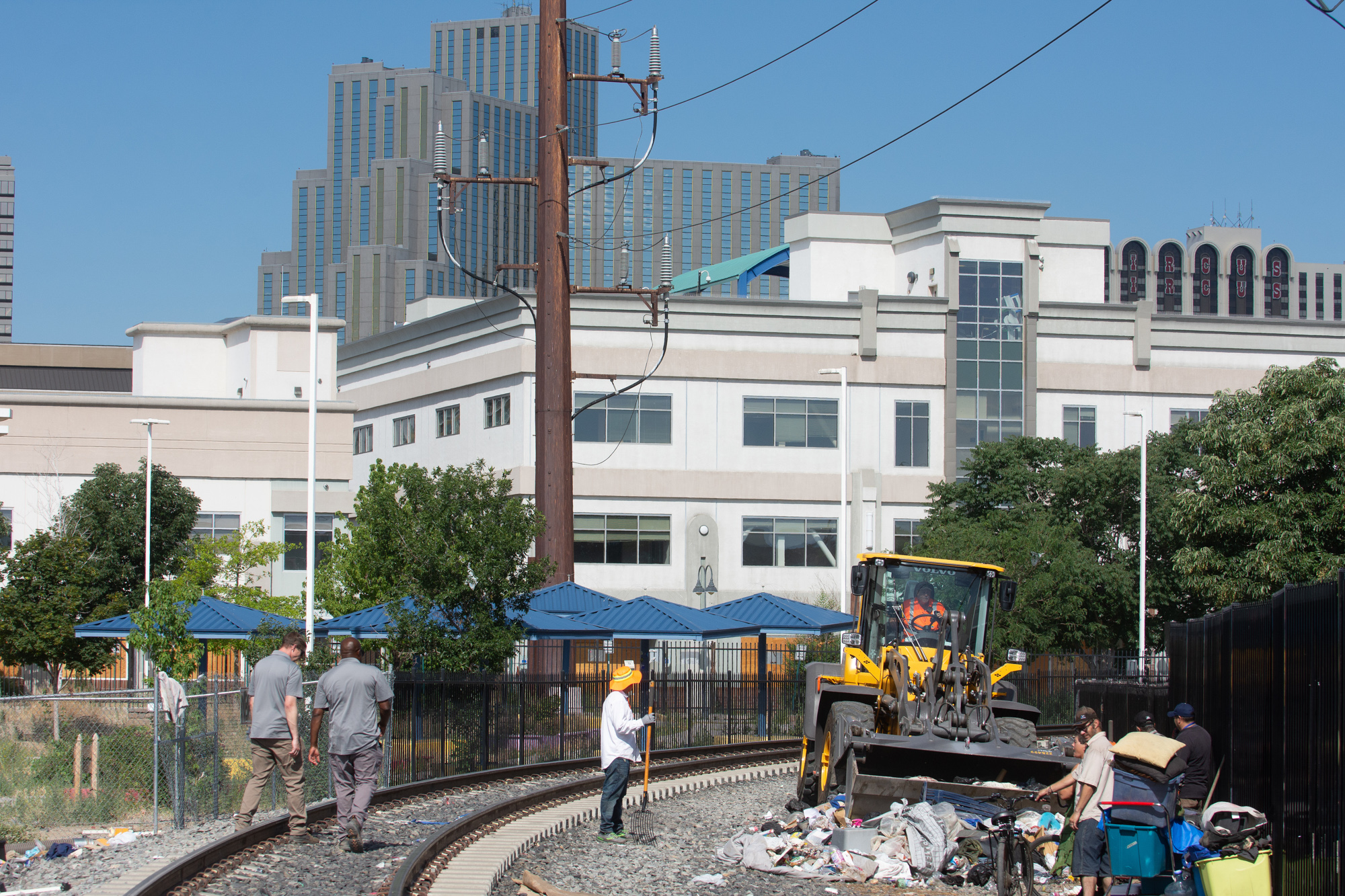 As the nights lengthen and summer fades into autumn, Northern Nevada housing advocates are calling on their leaders to prioritize preventing weather-related deaths, although local government officials say one of the major proposals is unworkable for now.
The calls to action at public meetings come after 11 people died of environmental exposure in Northern Nevada in 2022, the highest number since 2015, according to the Washoe County Medical Examiner and Coroner's Office (whose data reflects deaths in Washoe, Elko, Humboldt, Pershing, Lyon, Churchill, Mineral, Douglas and Nye counties). So far, 2023 is two fatalities behind that record.
And temperatures have already dipped below 50 degrees this month, reminding Northern Nevadans that winter will arrive soon.
"This is not a distant threat," housing advocate Tara Tran said during the Sept. 13 Reno City Council meeting. "Any death, any injury that happens because of the cold, know it's completely preventable and that prevention starts here."
The data indicates that cold exposure affects counties served by the Washoe County coroner regardless of their housing status. In 2022, only four of the 11 hypothermia-related deaths were people who died with no fixed address, the remaining seven were people with residences.
This increase in hypothermia deaths in Northern Nevada is one part of a surge nationwide starting in 2021.
According to a study published by the National Library of Medicine, the U.S. experienced 1,500 deaths because of hypothermia in 2021. This is an increase from previous years, likely because the country has a high population of elderly people who suffer from more comorbidities that increase the fatality risk of cold exposure. According to the National Coalition for the Homeless, there are around 700 people who die each year of hypothermia with no fixed address nationwide.
Call for more services
Advocates want Washoe County to open 24-hour warming centers prior to the Nov. 1 date the county plans to open them because Northern Nevada's weather often drops to below 40 degrees overnight in October. They also asked for government officials to open the community resource center on Record Street in Reno as a low-barrier shelter for women and families. Shelters catering to these demographics often fill faster than large, communal shelters.
But local government officials described that idea as cost-prohibitive. City of Reno spokesman Landon Miller said in an email to The Nevada Independent that it would cost $2.75 million to open the community resource center on Record Street and an additional $500,000 annually to operate, not including staff and programming.
The community resource center opened in 2016 and closed in November 2022 following the opening of the Cares Campus. According to Miller there have been 13 break-ins since the center shut its doors.
Miller wrote that both roofs are "severely leaking water, which is impacting all floors, ceilings and wall cavities." The water damage has also "created dangerous levels of mold, which is obvious to the naked eye," and two elevators in the complex are not working. "Key components to the building's electrical, HVAC, and plumbing systems were also vandalized, its wiring was removed or destroyed throughout all floors" and the boiler room was dismantled.
"It's not turn-key for sure," Monica Cochrin, the director of housing and neighborhood development for Reno, said at a Sept. 11 homelessness advisory board meeting, indicating the center could not open anytime soon, even if there were plans to redevelop it.
Washoe County spokeswoman Bethany Drysdale told The Nevada Independent the county has no plans to purchase the center from the city.
"The Cares Campus has capacity in its emergency shelter and can accommodate 84 cots in the overflow shelter in the case that we need it," Drysdale wrote in an email. "We also have a warming center ready to open when the temperature dips to 35 degrees and/or there's significant wet and cold weather. The warming center has a capacity of 112, and in the 2+ years we have had it, it has not yet reached capacity."
Though members of the advisory board agreed it was important to meet often to tackle the issues brought up by advocates, no winter preparedness plan or future meeting of the group was scheduled. Miller said the City of Reno defers all warming center concerns to the county, which operates the centers.
"We oftentimes are having to make these decisions very last minute and in crisis mode when you're not able to make good decisions," said local housing advocate Meagan O'Farrell to the advisory board.
Heat-related deaths
Although the dangers of cold temperatures are top of mind for Northern Nevadans right now, people across the state died of heat exposure in 2022 as well.
The elderly or those with other health conditions, particularly heart problems, tend to suffer more from heat exhaustion and heat stroke. However, a young person with no other ailments can experience fatal hyperthermia if they overexert themselves in extreme heat.
Washoe County Coroner and Medical Examiner Laura Knight told The Nevada Independent over the phone that people moving to new homes are particularly in danger of hyperthermia during the summer months because of the heavy lifting and time outdoors that the task requires.
According to the Heat-Associated Deaths & Emergency Department Visits 2022 Report, 165 people in Southern Nevada experienced heat-related deaths last year. In Northern Nevada, the Washoe County coroner's office reported three people died of hyperthermia in the same time frame. One of those deaths was a person experiencing homelessness.
State law requires heating in all habitable units and though landlords are required to maintain an air-conditioning unit, it is up to local jurisdictions whether a landlord must provide cooling systems.
Unequal access to air conditioning during the summer can also contribute to heat-related deaths — a problem the Las Vegas City Council took steps to address recently by requiring air conditioning in all newly constructed dwelling units and congregate facilities, aligning the city with other local jurisdictions in the area. The updated housing code will also apply to existing buildings if there's a change in occupancy classification or alterations that affect more than half of the building area.
There are also warming and cooling centers throughout Nevada's urban and rural areas for people without shelter from the weather.
Risk factor for extreme weather deaths
Unhoused Northern Nevadans who died from exposure to extreme temperatures last year are a fraction of the total fatalities in 2022 among Reno residents experiencing homelessness. Nearly 100 people without shelter died in Reno last year. In Las Vegas, that number is closer to 240.
Knight said those who died outdoors face a myriad of conditions on top of Northern Nevada's extreme weather.
"Just because someone is unsheltered does not necessarily mean it was the weather that killed them," Knight said. "They also die from the other things that other people in our community do as well while unsheltered. And a lot of our unsheltered folks die from natural diseases that they have not been able to get medical treatment for."
Other medical conditions increase the likelihood someone will die from environmental exposure. For hyperthermia, people with heart disease are particularly at risk, and for hypothermia, people with dementia or mental health diagnoses are at higher risk.
"I think the commonality would be someone who's elderly and who has an underlying disease," Knight said.
While people experiencing homelessness are a focus of public conversations on extreme weather, Knight said everyone should exercise caution this winter.
"Be aware of your surroundings," Knight said. "Look at the weather before deciding to go outdoors and do activities or before deciding to walk home from somewhere … Be aware of the weather and your own capabilities."
The Nevada Independent is raising $200,000 by Dec. 31 to support coverage of the 2024 election.
Tax-deductible donations from readers like you fund this critical work.
If you give today,your donation will be matched dollar-for-dollar.
Give + Get Matched
Featured Videos