Year after Capitol riot, Ford says 'big lie' remains a threat to democracy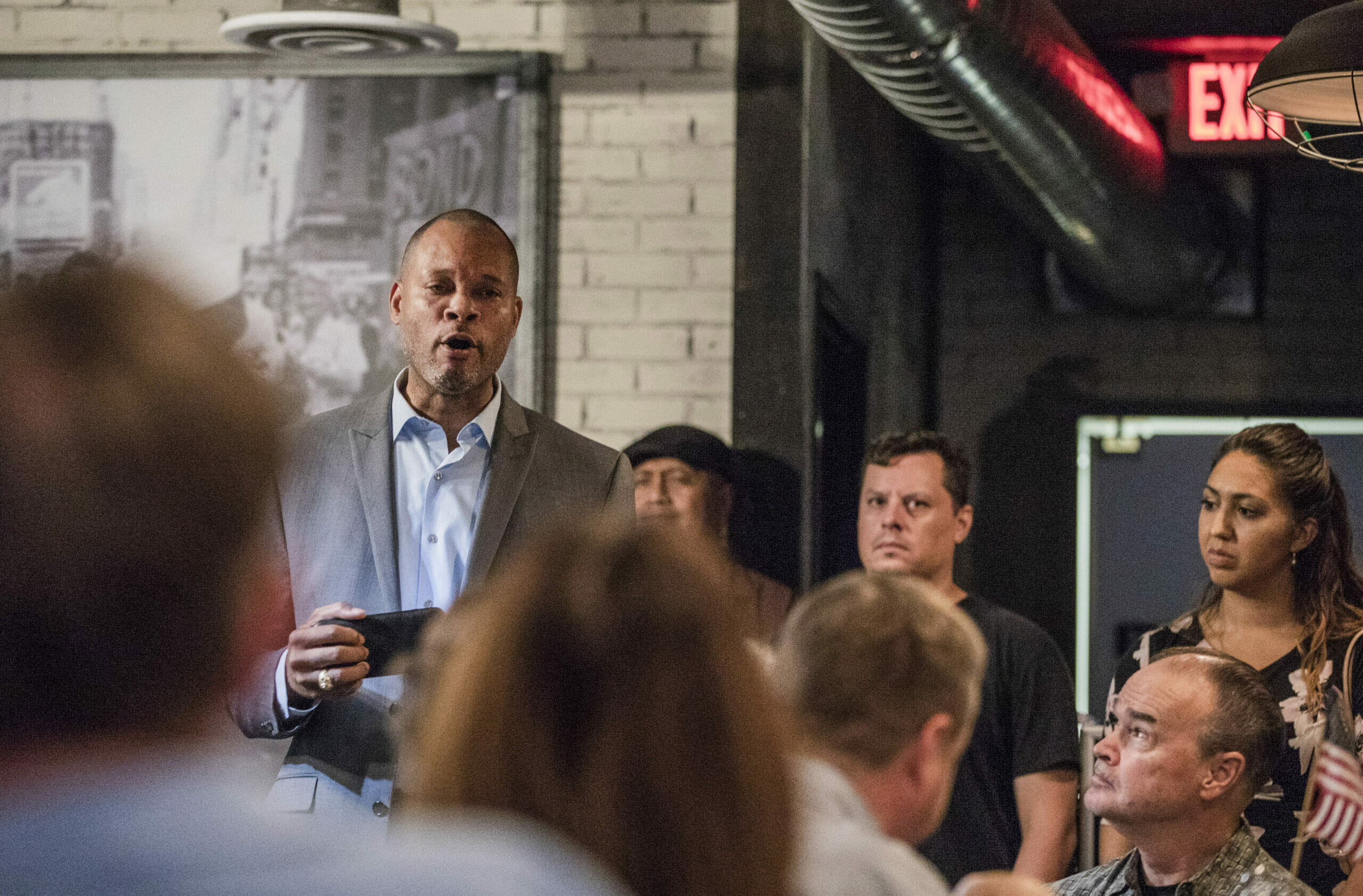 False claims of widespread fraud in the 2020 presidential election remain a threat that could incite further violence, Attorney General Aaron Ford and three other Democratic attorneys general said Wednesday as they marked the first anniversary of the Jan. 6 insurrection in the U.S. Capitol.
"As we acknowledged Jan. 6, we must also be crystal clear that this attack and threat to our democracy began long before that fateful day," Ford, who is co-chair of the Democratic Attorneys General Association (DAGA), said in a call with reporters. "And that threat has only grown in the last year."
Wisconsin Attorney General Josh Kaul underscored the lingering threat from continued false claims of 2020 election fraud, known as the "big lie," with midterm elections set for November.
"It's important to talk about why the big lie is so dangerous," Kaul said. "And the reason is that the big lie provides a pretext for people to do the wrong thing."
Along with concerns about the continued push of the so-called big lie, Ford and the other Democrats argued that many Republican attorneys general have been complicit in advancing the big lie. They cited a lawsuit brought by Texas Attorney General Ken Paxton, who led a group of GOP attorneys general in an attempt to overturn the election, which the U.S. Supreme Court dismissed in Dec. 2020.
"The fact that 18 Republican attorneys general, who are sworn to uphold the rule of law, tried to subvert it is profoundly disturbing," said Delaware Attorney General and DAGA co-chair Kathy Jennings.
Colorado Attorney General Phil Weiser was also on the call. DAGA is dedicated to electing and supporting Democratic attorneys general around the country. Democrats hold 25 attorney general seats.
Ford is up for re-election in November and won his seat against Republican Wes Duncan in 2018 by less than one percent. He will likely face attorney Sigal Chattah, who has raised concerns about the 2020 election, but has not said she believes it was stolen from Trump.
During the call, Ford recounted the legal efforts to overturn the election in Nevada, which were all defeated. He also talked about his role in assessing specific allegations of voter fraud after the 2020 election. He noted that the only instance confirmed so far was committed by a Nevada Republican supporter of President Donald Trump.
"Even while the Republicans were crying wolf about voter fraud, it turns out they are the ones who were engaging in it," Ford said.
He also referred to former Attorney General Adam Laxalt, who helped lead the GOP effort to overturn the vote on Nevada. Laxalt's campaign could not be immediately reached for comment.
"I will not tolerate voter fraud, though it is extremely rare," Ford said. "As between myself and my predecessor, who always was touting the big lie, there is only one of us who actually prosecuted a voter fraud case. And it's not him."
"The incident that I just spoke of is an egregious example of how many in the Republican Party have been co-opted by Trump's big lie," Ford continued. "They're willing to say or to do anything to support it. The big lie has become the litmus test in Republican primaries across the country."
Laxalt is running for Senate against Sen. Catherine Cortez Masto (D-NV) in what is shaping up to be a hotly contested race that could determine the majority in the upper chamber. Trump endorsed Laxalt in August.
None of the attorneys general said there had been any actionable threats related to the Jan. 6th anniversary in their respective states.
Ford said the state is coordinating with local and federal law enforcement agencies to be ready for any eventuality.
"As of yet I will say that there's nothing there that rises to the level of a threat or concern that we need to share with the public, but we stay ready so we don't have to get ready," Ford said.
Former President Donald Trump on Tuesday canceled a press conference he planned to hold tomorrow to deflect criticism for his role in the riot. The altercation began after a Trump rally near the White House where the former president and several GOP lawmakers gave fiery speeches urging attendees to fight against an unfair election. Trump has portrayed the insurrection as a protest rather than an effort to overturn his defeat in the 2020 election.
Democrats created a special committee to investigate the insurrection after House and Senate Republican leaders rejected a more bipartisan commission over concerns it would be used for political purposes. The panel—which includes two Republicans who have been heavily criticized for participating—has issued subpoenas to members of Congress and White House officials. Some have refused to appear, including former White House Chief of Staff Mark Meadows, setting up a legal standoff between the panel and witnesses.
The group of attorneys general called for accountability for those who attacked the Capitol, organizers and others. But they stopped short of criticizing U.S. Attorney General Merrick Garland, who has been accused of being too cautious in congressional proceedings by some Democrats, including Rep. Ruben Gallego (D-AZ).
"I have no doubt in my mind that Merrick Garland has the best interest of justice in mind and he's working as diligently as he can," Ford said. "I won't be the person who plays Monday morning quarterback to what he's doing. I'm certain that he is engaged thoroughly in investigations around individuals who were involved in the insurrection and who helped coordinate the insurrection and others."
The Nevada Independent is raising $200,000 by Dec. 31 to support coverage of the 2024 election.
Tax-deductible donations from readers like you fund this critical work.
If you give today,your donation will be matched dollar-for-dollar.
Give + Get Matched
Featured Videos