After closure of $8.4 million temporary facility for homeless Las Vegans with COVID-19, organizers weigh cost and benefits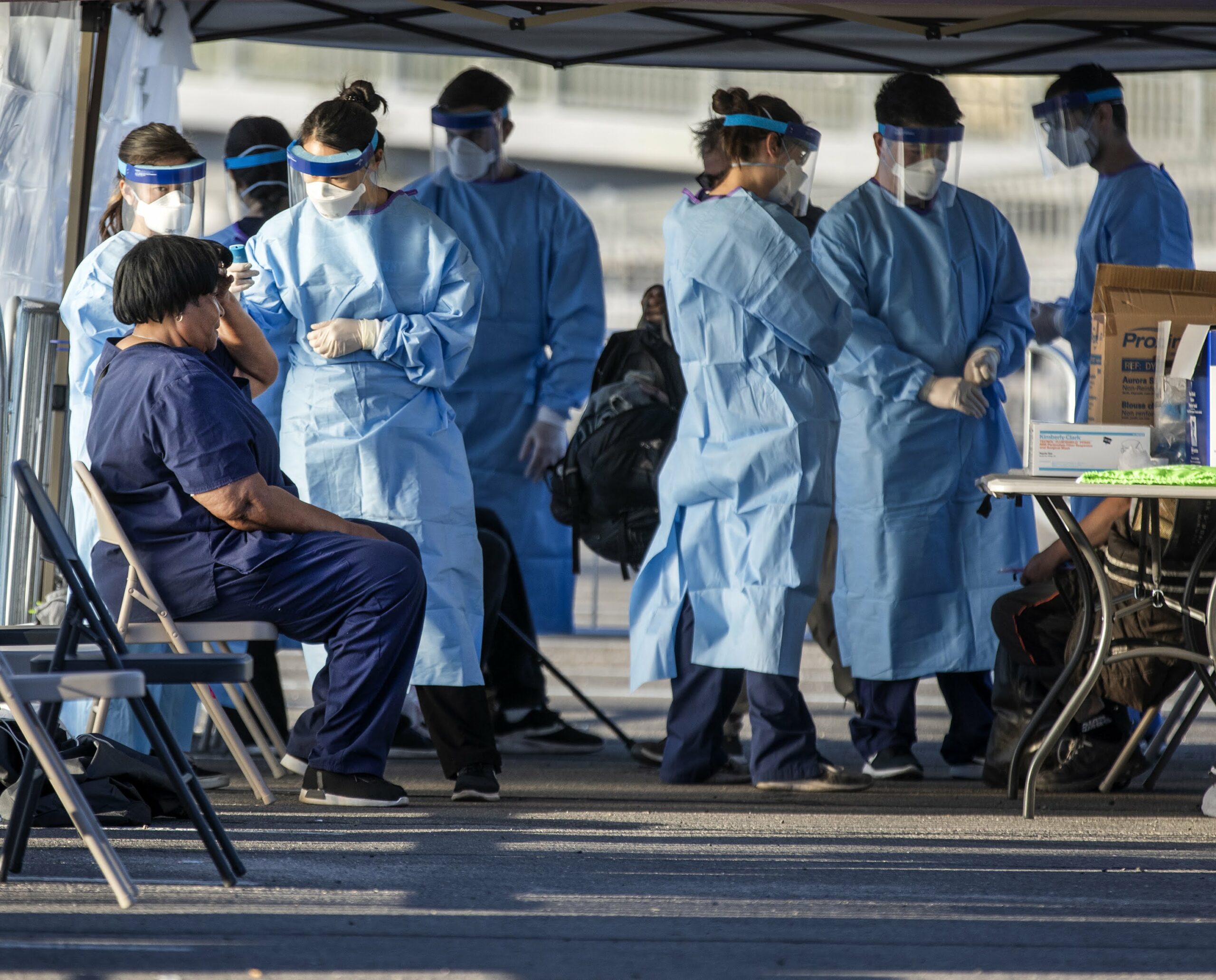 Members of the international disaster response nonprofit Team Rubicon are used to gearing up in work boots, construction gloves and durable clothing to help communities devastated by hurricanes, earthquakes or other disasters.
When the Isolation and Quarantine, or ISO-Q, facility in Las Vegas opened on April 13, however, the team, which consists of veterans and first responders, added scrub booties, latex gloves and face masks to their list of accoutrements. But those were the least of the changes the nonprofit underwent, said Rick Rosen, a volunteer with Team Rubicon who served as the deputy operations section chief and planning section chief at the facility's emergency operation center.
"These isolation quarantine sites are typically done in an international environment, not domestically," Rosen said, explaining that when his team responds to a crisis in the U.S., it is not usually a medical one. "What was really unique about Las Vegas was the fact, number one, it was the population that we were serving and that was the homeless. Number two is that not only was [this facility] for isolation and observation, but we are also treating COVID-19 patients that were referred there from a hospital within the local area of Las Vegas."
The complex, which came with a $8.4 million price tag and closed on June 30, was the product of intensive planning between Las Vegas and Clark County as well as other groups and individuals, including social workers, and aid organizations such as Team Rubicon, NurseCore and the National Guard.
Of the $8.4 million spent on the facility at Cashman Field, $5.5 million came from the county, or about 1.9 percent of its total CARES Act funds. The $2.9 million pledged by the city is primarily Federal Emergency Management Agency Public Assistance funds and anything not covered by FEMA will be covered by the city's CARES funds, according to city officials.
Designed as a temporary acute observation facility to serve members of Southern Nevada's homeless population exposed to the coronavirus, the ISO-Q grew from conversations in early March between Kathi Thomas-Gibson, director of Community Services for the City of Las Vegas, and Jon Stevenson, assistant chief of medical services at Las Vegas Fire and Rescue, both members of the regional Continuum of Care board, an organization committed to addressing and ending homelessness in Southern Nevada.
People experiencing homelessness tend to have more chronic health conditions associated with a greater risk from COVID-19 including chronic respiratory conditions such as obstructive lung disease or asthma. Thomas-Gibson and Stevenson knew the population needed aid and a direct response, which they noticed neither the city nor the county had begun developing, Thomas-Gibson said.
The facility opened after photos of people experiencing homelessness sleeping in painted rectangles in the Cashman Complex parking lot drew criticism from around the world and an employee of Catholic Charities of Southern Nevada working with members of the homeless population — and a client of the shelter — tested positive for COVID-19.
More than half of Southern Nevada's homeless population has reported preexisting conditions, according to data gathered during the 2019 Homeless Point-In-Time counts. This, combined with the threat COVID-19 presents to vulnerable populations who are often in close quarters and without access to facilities to properly clean themselves, meant officials needed to respond quickly after the worker and client at Catholic Charities tested positive, said Clark County Commissioner Tick Segerblom.
"Catholic Charities and other places like that, if they start testing positive then they had to either get everybody out or even social distancing and then kick out half their people. We needed a location," Segerblom said. "I think it served its purpose. I'm not sure if we ever got to capacity, but at least it was there."
About the time the facility opened on April 13, 65 percent of hospital beds in Southern Nevada were occupied, according to an April 8 Nevada Hospital Association report shared with government officials and obtained by The Nevada Independent. When the facility closed on June 30, a Nevada Hospital Association report showed that 78 percent of hospital beds in Southern Nevada were occupied.
As of July 16, 79 percent of hospitals in Southern Nevada were in use, the Nevada Hospital Association reported.
Volunteers and employees at the facility celebrated the aid the ISO-Q provided to Southern Nevada's most vulnerable population during the ongoing global health crisis, but critics question the amount spent on a relatively small group of people. Others wonder whether the facility was closed prematurely amid the growing number of coronavirus cases.
'What's the value of a human life?'
For the 79 days the complex was open, the temporary facility offered medical and social care as well as shelter, food and other services to 245 homeless patients potentially exposed to COVID-19, about 3 percent of the estimated 7,169 people experiencing homelessness on any given day in Nevada.
The ISO-Q's closure was not because of the low occupancy, according to Thomas-Gibson. The facility was created with the intention of being temporary, operating up to 90 days. Organizers also had to return Cashman Field to the Las Vegas Lights FC soccer team, which resumed playing on July 11 and has their first game scheduled for Saturday, July 25.
If hospitals become overwhelmed, other sites can bridge the gap the ISO-Q temporarily filled, Thomas-Gibson said, specifying the alternative care site at the Las Vegas Convention Center, which will be constructed if hospitals reach capacity, and the 30-plus bed isolation facility on the main campus of the Southern Nevada Health District, which officials are working on building but does not have an opening date yet.
With the $8.4 million spent and the 2,220 overnight stays by patients at the ISO-Q, each night a patient stayed at the ISO-Q cost about $3,796. The overall cost spread out among the facility's 245 patients is $34,396 per patient.
But Thomas-Gibson said such calculations aren't a fair measurement of the work of the facility.
"I'd ask [critics of the money spent on the facility] what's the value of a human life? Right? If we don't value or care about the [most] vulnerable amongst us then the whole community is at risk. The whole community is fragile," Thomas-Gibson said. "You really can't put a unit cost on the lives that were impacted."
Prevention and intervention — two of the ISO-Q facility's goals — require preparation without a guaranteed outcome, Thomas-Gibson said. Over-preparation to a degree that may never be needed, is better than under-preparation that results in a too-little, too-late scramble.
"I appreciate people's opinions, and I understand their concerns about how dollars get spent, but some people got off the street," Thomas-Gibson said. "Some people got reconnected with their family members. Some people got chronic diseases treated that had they been allowed to fester, might have died on the street — that's not a hyperbole either."
Because the funding for the ISO-Q came from the CARES Act, there were restrictions on how it could be spent. For example, funds had to be spent by the end of the year and be related to the coronavirus. But efforts are being made to turn some of the temporary services into permanent ones, such as potentially turning temporary facilities into permanent facilities and testing out various services, according to Segerblom.
On its peak day, the ISO-Q hosted 66 patients, which is about 13 percent of the facility's 500-bed capacity.
Though less than three months may seem short and the number of patients served low for the facility's max capacity, Thomas-Gibson said the facility was not underused and that anyone focusing on capacity is "missing the point."
"Thank God we did not have 500 ill people on campus. Thank God we had the ability, had that been the need, to serve 500 people," she said. "The point wasn't to have 500 ill folks. The point was to serve, if it had only been 5, but to fill the gap that existed at that time and support people experiencing homelessness, so they, too, could comply with the CDC guidelines related to flattening the curve."
The ISO-Q's 500-bed capacity for a "worst case scenario" came from a national model from a study by the Department of Housing and Urban Development, Thomas-Gibson said.
"At that time, we did not know what the scale or scope would be," she said. "We do know that people experiencing homelessness have a number of underlying health conditions that would put them at greater risk for contracting and spreading COVID-19."
While it was open, 22 of the patients at the facility tested positive for COVID-19 and were treated in the Isolation Confirmed Unit. Patients exposed to someone with the virus and/or waiting for their test results stayed in the Quarantine Unit or the Isolation Symptomatic Unit depending on if they had symptoms.
Officials sent the six remaining individuals with confirmed COVID-19 cases to another facility the day before the campus closed on June 30. Since the facility closed, cases in Nevada have steadily risen, causing Gov. Steve Sisolak to reverse and restrict previous reopening directives in counties with the largest COVID-19 caseloads.
A spokesperson for the city of Las Vegas noted that although cases of coronavirus are rising, the ISO-Q facility was always designed to be temporary, and any homeless individuals not receiving care at a hospital are being taken care of through county service providers such as the Courtyard Homeless Resource Center.
The future of funding for such services is up in the air. While budget cuts are being determined for fiscal year 2021, the economic consequences of the pandemic are still unknown. But there is normally a "double whammy" in cuts, Segerblom said, because social services are usually the first to go when determining where to cut corners, hurting the people who need help the most.
"All we can do is just pray that the federal government gives us more money to work and be able to fund those kinds of programs," Segerblom said. "And then we have to be very vigilant to make sure that the money is used as much to the extent possible for people that truly need it."
'Camp Cashman'
The CDC guidelines for the pandemic — social distancing, washing your hands, staying home if you feel sick — that seem easy enough for the middle class can be almost impossible for those experiencing homelessness, Thomas-Gibson said, explaining the importance of having a space for members of Clark County's most vulnerable populations to isolate.
"If you don't have a home, there's no way you're going to comply with the most basic of those CDC guidelines," Thomas-Gibson said.
People experiencing homelessness do not have access to a regular restroom or shower and homeless shelters are not designed for isolation. Additionally, homeless individuals with jobs risk losing their path to self sufficiency if they follow CDC recommendations and do not go into work when they are sick, Thomas-Gibson said. The ISO-Q aimed to help people experiencing homelessness comply with those guidelines.
The facility had waves of patients that correlated to several community-based testing initiatives, according to Thomas-Gibson. Teams would go to the Courtyard, social partners, or homeless encampments to perform COVID-19 tests.
Teams gave bags of clothes and food to people as a way to encourage them to get tested and offered gifts, such as Walmart gift cards, for those who returned to receive results, Rosen said.
"I thought that was pretty ingenious of how they understood the community that they were serving, and that population, of what the drivers were, to motivate them to come in and get tested," Rosen said.
Anyone who wanted to wait for results at the ISO-Q could.
Some patients were apprehensive about the ISO-Q, according to Terry Bruesehoff, clinical transition manager at NurseCore, which provided nurses for the operation. Those patients slowly became comfortable and understood that they would be treated well, said Bruesehoff, who oversaw the nurses at the site.
"We would tell our nurses, 'This is not the hospital, and this is not the home. This is Camp Cashman, and this is how it is,'" Bruesehoff said. "You have a population that can challenge you because they have all these medical issues, mental health issues. They're used to being outside, they're used to doing their own thing."
Staff tried making the ISO-Q's environment as homey as possible, Bruesehoff said.The facility's eight tents — designated as red, yellow or green for the different units — had partitioned cots for distancing and were air conditioned and equipped with Wi-Fi. Patients could access tablets for entertainment. Some were able to reconnect with family using the tablets and were reunited and discharged to them at the end of their stay.
Despite low occupancy, the site "always felt busy," Thomas-Gibson said, because workers and volunteers were treating other health needs of patients and were "hyper vigilant" about cross contamination. The number of staff on site was adjusted to the need and averaged between 30 and 40 paid staff daily, according to city officials.
Staff and volunteers took every precaution possible, and although some interacted directly with patients who had the coronavirus, no staff members caught the virus, said Dr. Marc O'Griofa, medical director for Las Vegas who oversaw the medical staff at the facility.
Treating the whole person
One night at the ISO-Q, Rosen was talking with O'Griofa. They'd had five patients in the red tent, confirmed with COVID-19, for a month. In weekly tests, results kept coming back positive.
"You figured that the virus would have run its course by now with them," Rosen said. "And so, we were thinking about it, and we started peeling the onion back. And what was the common factor between all five of these patients besides them having COVID-19? They were all diabetics."
The observation aligns with the CDC's findings that those with underlying medical conditions are at a higher risk for developing a more severe illness from COVID-19. Health and homelessness are also linked; poor health is both a factor contributing to homelessness and a result from homelessness.
In addition to testing and treating for the virus, the ISO-Q treated various health issues of patients — from chronic illnesses to open wounds.
"Obviously we're testing them for COVID, but people are walking in with swollen feet, congestive heart failure, diabetes, possibly having heart attacks, asthma, all the elements they've been exposed to. You can't just ignore that. You can't just say, 'We're just going to treat you, and good luck to you,'" Bruesehoff said. "We knew this would happen, that when they walked in or they came in, that we were going to be dealing with the whole person."
The integration care model of both medical and social care was a "critical point" for the success of the ISO-Q, Bruesehoff said. On the medical side, patients were given full physicals and holistic care for their health needs, including receiving prescriptions. On the social side, case workers helped patients apply for Medicaid cards, get essential documents such as IDs and birth certificates and access resources they would need after leaving the ISO-Q.
Even though case workers aimed to avoid discharging patients back to the street, a small percent of patients did choose to do that, Thomas-Gibson said. The facility offered several discharge options, such as other types of care or transitional housing.
About 80 percent of people leaving the facility joined programs helping them work toward finding stable housing situations, according to statistics from the city.
"I think there's a definite need in every city of this country to be able to serve this population and meet their needs and help them get back into housing," Bruesehoff said. "I think what we're showing is a little bit of attention to this population can really make a difference in getting the homeless off the street."
Lessons learned
Though the ISO-Q met its goal of filling an immediate need, it is not a model for addressing homelessness or housing issues, Thomas-Gibson said. Instead, it's a model for bridging a gap in a specific health care crisis.
The model, however, is informing how the government approaches health crises in the future.
Dr. Robert G. Marbut, executive director of the U.S. Interagency Council on Homelessness, spent two days at the ISO-Q during its final week of operations and told the team that the ISO-Q would provide a national blueprint for similar facilities, for both those experiencing homelessness and the general population, for health crises in the future, according to O'Griofa.
Since the ISO-Q opened in early April, similar models have sprung up in Texas, Utah, California and other states around the country. Rosen said the ISO-Q facility provides a useful framework for approaching and addressing situations governments and nonprofit organizations are facing during the pandemic.
"Understanding all of that now and what it looks like, will help us respond faster and be able to address the uptick, if you want to say, of this virus, and get people quarantined and treated a lot quicker," Rosen said.
In the wake of the closure of the ISO-Q, there are no new outreach programs set to begin for those experiencing homelessness. But existing programs such as the Courtyard will remain open and will continue connecting people to resources and directing them to testing sites as needed, city officials said.
Plans are also in the works to develop a 50-bed medical respite facility with a quarantine unit and transitional care for patients with high-risk underlying conditions, said O'Griofa, adding that he is also working with the city on plans for an ISO-Q 2.0 to have an "ongoing solution" during the pandemic.
Similar to the ISO-Q, these facilities would be for those experiencing homelessness who need ongoing medical care but not enough to go to the hospital. They will also have social workers to connect patients with resources.
Asked about a timeframe for these projects, the city said, "The city of Las Vegas is currently evaluating options to continue to assist those experiencing homelessness who are the most vulnerable and medically fragile in the community."
At the county, Segerblom is planning to propose what he calls a "Navigation Center" for homeless and at-risk populations in his district that would serve as a permanent facility where homeless could find a place to connect with resources, treatment facilities and housing placements — an expansion of the social work conducted at the ISO-Q facility.
"If we can do [something like the ISO-Q facility] for COVID then we really should have that kind of facility just every day," Segerblom said. "When I look at that, I see that as a precursor to what I'm hoping to do on a permanent basis in my district."
Individuals experiencing homelessness were not the only ones who benefited from the facility. Many staff members and volunteers who worked there said they were inspired to continue working with vulnerable populations and addressing a need that often goes overlooked.
"Everybody working there really ended up really liking what they were doing, and, like I said, that mutual respect that whether you were cleaning toilets or delivering food or providing the medical care, it was a great lesson to see everyone getting together and working for the good of these people," Bruesehoff said. "They're human beings, and I think these folks felt that we were treating them as human beings."
For O'Griofa, the experience was humbling.
"Looking after this patient population, I suppose, has been a privilege from my point of view and has allowed me, hopefully, future opportunities to actually make an impact in these people's lives and continue on this mission in some way, shape or form," O'Griofa said.
Comment Policy (updated 4/20/2021): Please keep your comments civil. We reserve the right to delete comments or ban users who engage in personal attacks, use an excess of profanity, make verifiably false statements or are otherwise nasty. Comments that contain links must be approved by admin.