Providers struggle to meet needs of homeless as coronavirus pandemic spreads, conditions evolve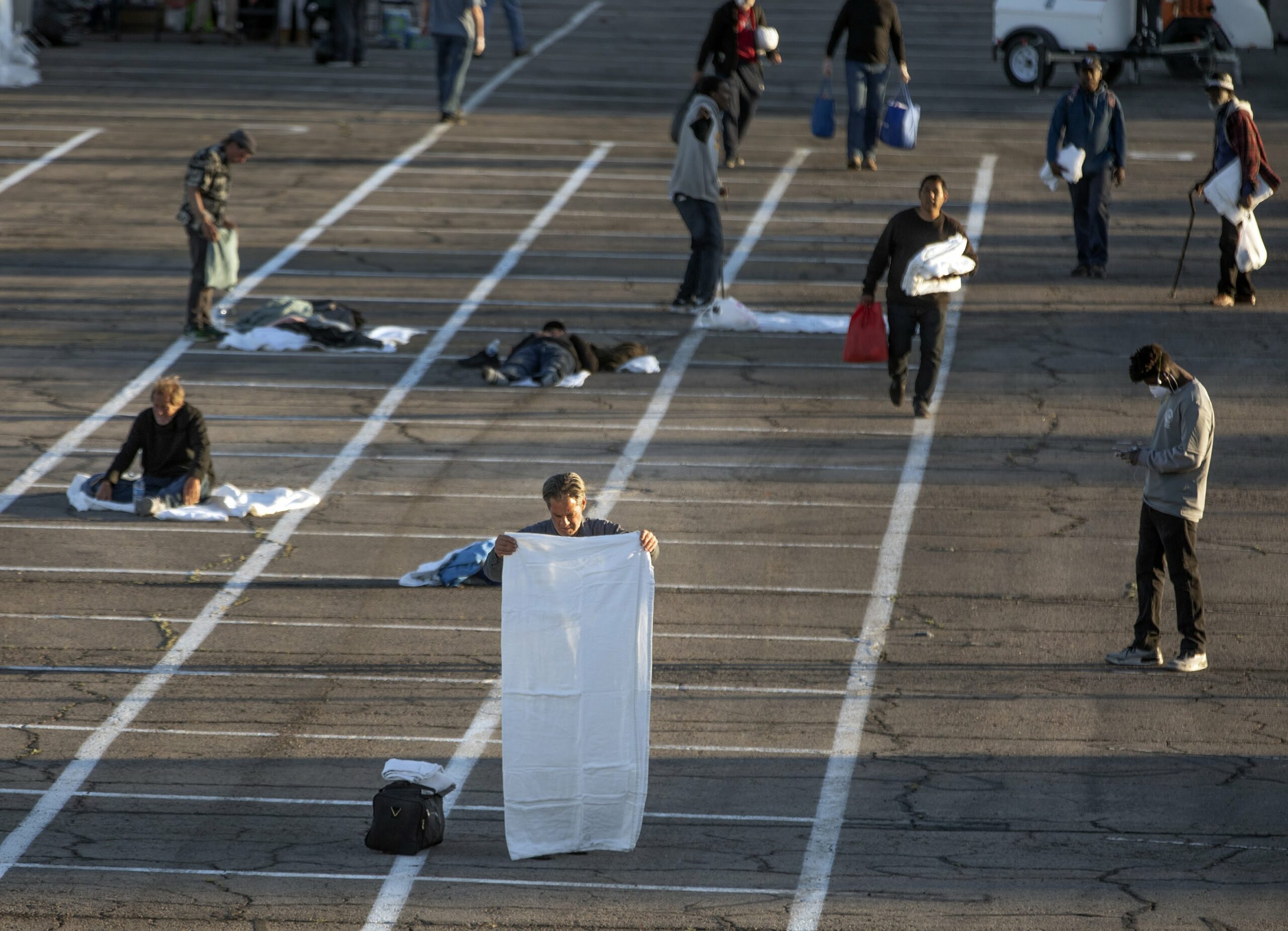 After a man who stayed at a Las Vegas homeless shelter tested positive for COVID-19, prompting the closure of the shelter and an overflow crowd at the open-air Courtyard Homeless Resource Center, Southern Nevada officials got to work on a solution.
On Saturday, they touted their work converting the Cashman Complex parking lot into a sleeping area complete with carpeting. But by Monday, a photo of people curled up under blankets in painted rectangles on the asphalt was drawing criticism from around the globe, with many asking why Southern Nevada's largely empty megaresorts were not being offered up as a solution.
"Nevada, a state in one of the richest countries in the world, has painted social-distancing boxes on a concrete parking lot for the homeless to sleep in," one person wrote in a tweet that has been shared tens of thousands of times.
Asked why the interior of Cashman Complex, which has bathrooms, water hookups and electric outlets, was not opened up for a temporary shelter, a spokesman for the City of Las Vegas said that officials already made a commitment to reserve the interior of Cashman for hospital overflow, which could accommodate 1,000 patients in the event that area hospitals become overwhelmed. He said people ended up sleeping on the pavement with no roof over their heads because there were not enough sleeping mats to go around.
"There's not [any overhead structure.] That's obviously not the most ideal situation," city spokesman David Riggleman said in an interview on Monday.
Clark County partnered with the city to create the temporary shelter at Cashman Complex. County spokesman Erik Pappa did not immediately reply to a request for comment on further plans for the county to provide emergency shelter.
Riggleman said the carpet that was originally laid down in the Cashman Complex parking lot on Saturday had to be rolled back up because it could not be sanitized, and added that the city and county are working on acquiring more mats for people to use until Catholic Charities can reopen, which he anticipates will be later this week.
"You can't find so many things, now. Everybody needs it," he said.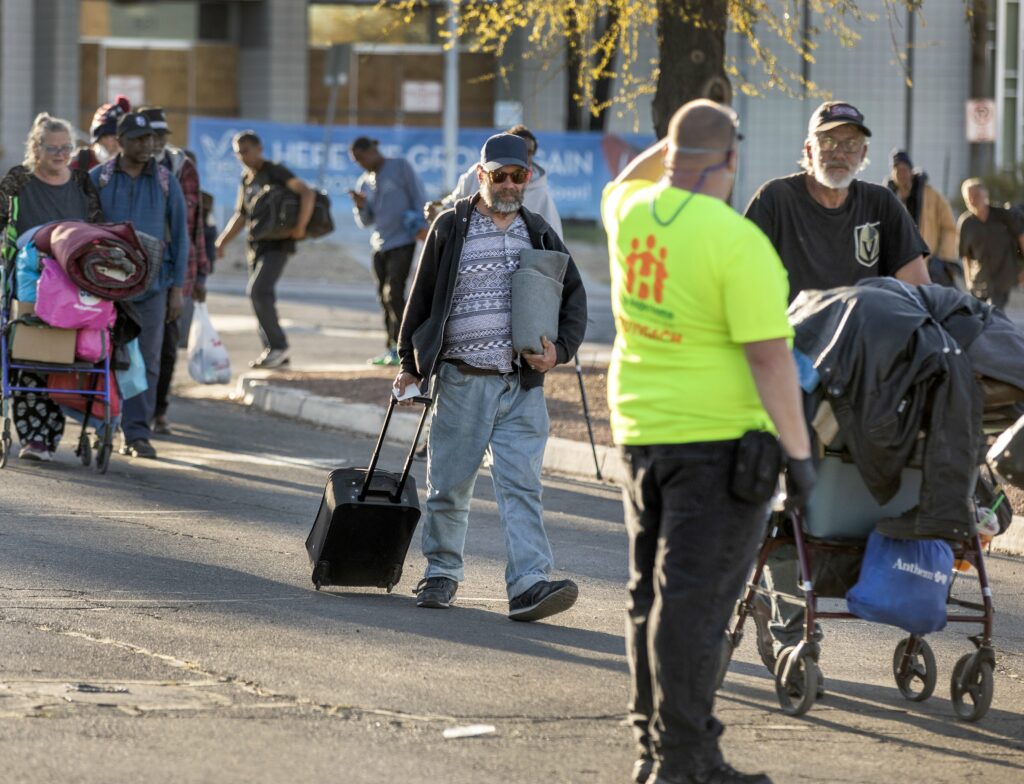 Southern Nevada's troubles accommodating displaced shelter clients are just one example of the problems organizations are having providing services to the homeless during the COVID-19 pandemic. Service providers reported greater demand for food but a drop off in volunteer labor and a lack of equipment needed to ensure safety, such as thermometers.
Last week, Gov. Steve Sisolak issued an emergency directive to limit indoor and outdoor gatherings to no more than 10 people. Although he noted that the directive did not apply to people who are homeless, providers are still trying to keep people farther apart, with varied levels of success.
Riggleman said social distancing has been a challenge in Las Vegas' city-run Courtyard, which sits on about half of an acre and had an overnight capacity of 450 people per night before Catholic Charities closed. Before the temporary shelter opened at Cashman Complex, officials estimate that approximately 500 people slept at the Courtyard per night, Wednesday through Friday.
The Cashman Complex shelter accommodated 66 people on its first night on Saturday, the Las Vegas Review-Journal reported, and then 117 on Sunday night. Eight portable toilets and four handwashing stations, which are cleaned once daily, have been installed.
In an interview on Monday, one client, who has been displaced since the closure of the Catholic Charities shelter, called the temporary shelter "a joke."
"They waited almost three days before they even implemented anything," said John, who asked to not use his last name for fear of "repercussions" at his work and the shelters he stays at.
The first known report of a positive test for the coronavirus in Las Vegas' so-called Corridor of Hope, where homeless service providers are concentrated, came two weeks ago when an employee at Catholic Charities tested positive. John questioned why city officials did not put a shelter-closure plan in place at that time.
"If they knew then that this was going to be an outbreak, they should've had a plan A and a plan B," he said.
Southern Nevada is not alone in trying to contain coronavirus among its homeless residents. On Monday, Washoe County reported its first confirmed case of COVID-19 in the local homeless population, as well as the county's third coronavirus-related death, bringing the statewide death toll to 18.
The homeless individual in Washoe County who tested positive was discharged from a hospital and was "placed in quarantine housing where they can isolate safely," on Monday, according to a press release from the Regional Information Center.
The news release also said that the individual had accessed services at the Reno Events Center, which city officials opened in mid-March to help Volunteers of America abide by social distancing guidelines to place mattress pads at least six feet apart. Toilets and hand-washing facilities are also available for those staying at the events center.
The person who tested positive also accessed Reno's Community Assistance Center, where approximately 35 individuals and 20 families including veterans, people who use medical devices that need to be plugged in, and those with special needs temporarily reside. Families who are experiencing homelessness with children remain in individual units within the complex.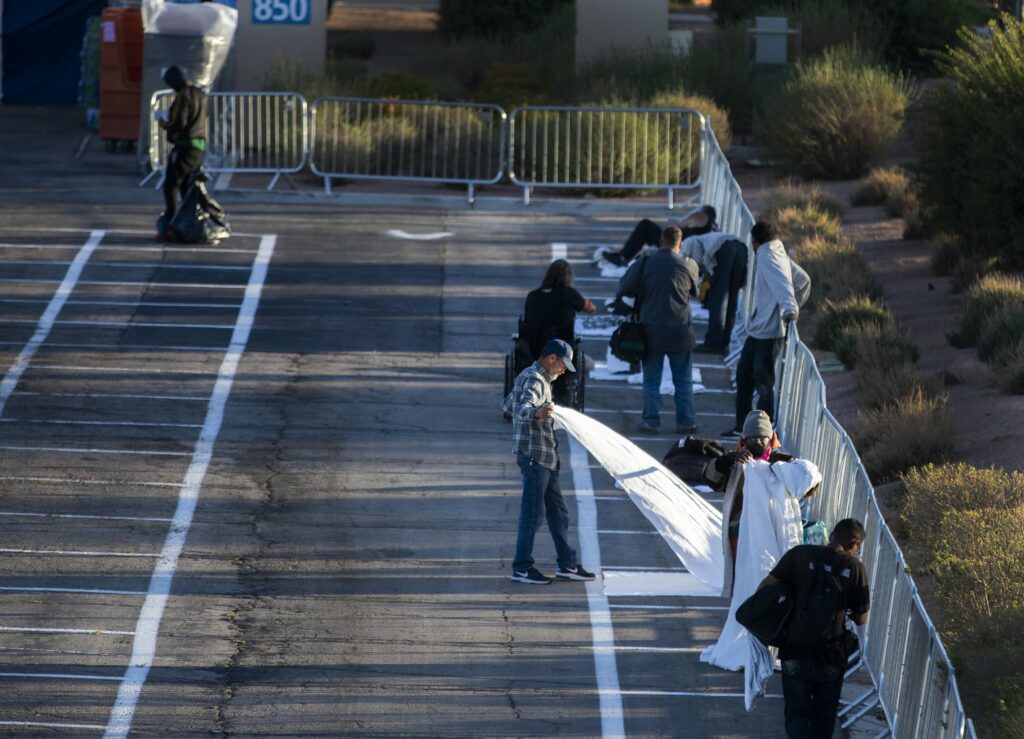 Service providers adapting
While Catholic Charities of Southern Nevada's emergency shelter and food pantry are temporarily closed, the organization has ramped up its daily free community meal service from 600 to 750 meals, now being served outside in to-go containers. Its case management services are being provided over the phone.
Catholic Charities has suspended all volunteer activity until further notice. The organization said in a press release on Thursday that employees who decided to stay home would continue to be paid, and that those who showed up for work would be screened on site for potential exposure to or symptoms of COVID-19.
Getting enough people to help has also been a challenge for the Salvation Army in Southern Nevada. Juan Salinas, the group's director of social services, said in an interview on Friday that donations of food and supplies — including several cases of protective gloves — have come in from Las Vegas hotels and from Las Vegas City Councilman Brian Knudsen last week.
But volunteers are in short supply.
"When ... everything hit, every group started cancelling," Salinas said, adding that the Salvation Army still needs six volunteers to help with lunch preparation and service from 1 p.m. to 2:30 p.m. daily.
Salvation Army Major Cheryl Kinnamon, the coordinator for Clark County, said in an interview on Friday that her organization has been serving a larger volume of clients and is "pretty much at capacity." The charity's facility on Owens Avenue in Las Vegas can provide emergency shelter for about 230 men and women, including an 18-bed dorm specifically for LGBTQ people.
"Our community meal usually was 300 to 400 on a day without COVID-19. It's easily 500 to 600, about double [now]," she said. "We're just doing the best we can with the resources we have."
Salinas said he is also waiting for supplies to be able to start screening clients for COVID-19 symptoms before they enter the facility. Salinas said that staff have ordered thermometers and are waiting for them to arrive.
"We've spent quite a bit of money gathering up supplies," Kinnamon said. "But getting them is the problem, because everybody wants them."
Nevada Health Centers' Las Vegas Outreach Clinic partners with the Salvation Army to provide health care for homeless clients. Spokeswoman Carrie Tallman confirmed in an interview on Monday that the clinic has COVID-19 testing kits in the event that a client meets health officials' guidelines for testing.
"We have full protocols in place," said Tallman. "Before they even come through the doors, we have screeners in [personal protective equipment] asking what brings them in today and if they're complaining of symptoms that could be [from COVID-19], we're screening them outside of our facilities."
Officials and homeless service providers say they are doing everything they can, but the lag in response has created frustration for John, who has relied on these services for three years while working in kitchens to stay afloat.
"A city as generous as Las Vegas, and you can't seem to help the homeless? I mean, whatever happened to 'Vegas Strong,' everybody help each other?" said John. "This is a crisis … If you look at the numbers that [coronavirus expert Dr. Anthony] Fauci said — 200,000 people dying — what? We don't count? We're not humans?"
This story was updated at 9:55 a.m. to specify that the press release about the homeless individual in Washoe County who tested positive for coronavirus, came from the Regional Information Center.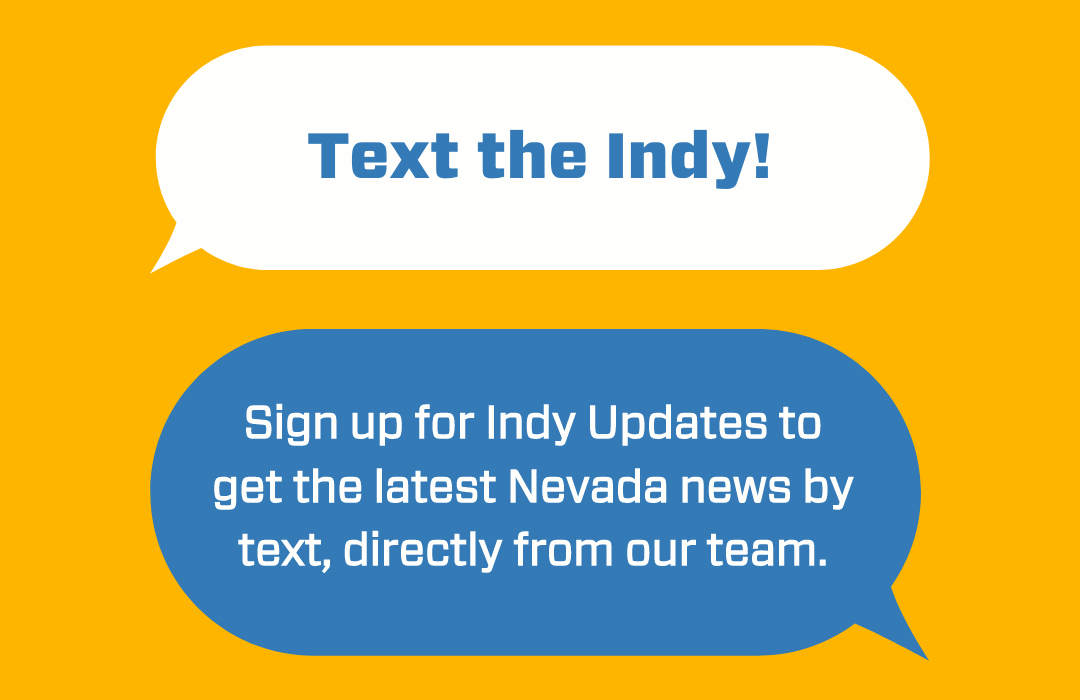 Featured Videos
Comment Policy (updated 4/20/2021): Please keep your comments civil. We reserve the right to delete comments or ban users who engage in personal attacks, use an excess of profanity, make verifiably false statements or are otherwise nasty. Comments that contain links must be approved by admin.