After defeating election denier, Aguilar outlines plans for secretary of state's office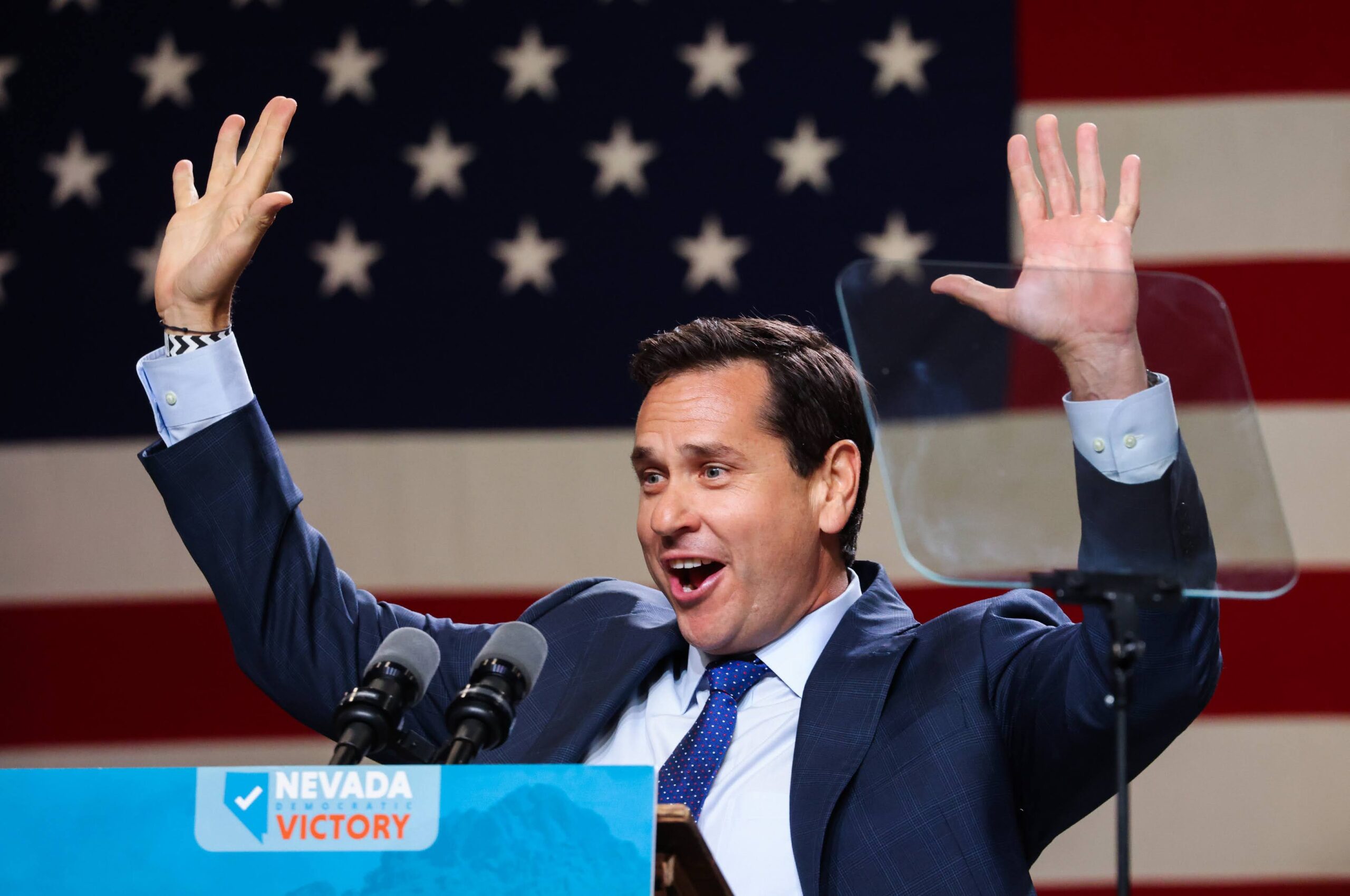 In the days after media outlets called the race for secretary of state in his favor, Democrat Cisco Aguilar has often attributed his win to a single issue: Small-"d" democracy was on the ballot.
"American democracy hinged on this outcome," Aguilar told supporters during a victory speech on Saturday. "... Nevada is going to determine who the president is in 2024, and my victory means that we will have elections we can trust."
His Republican opponent was Jim Marchant, a former Assemblyman and one-time congressional candidate who built his campaign for secretary of state in large part on the denial of the legitimacy of the 2020 presidential election, embrace of election conspiracies and push for rural counties to upend normal election procedures.
Marchant was embraced by some of the country's most vocal election deniers, including MyPillow CEO Mike Lindell and a group linked to former Trump National Security Advisor Michael Flynn. He also earned a national profile after creating a group of "America First" secretary of state candidates. Still, Marchant generally lagged far behind Aguilar on campaign resources, including fundraising.
As of Tuesday, Aguilar led Marchant statewide by nearly 23,000 votes, or a difference of 2.3 percent.
"Our race was no longer about Republican or Democratic priorities," Aguilar said during an online panel discussion alongside other secretaries of state Monday. "It was about ensuring that all Nevadans have access to the ballot box and ensuring that access was fair."
Aguilar, an attorney and first-time political candidate who served on the state's Athletic Commission, said that as late as Tuesday afternoon, he had yet to hear from Marchant — four days after media calls of the race. Other defeated Republicans, including candidates for U.S. Senate, congress, attorney general and treasurer, have all conceded to their Democratic opponents.
"And I don't expect to hear from Jim Marchant," Aguilar said in a separate interview on Saturday. "The way he ran the campaign, the fact that he hid from Nevada voters, I don't expect him to ever have a conversation with me."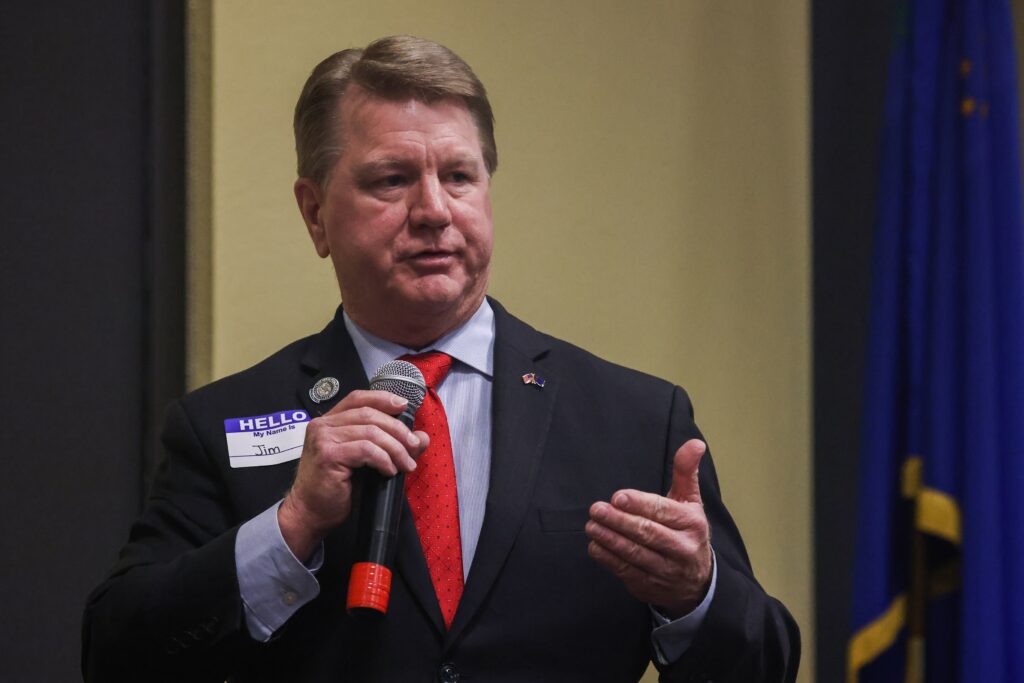 During the Monday panel, Aguilar did tell reporters that other Republicans on the statewide ticket had congratulated him on his victory, though he did not specify which candidates.
Even as Democrats have celebrated the defeat of election deniers running for secretary of state in key swing states nationwide, the legacy of the 2020 presidential campaign — and the election conspiracies that followed — remain.
What comes next
In multiple interviews, Aguilar has touted a proposed bill draft request for the next legislative session that would make it a felony to harass election workers, amid concerns that election conspiracies could increase threats to those workers.
Threats increased following the 2020 election, including at least one case involving a Las Vegas man who was charged by the Justice Department with threatening an election worker at the secretary of state's office over the phone.
"In Nevada, I think we have to recognize that our elections work because of the human component," Aguilar said during the panel discussion on Monday. "We need to take care of the people that are working elections. They shouldn't feel intimidated or harassed going to their car at the end of the day."
But even outside the legislative arena, Aguilar's early tenure as secretary of state may be defined in part by how he handles the most visible consequence of the Trump-backed election denial movement: hand-counted paper ballots in rural Nevada.
Adopted as policy by county commissions in Nye County as part of a bid to end the use of electronic voting machines, the hand-counting of paper ballots came as a move inspired directly by election conspiracies touted by Marchant and other election deniers during rural county commission meetings early last year.
In the time since, the hand-count has become a source of tension between Nye County — by far the largest county to adopt the policy with more than 20,000 votes cast this year — and the office of Republican Secretary of State Barbara Cegavske, as it has snowballed into a time-intensive and legally fraught procedure.
In late October, just two days into the hand count, Cegavske ordered a stop to the process following a state Supreme Court ruling that found the original count procedure violated state law requiring the secrecy of ballots. However, multiple legal bids by the Nevada ACLU to halt the hand count altogether have failed, including an appeal as recently as Monday to the state Supreme Court.
The process later resumed under a compromise "silent count," though the plans were dropped again after Cegavske expressed "concerns relating to the integrity of the election" to County Clerk Mark Kampf, also an election denier.
The hand count started again after Election Day, in which it was used as a hybrid audit of election results also tabulated by a machine count.
On Saturday, Aguilar criticized Marchant, saying he "built a false foundation on lies and disinformation" and that "it's going to take some time to unravel that information and get people to understand that our election systems are secure and they are well run."
He also noted, however, that election administration remains a county-level decision.
"That's a local decision," he said. "It's my responsibility as secretary of state, as it was Barbara Cegavske's, to say if a county determines this is their best interest, we have to make sure they are run lawfully and transparently."
Still, he referred to the Nye hand count as "chaos," adding that "nobody likes chaos" and "we've got to work to rectify that."
"It's gonna take a few election cycles, I think, to get through the process and to get counties comfortable with the way elections work in Nevada," Aguilar said. "And that's again, it's being present. It's having conversations. It's listening and then coming up with a solution together."
All the while, Aguilar will be but one part in a broader split state government, to be led at two poles by a Republican governor, outgoing Clark County Sheriff Joe Lombardo, and a near-supermajority of Democrats in the state's two legislative chambers.
In terms of working with a governor from another party, Aguilar pointed to his time as chair of the athletic commission, when he brought "opposing parties together to focus on a common goal."
"It's my obligation and responsibility as secretary of state to work with every elected leader across the state to make sure we have the most secure elections," Aguilar said Saturday. "So I look forward to it."
On Tuesday, a campaign spokesperson confirmed that Aguilar and Lombardo are "in touch."
Still, even amid the push to reform parts of the state's election administration law, Aguilar said one of his top priorities in office would be to improve SilverFlume, the state's online portal for business licensing.
"No small business should have to hire an attorney to deal with the secretary of state's office," he said. "We should have a logical, efficient system to do what we need to do for our business community."
The Nevada Independent is raising $200,000 by Dec. 31 to support coverage of the 2024 election.
Tax-deductible donations from readers like you fund this critical work.
If you give today,your donation will be matched dollar-for-dollar.
Give + Get Matched
Featured Videos