Ahead of 2024 election, NV Dems leadership race heightens tension between establishment, progressives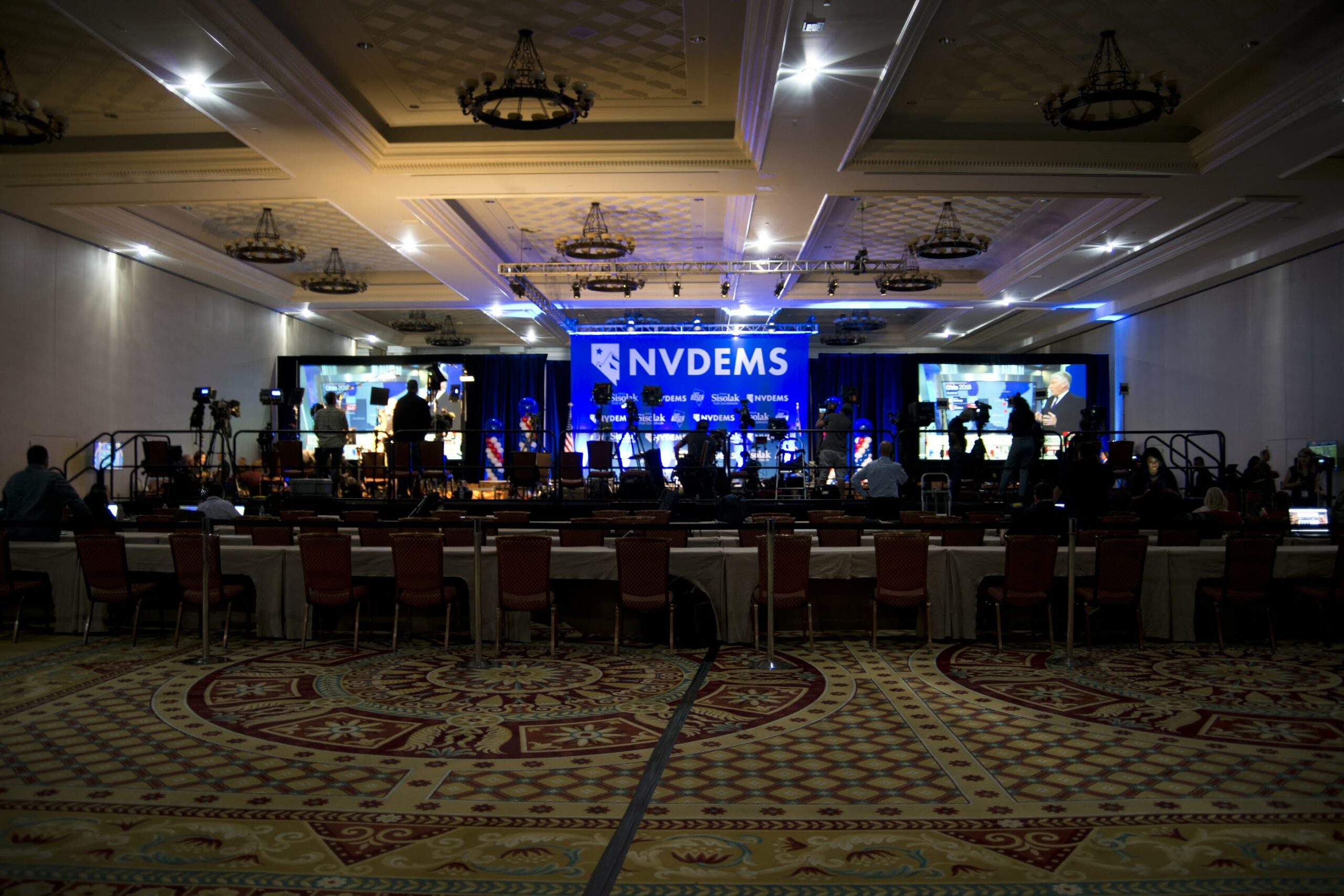 One day before its leadership elections on Saturday, the Nevada State Democratic Party is an organization defined more than anything by its stark internal divisions.
Two years after chair Judith Whitmer and a group of democratic socialists won control of party leadership that led to a messy intra-party schism, Whitmer is being challenged by a state lawmaker, Assemblywoman Daniele Monroe-Moreno (D-North Las Vegas). She's heading the "Unity" slate, backed by an increasingly large swath of unions, fellow legislators and other Democratic organizations critical of Whitmer's leadership.
On Saturday, more than 400 members of the state party's central committee will vote on new party leadership through in-person voting in Carson City and an online balloting process run by the Democratic National Committee.
The winner between Whitmer and Monroe-Moreno will shepherd the party through what could be one of the state's most prominent election cycles yet — the Democratic nominating calendar will put Nevada second, behind only South Carolina.
If the unity slate successfully re-claims the state party, it will be a testament to the endurance of the Reid Machine beyond the life of its founder in a state that seemed poised to become a hub of left-wing insurgency in 2020 and 2021. But the election also poses an open question about the role of the progressive movement and whether its future should lie more on outside policy activism or the business of winning elections.
A schism and the road to 2022
Shortly after Whitmer's election and before her formal takeover as chair, staffers within the party quit en masse. As they did, they shifted monetary resources to a new organization, Nevada Democratic Victory (NDV), housed through the Washoe County party, a direct echo of a break between state Republicans aligned with libertarian Rep. Ron Paul and Sen. Dean Heller in 2012.
That split became a central flashpoint for state Democrats, whose biggest candidates — Sen. Catherine Cortez Masto, Gov. Steve Sisolak and the three Democratic congressional incumbents — all quickly lined up coordinated campaigns (partnerships usually reserved for state parties and subject to different campaign finance rules than traditional PACs) with NDV over the state party.
At the time, Whitmer called it "ill-advised," "undemocratic," and "profoundly dangerous." By August 2021, she proposed an internal bylaw change that would have revoked the Washoe County party's charter for housing the insurgent NDV — a move that ultimately failed.
But more critically, according to Democratic campaign operatives, the state party for months ended campaign access to a widespread database of voter information maintained through NGP VAN, a web hosting service and voter database used by the Democratic Party. The disappearance of VAN in 2021 also hobbled some state lawmakers, who used the service for constituent contact.
Whitmer has denied the claims on VAN, however, writing on Twitter that access to the database was instead granted to the political action committee eventually underpinning NDV, events "orchestrated before I even became the [party] chair."
Even as Democrats cleaned up in what was supposed to be a down-year — winning Cortez Masto's Senate race, all three competitive House races and a near-supermajority in the state Legislature — operatives said those wins came despite the state party in races with little, if any, margin for error. Cortez Masto, for instance, won by a razor-thin margin smaller than 1 percent. And perhaps most critically, Sisolak fell to Republican Joe Lombardo by 1.5 percentage points.
Molly Forgey, the deputy campaign manager for Sisolak's re-election campaign, told The Nevada Independent in an emailed statement that the state party "created additional challenges for the governor's reelection."
"They actively worked against the coordinated campaign supported by elected officials and national committees, campaigned against the governor's appointed lieutenant governor [Lisa Cano Burkhead], and used their limited resources to pay their allies instead of turning out Democratic voters," Forgey said, referencing the state party's endorsement of Cano Burkhead's primary opponent, former Henderson Mayor Debra March and $200,000 in party contracts for her political allies. "This track record should serve as alarm bells for Democrats heading into another important cycle in a critical battleground state."
In that environment came Monroe-Moreno and the unity slate, which announced their bids to take over party leadership on Feb. 7 on a platform aimed at "[reuniting] our Democratic family."
In a rhetorical sleight-of-hand, Whitmer launched her own re-election bid as the Nevada Democratic Victory slate. But over the past weeks, Whitmer's tenure was beset by a wave of bad headlines and high-profile endorsements for her opponent.
In early February, 230 members of the party's Central Committee – the body that votes for leadership positions – were purged from the membership list in what Whitmer called a routine procedure based on attendance. Those removed included Assembly Speaker Steve Yeager, and her 2021 chair opponent, Clark County Commissioner Tick Segerblom.
In the wake of removal, more than 40 members sent a Feb. 10 letter to the DNC expressing concern over the impartiality of the March chair election – which will now be observed by members of the national body, even after many of the removed central committee members were subsequently reinstated.
On Twitter, Whitmer decried her opponents as using "GOP tactics" to discredit her in the both local and national media ahead of elections, later arguing that "I didn't create the split."
"The conservative Dems left the Party to create a shadow organization," she wrote.
As February progressed, Monroe-Moreno and the unity slate received a tsunami of endorsements from prominent Nevada Democrats, including all five of Nevada's congressional Democrats, Yeager, Senate Majority Leader Nicole Cannizzaro, a critical mass of state legislators and county parties, the state's three Democrats in statewide office, former Gov. Steve Sisolak, Clark County Commissioner and former state party chair William McCurdy II, and a number of Democrat-aligned groups.
"Nevada is the most competitive battleground state in the nation, and we firmly believe the Nevada Democratic Party's leadership should make it easier, not harder, for our candidates to win," Nevada's congressional Democrats said in a joint statement. "After the past two years, it is clear that we need a change in State Party leadership."
The bad blood is perhaps thickest between Whitmer and the Cortez Masto campaign, who feel the state party did not prioritize and actually undermined one of the most high-profile races in the country. Clark County Chair Chris Roberts, a Whitmer supporter, used party data to tell NBC News before voting was over that he did not think the Democrat had a viable path to victory – a disclosure that left campaign staff deeply concerned over whether they could trust the state party.
In an interview, Whitmer agreed that Roberts' conduct was inappropriate, and said she immediately shut down any further discussions of internal data modeling with figures outside the party. But according to a Democrat familiar with the campaign, the episode was emblematic of how the state party continually made their work more difficult.
In a sign of just how deep the opposition to Whitmer runs, the mighty Culinary Union – a vaunted canvassing machine whose support is critical to any statewide Democrat's chances in the state – endorsed Monroe-Moreno on Wednesday. Spokesperson Bethany Khan said Culinary had never before weighed in on a state party chair race.
The intra-party tension built to a fever pitch this week with the release of a news report of a grand theft charge Whitmer faced in the 1990s – an episode Whitmer described as painful to relive and disappointing to see become a focus of opponents.
The acrimonious public campaign has since suffused into internal debates. During an online town hall Wednesday night for state central committee candidates, Whitmer's first vice chair candidate, Cedric Williams, chafed at what he called "mudslinging or lies or going after people."
"I always hear that there are Republicans who bash Democrats, and I can't stand that," Williams said. "I also hate Democrats who bash Republicans. Worse than that, I hate other Democrats that bash other Democrats."
Asked about the tenor of the party election in an interview Thursday, Monroe-Moreno lamented what she saw as a "loss of civility" in politics, and said that infighting within the party "does none of us any good."
Still, she also sharply criticized Whitmer — who she did not name — characterizing her slate of candidates as a vote for a state party that "actively worked against our elected officials," lacked transparency and removed access to the VAN voter database.
How Saturday could ripple into 2024
If the 2021 party elections were seen as a new dawn for the Sanders-aligned democratic socialist movement to build its movement within the structure of Nevada's Democratic Party, the 2023 election is a referendum on both the success of that movement beyond the octogenarian icon and who can fill the power vacuum left by the death of Reid.
Whitmer said progressives should still embrace her because state party chairmanship provides direct access to the levers of power within the party – namely, a seat at DNC Chair Jaime Harrison's table.
She has used her position within the DNC to advocate for left-wing policies championed by Sanders, including universal health care, free college, and raising the minimum wage, she said. She praised both Harrison and President Joe Biden for listening to progressives, and described a symbiotic relationship in which she prioritized down-ballot races and rural outreach at the urging of Harrison. Her endorsers are mostly rural party chairs, including Lyon County, Mineral County, and Storey County, as well as individual allies in Clark County and Carson City.
She also said she was a critical player in pitching Nevada to gain first-in-the-nation status for future presidential primaries – a bid that Biden ultimately sidelined when choosing South Carolina, but did see the state move up the calendar to go second in tandem with New Hampshire.
But in her embrace of the broader party, Whitmer has lost the backing of some of her left flank – including the Las Vegas Democratic Socialists of America, who supported her in 2021. In a scathing statement targeting both the current party leadership and the Reid Machine, the DSA called organizing within the Democratic Party to be a "dead end."
Whitmer said she has great respect for the DSA, but that left-wing critics did not understand that taking over the Democratic Party in Nevada meant she was now a representative of the party and its elected officials, rather than a DSA leader.
"It was important that we work within the Democratic Party structure, because there is a two party system here," Whitmer said in an interview with The Nevada Independent. "And the Democratic Party is the only party that's actually leading the way on some of these policies that we care about. We're starting to see some of these policies with President Biden come to fruition."
Per a Politico report, Sanders himself has expressed disappointment in his disciples' work in Nevada. When asked what he thought of Whitmer's tenure in a brief conversation at the Capitol, Sanders referred The Nevada Independent to his press office, who did not return a request for comment.
Whitmer blamed establishment frustrations with her on her stance against dark money in the primaries. Her position inhibits the Reid Machine's ability to pre-select candidates through extensive funding, she said. The Democratic establishment has been frustrated by her support of primary challengers, including supporting progressive challenger Amy Vilela in 2018 against Rep. Steven Horsford.
"They know I've done the work," Whitmer said. "This is really about special interests that have always had control of the state party. And I know that my stand against dark money is part of the reason that I'm a target."
But in an emailed response to questions last month, Monroe-Moreno expressly credited 2022 victories with the campaign infrastructure outside of Whitmer's state party.
"The reality is that the vast majority of the organizing work on the ground that carried Democrats to victory in key races in 2022 did not come from the State Party," she said.
Democratic office-holders maintain their distrust of Whitmer comes down to poor execution in the can't-lose races of 2022 as well. Whitmer pointed to her record – the party successfully defended the four congressional seats up for re-election – and said the state party ran a volunteer mail program and made over 1.3 million contact attempts with voters. But the Democrat familiar with the 2022 campaigns said she was reluctant to coordinate a mail program and made its operation difficult.
Whitmer maintains that running a state party, and working within the electoral system more broadly, is a worthwhile endeavor.
"As long as progressives are willing to do that work and make our voices heard within the system… it doesn't serve anyone for us to go out and try to create problems when there aren't any," she said.
Candidate fast facts:
Judith Whitmer (incumbent)
Age: 67
Occupation: Former project control analyst with Rummel Klepper & Kahl LLP, past chair of the Clark County Democratic Party
Supporters: Stonewall Democrats, county party chairs in Carson City, Clark, Elko, Churchill, Storey, Mineral and Lyon counties
Brief bio: Whitmer was a volunteer for Barack Obama's 2008 and 2012 presidential campaigns. A supporter of Sen. Bernie Sanders (I-VT), she led a slate of candidates backed by the Las Vegas chapter of the Democratic Socialists of America to take over leadership of the state Democratic Party in 2021.
Daniele Monroe-Moreno
Age: 59
Occupation: Corrections officer (retired); state Assembly member (2017-current)
Supporters: Sens. Catherine Cortez Masto and Jacky Rosen, former Gov. Steve Sisolak, Reps. Dina Titus, Susie Lee and Steven Horsford, Assembly Speaker Steve Yeager, Senate Majority Leader Nicole Cannizzaro, the Culinary Union, Nevada State AFL-CIO, AFSCME Local 4041 numerous current and former elected officials
Brief bio: Monroe-Moreno is a retired corrections officer with the North Las Vegas Police Department. Before moving to Nevada, she worked at the Maricopa County sheriff's office. She was first elected to the state Legislature in 2016.