Amid crush of COVID-19 cases in July, patients waited days to weeks for test results, contact tracing calls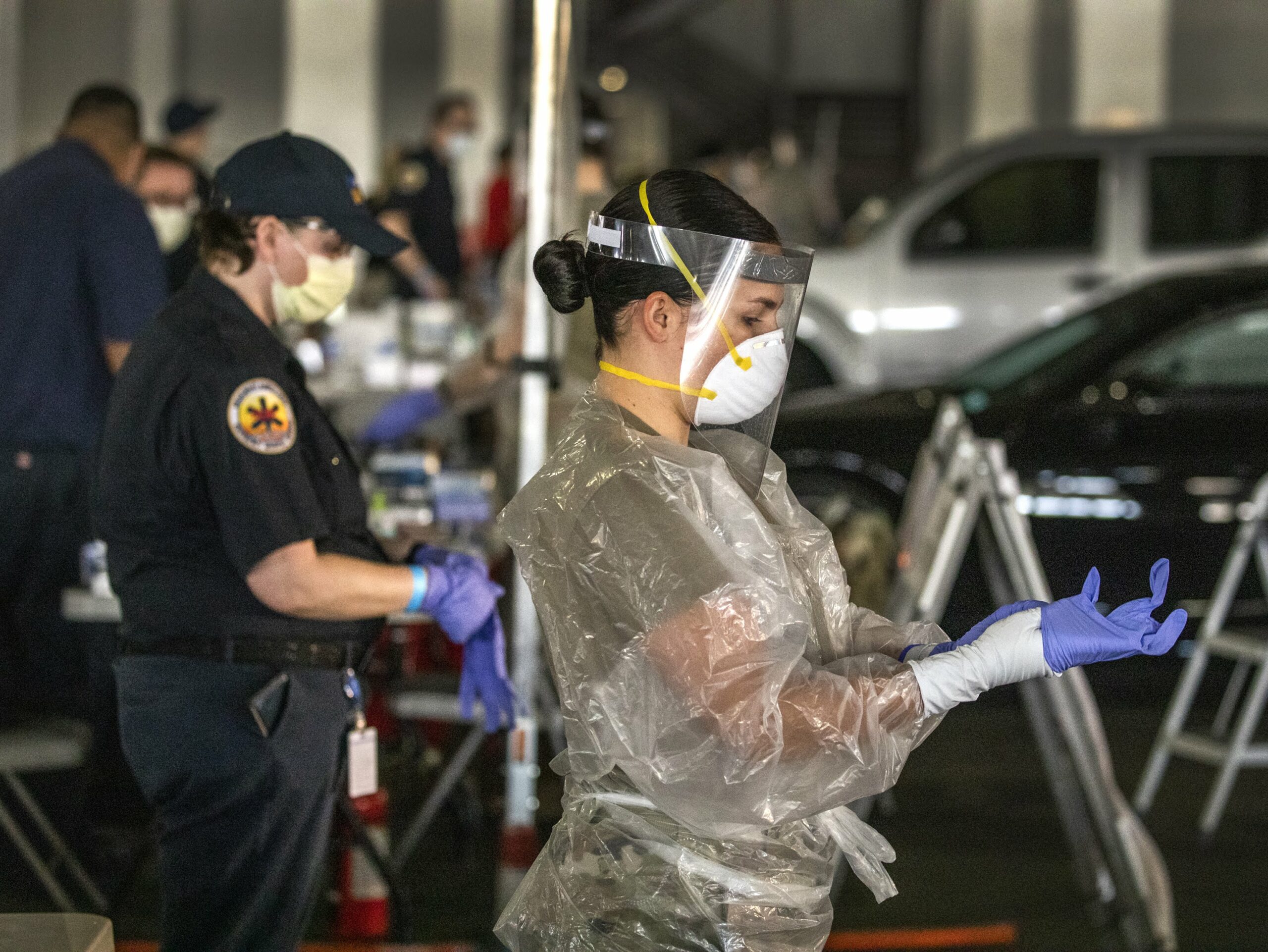 The stories often begin the same way: A family party, a holiday hangout or dinner at a friend's house, the kind of once-innocuous gatherings no one would have batted an eye about attending six months ago.
For Aaron Granati, a 28-year-old real estate agent, it was the latter — a dinner with a small group of friends one Thursday evening in mid-July.
The next day, his friends called to tell him they weren't feeling well. By Tuesday, Granati was feeling sick, too. On Wednesday, he went to his primary care doctor to get tested for COVID-19. They told him it would likely take seven to 10 days to get his results back from the lab and, in the meantime, advised him to stay home.
Fevers, chills and shaking gave way to an intense fatigue. By the fourth day, Granati had lost his sense of taste and smell and was having stomach issues. By the eighth or ninth day, he felt like he was through the worst of it but worried about relapsing, having heard the horror stories of people who had started feeling better only to wind up in the hospital. By the tenth day, he was sure he had COVID. Two days later, he got a call from his friends, who finally received their results back — they were positive.
Finally, 18 days after he got tested, Granati got the call from his doctor's office. Positive.
"It's been 22 days now, and I just don't feel myself," Granati said in an interview last week. "I feel like I swapped bodies with someone. I don't feel in my own skin. For me, it's not like 14 days and you're good. It's not a flu. One-hundred percent it's not."
Granati said, in some ways, it didn't matter that his results took so long to come back because he felt too sick to do anything. But he worries about people with mild cases of COVID-19 — the ones who might continue going out if they don't know they are positive.
"For somebody else, maybe on day three or four they feel great and say, 'I'm not going to stay home another seven days,'" Granati said. "The testing works, it's there. But 18 days seems like, I don't know why I got tested."
Granati isn't alone. More than three dozen people shared with The Nevada Independent their stories about getting tested for COVID-19 in recent weeks. While some reported that it only took a week between making an appointment and when they got their results, the majority reported the process took much longer. Granati's wait was the second-longest of those reached by the Independent.
The average wait among the group was a little over a week.
While their stories are only a small sliver of the experiences of more than half a million Nevadans who have been tested for COVID-19, they help show how logistically complicated the process is of getting tested for COVID-19. Delays occur at multiple points in the process, from wait times in scheduling appointments, to lags in getting results back from the lab and into patients' hands.
On top of that, the crush of COVID-19 cases in July, where 29,565 new cases of COVID-19 were diagnosed in Nevada — more than 50 percent of the total cases reported since the beginning of the pandemic — overwhelmed the contact tracing infrastructure in both Southern and Northern Nevada. The Washoe County Health District reports it was running at an eight to 12 day lag in contacting cases for almost all of July; the Southern Nevada Health District says it still is working to contact everyone who tested positive last month.
The goal in contact tracing is to contact positive cases within 24 hours and to contact all of their contacts in the next 24 hours.
"We're just at the point now where we're beyond the capacity of our system to deal with it," said Brian Labus, an assistant professor of public health at UNLV and former senior epidemiologist for the Southern Nevada Health District. "We're at a point that no matter what we try to do to speed up testing and contact tracing, we can't do it."
Of the five people interviewed by the Independent who tested positive, four, including Granati, had yet to receive a call from the Southern Nevada Health District for contact tracing purposes. The fifth one received a call from the health district 13 days after receiving his positive result.
"How come a lot of other places have it figured out?" Granati said. "For Nevada, I guess, or even still our country, I don't know why we shut down, why it was as long, if we were just going to open back up and get to this place of 1,000 new cases a day."
The testing process
Marla Letizia, 67, was tested for COVID-19 at her primary care doctor's office on July 20, a Monday, as a precaution ahead of a small gathering to renew her vows. Her test was sent to Quest Diagnostics, one of the two big, private national labs, for processing.
Eight days later, she received a call from her doctor's office. Letizia said she had gone about her life that week "like nothing." In that time, she had cooked every night for her husband and son. She had seen her manicurist, decorator, contractor, housekeeper and bookkeeper, some of whom were over at the house when the doctor called.
"The house was in chaos. The doctor calls and he starts to talk to me and I said, 'Ed, hold on.' The doctor's talking to me and I couldn't even hear him, and of course he's telling me I'm negative," Letizia said. "Except he says, 'You're positive.' I said, 'What?' The problem that I have with this whole situation is that it is not the doctor's fault that it's taken eight days. Do you know how many people I would not have exposed if I would have gotten those results out correctly in time?"
Letizia said her primary symptoms were fatigue and intense headaches that made her feel like her head was swelling, followed only later by a low-grade fever and cold symptoms.
Devin Jimenez, a 27-year-old who works at a wedding chapel, was also tested on July 20 at a community-based testing site in Las Vegas through UMC. He had scheduled to take the test after returning from a trip to California to see family. But, when he got home, his roommates had tested positive for COVID-19.
Seven days after this test, he received an email and a text message informing him he was positive and instructing him to stay home and self-isolate. He suspects he contracted the virus from his roommates, since they share a bathroom; his mom, who has a separate bathroom, tested negative for the virus.
"I don't know if I got it first, they got it first, or vice versa," Jimenez said.
Mario, an employee at a casino on the Las Vegas Strip who asked to be identified only by his first name to speak openly about his experience with COVID-19, got tested on July 21, a Tuesday, after starting to experience symptoms several days earlier. He chalked his initial symptoms up to an intense workout at the gym and went to work as usual on Saturday.
He woke up on Monday with pressure in his chest, a raspy throat and a feeling he wanted to cough. He didn't realize something more serious was wrong until he started eating some spicy jerky on the way home from the grocery store and realized he couldn't taste it at all.
Because of scheduling difficulties, Mario ended up getting tested twice on Tuesday, once at an urgent care and a second time through his employer via UMC, which contracts with many casino companies to provide testing to employees.
Mario said he received his results from the urgent care on Saturday and UMC on Sunday, both notifying him that he was positive. He called his work and family members to let them know of his positive result, but, by then, it had been eight days since his symptoms started.
"It gave me a lot of anxiety during those days because I just wanted to know a simple yes or no," he said.
The good news is turnaround times appear to have significantly improved since mid-July. State officials, during a press call on Friday, said the average turnaround time for test results this week was three days, down from four days last week.
However, that number is an average of average turnaround times provided by individual labs. Additional data provided by the state show Quest Diagnostics is experiencing a four-day average turnaround time, while the Nevada State Public Health Lab and LabCorp are turning around results in three days and UMC in two.
"It varies greatly by lab. One lab turned around results in a day. Another private national lab has eight plus days turnaround," said Julia Peek, deputy administrator of the Division of Public and Behavioral Health. "If you think, for example, it took the individual three days to get an appointment and eight days to get the result, they're probably through the duration of their isolation period."
Some of the labs have acknowledged their difficulties with turnaround times. For instance, Quest Diagnostics, on July 20, reported that tests other than those for hospital patients and symptomatic health care workers were taking on average seven days to come back, with some patients receiving test results as quickly as two or three days and others waiting up to two weeks. This week, Quest reported an average turnaround time of two or three days nationally, which it attributed to a significant ramp up in testing.
Other labs insist they've been continuously able to turn around results quickly, despite some individual reports to the contrary. Nine people tested at community-based testing sites served by UMC told the Independent it took them seven or more days to receive their results back. Dr. Fermin Leguen, chief health officer for the Southern Nevada Health District, said both UMC and the Southern Nevada Public Health Lab have been turning around results "somewhere between three to five days."
However, UMC CEO Mason VanHouweling says that the hospital's labs "never got up to the" three-, five- or seven-day turnaround times the private, national labs did.
"Without looking into somebody's specific examples, when you put yourself out there that you're testing a lot, a lot of people confuse where they went and who did their test," VanHouweling said. "It's hard to say specifically."
VanHouweling did, however, acknowledge there was a day or so lag with patients receiving results once they were processed because a human had to call them to notify them of their result. Results were also available alone through UMC's MyChart platform, but patients had to repeatedly check back for updates.
"Early on when you're doing so much testing you've got to prioritize," VanHouweling said. "You want to reach out to the positives immediately."
Now, he says, UMC has implemented technology allowing patients to immediately receive their results by text message as soon as they come off the lab's analyzer.
"That's able to get it out to the patient so they can start quarantining immediately and making sure if there are other family members that need to be tested," VanHouweling said. "That's the start of contact tracing. I don't know of anybody else that's doing that currently."
VanHouweling said that UMC is currently turning around lab results "well within 48 hours."
"If you came into my organization this morning you'll have your results by tomorrow," VanHouweling said.
Some of the fastest turnaround times have been reported out of Elite Medical Center, a tourist-focused microhospital near the Las Vegas Strip. Elite has been charging people $150 for rapid coronavirus antigen tests, which, according to the Food and Drug Administration, are "highly accurate" at detecting positive results though negative results may need to be confirmed with a molecular test.
Elite CEO Patty Holden said the facility has been testing an average of 500 people per day, with a turnaround time of about 24 hours.
"If somebody is really demonstrating symptoms, we have a clinical person that's right inside the door that looks at what their symptoms are," Holden said. "We'll still test them but give them instructions."
Despite the price tag, several people told the Independent they were happy with the turnaround times at Elite.
"It's pricey, but for my peace of mind I would've paid, because I didn't want to wait three or four or X amount of days," Mario, the Strip casino worker, said.
Public health experts and state officials alike acknowledge that the state and national testing infrastructure is lacking — not because of any one particular failing or bad actor but because of a years-long lack of investment in public health spending and infrastructure. Since the Great Recession, state and local public health agencies have lost nearly a quarter of their workforce.
Dr. Mark Pandori, director of the Nevada State Public Health Lab, described Nevada's testing infrastructure, which has gone from reporting hundreds of new tests a day in March to anywhere between 3,000 to 16,000 new tests a day this month, as "strong." But he said whether it is enough is "a fascinating and a fair question."
"There is no testing infrastructure in Nevada or this country to provide you with the amount of testing that needs to be done and you shall have no expectation of that infrastructure to arrive," Pandori said. "You, as a taxpayer and a voter, have built no infrastructure … If anybody complains they're waiting five days for lab tests, you were told, you were told how many times."
The contact tracing process
It's not just patients who are experiencing delays in receiving their results, either. Heather Kerwin, epidemiology program manager for the Washoe County Health District, said at times disease investigators haven't received lab results until 15 or 17 days after the date of collection.
"It is almost a moot point to do any kind of contact tracing because the case themselves has most likely recovered by then, their family is either sick and or possibly recovered or never got it, hopefully," Kerwin said. "That's been really frustrating."
The contract tracing workforce has faced its own battles too. Both the Southern Nevada Health District and the Washoe County Health District were inundated with cases in July that created significant backlogs of people who tested positive for the disease but had yet to be contacted for disease investigation and contact tracing purposes.
Leguen, the health officer for the Southern Nevada Health District, said in an interview that he didn't have the size of the backlog immediately available, and a spokeswoman for the health district only said that the number "continually fluctuates based on the cases being completed and the number of new cases identified" and did not provide a specific number. State officials directed that question back to the health district.
But Leguen acknowledged that the health district "really struggled in July" and said they still have yet to contact all the positive cases that were reported last month.
"During July, we had this huge increase in the number of cases that completely over blew our capacity to quickly respond to each one of those cases," Leguen said.
He said the health district has been first working on contacting new cases while slowly chipping away at the backlog.
"Our intention is to contact everybody, even if it is way beyond the current risk for exposure to other people because we need to acquire that information so we can have a good idea of what is happening in the county, beyond the individual," Leguen said.
In addition to the 50 health district employees engaged in full-time contact tracing, the Southern Nevada Health District has partnered with a AAA call center in Henderson to provide an additional 100 employees. Deloitte, through a contract with the state, has made available an additional 250 people. And that's just the start: The health district is in the process of onboarding an additional 80 contact tracers on their team and 100 to 150 additional contact tracers through AAA.
The health district and AAA employees are focused on what's known as disease investigation — that is, calling the people who tested positive to determine how they likely became infected, review the timeline of their illness and obtain a list of contacts — while Deloitte is responsible for calling and texting all of the close contacts. Peek noted that the delay is occurring on the disease investigation side and that all close contacts are currently being contacted within 24 hours of identification.
With that additional workforce, Leguen said the health district will now be able to handle a future surge of cases like it saw in July.
"Right now, today, we are quite better than just a week ago because of those 100 contact tracers from AAA," Leguen said.
Kerwin said the backlog in Washoe County was not as severe as the one in Southern Nevada, but was still running about eight to 12 days behind for the month of July because of the "sheer volume of labs" coming back, coupled with significant staffing changes. As of Wednesday, she said Washoe County's backlog was seven days, with 253 cases needing follow-up, down from 570 at the beginning of August.
The health district is working to bring on 18 more disease investigators and in the process of re-integrating a handful national guardsmen into its contact tracing team after the Nevada National Guard briefly wound down operations last month. However, Kerwin noted that the disease investigation team is at the same time losing several health district staffers back to the departments in which they usually work, such as air quality and environmental health.
"We're definitely not where we want to be," Kerwin said. "We're not where we were early on in this response, in terms of being able to follow up the same day we receive it, but we are certainly making some headway."
She noted contact tracing for COVID-19 is inherently different than it is for the types of diseases health districts are used to contact tracing for because the virus spreads so much more quickly, at such a great scale and while people are pre-symptomatic.
"It's interesting, kind of the narrative around contact tracing from electeds and governors and even health officers in some communities," Kerwin said. "They really are still hanging their safety net on 'contact tracing will save the day,' but the people who are doing the work and on the frontlines of investigating cases and doing the contacting of these persons who are exposed — and anyone who knows about virology and what we do and not know about this virus — it's very frustrating to see that narrative and see the reality of what is happening from a case perspective."
Uncharted waters
One of the biggest challenges in battling the novel coronavirus, both here in Nevada and across the globe, is that experts and everyday citizens alike are learning as they go. In the time of coronavirus, a headache isn't just a headache; a cough isn't just a cough. Because everyone is still learning and adapting to the new normal in which they're living, there's significant room for human error in the process.
For instance, some people may wait to get tested, even though they're experiencing the classic signs and symptoms of COVID-19. If they wait too long to get tested, their result may come back negative — or it could come back positive, but far too late to be useful for any contact tracing purposes.
"They continue to go to work because they say it's allergies, nothing major, and then they wait so long themselves to go get tested that by the time we get the test results on a normal turnaround between two to seven days, there's little we can do in terms of following up," Kerwin said.
Then, there's the question of once someone decides to get tested, is he or she able to get tested in a timely fashion? Many who shared their stories with the Independent were able to get an appointment within the next one or two days. UMC's online portal Friday morning showed dozens of same-day and next-day tests available at Cashman Center and UNLV.
Others, however, have reported having to book tests six or seven days out.
Heather Wilde Renze, strategic innovation officer for AFWERX, said her company requires her to get tested before she comes into work in person but only covers testing for her and not her husband. The two of them estimate that they collectively spent three hours trying to find her husband a test the first time and another three hours the second.
"Most of the places we're finding are just unavailable," Matthew Renze said. "They're completely booked so you're not able to get anything even within the next week."
At that point, it's on the labs to turn around the results as quickly as they can, even as they face a crushing demand to process thousands of tests. And, even if they are able to turn around results quickly, that result still has to get to the patient somehow, whether through an online portal, phone call or text message system. The results must also be transmitted to the local health district for contact tracing purposes.
In an ideal world, that entire process happens in the span of 24 to 48 hours. Sick patients are able to immediately schedule appointments, quickly receive results and are soon after reached by the local health district to start the process of isolating that individual and quarantining their close contacts. But that has not been the reality.
"There's this trickle down effect. If we can't get the lab results back quickly, we can't investigate quickly. If we can't investigate, we can't intervene. If it's taking a week and a half to get results back, and a few days for the first person to get tested in the first place, contact tracing isn't really going to do anything because you're already one generation past that," Labus said. "It's already spread on to the next person or not. The overwhelmed testing system makes it difficult to do contact tracing and have any value in it."
For the contact tracers, it's a game of prioritization.
"At some point, it's so far after the results, it doesn't make sense to contact them at that point and you focus on the newest ones coming in," Labus said. "If you have to prioritize who you're going to call, you want to call someone who's results came back quickly. If the person was tested a day or two ago you can still do something."
But, without that positive result, it's hard for people to know what they do when they are exposed. Granati estimates that between when he was exposed and when he fell ill he saw 15 to 20 people over the course of five days. And even when he fell ill, his roommate kept going to work.
"What are you supposed to do, tell your employer that your roommate might have it?" Granati said. "The employer is going to ask, 'Well did he get a test? What are the results?'"
Except Granati didn't have the results.
Others reported a similar issue but reversed, where employers wanted to see a negative test result in order to welcome someone back to work after testing positive. That's despite the Centers for Disease Control and Prevention recommending a time- and symptom-based approach to discontinuing isolation. Public health officials are trying to educate employers about the new CDC guidelines to discourage unnecessary repeat testing, but changes are slow to come.
"The health district is recommending to employers it's okay as long as it's 10 days after, if they're not showing symptoms they can go back to work," the Strip employee, Mario, said. "That's a slap in the face to me. After 10 days I felt fine, so I could've gone back to work but my employer is requiring me to get a negative result, which I'm more than happy to do, but I know they're backed up."
Peek, the deputy administrator of the Division of Public and Behavioral Health, said the state is looking at multiple avenues to improve testing. That could mean helping labs purchase additional equipment and asking them to operate 24 hours or it could mean changing the state's criteria and restricting who is able to get tested.
"Then we can have the discussion in concert with, do we reduce testing at this venue, or do we restrict just to symptomatic?" Peek said. "I don't think we're there. I don't think we'll get there but we do have those conversations on a daily basis."
But the biggest help could be the one that's on the horizon: a consistent and sustained downward trend of COVID-19 cases. Fewer sick people means fewer sick people getting tested, and fewer sick people getting tested means fewer sick people to be contact traced.
"If we can reduce transmission in the community, it reduces the testing demand, it allows us to get results back quickly. We're just at the point now where we're beyond the capacity of our system to deal with it," Labus said. "We're at a point that no matter what we try to do to speed up testing and contact tracing we can't do it."
The Nevada Independent is raising $200,000 by Dec. 31 to support coverage of the 2024 election.
Tax-deductible donations from readers like you fund this critical work.
If you give today,your donation will be matched dollar-for-dollar.
Give + Get Matched
Featured Videos