Amid Wynn allegations, casino industry reckoning with gender imbalance, 'misogynistic culture'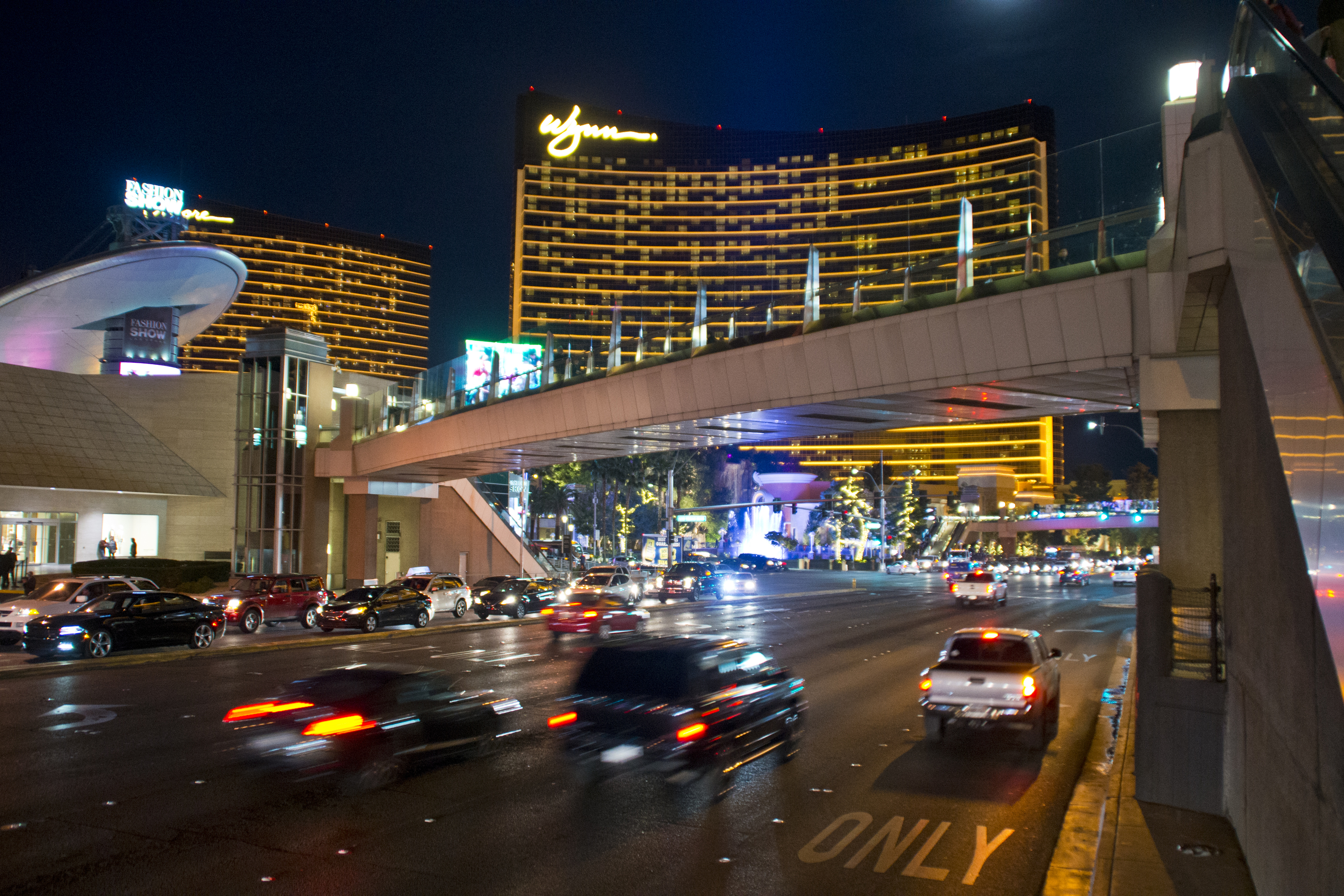 It's no secret that men usually outnumber women in key leadership roles — and the gaming industry isn't any different.
No women serve as president, CEO or board chairman of 21 major gaming companies that were part of a recent survey, and on average, only 14 percent of board of directors members at those casino companies are women. The gender disparity paired with an industry based on leisure can create environments ripe for sexual harassment and other misdeeds if left unchecked, according to women who hold or have held high-ranking positions in the gaming world.
"There's a lot of entertainment. There's a lot of fun. There's a lot of alcohol," said Jan Jones Blackhurst, a former Las Vegas mayor who's now an executive vice president at Caesars Entertainment. "You had a very — for many years — a very misogynistic culture."
In many ways, it was only a matter of time before the gaming industry joined others marred by accusations of sexual misconduct. When allegations surfaced — and then piled up — against producer Harvey Weinstein last fall, it created a snowball effect that zig-zagged through various industries and the hallways of Congress as women suddenly felt empowered to speak out. As the national movement to end sexual harassment and misdeeds widens, casino mogul Steve Wynn is the latest powerful man to face such allegations.
Wynn has adamantly denied the accusations reported last week by The Wall Street Journal. Still, the allegations lobbed against the 76-year-old businessman, which portray him as someone who used his power and influence to prey on female hotel workers, could be the catalyst for greater introspection and change across Las Vegas' casino-dotted landscape.
"It's pervasive," said Marybel Batjer, a former Las Vegas casino executive who's now secretary of the California Government Operations Agency. "I think many of us have known that it has been and we've poked along at change, but now change may finally come."
Calls for a culture change
Imagine a young woman who has a decent-paying job working in the gaming industry and maybe a family to support. A male superior harasses her or worse, but she keeps quiet because of the possible repercussions: What if nobody believes her? What if she's shunned? What if she loses her job?
Jones Blackhurst said that's often the mindset of vulnerable women working in casinos, whether as spa workers, maids, bartenders or otherwise, who are subjected to forms of sexual misconduct.
"In the gaming industry, it's usually women who are more likely to be afraid — afraid of their job, afraid that there's no place to go to report, that they won't be listened to, that they'll just be let go," she said. "Fear becomes the cover-up."
Jones Blackhurst and Batjer, who worked for eight years as a vice president at Caesars Entertainment, declined to comment specifically on the allegations lodged against Wynn, as did several other prominent women in the gaming industry who were contacted by The Nevada Independent. (Prior to her employment at Caesars, Batjer was in an executive program for 15 months at the Mirage when it was still owned by Wynn.)
But both women said — without hesitation — that gender disparity exists in the gaming industry, just as it does in other sectors. As a result, the unequal distribution of men and women across jobs can embolden people to commit sexual harassment and other forms of misconduct, they said.
Eliminating the gender-disparity gap is part of the culture change necessary to really prevent those misdeeds, they said. In other words, companies should no longer squeak by with just one or two women sitting on their boards or executive teams, and there should be equal representation down the corporate ladder as well.
That has long been one of Jones Blackhurst's professional goals, and, in early November, Caesars announced a plan to get there. The gaming company has embarked on an initiative dubbed "50-50 by 2025" to reach an equal number of men and women at all job levels eight years from now. Caesars' CEO and president, Mark Frissora, supports the goal, she said.
"If you don't have a hugely supportive CEO who is going to back the initiative, then you can announce it and it will flounder," she said.
Any successful "culture of intolerance" must start from the top of any organization and be weaved into the fabric of the corporation, Batjer said.
"That intolerance can't only be stated once a year at the sexual harassment training session," she said. "That needs to be thoroughly and completely communicated and modeled on a regular basis."
Still, even the best workplace cultures won't necessarily root out all harassment. And when those cases pop up, allegations proved to be true should never be brushed under the rug, Batjer said. Consequences matter and set the tone.
"You don't want that bad egg in your company," she said.
As the movement progresses, Batjer and Jones Blackhurst remain hopeful that it could lead to lasting change. Both women said they were never the victims of harassment in the workplace, perhaps because of their job titles, but that didn't make them ignorant of its existence.
Jones Blackhurst said a couple of women would come to her each year asking for help. When that occurred, she would either handle it or report it to someone she knew would take appropriate action.
"Hopefully, all of these circumstances will make corporations way more aware," she said. "It's their responsibility to create those no-tolerance cultures."
A power imbalance
The accusations against Wynn paint a picture of an immensely wealthy and connected man avoiding consequences for misbehavior for years. Lynn Comella, an associate professor of gender and sexuality studies at the University of Nevada Las Vegas, says the #MeToo movement has highlighted how a culture of silence protects powerful men.
"Workplace dynamics are complicated for women of all backgrounds, particularly for working-class women and women of color who might not have resources at their avail," Comella said. "The culture of silence is often a by-product of not wanting to cross a powerful man. Even if an individual man might not seek retribution, he knows other people who can."
Comella says the culture of silence is perpetuated by people at all levels within a given organization or company when they're aware of allegations, but choose to protect the accused rather than the victim.

Employees might be reluctant to speak up as internal checks and balances like human resources departments and upper management often fail to adequately channel sexual harassment complaints into any significant action, she said. She uses the challenging and dismissive behavior of the all-male Senate Judiciary Committee towards Anita Hill's testimony to show her students how hard it is for women to speak up about sexual harassment.
In 1991, Hill alleged sexual harassment complaints against the then U.S Supreme Court nominee, Clarence Thomas, who was her boss at the Department of Education and the Equal Employment Opportunity Commission. Thomas' supporters questioned her credibility and said she was a spurned woman and seeking revenge.
"There are so many examples in culture and in history of this type of treatment," says Comella. "It can be rather intimidating for women to speak their truth and find their voice. They do so at the risk of being an outsider and being a pariah. They might be quietly blacklisted within their jobs. People facing harassment in the workplace are aware of these risks."
Diversity in the gaming industry
Officials with Women of Diversity Productions, a nonprofit that has been tracking diversity in the gaming industry, said they've noticed a change within the past few months as awareness of sexual harassment has risen and decision-makers have been responding more swiftly to complaints. While they had trouble gathering information from casino companies for their inaugural study released in October 2017, they said more businesses are coming around.
"We've seen an increase in interest going into 2018 as far as participation in the survey," said Denise Duarte, adding that she's observed more interest in diversity and inclusion initiatives. "We're optimistic that they will accelerate a little faster now."
Their study graded 21 casino companies on four metrics: gender composition and compensation (how many women are in leadership), non-discrimination policies (whether such policies specifically address gender discrimination), internal support policies (child care and maternity leave) and community gender equality commitment (a specific commitment to bringing women into the company and advancing their careers).
"We felt that the gaming industry — because of its reliance on perceptions and visibility — was the perfect industry to begin this study," Duarte said. "We feel the gaming industry could be the leader in advancing these issues because of their reliance on customers coming to them. They rely on public perceptions. They're not [business-to-business]."
Indeed, financial analysts say one of the consequences of the allegations against Wynn is groups cancelling reservations at his resorts as a statement against his conduct, at least in the short term.
Wynn Resorts scored above average in the Gaming Gender Equality Index with a 56.5 points out of a possible 100, higher than the average score of 43.94 points.
The study found that the casino industry lacks female representation at senior and executive level management. Station Casinos, for example, did not have any female board members. MGM Resorts International scored the highest for the number of women on the board: Six out of 22 members.
Wynn's one female board member, Patricia Mulroy, who once served on the Nevada Gaming Commission, is tasked with investigating the sexual allegations against Wynn.
Researchers concluded that the lack of promotion and mentoring of female managers plays a part in the scarcity. The study, which relied on companies to self-report, found that men are promoted at a 30 percent higher rate than their female counterparts early in their careers.
But one area was elusive — disparities in pay. None of the companies surveyed volunteered information about their compensation packages, making it difficult to tell whether, and how dramatically, women's pay differs from men's, especially at management levels.
The Culinary Union, which represents about 57,000 people, said it has a long history of fighting to ensure more gender equality among rank and file workers in the casino industry. In response to the Wynn story, the group noted that unionized workers make the same pay regardless of gender and touted other benefits of contracts for women — maternity leave, the ability to negotiate against skimpy uniforms and a grievance process for harassment claims.
The group also spoke out about reports on the casino mogul and said they support a probe into his conduct — something the Nevada Gaming Control Board announced Tuesday that it had launched.
"We are deeply disturbed by these accusations against Steve Wynn and support a full and fair investigation regarding these allegations," said Culinary Union Secretary-Treasurer Geoconda Arguello-Kline. "As a union of strong women who have never accepted sexual harassment and gender discrimination, we respect the women who come forward to change what should never have been."
Authors of the study said they're glad gender issues in the casino industry and in the workplace overall are getting more attention, but said they hope it will lead to lasting changes for women.
"There's greater awareness," Duarte said. "We applaud the awareness of these issues and we hope that translates into a willingness to make these changes not only with sexual harassment but with the pay gap."  
This story has been updated to clarify that Patricia Mulroy is the only woman on Wynn's board of directors. 
Disclosure: The Nevada Independent has taken donations from Wynn Resorts and many others listed in this story. See our full list of donors here. The board of The Nevada Independent had a meeting on 1/29/18 to discuss whether to return the $75,000 2017 donation from Wynn Resorts. The vote was unanimous in favor of keeping the contribution. Editor Jon Ralston explained the decision here.
Featured Videos
Comment Policy (updated 4/20/2021): Please keep your comments civil. We reserve the right to delete comments or ban users who engage in personal attacks, use an excess of profanity, make verifiably false statements or are otherwise nasty. Comments that contain links must be approved by admin.