As sports betting grows, some operators skip Nevada because of in-person registration requirements
Analysts say the state's requirement that a customer register in person at a sportsbook is keeping some major operators out of the state.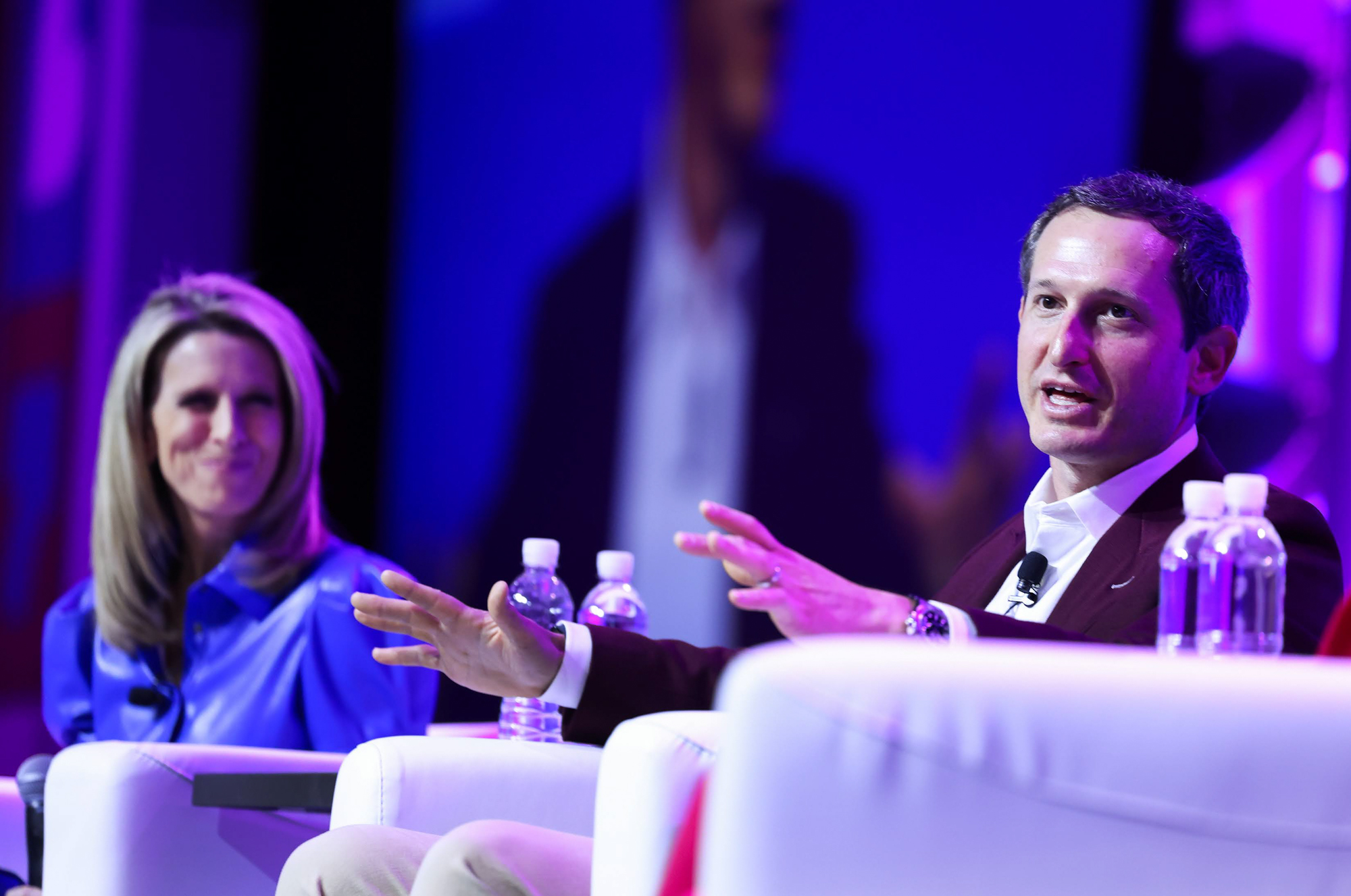 Sports betting customers in the U.S. will soon have two new choices from companies hoping to slice into the market dominated by FanDuel and DraftKings.
Fanatics Betting and Gaming, a division of the sports apparel giant, has launched a sports betting app in five states with eight more on the way through its $225 million purchase earlier this year of Australia-based PointBet's U.S. operations.
ESPN Bet will begin operating in 16 states in November after Penn Entertainment scrapped its Barstool Sports-branded sports betting operations for a 10-year, $1.5 billion deal with ESPN.
Just don't look for either business in Nevada.
As with FanDuel and DraftKings, Fanatics and ESPN Bet will not be available anywhere in the Silver State. Analysts say the absence is primarily because of the state's reluctance to transition away from a requirement that customers register in person at a sportsbook for a mobile wagering account.
While most other states with legalized sports betting allow for mobile registration — meaning bettors never need to step foot inside a casino to access online sports betting platforms — Nevada has retained an in-person registration at the behest of casino operators who primarily target local gamblers, a hurdle some analysts say is stifling marketplace growth.
"Nevada, which accounts for a little more than 1 percent of the U.S. online gambling revenue, is not a must — not even close — for FanDuel and DraftKings," analyst Chris Krafcik of Eilers & Krejeck Gaming wrote in an email.
Krafcik, who follows sports betting and digital gaming for the Southern California-based advisory firm, wrote in a monthly market report that Nevada trailed five other states in the amount wagered online via sports betting over the past 12 months.
New York led the pack with $17.2 billion, followed by Illinois with $10.2 billion, New Jersey with $9.9 billion, Pennsylvania with $6.7 billion and Arizona with $6.2 billion. Nevada was sixth, with more than $5.5 billion.
Sports betting is still a lucrative part of Nevada's casino industry, though. The state's Gaming Control Board reported that Nevada sportsbooks have seen a year-to-year revenue increase of almost 11 percent to $250.9 million through August. During those eight months, the locations have accepted almost $4.9 billion in wagers, which is actually down almost 7 percent from a year ago. Much of the decline was due to a 15 percent drop in Super Bowl wagering back in February. The annual NFL championship game is traditionally the state's single-largest sports wagering event.
According to the American Gaming Association, sports betting revenue in the U.S. was $6.14 billion through August, an increase of more than 60 percent from a year ago.
Mobile sports wagering has accounted for 65 percent, or almost $3.2 billion, of the state's total sports wagers. Nationwide, placing bets on a smartphone or a computer has grown into the dominant platform for sports gamblers, accounting for 80 percent of all bets.
But Nevada still requires sports betting to be tied to a sportsbook inside a casino, which also serves as the sign-up location for mobile wagering accounts. For example, Circa Sports — headquartered in downtown Las Vegas — opened a sportsbook at Legends Bay Casino in Sparks last year that allows Northern Nevada customers to sign up for the company's mobile sports betting app.
Nearly all the major sports betting states allow remote registration and sign-ups.
Nevada was the nation's only sports betting state until a U.S. Supreme Court ruling in May 2018 allowed states to legalize and regulate the activity. There are now 35 states, along with Washington, D.C., that offer legal sports betting, with Maine, Vermont and Florida potentially launching sports betting markets in the next 12 months.
Without DraftKings or FanDuel, Nevada's top two sports betting operators are BetMGM, a joint venture between MGM Resorts International and United Kingdom-based Entain Plc, and Caesars Entertainment-owned William Hill US, which the company acquired for its operations in other states that helped build its national brand through Caesars Sportsbook.
BetMGM and Caesars Sportsbook are considered the third and fourth-largest sports betting operators in the U.S.
Eilers & Krejcik said there are 61 online sports betting businesses operating in the U.S., but the firm has also tracked nearly a dozen companies that have closed since January 2022.
Nevada does not have a licensing category for online sports betting. State gaming regulators license casino companies to operate for sports betting at multiple properties. Individual casino owners can also be licensed for a sportsbook with the platform supplied by a gaming equipment provider. Mobile sports betting is approved as an associated technology.
"We're in one of the most competitive markets in the world. Anyone who thinks that it's over in the first inning is just foolish," DraftKings CEO Jason Robins said on Oct. 11 during a Global Gaming Expo keynote session with FanDuel CEO Amy Howe.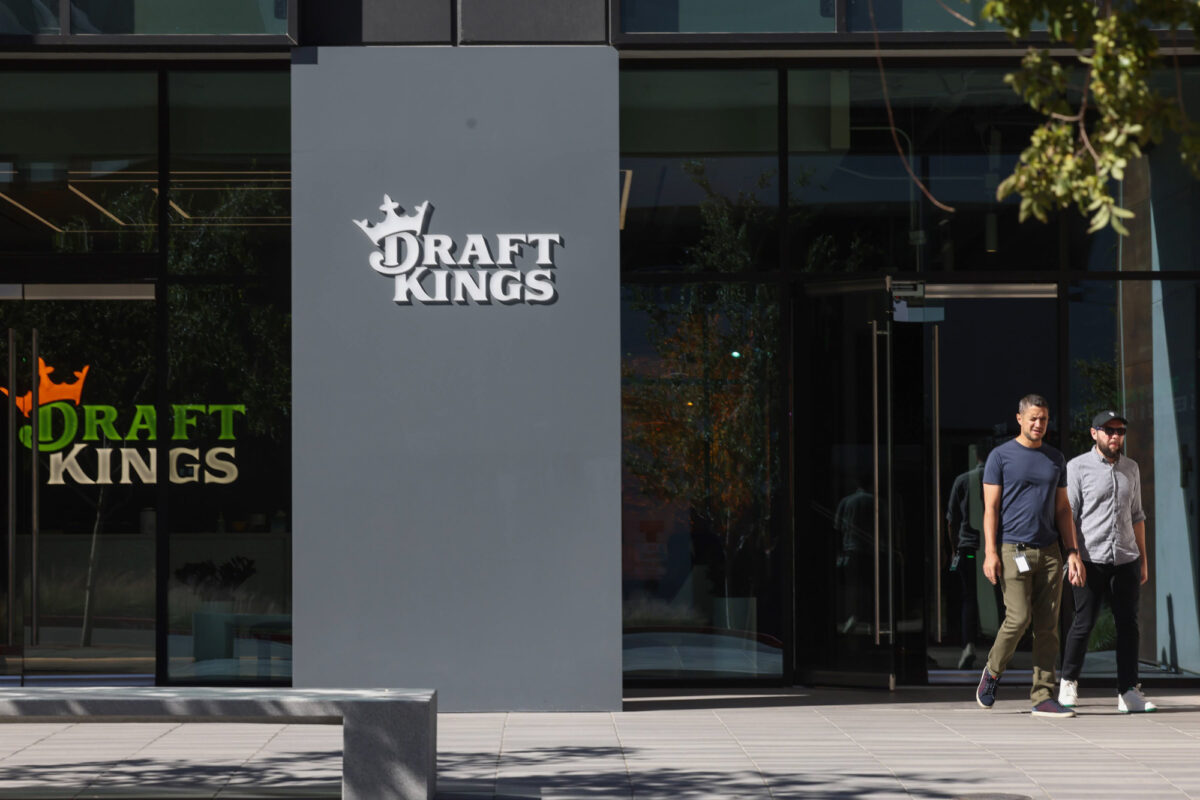 A presence in Nevada
Proposals to change Nevada's in-person registration requirement have been fervently opposed by companies catering to local gaming customers. Two years ago, a group of smaller casino operators objected when regulators scheduled a Gaming Control Board workshop to discuss suggested changes to regulations, including the rules requiring in-person registration for mobile sports betting accounts.
Krafcik said Nevada's revenue and wagering percentages could grow if the state were to overturn its in-person registration requirement.
"However, we doubt Nevada will make those changes anytime soon," he said, which leaves Fanatics and ESPN Bet on the outside looking in.
Fanatics Vice President Kevin Hennessy said it was "way too soon to even contemplate [Nevada] at this point in our evolution."
Penn Executive Vice President Eric Schippers said the company is still in the planning stages of rolling out ESPN Bet into its existing markets by replacing the Barstool brand in 16 states.
"[I'll] be happy to circle back as plans firm up [for] Nevada," Schippers wrote in an email. Penn Entertainment operates M Resort in Henderson and two small casinos in Jackpot near the state's border with Idaho. The company never applied for a Nevada sports betting license for its former sports betting branding partner Barstool.
Krafcik suggested FanDuel and DraftKings "are far likelier to dabble in Nevada" through a branded retail sportsbook than they are to attempt anything transformative [such as] taking a stake in or buying outright a resort casino on the Strip."
FanDuel and DraftKings do have a presence in Nevada, just not as traditional sports betting operators.
Boyd Gaming owns 5 percent of FanDuel, and the company operates retail and mobile sports betting at 15 of Boyd's regional casinos in eight states. In Las Vegas, Boyd operates its own sportsbooks and mobile wagering through Boyd Sports.
Earlier this year, the sportsbook at Boyd's Fremont Hotel and Casino was rebranded as a FanDuel sportsbook, but it is still managed by Boyd.
A Boyd spokesman said the company has not changed its position in favor of on-site registration requirements.
DraftKings has more than 1,000 employees in Southern Nevada through its local headquarters at the Uncommons mixed-use business complex in southwest Las Vegas. The office is staffed with customer service workers, the trading (oddsmaking) team, business development officials and a legal department.
DraftKings also owns the Vegas Sports and Information Network (VSiN), which has studios at South Point Casino Resort and Circa Casino Resort.
Robins, the DraftKings CEO, said during G2E that Fanatics and ESPN will enter the sports betting space "ready to spend with big brands, a real vision and with good people."
FanDuel's Howe agreed with Robins that new competitors are always finding ways to break into the business, but the challenge for FanDuel "is to redefine and improve the product." Both FanDuel and DraftKings, she said, have "invested significant amounts of money" to market the companies and acquire new customers.
"I think we've been very thoughtful about what deals we do and what deals we don't do," Howe said.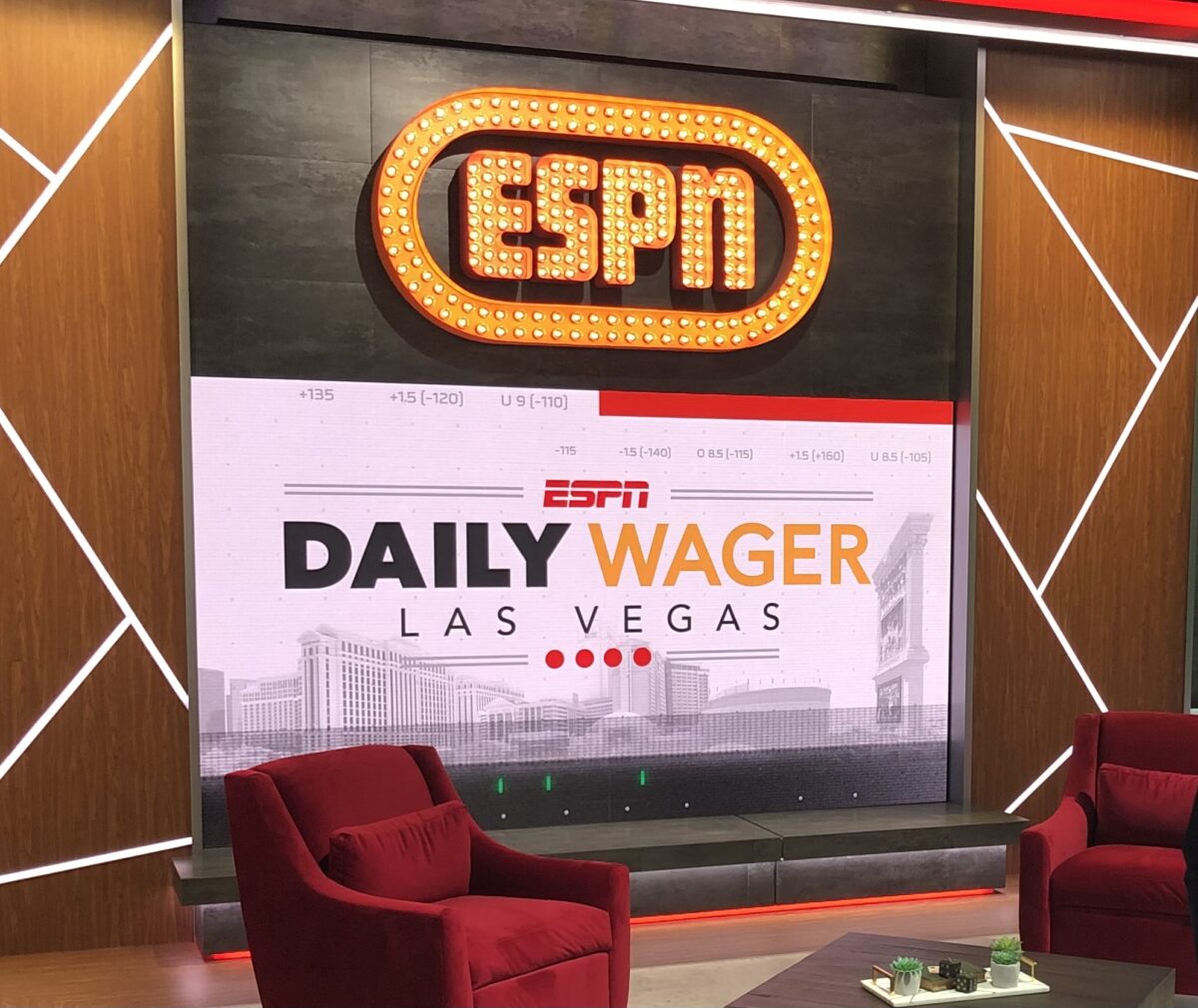 ESPN studio at Linq closed
Fanatics will transition the PointsBets operations into Fanatics Sportsbooks as the company is licensed in different markets.
Fanatics operates in five states (Kentucky, Massachusetts, Maryland, Ohio and Tennessee) with a mobile wagering app, but also has retail sportsbooks at three stadium venues, one in Maryland and two in Ohio.
"There is nothing to talk about Las Vegas-related," Hennessy said.
ESPN had a presence in Las Vegas through a studio at The Linq resort in partnership with Caesars Entertainment, where the sports betting-oriented "The Daily Wager" show originated.
An ESPN spokesman said the company ended its relationship with Caesars once the deal with Penn was finalized. The show was relocated back to ESPN's home studios in Bristol, Connecticut. ESPN also ended a partnership with DraftKings, which provided betting lines to various programs.
ESPN deferred questions about M Resort to Penn. The property has a William Hill US sportsbook and Penn has been planning a $206 million expansion that will double the size of the hotel-casino.
"We don't believe either [ESPN] deal was ever lucrative to Caesars or DraftKings," Stifel Financial gaming analyst Steven Wieczynski told investors in a research note. "We fully understand ESPN has more of a financial stake now with Penn versus those other one-off partial deals, which should help both parties."
Wieczynski was one of several gaming analysts who attended a private meeting on the first day of G2E with Penn CEO Jay Snowden and ESPN Vice President of Sports Betting Mike Morrison.
J.P. Morgan gaming analyst Joe Greff said the discussion focused on the big picture and steered clear of financial forecasts.
"ESPN noted that it will devote resources from the entire ESPN ecosystem and anything in print or linear referencing odds will be branded ESPN Bet," Greff wrote following the meeting.
Truist Securities gaming analyst Barry Jonas said in a note to investors that sports betting operators "sounded generally prepared for ESPN Bet's entry into the market."
"No one [is] seemingly changing tactics at this point," Jonas wrote. "Operators have generally adopted a more rational stance on customer acquisition, focusing on return on investment versus market share gains by any means."
The Nevada Independent is raising $200,000 by Dec. 31 to support coverage of the 2024 election.
Tax-deductible donations from readers like you fund this critical work.
If you give today,your donation will be matched dollar-for-dollar.
Give + Get Matched
Featured Videos