As thousands of workers remain displaced, Nevada banks on retraining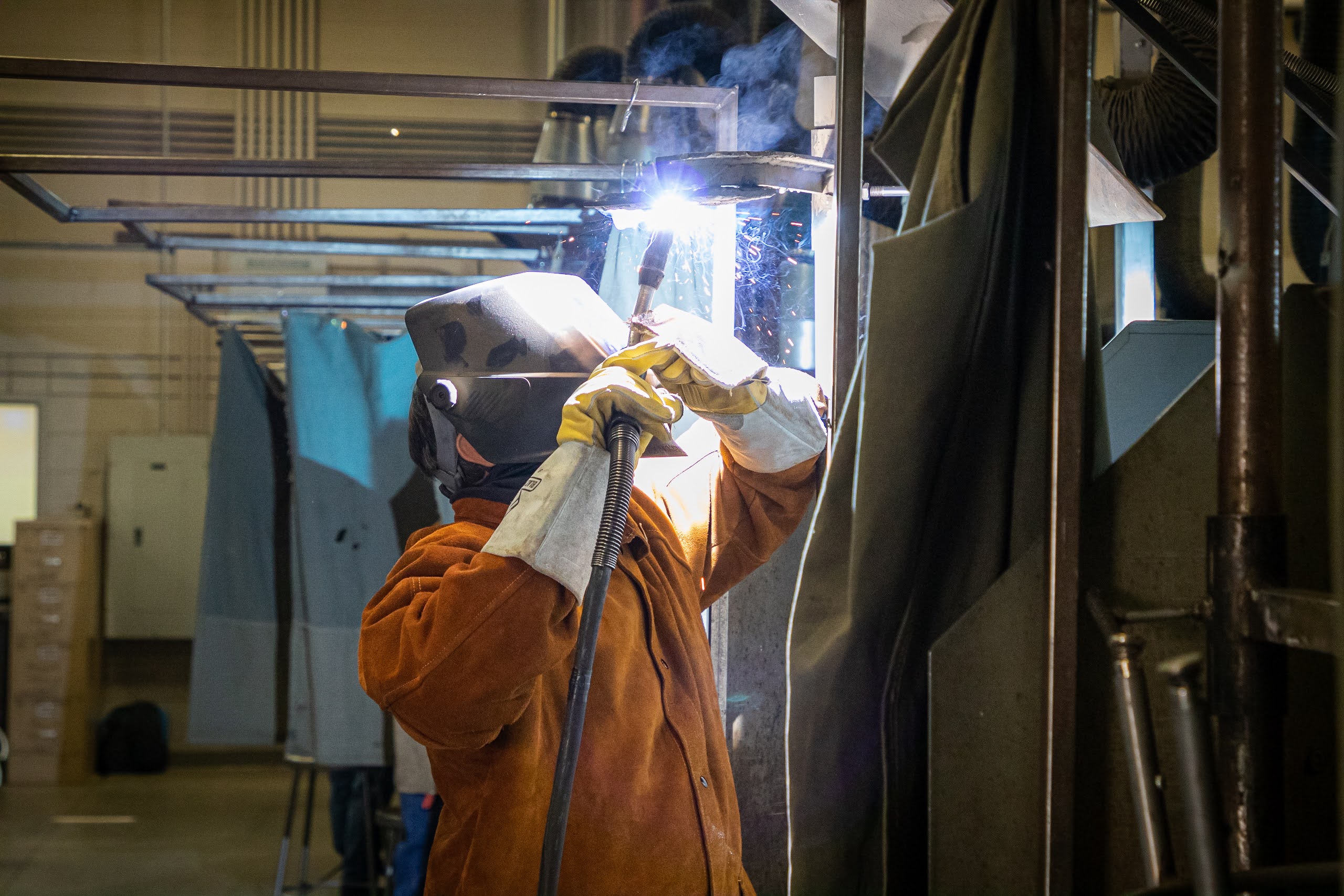 After three years of working as a casino security guard in Lake Tahoe, Charles Erb said he thought he had come to excel at kicking people out when they got too rowdy.
But as the company changed its security policies, he started to feel stifled. Working graveyard shifts made him feel like a zombie. And he realized he had hit a ceiling on the pay scale that he would never break through.
"The job wasn't very fun," said Erb, 28, who later enrolled in welding classes at Western Nevada College and soon after landed a job making equipment for firefighters. "I like finally being in a job where my experience actually means something and it's actually going to be reflected in my pay."
Nevada officials are hoping more residents will follow Erb's lead and retrain for careers that are in high demand, especially as the state continues to lead the nation in unemployment and economists estimate that about 50,000 of the jobs lost during the pandemic will not be coming back. With nearly as many job openings available in Nevada as there are unemployed people, experts say it's not so much a lack of available positions, but mismatches between job seekers' experiences and the needs of employers, or the region where the most available workers are.
Agencies such as the Department of Employment, Training and Rehabilitation (DETR) have for months been urging displaced workers to "reskill" or "upskill," and have promoted online tools such as Emsi SkillsMatch that use surveys to show workers how skills they already have from previous jobs could translate to a new field.
"Individuals feel like they're defined by this job and that's the job in which … they need to look, and don't think about the sum total of what made up that job," Stacey Bostwick, director of workforce development at the Governor's Office of Economic Development (GOED), said in an interview earlier this year.
Experts don't necessarily think that everyone who was recently on unemployment — such as the nearly 150,000 people who were filing for benefits when federal programs stopped in September — needs to change careers. Some of the jobs will come back with time; some people will sit out of the workforce now or permanently.
But helping Nevada workers as a whole adjust to the realities of the changing Nevada workforce landscape is still of top concern for people like Caleb Cage, the vice chancellor for workforce development at the Nevada System of Higher Education.
"The loss of 50,000 jobs, whether that's to automation or that's to industries that are no longer here, or businesses that are no longer in operation here in our state, or people moving out of the state or any number of things that are associated with that, that's definitely something that's on the front of our minds," Cage said.
***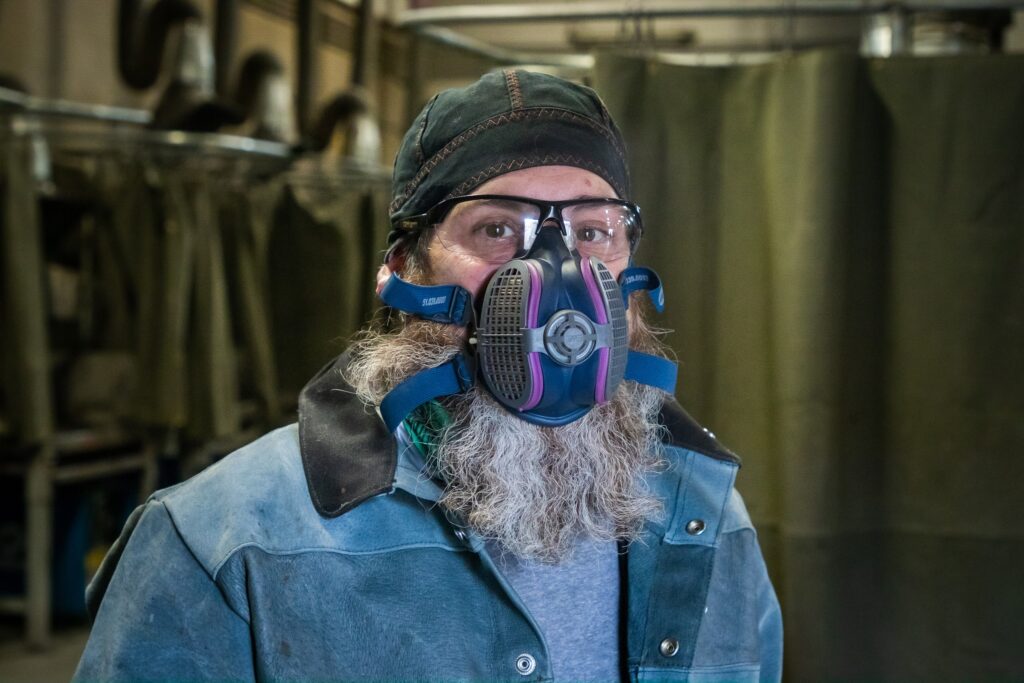 Much of the disruption from the pandemic has been concentrated in the hospitality industry, which took the brunt of international travel restrictions, capacity limits, shutdowns and other COVID-mitigation measures.
Joe Baker, a former executive chef at restaurants around Lake Tahoe, saw booming businesses come to a grinding halt as the pandemic closed in. When things did reopen, he hardly recognized the landscape — much of the workforce he had trained had scattered, and new COVID mitigation protocols felt stifling.
"I feel like everything changed and it didn't just make sense to me anymore. So I chose welding, where I'm kind of my own employer," he said in a recent interview in a Western Nevada College welding classroom.
The pandemic also forced Brooke Walker, 43, to rethink his career path. Jub Jub's Thirst Parlor in Reno was "a great bar to work for" in the nearly three years he spent there, but COVID protocols hampered its main income — live shows — and the venue eventually closed its doors permanently.
Walker, whose housing situation was also in flux, decided it was the right time to move back to his hometown of Carson City and pursue an associate's degree in welding from Western Nevada College.
The community college was one of the schools that did not lose enrollment during the pandemic, according to Provost Kyle Dalpe. Knowing it could be key in any retraining efforts, Dalpe said the college made it a point to try to maintain capacity in some of its most popular programs, such as machine tool technology, welding and automotive.
"They're always clamoring for people. It's almost to the point where we can't get students to stay in the program because the businesses snatch them up," Dalpe said.
That's made things easier for Walker, who said he's confident he'll be able to move into a job when he wants.
"I'm loving this," he said. "It seems that there are just so many opportunities right now that I'm not even worried about finding something ... once I graduate."
For decades, the state has been trying to diversify its economy and reduce dependence on a tourism industry that can come to a standstill in situations like pandemics or recessions that sap would-be visitors' discretionary spending.
But officials say the sheer size of the population in Southern Nevada makes it hard to turn the ship.
"I think that there … have been some very successful diversification efforts in Southern Nevada," Bostwick said. "But the volume of which, even if we were exactly the same as Northern Nevada in Southern Nevada, it's not enough just based on ... the sheer volume and concentration of industry."
A tourism-dominated economy was also working for the Las Vegas area in recent years, until it wasn't. Diversifying has been more of a sink-or-swim proposition in the north.
"After the Great Recession, Las Vegas continued to be Las Vegas, with the global brand … in a few years Las Vegas recovered and was hitting on all cylinders," GOED spokesman Greg Bortolin said. "It was a matter of survival in the north … there was more urgency."
***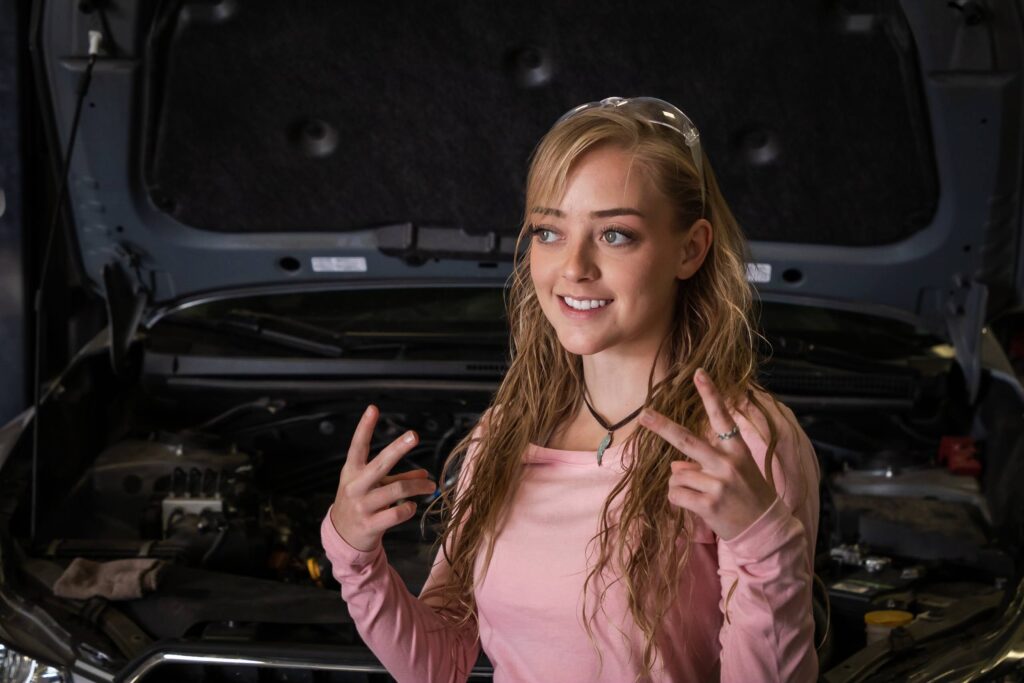 Training for an in-demand job sometimes goes against the vision that students or parents have about the "right" career path.
In fact, community college officials say they are trying to make up for lost time because the trend 20 years ago was to encourage more students to get traditional, four-year liberal arts degrees.
"We tour people through here, and parents will say things like, "Well, this is great, this is awesome, but I want my kid to go to college,'" Dalpe said. "We're like, 'This is college.'"
Abigail Ritts found herself propelled toward a career change when the pandemic shut down the preschool where she was teaching. Her dad encouraged her to stick with online college classes, but the format proved to be a tedious slog.
"I like working with my hands. I like moving around. I like being outside. I did that for two summers," she said. "I just realized, okay, like, I'm not doing this online stuff. I'm just gonna go start working with my hands until things get back to normal."
She's now taking classes in both auto body and mechanics. The former flexes her artistic muscles; the latter has her exercising her curiosity and creativity as she tries to address the inevitable quirks in the cars she works on.
"Your oil filters are supposed to be at the front. But sometimes, there's cars with pans or random bumpers or things you just don't need there," she said. "You just never really know what you're getting into. You really gotta be creative when coming up with solutions."
Dalpe says one important key to getting more young people interested in the trades is rebuilding career and technical education programs that were de-emphasized in the recent past.
"Part of that has to do with us being in high schools," Dalpe said. "It's more exploratory in the high schools."
***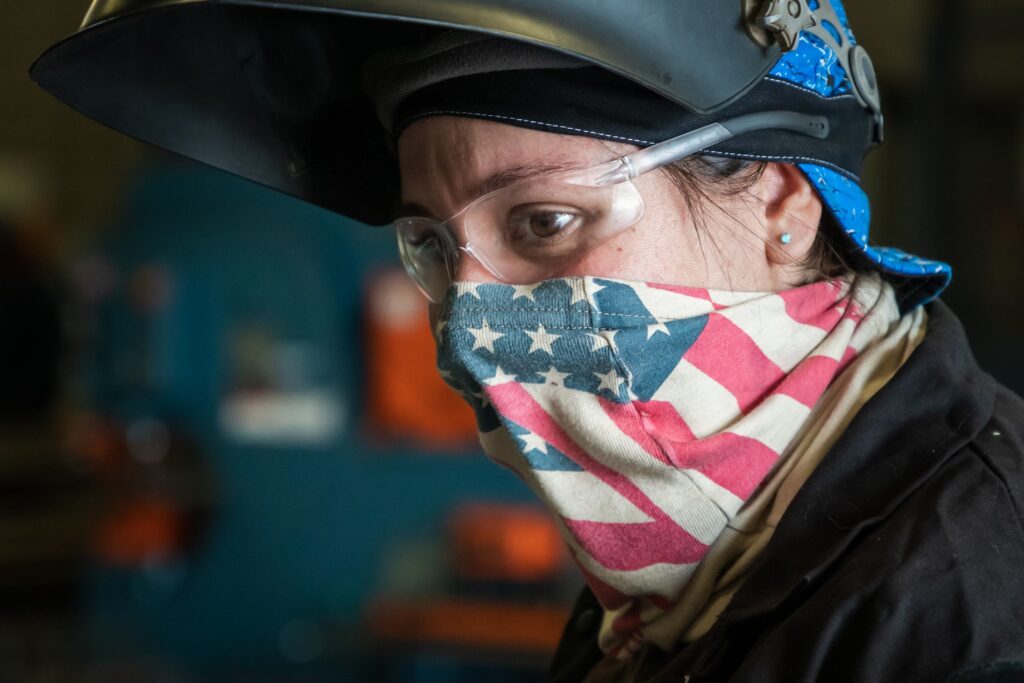 Raquel "Kelly" Moore already has a job working on water infrastructure, but was in the welding lab on her day off practicing skills she'll need to get another certification. While she can do basic welding, her goal is to get the coveted 6G certification, demonstrating she knows how to weld pipes.
"This is just making my career easier, so I don't have to wait on the only guy who can fix my problem," said Moore, 30. "I can recognize the problem and fix it."
NSHE officials believe that people returning to college periodically for career advancement — rather than having a single degree suffice for life — is another trend for the future.
"I do believe that a part of education going forward is going to be very much associated with this lifelong learning model that is associated with your work, that is associated with certificates that can be stacked and towards degrees and those sorts of things," Cage said.
Cage envisions more emphasis on "asynchronous training," where students could fit lessons in on their own schedule, such as after work or after their kids go to bed.
That's just one way NSHE is trying to accommodate people who don't fit the mold of 18-22-year-old full-time students, and to ensure there are options whether a person has a little or a lot of time to burnish their skills. Another way is designing programs where all classes are confined to the weekends and the course leads to an industry-recognized credential.
The College of Southern Nevada's Weekend College program, for example, features courses in social media marketing, and others that lead to a beginner heating and air conditioning certification, a preschool teaching certificate, a home health care aide certificate and an ethical hacker information technology certificate.
CSN President Federico Zaragoza attributed an expected 5 percent jump in fall semester enrollment, in part, to more people using the school to retrain.
Moore said she realizes no job is totally crisis-proof, but returning back to school to keep her certifications current and get new ones keeps her options open.
"If everything went to heck in a handbasket, I would still be able to be a mechanic. I would still be able to do these things," she said. "Having this is comforting."
***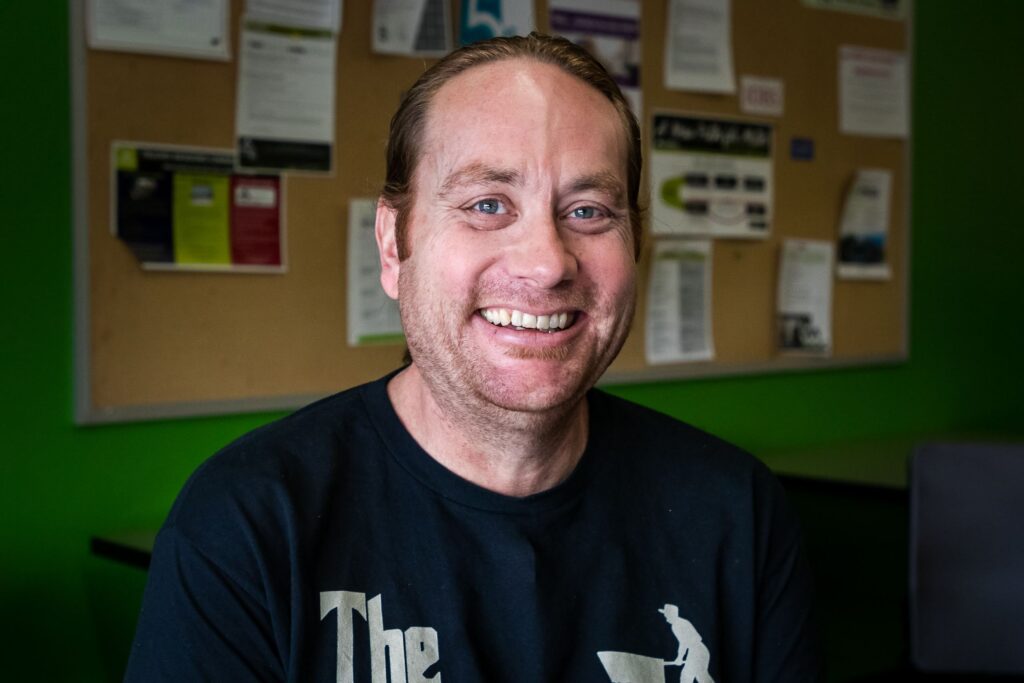 From one angle, retraining is a macro issue: How does the state help the 117,302 people who were unemployed in September move into the 102,000 job openings in the state that month, when their skills don't match the requirements of the job openings?
"We hear an awful lot about the demands for work for short-term credits, low credit-bearing opportunities, so that we can redeploy a workforce that may never fully be picked back up by the hospitality sector," Chancellor Melody Rose said at a Nevada Independent IndyTalks event this month.
But it's also a personal decision, made one individual at a time. As DETR described it in a Nov. 18 press release, "Definite reasons why [Nevadans] who have left the labor force and have not returned after the COVID-19 recession continues to evolve with time and remain unknown."
Cage said the high number of unemployed people is "not a number that we ... are comfortable with in any way.
"Those are people's lives," he said. "I think many people share our belief that education is one of the keys to reduce that number."
The decision to go back to school and change careers in his mid 40s was difficult for Anthony 'Red' Simons. He says some days he is still "petrified" of it and can't help noticing that he is more than twice the age of many of his classmates at Truckee Meadows Community College.
But Simons — who switched from being a driver for Swift Transportation to studying landscape architecture — calls retraining "a really good thing."
"You need to be happy in what you're doing," he said. "It seems to me that most people aren't really happy with what they're doing and they feel kind of like they have to do it or, you know, everything is going to fall apart."
Cage acknowledged that the system itself has no control over people coming to make their own decisions about their career trajectory.
But, he said, "we have control over what we offer, how we meet the moment. And I think that's our responsibility … to make sure that we are flexible and innovative and can make sure that when somebody has made that decision, that there are opportunities that are available to them through the public higher education system in Nevada."
A version of this story appeared on the IndyMatters podcast. Click here to listen to the episode.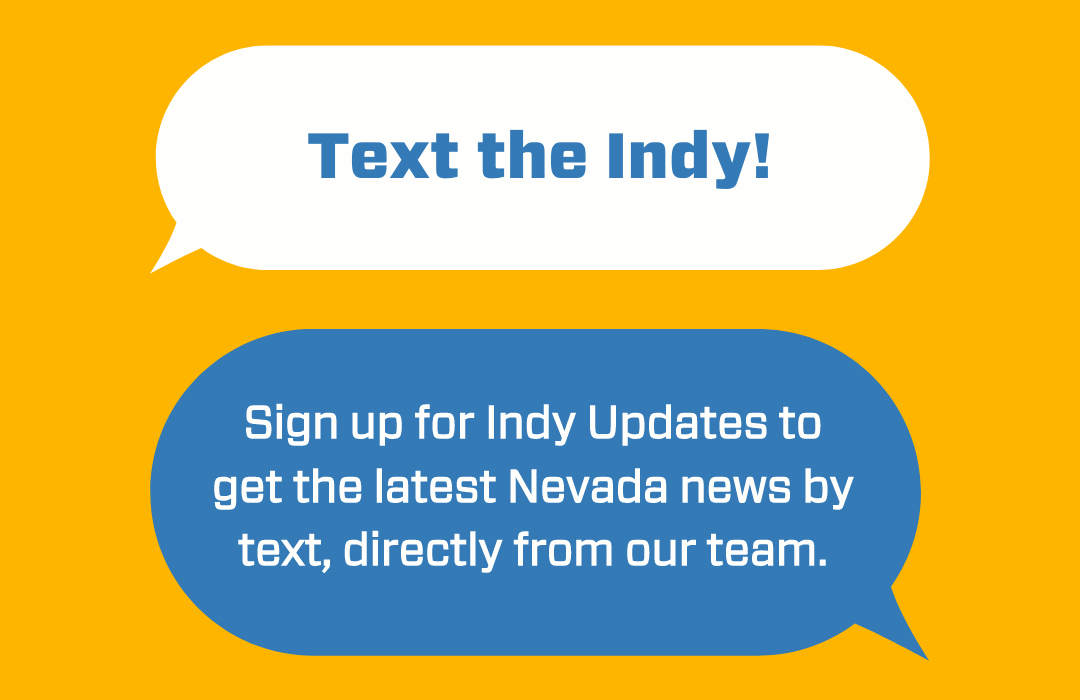 Featured Videos
Comment Policy (updated 4/20/2021): Please keep your comments civil. We reserve the right to delete comments or ban users who engage in personal attacks, use an excess of profanity, make verifiably false statements or are otherwise nasty. Comments that contain links must be approved by admin.