CCEA, school district clash over teacher pay proposals as contract negotiations stall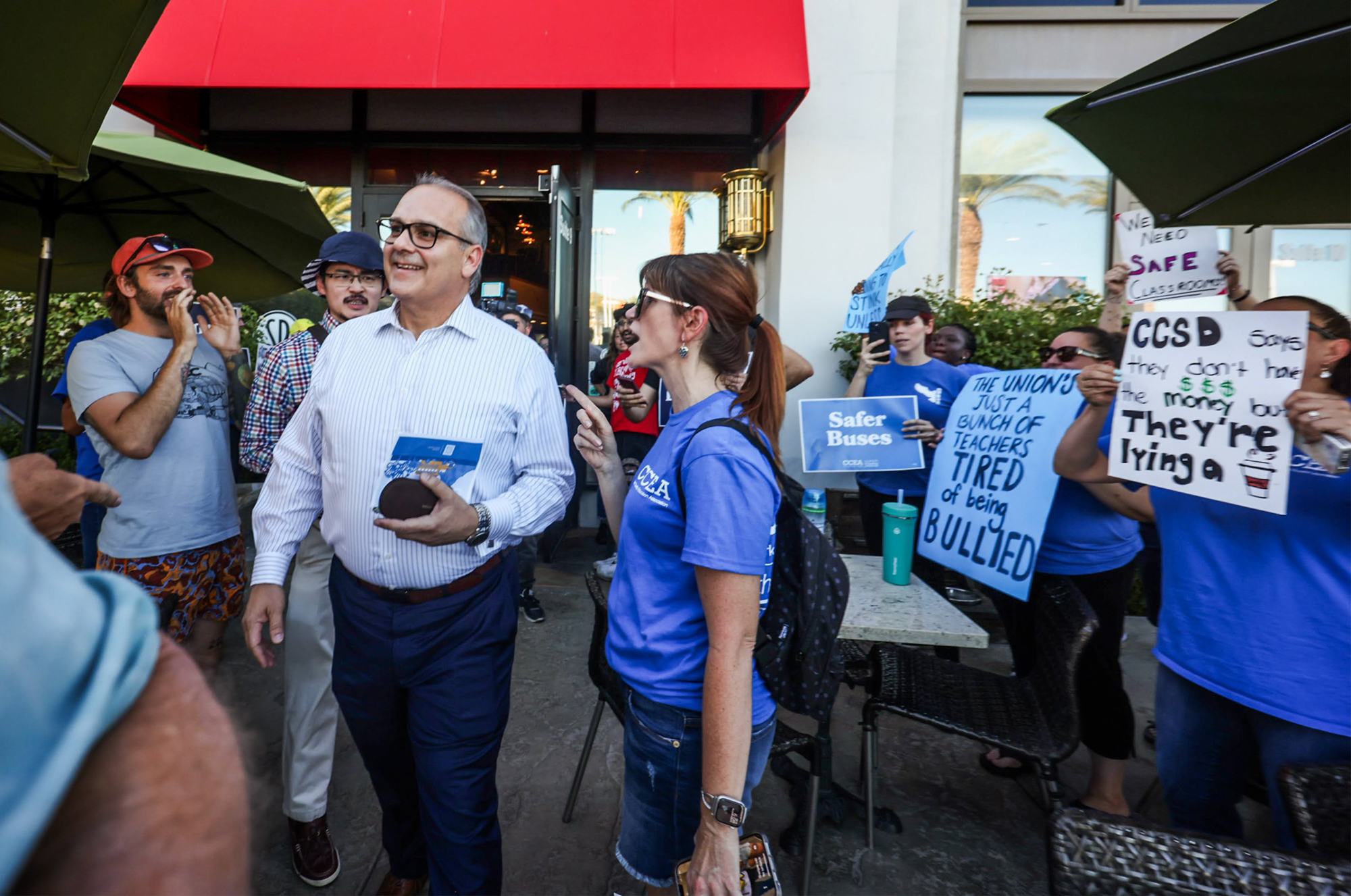 At odds with the school district over a call for teacher pay raises and other contract issues under negotiation, members of the Clark County Education Association are planning to confront Superintendent Jesus Jara at a series of community meetings this summer before the new school year begins.
More than a dozen union members, dressed in blue T-shirts, protested Tuesday outside Sambalatte, a Summerlin coffee shop where the Clark County School District superintendent kicked off his "Java with Jara" events.
"​​I have an eight-year-old right now that's getting ready to go into third grade," said Kristan Nigro, a kindergarten teacher and one of the event's organizers. "I want to watch him graduate from here, but we're not going to be able to do that if I can't afford to live here."
Their loud chants at times made it hard for attendees inside to hear Jara. Police cars eventually arrived and were parked in front of Sambalatte when Jara exited the building. The protest is the latest example of how contentious negotiations between the district and the union have gotten since they began bargaining meetings earlier this year.
The union is pushing for a 10 percent salary increase for licensed educators in the first year of the contract, and another 8 percent salary increase in the second year.
CCEA is also asking for an additional $5,000 salary increase for educators who work in Title I schools that have high percentage of students from low-income families and high numbers of vacancies and hard-to-fill positions; an additional 5 percent salary adjustment for all special education teachers; an increase up to 1 ½ times a teacher's salary for all hours worked outside of contract time; and an increase in employer contribution for employees with dependents, among other things.
"So we're just fighting for the same basic rights other employees would have. We should be valued," said Jessica Jones, a kindergarten teacher and an event organizer.
District officials has called the union's new teacher pay proposals "unreasonable" and said they would put its budget in the red.
Jones said CCEA plans to protest other "Java with Jara" events. But on Wednesday, the district said the owner of the property where the second event was set to take place requested that it no longer be held there because of "the ongoing bad faith, bullying tactics of harassment and intimations by CCEA leadership."
"These underhanded tactics do not get teachers the raises they deserve but only serve to alienate members of the community wishing to dialogue with the superintendent while supporting local businesses," the district said in a statement Wednesday.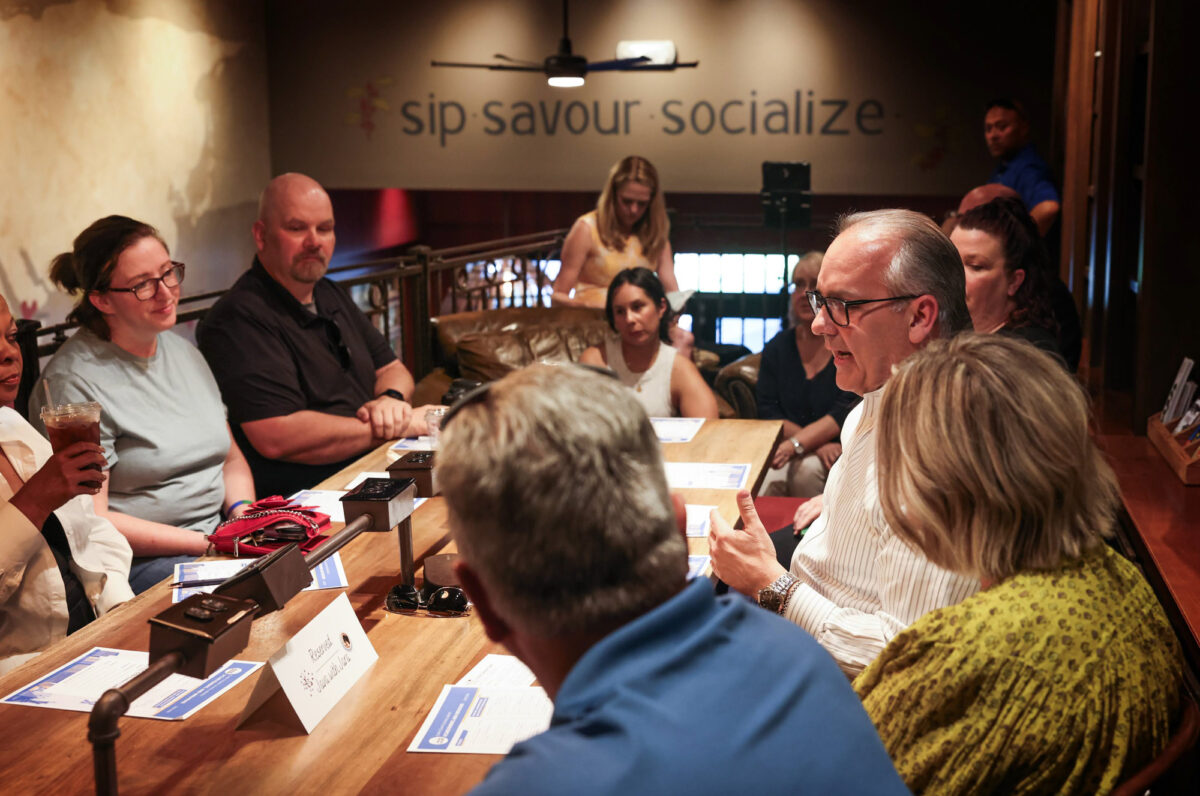 Funding allocations
CCEA Executive Director John Vellerdita didn't give an estimate on how much the proposed salary adjustments would cost the district, but during a March 31 legislative hearing, district officials said every 1 percent increase costs about $24 million.
CCEA argues that the district is flush with the cash. In the 2023 legislative session, lawmakers and Gov. Joe Lombardo approved a $2 billion increase in K-12 education spending. This investment raised the district's base per-pupil rate to $8,721, a $1,360 increase. The district also projects it will have about $398 million in additional revenue.
Lawmakers approved SB231, a bill which creates a $250 million matching fund that school districts can tap into to increase salaries for teachers and other support staff.
Vellardita often notes that throughout the pandemic, the Clark County School District also received millions of dollars in federal COVID-19 relief funds, including about $778 million in Elementary and Secondary School Emergency Relief (ESSER III) Funds. The district has spent or obligated nearly $583 million, or close to 75 percent of those funds, according to district data.
"After a $2.4 billion investment in education by the Governor and Legislature and another $250
million more allocated for educator raises, CCSD still refuses to pay educators what they deserve," CCEA said in a statement last Wednesday. "CCSD Trustees can give Jara a $75,000 raise, hire consultants and lawyers, give (School Board) President Garcia-Morales's employer a contract using ESSER III funds, but they can't give educators a raise."
Jara said in a Tuesday statement that he and the board intend to dedicate additional dollars from the Pupil-Centered Funding Plan to compensating district employees, but claimed that what CCEA is asking for would require the district to use one-time funds from ESSER III, SB231 and other sources, which he called irresponsible.
Jara added that the union's proposal would "perpetuate the inequitable current salary schedule." Instead, he said a new salary schedule is needed that would compensate teachers based on their experience and education. He said this would result in more compensation "beyond the amounts demanded by CCEA" for many educators. The statement didn't provide specific details on how much teacher pay would increase by.
CCEA wants to have a new contract in place by Aug. 7, the first day of the new school year. But with only a few weeks remaining until then, it is not clear if that will happen. Vellardita said the union plans to hold a meeting at the end of the month to discuss what steps it would take if negotiations remain at a standstill, but didn't share what actions the union was considering taking.
The district said the current contract will remain in place until a new agreement is reached.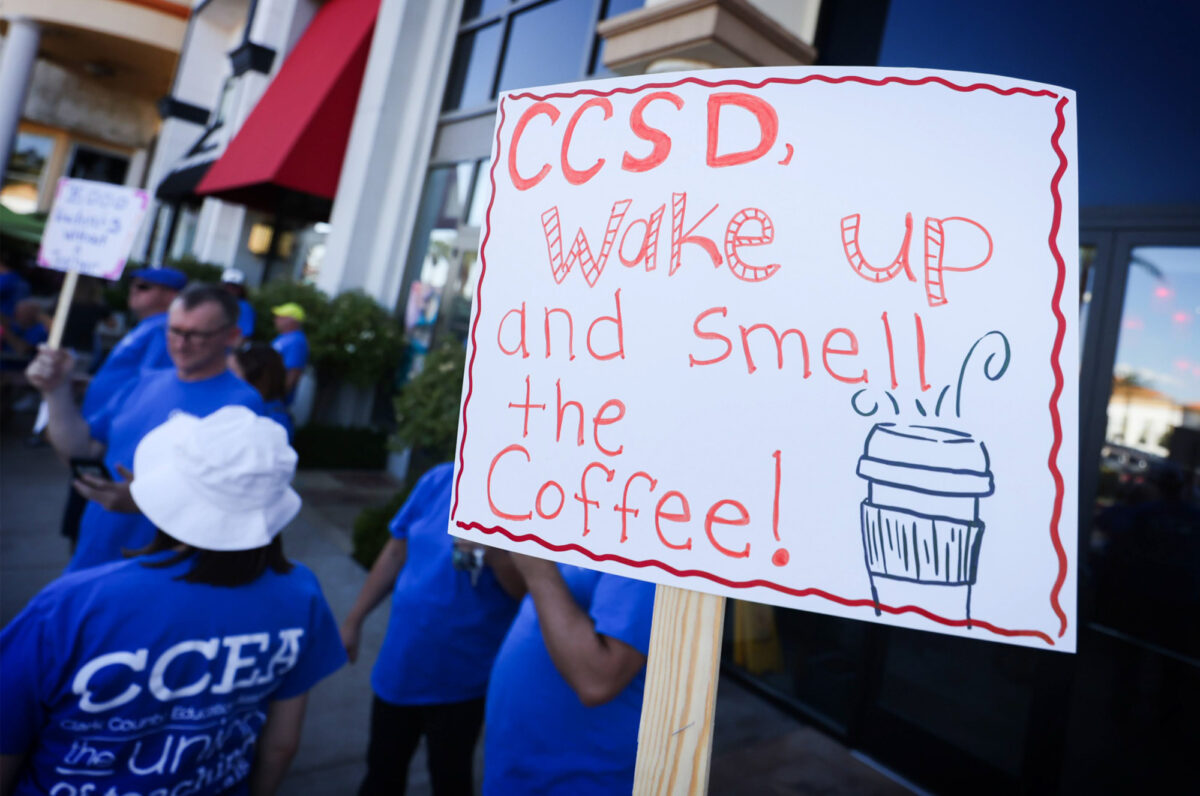 Growing tensions
The demonstration outside of Jara's event on Tuesday is the latest example of tensions that have been escalating between the union and the district over the past few months.
In late January, CCEA pushed back against a proposal for one-time bonuses for educators at certain elementary schools, and called it "a brazen attempt to undermine (its) collective bargaining rights."
The following month, CCEA held a press conference in Las Vegas on the first day of the 2023 legislative session calling for greater accountability from school districts after the governor pledged an additional $2 billion investment in K-12 education. The union suggested lawmakers should give the Clark County School District a year to show improvements in student performance.
The union's advocacy led Speaker Steve Yeager (D-Las Vegas) and Majority Leader Nicole Cannizzaro (D-Las Vegas) to set up legislative hearings with all 17 school districts and the State Public Charter School Authority for each to share details on how they plan to spend the additional state funding they would receive in the next biennium.
Most recently, CCEA launched a campaign calling on Jara to step down as the district's superintendent. This came after the union conducted a survey in which three-fourths of respondents said they had "no confidence" in Jara's ability to effectively spend the additional state funding coming to school districts to improve student achievement.
"Our organization has made a determination that Jesus Jara is a liability to K-12 in the state of Nevada," Vellardita said.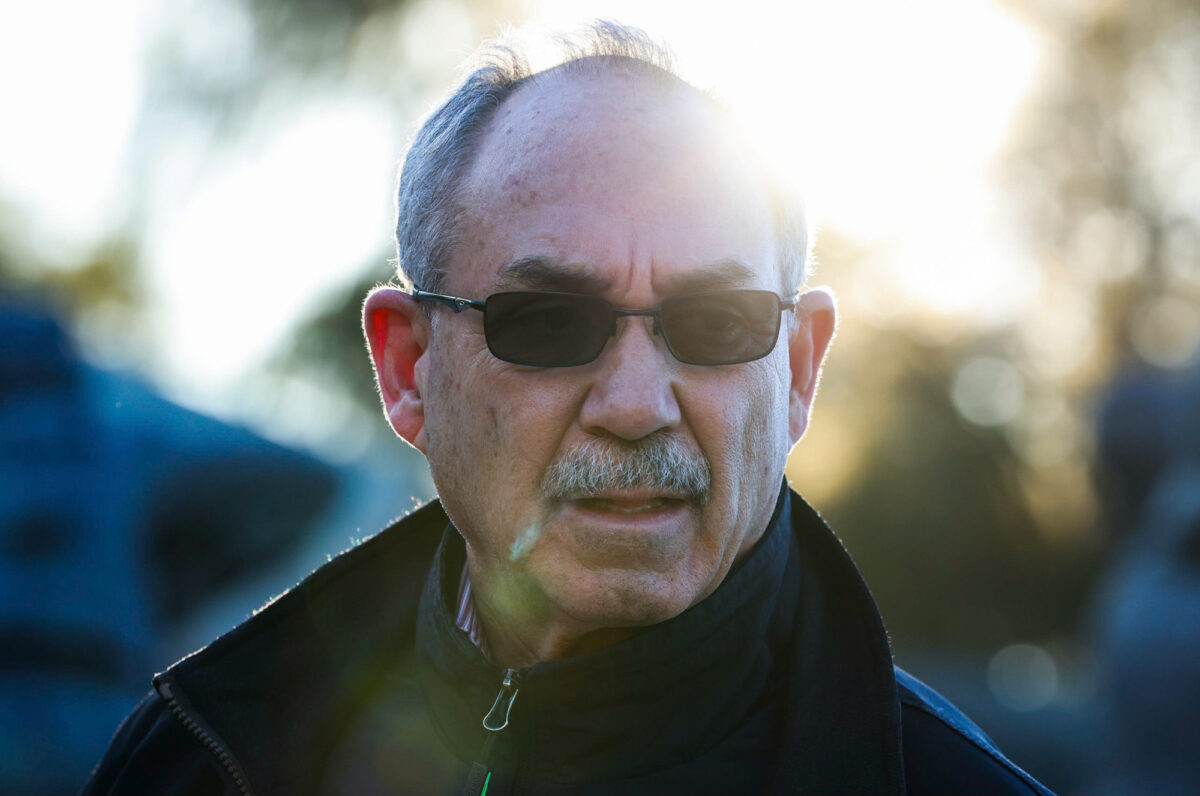 Vellardita added that student proficiency rates have not improved during the five years of Jara's tenure, part of which was affected by the COVID-19 pandemic. The district shut down schools at the beginning of the pandemic, and didn't fully resume in-person classes until the 2021-22 school year. According to data from the Nevada Department of Education, the percentage of Clark County students proficient in English language arts and mathematics largely dropped between the 2017-18 school year, before Jara entered the role, and the 2021-22 school year, the latest data available.
Similar drops in student proficiency were seen nationwide after the pandemic.
In an April statement, the district called the survey "an attempt by CCEA … to influence contract negotiations."
"It is unfortunate that their focus is not on improving the salary schedule and health expectations to retain our hard-working educators," the district said in its April response. "They deserve better from their bargaining association."
The district has continued to bump heads with the union since.
Last Wednesday, the Clark County School District announced that school day start and end times will be adjusted at nearly 50 sites.
The district blamed the shift on CCEA's refusal to agree to contract waivers that allow school administrators to change their school's schedule beyond the standard six hours and 11 minutes "without additional, unreasonable concessions by the District in the upcoming 2023-2025 negotiated agreement." With the waivers, some schools could choose to extend their day by an additional 19 minutes.
The district estimates that without the contract waivers, students in some of the most underserved communities will lose approximately 171,000 minutes of instructional time.
"Our students will bear the brunt of CCEA's unreasonable demands, and learning loss will occur with reduced classroom time," said Tod Story, the district's chief communications officer. "Should CCEA continue its bad faith, obstructionist tactics of refusing contract waivers, our licensed professionals at these schools will see a reduction in their work hours, which estimates show results in over $10 million less in pay."
The union fired back with its own statement, criticizing the district for expecting educators to work additional minutes "without adjusting their pay with a salary increase."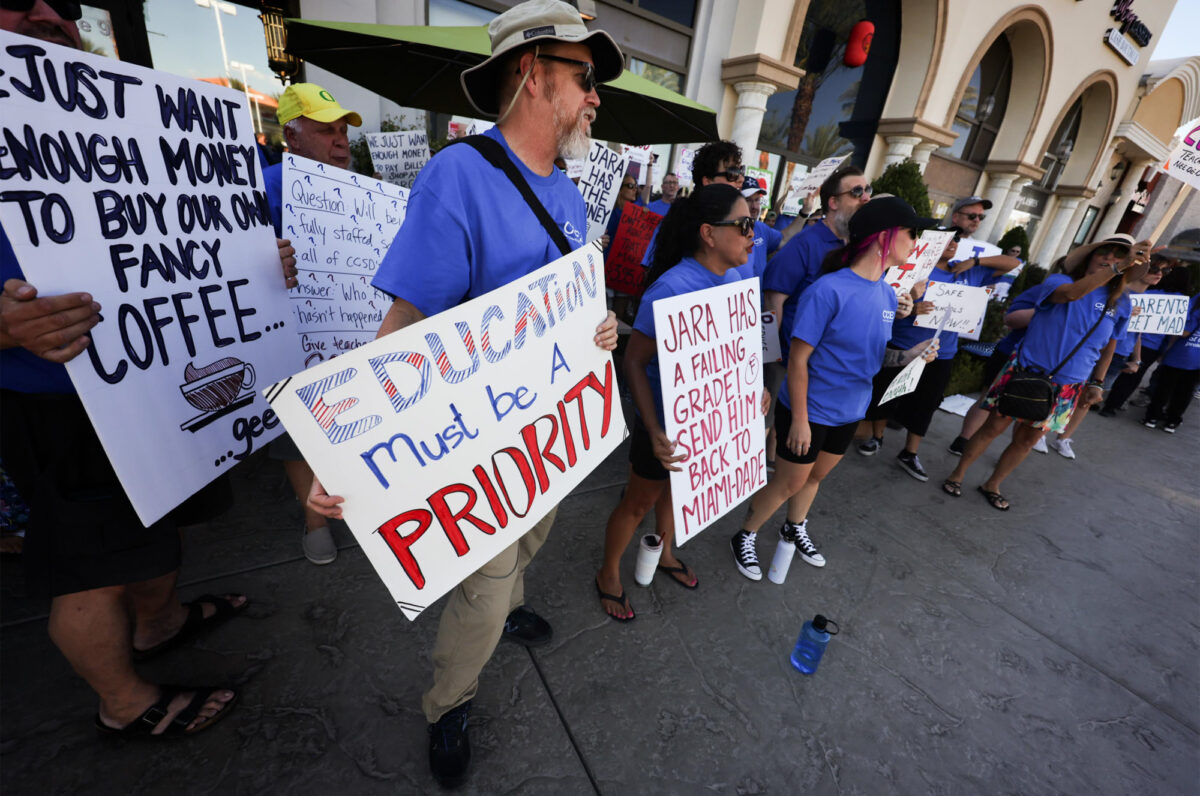 Past negotiations
This isn't the first time that negotiations between CCEA and the district have not gone smoothly and weren't settled before the start of the school year. In 2019, the union was on the verge of a strike planned for September, but eventually called it off after then-Gov. Steve Sisolak intervened.
CCEA's latest contract with the district didn't go into effect until October 2021, several months after the end of that year's legislative session.
Vellardita said he doesn't think the union's campaign against Jara, who in May was briefly under consideration for a superintendent position at a Florida school district, is adding to the tension between the district and CCEA this time around, and defends the decision to rally against Jara while it negotiates a new contract with the district.
"We need better leadership," Vellardita said. "That's why we're moving that issue."
Other union negotiations
The union representing the district's administrators, the Clark County Association of School Administrators and Professional-Technical Employees, is also negotiating a new contract with the district. CCASPE Executive Director Jeff Horn said his union and the district haven't yet come to a tentative agreement as of mid-July, but they've been negotiating in good faith and thinks they are close to the finish line.
On Tuesday, Jara said the district is "very close" on finalizing negotiations with the other bargaining units that represent support staff, school police officers and police administrators.
The Washoe Education Association and the Washoe County School District, the state's second largest school district, have also hit a snag in their negotiations. The Reno Gazette-Journal reported the teacher's union felt the district's initial salary offer was too low. The Washoe County School District's school year starts Aug. 14.
Meanwhile, the smaller White Pine County School District, which presides over about 1,300 students, approved 10 percent cost of living adjustments for its licensed educators and other employees. The district's Superintendent Adam Young said there will be an additional 5 percent cost-of-living adjustment in the following academic year. That puts the starting salary for White Pine teachers at close to $43,000, according to its salary schedule for the 2023-24 school year, though it remain lower than the starting salaries at the Clark and Washoe school districts, about $50,000 and $40,000, respectively
The Nevada Independent is raising $200,000 by Dec. 31 to support coverage of the 2024 election.
Tax-deductible donations from readers like you fund this critical work.
If you give today,your donation will be matched dollar-for-dollar.
Give + Get Matched
Featured Videos