Clark County district attorney candidates clash on death penalty, decriminalization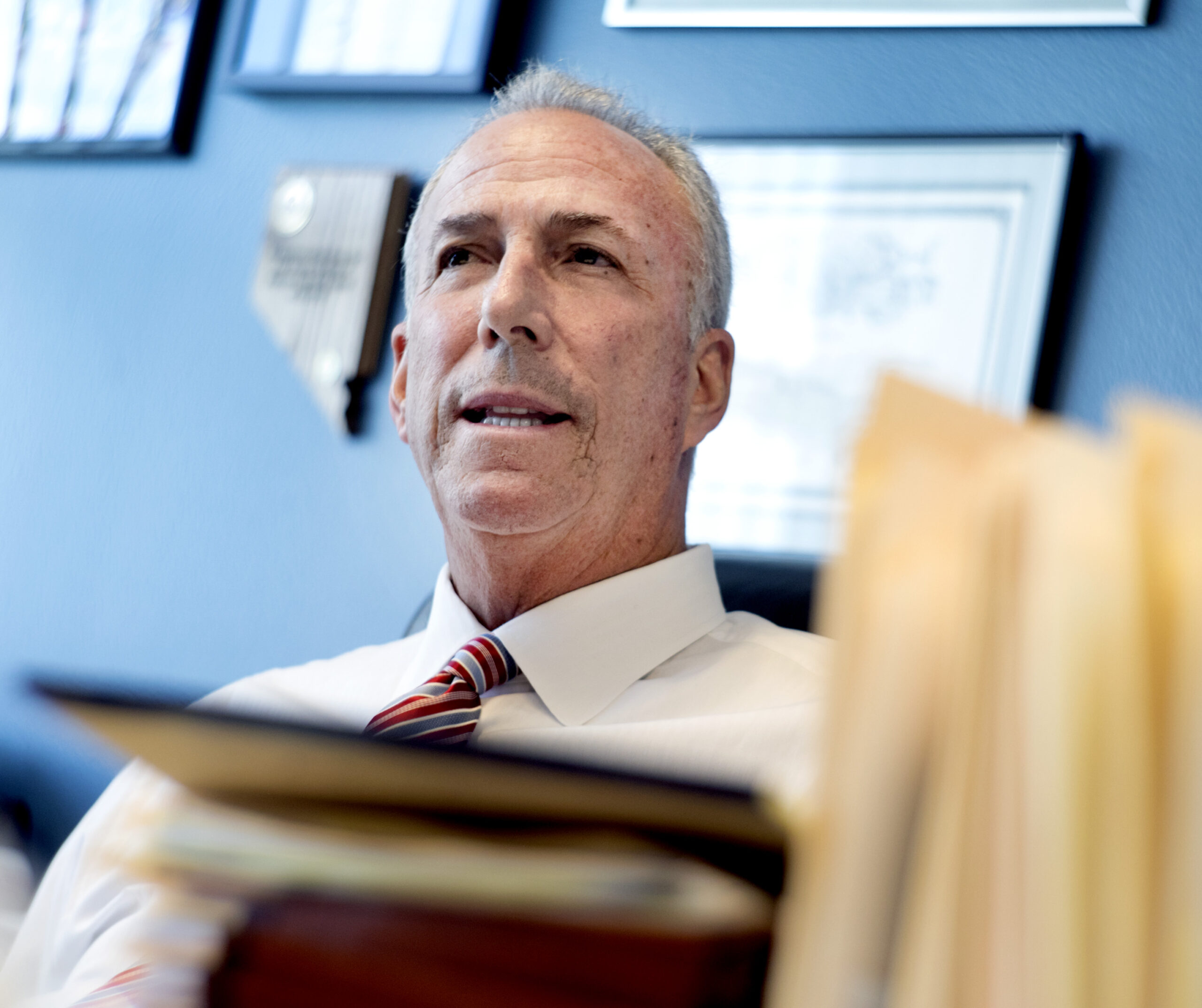 Well-funded Democratic incumbent Steve Wolfson is defending his work as two challengers for the powerful Clark County district attorney position allege sentencing inconsistencies, poor leadership and lack of progress toward criminal justice reform on Wolfson's watch.
Republican criminal defense attorney Tim Treffinger and Democratic former Assemblyman Ozzie Fumo are underdogs in the race for the role, which oversees 170 attorneys who prosecute felony and misdemeanor cases on behalf of the government. Both attended a virtual candidate forum recently where they said there are inconsistencies in charging at the DA office along with a lack of diversity, weak internal investigative protocols and inadequate transparency measures.
"I think it's important to have balance and consistency in prosecuting cases and … there's been a lack of that for the past eight years," Treffinger said at the forum in late March.
In an interview with The Nevada Independent in early April, Wolfson argued that there are no inconsistencies and that his office prosecutes people based upon the evidence and the law; though Fumo insists that Wolfson gives wealthy offenders short sentences – like in the case with billionaire Henry Nicholas who was sentenced to 250 hours of community service and drug counseling for having a trafficking amount of various narcotics.
Last year Wolfson raised more money than ever while holding the office, and he heads into the thick of the primary with more than $1.2 million cash on hand. Wolfson said he is running for DA after a decade on the job because he believes that his good judgment is needed to curb rising crime rates, particularly coming out of the pandemic.
"I believe at this time in our city's history we're at a crossroad – violent crime in many major cities is up," Wolfson said. "My leadership, my experience, my good judgment is what is needed by this community at this time."
After being appointed as district attorney in 2012, Wolfson won elections in 2014 and 2018 but has come under fire because Clark County had the fifth-most death sentences in the country in the last five years — and he declined to proactively help seal the records of people with low-level cannabis charges.
Prosecutors across the country have come under increased scrutiny in recent years, as advocates have honed in on the decisions they make about whom to charge with a crime and how severe a punishment to pursue as they explore mass incarceration, police accountability and racial inequities in the justice system. Despite these concerns, Wolfson defended the American justice system.
"In 99.9 percent of the cases, the system gets it right," said Wolfson.
Fumo, who reported $26,709 campaign cash on hand at the end of March, is a well-known trial attorney and progressive Democrat who ran unsuccessfully for Nevada Supreme Court in 2020 and made eliminating cash bail a central point of his campaign. He said he is running for district attorney to ensure the safety of Clark County by addressing the mismanagement of staff, cases and jails.
"​​There's no diversity in that office … and there's a mismanagement of justice," he said.
Treffinger is a conservative and a former deputy district attorney in Nevada. He said his staff will prosecute crimes without passion or prejudice and lead an office built on conservative values, such as retaining the use of the death penalty, with transparency and accountability. Treffinger works as a criminal and family lawyer, and in 2015, he pleaded guilty to felony drug possession of narcotics because of his past girlfriend's drug addiction. He received a public reprimand from the Nevada Bar, although Treffinger's law license is still active.
At the panel, he said the experience showed him firsthand what it's like to be at the mercy of the justice system.
"I think the jail does need to be looked at," he said. "I think even defense attorneys' access to clients needs to be looked at – that's been stripped down over the past few years to make criminal defense incredibly difficult."
The much better-funded Wolfson will face Fumo in the Democratic primary election in June. The winner of that contest will then face Treffinger in the general election in November. Treffinger reported $1,565 cash on hand this month for his campaign for DA.
Organizers of the late-March virtual forum, including the Clark County Black Caucus (CCBC), ACLU of Nevada and NAACP Las Vegas, said Wolfson dropped out of the event just days before it was set to occur, citing safety concerns despite organizers' efforts to met multiple requests made by Wolfson's campaign manager.
Wolfson's campaign manager, Tom Letizia, said in an email that they are open to meeting with the organizations privately to discuss issues important to the race, but that they stand behind their decision to withdraw from the virtual event.
"In light of recent comments made by the person who accosted our Sheriff and then volunteered to accost Mr. Wolfson, our position remains the same," Letizia wrote.
Sheriff Joe Lombardo was verbally accosted at an event hosted by The Nevada Independent in March by a member of the Las Vegas Democratic Socialists of America.
Yvette Williams, founder of CCBC, said Wolfson's decision cut deep and devalued the organizations that planned the forum. She said her group was proud to be the first organization to provide a platform for discussion of important issues pertaining to the DA race, and argued it is the responsibility of leaders to show up for a community that has a history of marginalization and has been disproportionately affected by the systems in place.
"We talk about cultural competency all the time … but then when it comes time to put it into play, and actually doing it, then it all goes out the window," she said.
Organizations that have endorsed Fumo in the upcoming primary include SEIU Nevada, Clark County Education Association and Planned Parenthood Action, while Wolfson picked up endorsements from the Vegas Chamber, Clark County Prosecutors Association and 12 police associations throughout the state.
The Nevada Independent asked Wolfson about his stances on the issues that arose during the forum during a one-on-one interview, while Fumo and Treffinger were both present at the event to share their leadership plans.
No-knock warrants
Lawmakers in Nevada added restrictions to the use of no-knock warrants in 2021 following the killing of Breonna Taylor in 2020 by the Louisville Police Department. No-knock warrants allow officers to enter a home with force without announcing themselves to catch suspects off guard.
Fumo responded to a question at the forum about no-knock warrants by chanting "Isaiah Williams," asking the audience to take a moment to pause and remember the 19-year-old who was killed in January by Las Vegas police officers while they served a surprise search warrant hoping to find someone else who was named a murder suspect. Fumo said the use of no-knock warrants is inappropriate and puts everyone's life at risk, including officers.
"I'm against no-knock warrants because what happens when you blast into a place and you crash the windows and you knock down the door and a person is in his home?" Fumo asked.
Wolfson said in an interview that no-knock warrants should be the extreme exception and that Nevada has a law that ensures this.
Treffinger described no-knock warrants as another tool in the toolbox that can be used for specific purposes.
"​​If they have evidence of an investigation that has high levels of violence or destruction of evidence that could lead to prosecution – in those limited instances I'm for [a no-knock warrant]," Treffinger said. "But I will do whatever I can to limit the use of no-knock warrants and only use them in very specific circumstances."
Accountability and transparency
Speakers at the forum spoke about the challenges of keeping district attorney investigations into police officer conduct unbiased because of how closely prosecutors work with them day to day. Candidates were asked how they plan to charge officers — and withstand the pressure of doing so.
"It's a matter of courage," Treffinger said.
He said he is known as a straight shooter who is just and accountable and that he would ensure police accountability by enforcing the law without passion or prejudice.
Fumo said he has a reputation for doing the right thing despite the challenges it has caused between him and police unions. He said he will continue to do right by the people should he be elected DA.
"It's unfortunate that the state of Nevada is one of only two states in the country that has never prosecuted an officer for murder," he said.
In an interview, Wolfson said the district attorney's office is transparent, adding that he makes himself accessible to constituents on a daily basis because his office is open to the public.
To ensure accountability in officer-involved shootings, candidates unanimously agreed that independent investigative committees could be helpful in reviewing those cases. Right now, officer-involved shootings are being investigated internally by the Las Vegas Metropolitan Police Department.
"Some folks have said it's like the fox investigating himself when he's in the henhouse," said Leisa Moseley, the moderator at the forum and chair of the law enforcement and judicial committee for CCBC.
Wolfson said he is in favor of an outside investigative agency as long as its investigators are trained well, while Treffinger said that the decision to charge suspects with a crime should remain with the DA, whom the county elected. He said this is why district attorneys are elected.
Treffinger said if a committee comes to him with a finding, he is going to review all of the evidence and make a charging decision as he would with any other case. He added that he expects to be held accountable if he does not live up to this promise.
"I don't care if it's an officer, I don't care if it's a judge. I don't care who it is – everybody should be treated equally," Treffinger said.
Fumo said the investigative committee should include a police officer, a member of ACLU of Nevada, a defense attorney, a prosecutor and a civilian.
"And if that committee comes back and says this case is one that needs to be prosecuted, so be it. We will do it," Fumo said.
Police officers have different rights than civilians when it comes to being placed under investigation because they can consult with family, coworkers and friends before the process begins. Fumo said he does not have a problem with the practice, but that citizens should get the same treatment under the law. Wolfson noted that Nevada law gives police officers this right.
"That's the law. If the law provides police officers with certain protections – we follow the law," Wolfson said.
All three candidates agreed that they would release annual transparency reports with data about surveillance operations if doing so does not interfere with the case or law.
"I'm absolutely for the transparency reports. I would commit to giving them out," Treffinger said. "I think it would be an excellent way to bring trust back into the law enforcement community at the DA."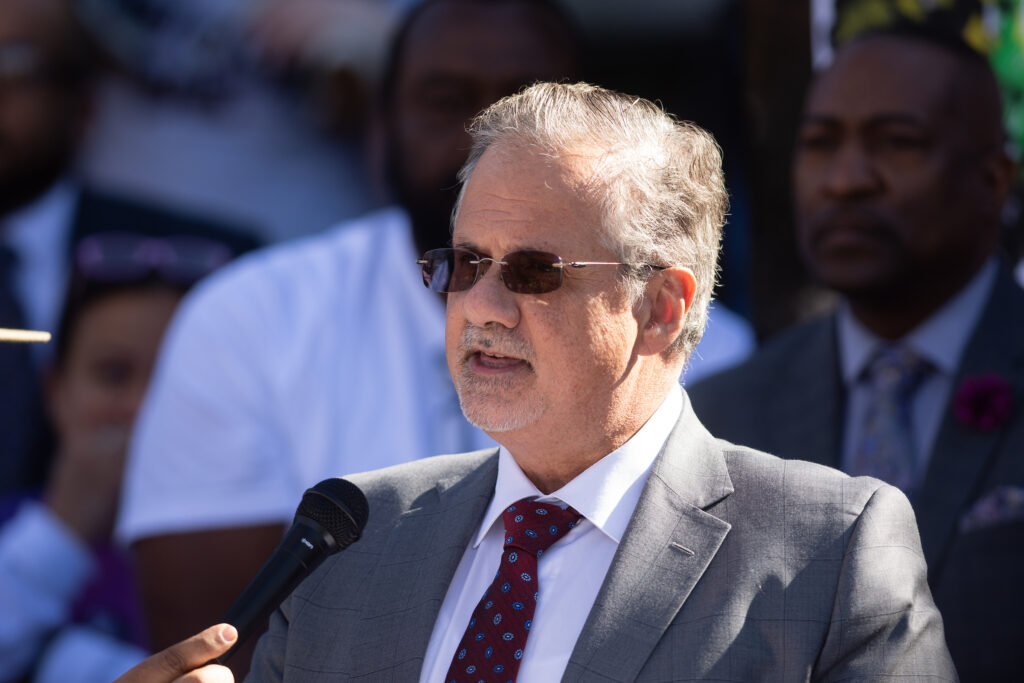 Decriminalization and detention disparities
Organizers asked both candidates at the forum where they stood on the decriminalization of low-level misdemeanors, such as traffic law violations or misuse of a park bench.
Though the district attorney does not create the laws, activists have pushed for eliminating misdemeanors altogether to prevent further disenfranchisement of people with low incomes. Wolfson said he supports the decriminalization of traffic tickets — which lawmakers authorized last year — but that people need to be more responsible, while Fumo said he focused on decriminalization for two sessions as an assemblyman.
Fumo said he is against the cash bail system because it creates disparities between the rich and the poor.
"To the poor, bail means jail, but to the rich, clout means you're out," Fumo said. "[Cash bail] is applied disproportionately all over the country, but especially here in Clark County, and that's going to change."
In 2020, the Nevada Supreme Court set a new standard with the Valdez-Jimenez case that places the burden on prosecutors to prove that someone needs to be held behind bars for public safety reasons, rather than requiring pretrial suspects to prove why they should be released. The decision aims to address the disparities in the cash bail system that disproportionately fall on communities of color.
When it comes to addressing disparities, Treffinger said proper training will prevent police from overcharging cases. He added that cash bail is still appropriate for some cases but that he would commit to any form of bail reform that would allow people to be released if they are not a danger to the community or a flight risk. Wolfson shared a similar sentiment toward cash bail.
"I am for a policy where a violent offender who poses a danger to the community, or a repeat offender who poses a continuous threat, and people that pose a flight risk, should be considered for detention and / or a reasonable bail setting," Wolfson said.
Death penalty
In light of data showing that the death penalty has been used disproportionately against Black and Latino Americans — who make up 55 percent of the nation's collective death row — candidates were asked about their stance on capital punishment.
Wolfson said in an interview that the death penalty in Nevada has not been disproportionately applied toward certain races, and added that he has seen no report stating that Nevadans as a whole oppose the death penalty.
"In fact, most Nevadans favor the death penalty. They just disagree with the process," Wolfson said.
In a 2017 poll, The Nevada Independent asked 600 Nevadans: "Should the state Legislature keep the death penalty, or should they abolish the death penalty and replace it with a life sentence without the possibility of parole? Do you feel this way strongly or not so strongly?"
Fifty-nine percent of participants said they "strongly" support capital punishment – in contrast to the 22 percent who "strongly" opposed it. A different survey conducted by Justice Research Group in 2021, showed that out of 314 participants, 62 percent oppose the death penalty if the person at fault has a mental illness, serious intellectual impairment, traumatic brain injury or is a veteran who suffered from post-traumatic stress disorder.
Advocates frequently argue the capital punishment system is broken, especially as the state has not carried out an execution in more than 20 years.
"The death penalty in Nevada does not work the way it was meant to. It is a system that is broken beyond repair and broken by design," said Mark Bettencourt, director of the Nevada Coalition Against the Death Penalty, at an anti-death penalty protest last month.
Treffinger said he sees the death penalty as a tool that can be used for the worst of the worst cases. He said there is cause for concern for how it is used in Nevada but that it can be improved through more investigative training for police — something he said his office would oversee should he be elected.
"​​I don't think you'd find too many people who think that Mr. Paddock, from the Route 91 shooting, had he survived, that his case wouldn't have been a prime case for the death penalty," Treffinger said. But, he added, "[The death penalty] is not for every murder case."
He said to ensure that innocent people are not sentenced to death, he would personally review all death row cases, and welcome the establishment of death penalty review panels.
Fumo said that once elected, he would immediately stop using the death penalty. He said it is not used correctly and that too often justice officials make costly mistakes and spend millions of dollars pursuing its use.
"I am opposed to the death penalty. We get it wrong, and it's disproportionately filed against men of color," Fumo said.
He said the worst thing for the most violent criminals is spending the rest of their lives in custody.
Clark County residents can weigh in on the district attorney primary on Election Day, June 14, or through mail ballots and in-person early voting in the weeks prior. To stay informed during election season, click here for election coverage by The Indy.
This story was updated at 2 p.m. on 4/24/22 to clarify disposition of Treffinger's drug case and the Las Vegas Metropolitan Police Department's officer-involved shooting investigation process.
The Nevada Independent is raising $200,000 by Dec. 31 to support coverage of the 2024 election.
Tax-deductible donations from readers like you fund this critical work.
If you give today,your donation will be matched dollar-for-dollar.
Give + Get Matched
Featured Videos