Clark County sheriff's race spotlights past allegations and present-day crime problems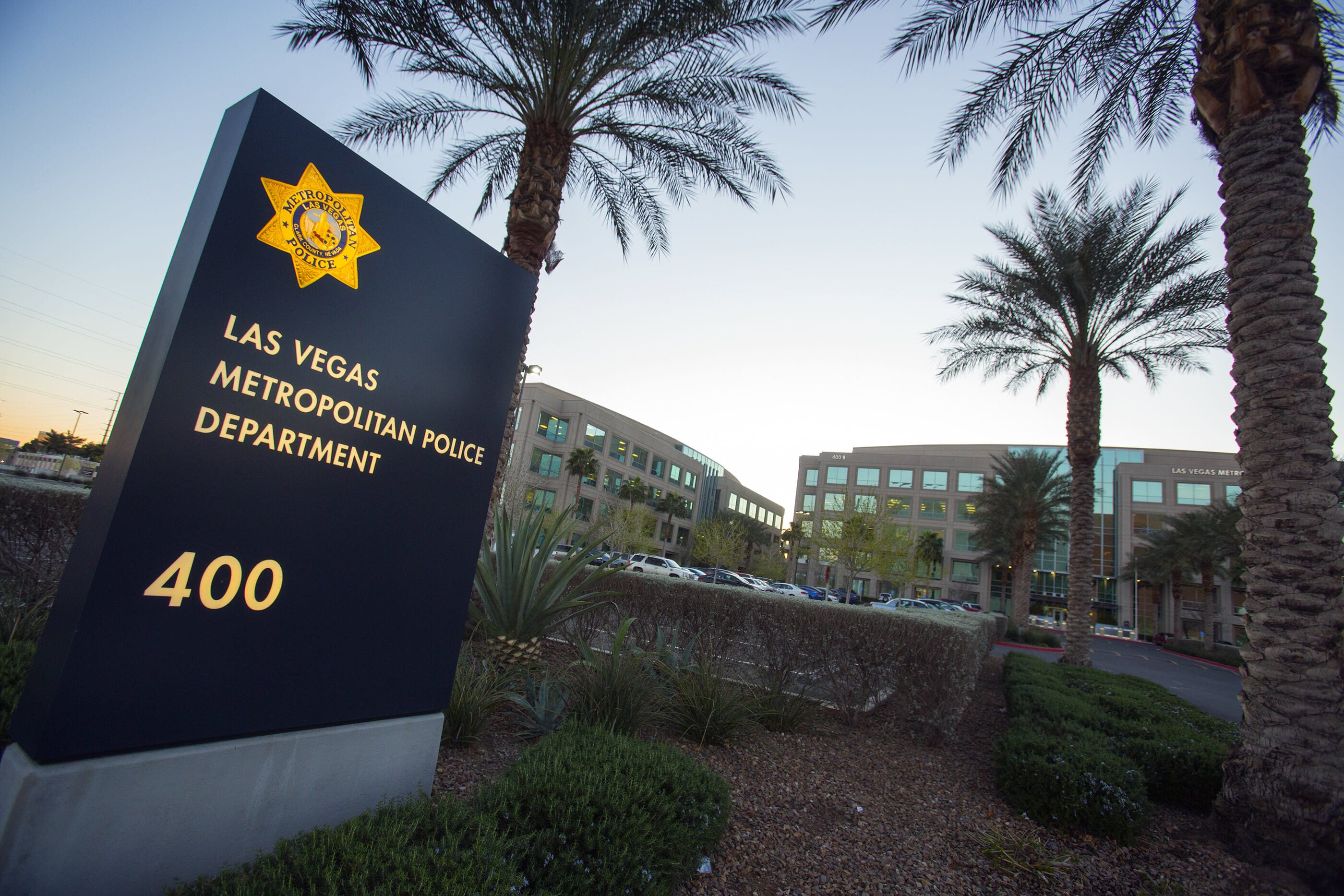 When Clark County Sheriff Joe Lombardo launched his campaign for governor, that decision opened the door for a new leader of the Las Vegas Metropolitan Police Department.
But new is a relative word when it comes to sheriff races. All three candidates — Stan Hyt, Kevin McMahill and Tom Roberts — spent most of their law enforcement careers serving on the Las Vegas police force. It's a jurisdiction that covers suburban areas, downtown Las Vegas and the famed Las Vegas Strip, which drew more than 32 million visitors last year. The department's budget reflects the hefty task: roughly $715 million.
McMahill most recently served as undersheriff for Lombardo, while Roberts retired as assistant sheriff before representing District 13 as a Republican in the Assembly. Hyt retired as a sergeant from Metro Police in 2008.
Now, they're vying for the top law enforcement job in Southern Nevada at a precarious time: Property crimes — a category that includes burglaries, robberies and vehicle thefts — are up 15 percent compared to this time last year, according to a weekly crime report published by the department. Cases involving firearms have spiked 11 percent, though homicides are down slightly.
The law enforcement profession as a whole also continues to grapple with the aftermath of nationwide racial justice protests in 2020 following several high-profile police killings that left, among others, George Floyd and Breona Taylor dead. Only 69 percent of U.S. adults surveyed at the end of last year said they have a "great deal" of confidence in police officers, down from 74 percent in 2020 and 78 percent in 2018, according to the Pew Research Center.
And with those issues as the backdrop, the primary election could decide who will become the next Clark County sheriff. As a nonpartisan race, an outright winner could be declared if a candidate receives more than 50 percent of the votes; otherwise, the two candidates with the highest number of votes will move on to the general election in November. The former happened four years ago when Lombardo clinched re-election by securing nearly 73 percent of the votes cast in the primary election.
From a fundraising perspective, McMahill has emerged as the frontrunner, stockpiling nearly $1.3 million in his campaign war chest by the end of the first quarter this year. That far exceeds what his opponents have socked away: Roberts reported roughly $45,700 cash on hand at the same fundraising deadline, and Hyt reported almost $101,000, though a large chunk of that has come from loans to himself.
Even so, McMahill — the establishment-backed candidate who has racked up a lengthy list of endorsements, including from Lombardo and the union representing rank-and-file officers — has been playing defense as an alleged incident from 1995 that almost cost him his job came to light again.
The question, though, is how much emphasis voters will place on candidates' backgrounds as opposed to the issues of the day.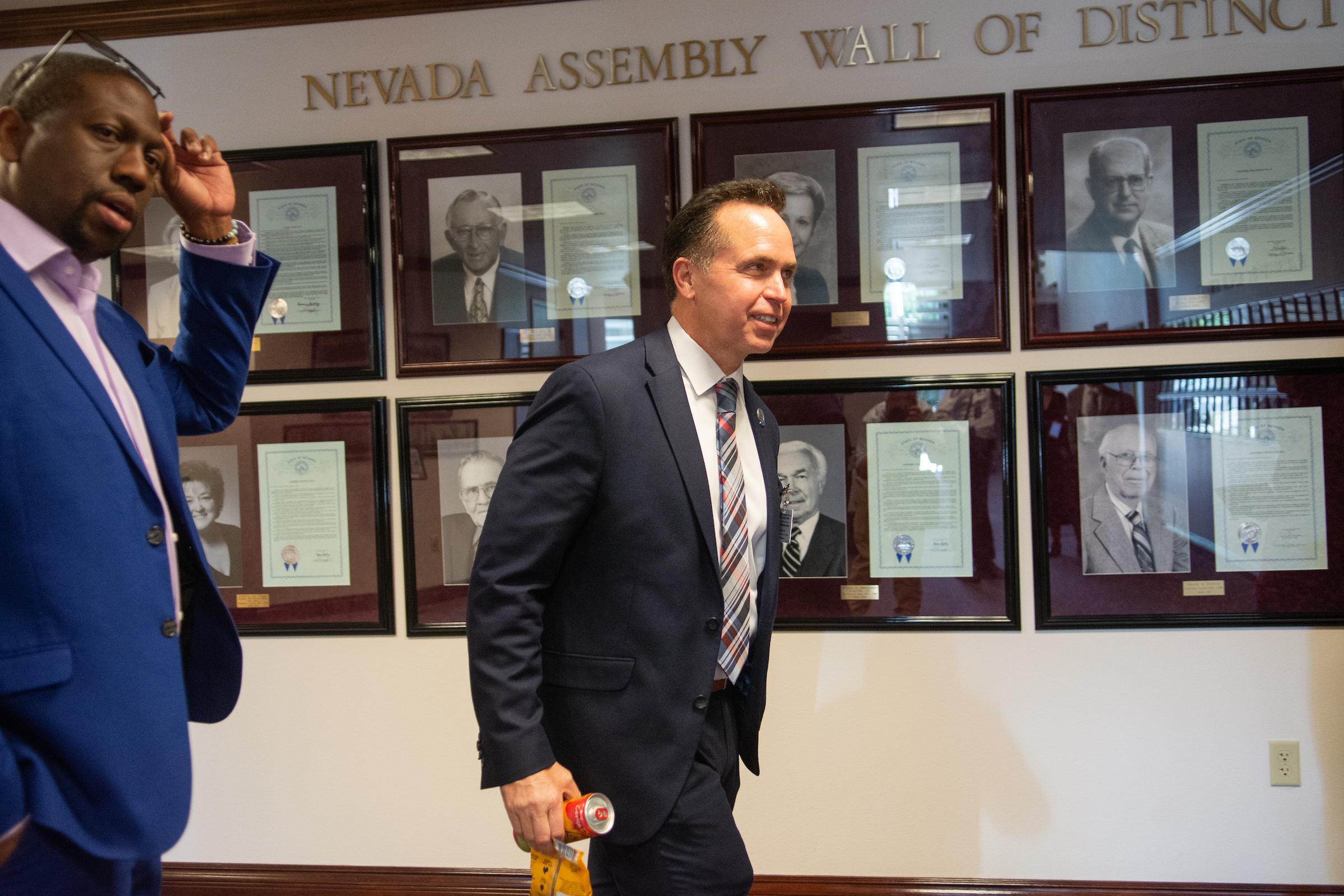 ---
McMahill's law enforcement career has taken an arc similar to that of other sheriffs. He ascended through the ranks of the Metro Police force, moving from patrol officer to field training officer and then sergeant, lieutenant, captain, deputy chief, assistant sheriff and, ultimately, undersheriff. He retired from the department in December 2020 and worked in the private sector until launching his campaign for sheriff last summer.
Critics argue McMahill was the anointed one for the sheriff position because of his career trajectory and time as Lombardo's undersheriff, leading to his large fundraising and endorsement advantage in the candidate field. The law enforcement veteran said he doesn't plan to follow anyone's playbook but his own if elected sheriff, noting that he spent the "vast majority" of his career on the "uniform side of the police department."
McMahill's campaign website touts his work with the Safe Village initiative, which brought together community leaders and organizations to reduce crime in West Las Vegas.
"I've really focused in on how that community effort leads to lower crime rates and, as importantly, about how people feel about our police department," he said.
But an alleged incident early in his career that jeopardized his employment has come back to haunt him on the campaign trail.
It dates back to 1995, when a fellow officer, Jennifer Clampit, accused McMahill and another officer, Bill Stoops, of misconduct involving a woman named Carrie Lance whom they interacted with during a patrol call. Clampit alleged that McMahill asked Lance to expose herself and, in exchange, he would return her wine. She accused Stoops of telling Lance to eat a cocaine rock or go to jail.
Clampit, who was present for the patrol call in June 1995, reported the incident the next month, setting in motion an internal affairs investigation. A police memorandum signed by Stavros Anthony — then a lieutenant at the Southeast Area Command but who is now a Las Vegas city councilman running for lieutenant governor — recommended termination for both officers. The same memo notes that a polygraph test was given to McMahill, Stoops and Clampit. The results for McMahill and Stoops came back "deceptive," while Clampit's was deemed "truthful."
The department also approved a $4,900 settlement for Lance, according to media reports published at the time.
Ultimately, only Stoops lost his job. McMahill was not terminated, and it's unclear why.
McMahill denies the incident ever happened and said Clampit "recanted" the allegations against him.
In the decades since she made the accusation, the outcome has never sat well with Clampit. A suitcase stuffed with documents about the incident and a federal civil lawsuit she filed against the police department remains in her home.
"I don't understand why he wasn't fired," Clampit said during an interview earlier this year.
But a paper trail documenting the department's decision not to terminate McMahill apparently does not exist. During an interview about his gubernatorial bid, The Nevada Independent asked Lombardo for any records detailing the decision about McMahill's employment. His campaign eventually sent the following statement:
"The day after the interview, Sheriff Lombardo reached out to Metro's legal department and asked to review all records related to this incident. Metro legal informed Sheriff Lombardo that those records have been purged pursuant to Metro's record maintenance policies."
McMahill described the allegations as a "dark cloud" that hung over him for a long period and compelled him to support police-worn body cameras, which he said would have cleared him of wrongdoing. As for the deceptive results of the polygraph, McMahill said the test occurred right after an intense interrogation, during which time his job was threatened.
"I was still very upset, very angry, and I got hooked up and there was no control of my emotions at that time," he said.
But the 27-year-old accusation has called into question his suitability for the department's highest leadership position. In April, 8 News Now aired a segment that included a video of a woman identified as Lance talking about the incident, which the news station said was shared with its investigative team.
"He's not the type of person I would want to represent any part of the law," Lance says in the video.
It's a stance also held by Clampit, who stands by her accusation. She said McMahill doesn't "deserve" to be sheriff and have power and influence over Las Vegas police officers.
"I wouldn't forgive myself if I didn't speak up now, knowing that he's running for sheriff, such a big leadership (position)," she said. "People need to know what happened."
Roberts, meanwhile, came under scrutiny in April after attending an event held at the Clark County Library, where a firearms instructor for Vegas CCW, a concealed carry weapons training group, presented a racist PowerPoint slide. Roberts responded on Twitter and said, "I spoke at the end of the class and did not see that portion. That's something I wouldn't use nor condone."
---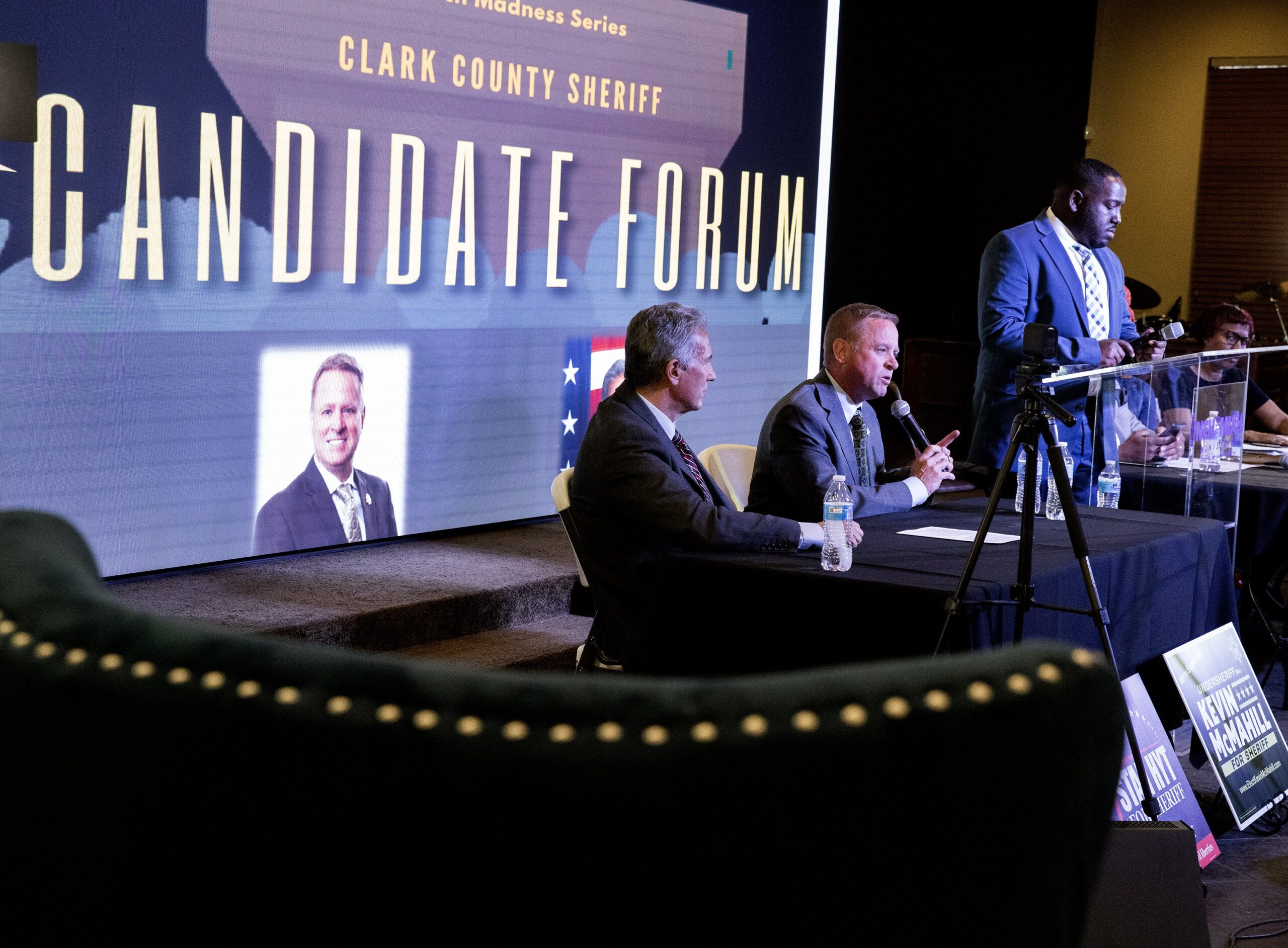 Although those incidents triggered a series of headlines, they haven't necessarily been the dominant topic on the campaign trail. At a March candidate forum sponsored by the Clark County Black Caucus, ACLU of Nevada and local NAACP chapter, Hyt and McMahill fielded questions about race and policing, diversifying the department workforce and technology and privacy concerns.
On the topic of low-level offenses that can sometimes lead to deadly encounters between police and community members, McMahill noted at the candidate forum that some traffic offenses have already been decriminalized. Last year, state lawmakers passed legislation, AB116, that made certain traffic-related offenses civil infractions rather than misdemeanors.
While McMahill doesn't support decriminalizing all traffic-related violations — lack of motor vehicle insurance being one example — he said some stops shouldn't be made or should only be made for notification purposes, such as alerting drivers that their vehicle's tail light is out.
Hyt responded to the same question by saying officers need to "show respect" to community members, though he said "low-level offenses are there for a reason."
"I think they're important for many reasons," Hyt said at the forum. "Traffic is a leading cause of personal injury and property damage."
Roberts was unable to attend the forum because of a legislative commitment, but during an interview, he pointed out that he voted to approve AB116. He called the bill a "good first step" that struck a balance between "egregious" traffic offenses and equipment-oriented violations.
Similar to McMahill, Roberts also moved through the ranks of Metro, starting as a patrol officer before eventually becoming assistant sheriff. But Roberts said, as sheriff, he would revamp some department operations because "their crime fighting is not working."
"I think their cops are being pulled in a thousand different directions," he said. "There's not enough focus on evidence-based policing practices, meaning you do what studies and science have told you what works."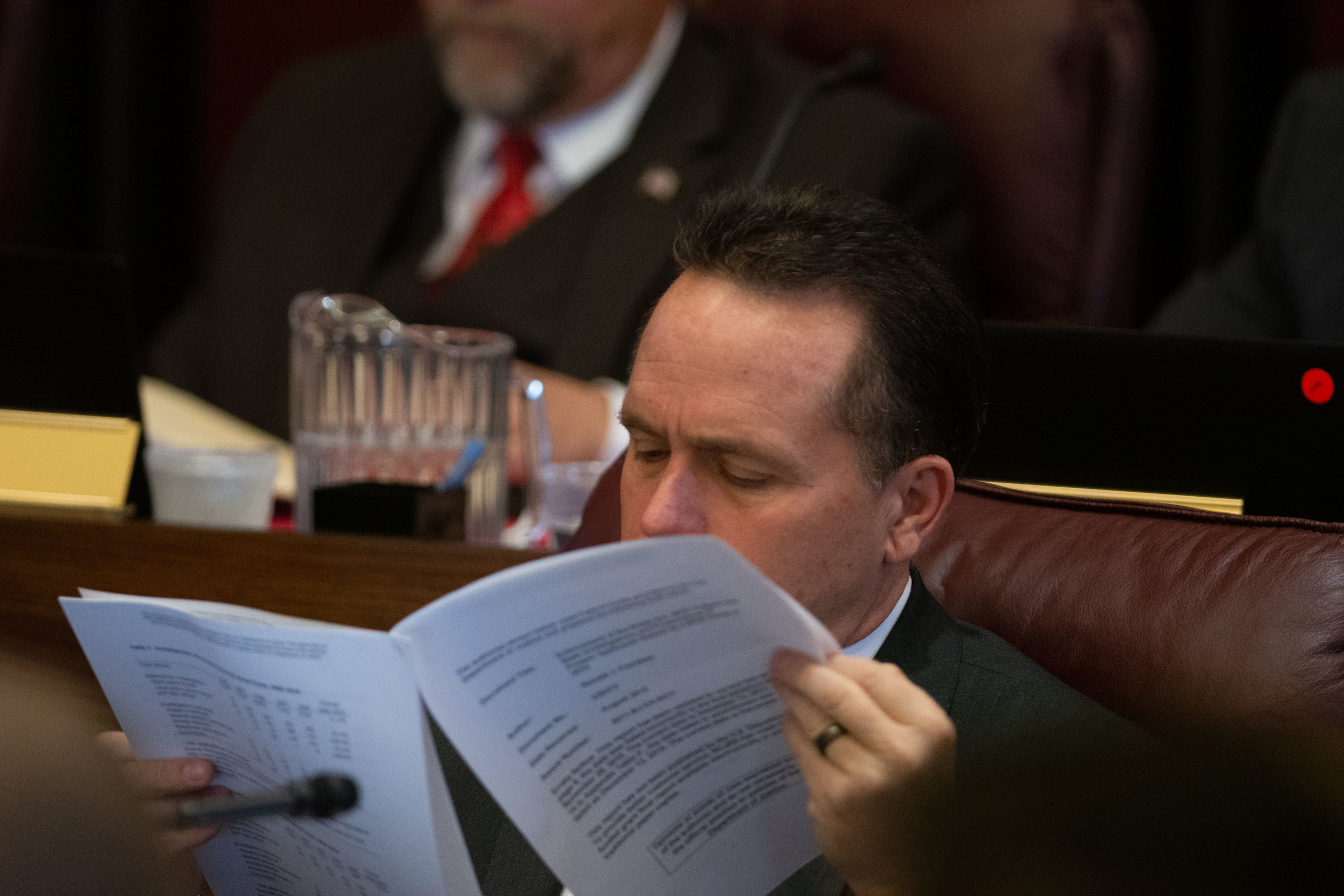 A tenet of evidence-based policing, he said, is being proactive rather than reactive. Roberts said the department seems "engaged with the same people all the time" and needs to do more outreach with other groups, especially younger people. The benefits of doing so, he said, could extend to recruitment and help diversify the department.
"You set some vision and goals for that and then check on it on a regular basis to see that you're getting to the people that you need to get to," he said.
Roberts also said he would prioritize improving "customer service," noting that it can take too long for community members to receive concealed carry permits or access information through the non-emergency 311 line. He said technology should be better leveraged to provide those services in a timely manner.
In the Legislature, Roberts represented the Republican-leaning Assembly District 13, which includes a part of northwest Las Vegas, starting in 2019. He was considered a moderate Republican and was one of six GOP members who voted for the mining tax deal at the very end of the 2021 legislative session. By then, he had indicated a desire to seek the sheriff position, a nonpartisan elected office.
"I still love policing," he said. "I think I can make a difference."
McMahill offered a similar reason for his decision to run, noting that he "spent so much time and energy" with the department and loves the community.
But McMahill pointed to mental health and addiction as a perennial underlying problem, leading to the Clark County Detention Center being the long-running treatment facility. He said the department needs to work with local and state government as well as community organizations on solutions, while keeping an eye on successful approaches in other jurisdictions.
"There seems to be these unanswerable questions on how do you deal with mental health or addiction, but locking people up is not the answer for it," he said.
Hyt, who has kept a steady presence on the campaign trail despite not having held executive roles in the department, has positioned himself more as a brand. During a Hispanics in Politics breakfast meeting in February, Hyt introduced himself as a candidate who identifies with four labels — he's a Christian, patriot, conservative and constitutionalist.
He went on to say his main reason for running is to support the Constitution.
"As I've seen our government grow, I've seen our rights shrink," he said at the HIP meeting. "... Our government does not need to be controlling us. They don't need to know what's best for us."
The candidate field for the sheriff's race originally included seven people, but four were ousted from the ballot for not meeting the qualifications required for the elected office. Per Nevada law, sheriff candidates in counties with more than 100,000 residents must meet certain criteria pertaining to law enforcement experience to hold the office.
---
Candidates running for sheriff in Clark County generally cannot run on name recognition alone, making endorsements that much more of a sought-after piece of the campaign puzzle.
Even before candidate filing in March, McMahill had scooped up a sizable list of endorsements, ranging from former sheriffs and current Metro brass to local elected officials and unions. His backers include the Laborers Union Local 872, Associated Builders and Contractors (ABC) Nevada, Clark County Prosecutors Association, Las Vegas City Councilman Brian Knudsen and Clark County Commission Tick Segerblom, among others.
He also snagged the coveted support of the Las Vegas Police Protective Association, which represents more than 3,000 rank-and-file officers. A statement from LVPPA President Steve Grammas posted on social media said McMahill received nearly 80 percent of the votes from the organization's members.
Even so, McMahill failed to muster support from several key community groups.
The Vegas Chamber, Clark County Black Caucus and Clark County Education Association have endorsed Roberts for sheriff. So have a number of former legislative colleagues, including Assemblyman Howard Watts (D-Las Vegas), Assemblywoman Selena Torres (D-Las Vegas), Assemblywoman Melissa Hardy (R-Henderson), Assemblyman Glen Leavitt (R-Boulder City) and Sen. Dina Neal (D-North Las Vegas), among others.
Hyt's campaign website does not list endorsements, though a photo posted to the page as well as his Instagram account advertises a fundraising event later this month featuring former Arizona sheriff Richard Mack as a keynote guest speaker. Mack served as sheriff in Graham County in southeastern Arizona and later started the Constitutional Sheriffs & Peace Officers Association, according to the group's website.
Featured Videos
Comment Policy (updated 4/20/2021): Please keep your comments civil. We reserve the right to delete comments or ban users who engage in personal attacks, use an excess of profanity, make verifiably false statements or are otherwise nasty. Comments that contain links must be approved by admin.