Coronavirus Contextualized, 13th edition: Exploring, through data, COVID-19 in Nevada and beyond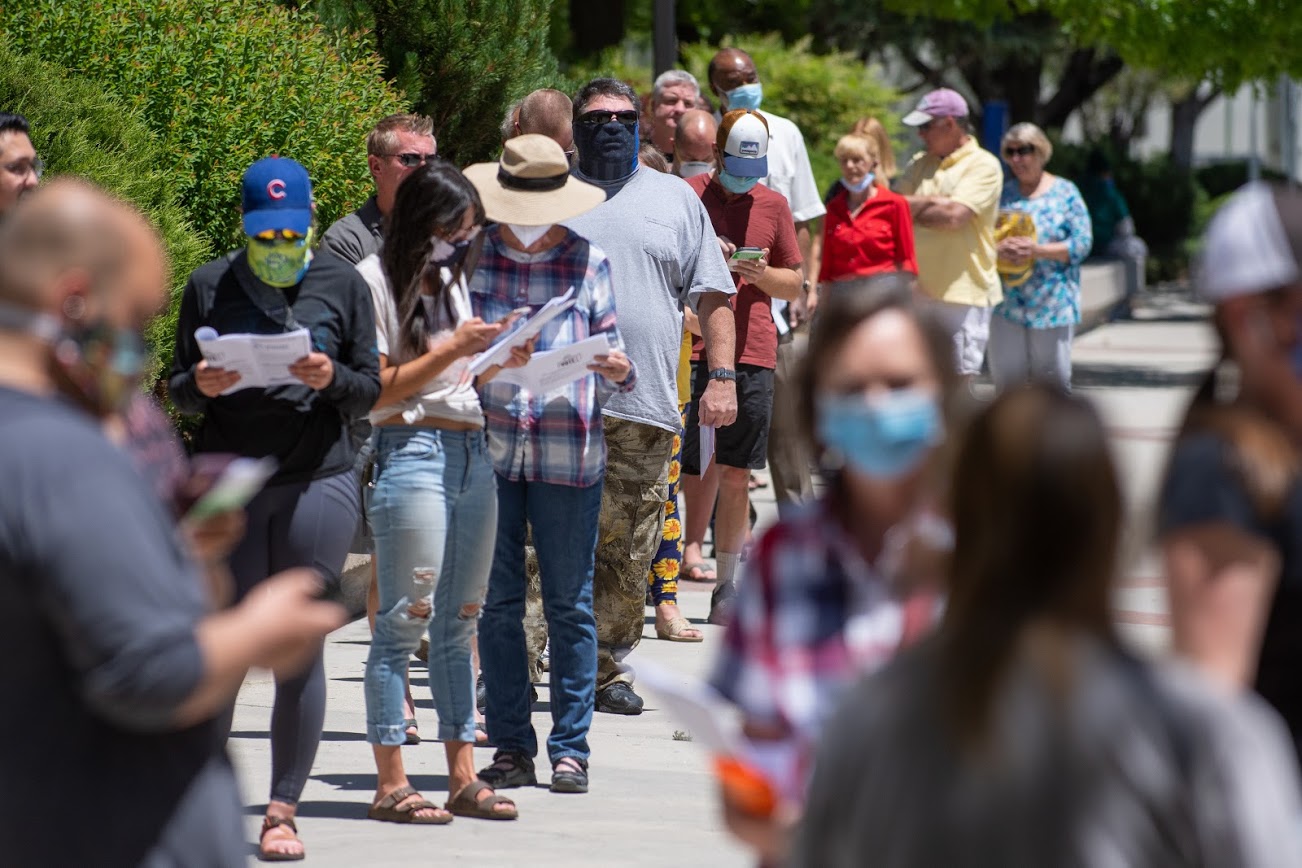 Welcome to the 13th installment of "Coronavirus Contextualized," a recurring feature in which we explore some of the numbers swirling around in the time of coronavirus.
Through these stories, we hope to parse some of those numbers, including confirmed cases of COVID-19, people tested, number of hospitalizations and deaths, and provide some context to them. You can view the prior editions of "Coronavirus Contextualized" here on our coronavirus page.
This week's edition will be a little different after we transitioned on Thursday to a new, more robust data page. Starting this week, our "Coronavirus Contextualized" stories will run on Fridays and will serve as a written roundup of the COVID-19 trends we kept our eyes on this week. Instead of living in our weekly data stories, our graphs will now live permanently on our new data page and be updated multiple times a day with the latest data.
We're continuing to take suggestions for what kind of data, graphs and overall trends you would like to see either analyzed in future versions of this story or included in a future update of our data page. You can reach out to [email protected] with any feedback.
Below, we take a look at some of the latest COVID-19 trends in Nevada.
The two metrics for reopening
When Gov. Steve Sisolak announced his framework for reopening Nevada businesses in late April, he laid out five criteria he would use to determine whether the state was ready. Some of the criteria were broad, such as ensuring the state had a "sustained ability to protect vulnerable populations," including those in nursing homes. But one was specific: "Downward trending data."
Specifically, Sisolak's "Roadmap to Recovery" plan said that the governor was looking for a "consistent and sustainable downward trajectory of COVID-19 cases and decrease in the trend of COVID- 19 hospitalizations over a 14-day period," measured by a decline in the percentage of people testing positive and a decrease in the trend of COVID-19 hospitalizations.
As of Thursday, both of those metrics were not only not decreasing, but trending up and consistently so.
In the last seven days, Nevada has had five days of double-digit daily test positivity rates. That's the number of new people who are testing positive as a percentage of the total new people being tested each day. As Nevada ramped up testing, those numbers had dropped to between 2 and 5 percent most days in late May in early June.
On Thursday, the state's daily test positivity rate was 16.8 percent, meaning a little more than three in 20 people tested positive. It is the highest daily test positivity rate since April 22.
The seven-day average shows it's not just a fluke either. The seven-day average of the daily test positivity rate shows nine consistent days of increases, from a 4.2 percent rate on June 16 to an 11.9 percent rate on Thursday.
Many have dismissed the increases in raw case totals — which will be discussed below — as attributable to increases in testing, which significantly ramped up in Nevada since early May. But experts say the test positivity rate should decrease as testing increases and, as testing levels out, the test positivity rate should too, unless the rate of viral spread is changing as well.
The data also show that the cumulative test positivity rate — that is, the total number of people who have tested positive out of the total number of people tested ever — is also increasing. Thursday marked the eighth straight day of increases, from 5.2 percent on June 17 to 5.8 percent on June 25.
Hospitalizations, the second metric cited in the state's reopening plan, are also increasing. Hospitalizations of confirmed and suspected COVID-19 patients had largely plateaued early in the month. However, hospitalizations broke 400 on Wednesday, at 439, for the first time since May 27. The total number of people hospitalized with confirmed or suspected COVID-19 as of Thursday was 467.
Bill Welch, CEO of the Nevada Hospital Association, told The Nevada Independent in an interview earlier this month that the hospitals would need to "re-group and re-evaluate" if the total number of hospitalizations climbed above 400. The hospital association did not respond to a request for further comment on Thursday.
In general, public health experts view hospitalizations as a more reliable statistic for analyzing COVID-19 trends because it can't be affected by day-over-day increases or decreases in people being tested and identified as positive.
Cases and deaths
It is still, however, helpful to keep an eye on the total number of COVID-19 cases. Nevada reported a record 481-case increase on June 23, the biggest single-day increase since the beginning of the pandemic. But data from the last week show that it wasn't just an outlier.
The seven days in the last week all rank among the top 10 biggest single-day case increases since the first case of the novel coronavirus was identified in Nevada in early March. By contrast, none of the last seven days ranked in the top 10 biggest days of people tested, which all fell between mid-May and mid-June.
Deaths have not, however, spiked or seen an increase. In the last week, two days saw one death reported, two days saw two deaths reported, and one day each saw three, four and seven deaths reported, for a seven-day average of 2.9 deaths per day on Thursday. That number was far less than the seven-day average of 9.7 deaths per day on April 12 during the peak of the pandemic in the spring.
Public health experts note that deaths tend to lag any case spikes, since it takes some time for people to fall ill enough to perish from the illness, and most of them are hospitalized for some amount of time before they do.
County-by-county and state-by-state
While Humboldt County emerged as a hotspot for the novel coronavirus when it first surpassed all the other counties in the state for cases per capita in early April, it has since fallen to fourth, surpassed by the state's two urban counties and a neighboring rural one.
Tiny Lander County, with 32 cases in a population of about 5,500, now has the most cases per capita followed by populous Clark County, with nearly 12,000 cases in a population of about 2.3 million, and urban but less populous Washoe County, with 2,400 cases in a population of 470,000. Humboldt County stands at 82 cases in a population of about 17,000.
Nationally, Nevada ranks 33rd for coronavirus cases per capita with about 482 cases per 100,000 residents. Though coronavirus cases are currently level in New York, the Empire State, which was hit early and hard by COVID-19, still has the most total cases per capita at 2,007 per 100,000 residents. Hawaii ranks last at 59 cases per 100,000 residents.
IndyFest is proudly sponsored by:
Comment Policy (updated 4/20/2021): Please keep your comments civil. We reserve the right to delete comments or ban users who engage in personal attacks, use an excess of profanity, make verifiably false statements or are otherwise nasty. Comments that contain links must be approved by admin.