Cortez Masto raises more than $2 million for Nevada Democrats over election cycle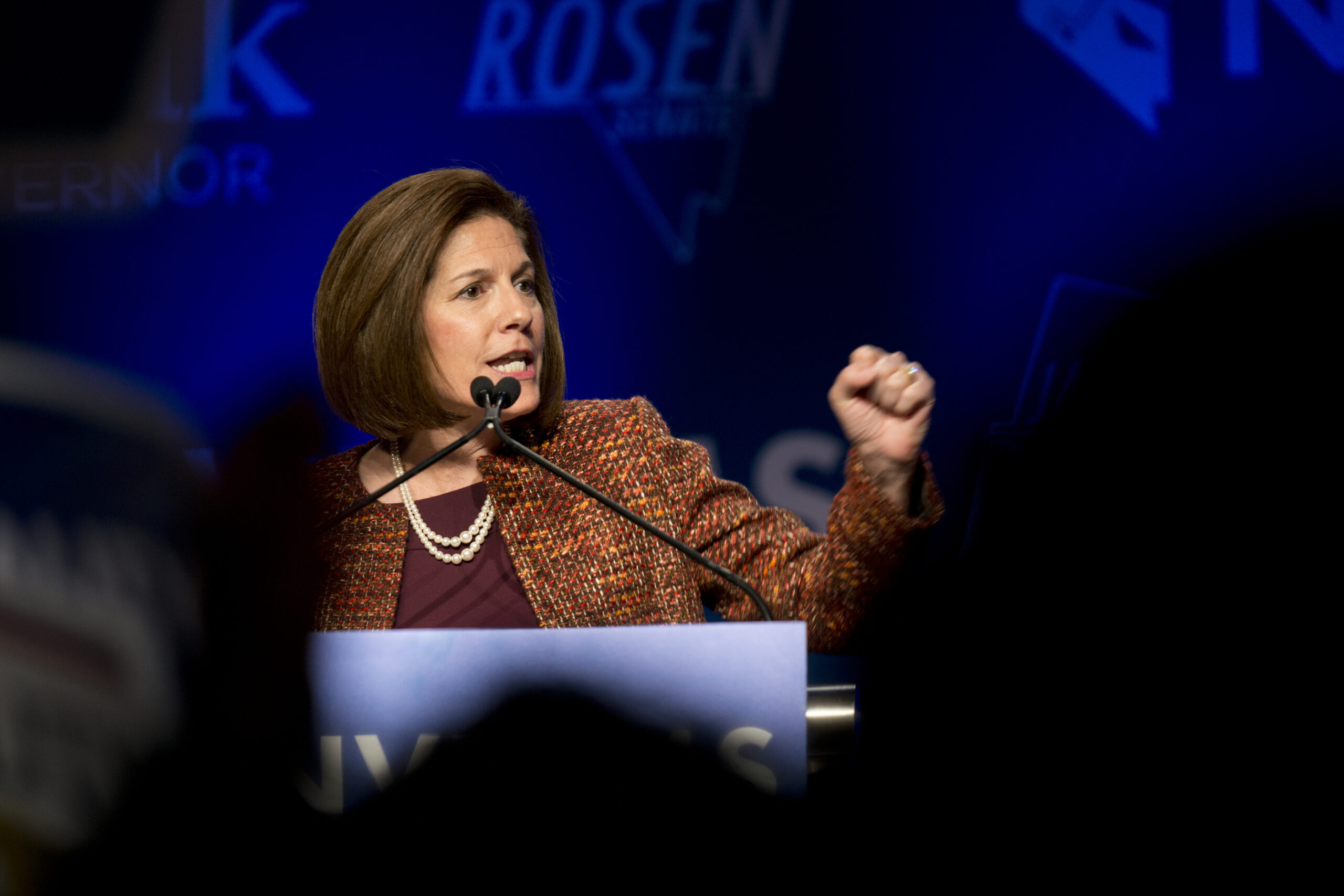 U.S. Sen. Catherine Cortez Masto raised more than $2 million over the course of the election cycle for the Nevada State Democratic Party after taking up its fundraising mantle earlier this year, according to the party.
Cortez Masto pledged in April to raise $1.5 million for Democrats, which party officials said at the time would be the second highest amount someone had raised for the party only behind former Sen. Harry Reid, the party's longtime de facto head. The $2 million haul includes donations directly solicited by Cortez Masto and raised at fundraisers that the senator has hosted, according to the party.
The funds Cortez Masto raised went toward bolstering the party's ground game efforts this year including voter registration, door knocking and phone banking as well as to finance its mail program and allow it to hire a diverse staff. The Democratic operation in the state — nicknamed the Reid machine — again buoyed candidates to victory this year as Democrats won two close races for U.S. Senate and governor and helped the party gain additional ground in both chambers of the Legislature.
Rebecca Lambe, a longtime Democratic operative in the state responsible for building the Reid machine, drew parallels between Reid and Cortez Masto in a statement.
"Like Senator Reid, Senator Cortez Masto understands that Democrats' long-term success depends on robust investments in field operations and diverse staffing as well as engaging first-time voters and voters of color," Lambe said. "She's worked closely with candidates, donors, and allies to achieve that vision."
In total, the party has raised $3.6 million through its state account and $7.4 million through its federal account over the course of the election cycle. The state account totals are current as of Nov. 1 and the federal account totals are current as of Oct. 17.
Two members of Cortez Masto's team are embedded within the state party to fundraise. The $2 million total was tracked by those individuals and includes contributions to both the state and federal accounts, according to the party.
Cortez Masto, in a statement, thanked candidates, volunteers and party staff for their contributions to the blue wave this year and said that the results would not have been possible without Reid's "investment and foresight."
"I committed to raising these funds and supporting Senator Reid's work because I believe in Democrats in Nevada," Cortez Masto said. "And it paid off in the most robust field program in the country that registered voters, knocked doors and got Nevadans to the polls to send Jacky Rosen to the United States Senate and Steve Sisolak to Carson City."
A spokesman for Rosen said in a statement that Cortez Masto's investment in the state was "critical" to helping elect the first-term congresswoman to the Senate and other Democratic candidates to offices across the state.
"Senator Cortez Masto stepped up very early in the cycle to play an active leadership role in supporting and fundraising for the state party to keep things moving forward after the last election," Rosen spokesman Stewart Boss said. "... Senator Cortez Masto understood how important the party infrastructure for field organizing, data analytics, communications and research was for her victory in 2016, and she knew it would be critical to invest in and strengthen that infrastructure for the 2018 election cycle."
Assembly Speaker Jason Frierson echoed those sentiments, saying in a statement that Cortez Masto "played a pivotal role" in bolstering the Democratic ground game this cycle.
"It made the difference at the federal level and helped Democrats expand our majorities in the Assembly and State Senate," Frierson said.
Cortez Masto has raised another $2.1 million this cycle herself and her All for Our Country Leadership PAC raised another $816,000 over the same time period.
Comment Policy (updated 4/20/2021): Please keep your comments civil. We reserve the right to delete comments or ban users who engage in personal attacks, use an excess of profanity, make verifiably false statements or are otherwise nasty. Comments that contain links must be approved by admin.