Cortez Masto raises record $15 million in third quarter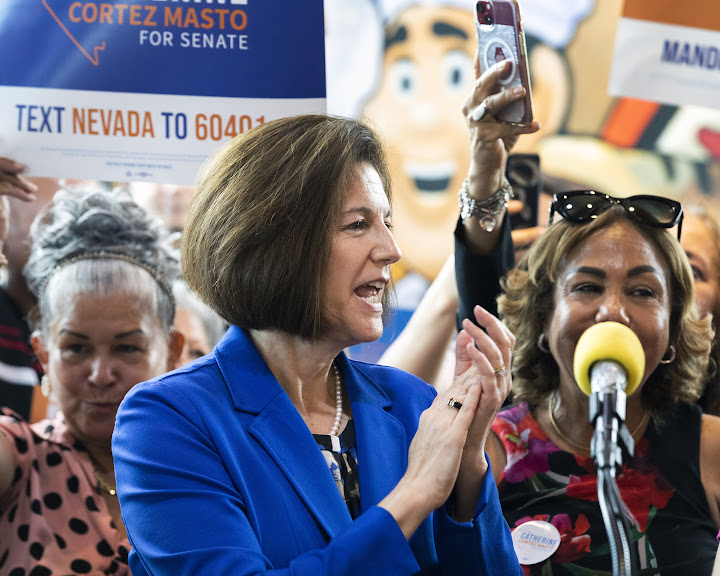 With just weeks left before Election Day, Democratic Sen. Catherine Cortez Masto will report raising more than $15 million between the beginning of July and the end of September leaving roughly $5 million cash on hand, her campaign announced Monday — another record in a record-breaking fundraising election cycle for Cortez Masto, and roughly double the $7.5 million she raised in the second quarter of 2022.
In a statement, her campaign touted individual donations from more than 170,000 contributors in the third quarter, with an average donation amount of $44. Her campaign did not immediately release quarterly spending figures, numbers that will likely remain unavailable until a federal filing deadline on Oct. 15.
It comes as Nevada's U.S. Senate contest between Cortez Masto and her Republican opponent, former Attorney General Adam Laxalt, has become one of just a handful nationwide that could decide control of a U.S. Senate split 50-50 between the two major parties.
Cortez Masto, like many major Democratic candidates nationwide, has dominated the candidate-side fundraising race, raising more than three times as much as Laxalt — $30.1 million to $7.3 million, respectively — through the second quarter of 2022, according to records filed with the Federal Election Commission (FEC).
As of Monday morning, Laxalt had yet to publicly announce his third-quarter fundraising. In the second quarter, he raised a little more than $2.8 million, less than half of Cortez Masto's total.
However, Republican groups spending in the race have sought to close the spending gap on behalf of Laxalt, while rocky economic conditions and high inflation have dogged incumbent Democrats' economic messaging. That includes at least $3.9 million from the Club for Growth, which has endorsed Laxalt, spent just days before the end of the quarter, which followed another $3.2 million the group spent on the race the week prior.
As of mid-September, tracking from the company AdImpact found that Democratic spending still outpaced Republican spending in Nevada's Senate race, $78 million to $52 million, and that only Georgia's Senate contest saw more cumulative spending.
Even as vulnerable Democrats in Arizona and Pennsylvania have taken the polling lead in their respective races, recent polling shows a marginal lead for Laxalt in Nevada — though a lead still within the margin of errors in most polls.
That includes a poll from The Nevada Independent and OH Predictive Insights released Sunday that shows Laxalt leading Cortez Masto 45 percent to 43 percent, with a 3.6 percent margin of error.
Early voting in Nevada is set to begin in less than three weeks, with distribution of mail ballots set to begin at the end of this week in Washoe County, and in 17 days in Clark County.