COVID in Context: Amid growing optimism about COVID, long-haulers' plight lingers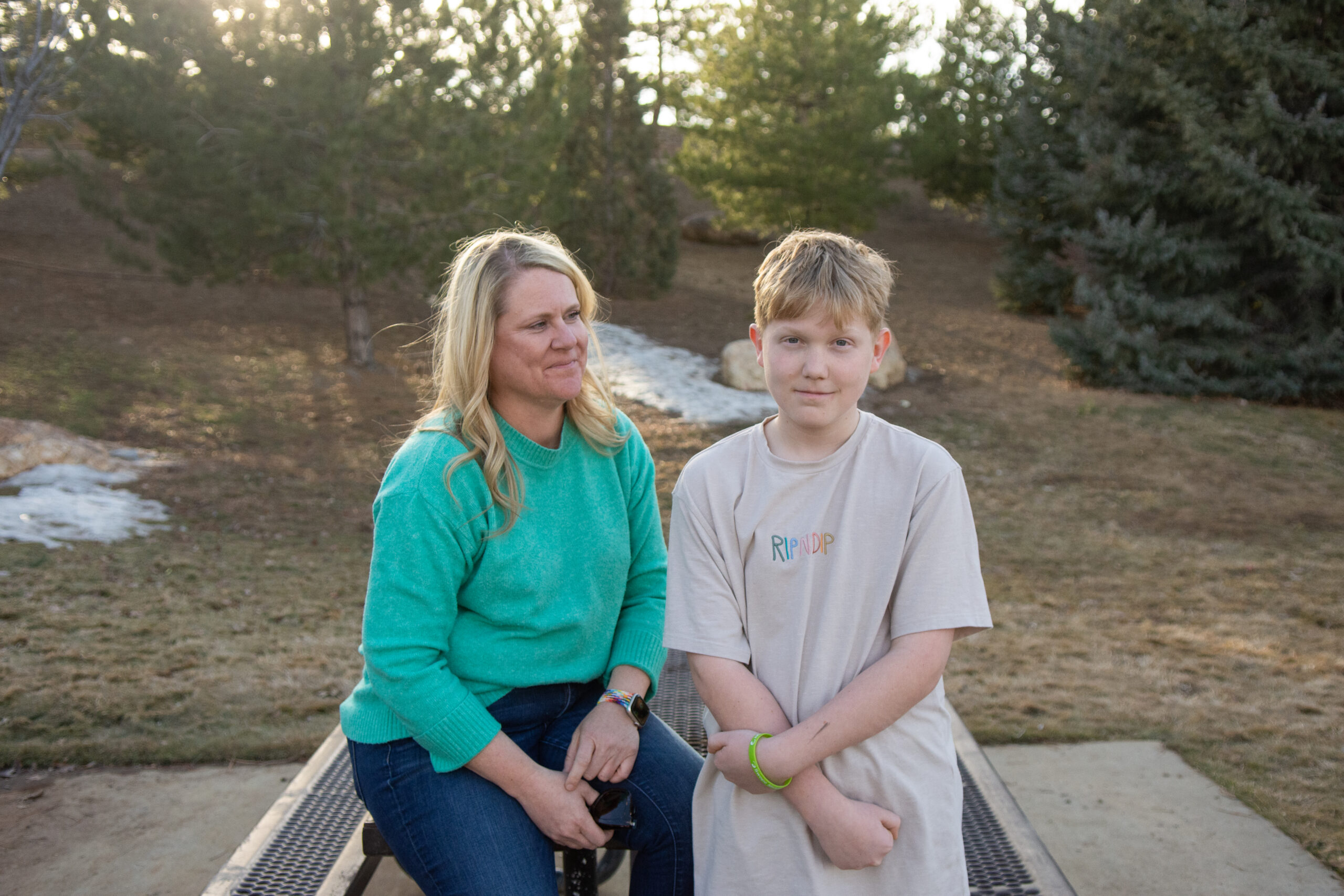 Welcome to COVID in Context, where staff at The Nevada Independent provide context and clarity on what's happening with COVID-19 in Nevada, including how CDC reports of high transmission rates in Nevada could be the result of data anomalies.
COVID in Context will change depending on the situation at hand. If you have any questions, thoughts or suggestions, please reach out to [email protected], send me a direct message on Twitter, or submit them using this form.
For daily updates, check out our constantly updating data page and follow @nvindycovidbot on Twitter.
— Tabitha Mueller
"It has just wiped his entire body out completely"
In mid-September, Reno resident Alyson Gilles' then 12-year-old son Bennett tested positive for COVID-19.
At first, Bennett's case seemed mild. He was fully vaccinated, and one of his only symptoms was extreme fatigue. Ten days later, when Bennett finished quarantining, he and his family joked that someday he would be able to tell his grandkids that he survived a global pandemic.
But he could not shake the fatigue. More than six months after catching the virus, Bennett, now 13, still misses school because he is too exhausted to get out of bed. He does not have the energy to play soccer or go for long runs anymore.
His parents took him to a series of doctor appointments to try and figure out what was wrong. Bennet had chest X-rays and took various tests for mono and strep throat, but everything came back negative.
"We just could not figure out, 'Does he have mono? Does he have strep? Does he have any other slew of ailments?'" Alyson said. "Finally, after test after test after test, all of the doctors agreed it's just the long-term effects of COVID and it has just wiped his entire body out completely."
Studies indicate that anywhere from 10 percent to 30 percent of COVID-19 cases will result in a condition known as "long COVID," characterized by ongoing breathing challenges, fatigue, difficulty thinking or concentrating, chest pain, headaches and a host of other symptoms.
Dr. Cheryl Hug-English, the director of the Student Health Center at the University of Nevada Reno, said that typically, most people's COVID-19 symptoms resolve within five to 10 days. But for some, symptoms can persist for far longer. She noted that symptoms extending beyond four weeks are designated as long COVID, long-haul COVID or post-acute COVID.
With a long and differing symptom profile, Hug-English said it could be challenging to identify long COVID. Researchers and doctors are still studying the condition, she added.
Treatment plans focus on symptom management and helping patients navigate the effects of the condition, she said, explaining that treatment plans are similar to those for patients diagnosed with chronic fatigue syndrome or the Epstein-Barr virus.
Bennett has tried taking vitamin supplements and getting extra sleep, but the constant tiredness persists.
"It's incredibly frustrating to not have answers, but it's even more frustrating to see that he recognizes it in himself," she said. "He doesn't feel like he used to and it's almost, I don't know, bordering on depression, because he's frustrated with his body not behaving like he's used to it behaving."
When Bennett was first diagnosed with long COVID, Alyson read article after article about the condition, stressing about how COVID-19 may have affected his body and brain. But ultimately, she decided to put that aside and instead focus on supporting Bennett by providing him with extra rest, not pushing him too hard and working with his teachers to make sure he's still finishing schoolwork.
"I just can't imagine a world where this is who he is for the rest of his life — just run down and doggedly tired," Alyson said. "So I guess I'm just blindly optimistic that he's going to outgrow this and it will be a thing of the past. I don't see a reason why it wouldn't be, but I also didn't see [long COVID] coming either."
Though COVID-19 led to significant morbidity, hospitalizations and death, the vast majority of people who catch the virus recover from it, Hug-English said. The essential tool for fighting the virus and combating potential long-term effects is through vaccination, she said, adding that for people who are fully vaccinated and boosted, the risk of getting a severe illness from COVID such as long COVID dramatically decreases.
"A little over two years ago, none of us had ever heard of this virus, and so we've all learned a tremendous amount about this virus and are continuing to learn as we go along," Hug-English said.
In reflecting on her son's experience with long COVID, Alyson grapples with sentiments that the virus presents fewer dangers to children.
"Why are people still saying this is not damaging to kids?" she said. "Yeah, they're less likely to die, but my child isn't having the childhood he thought he would, because he's so exhausted by this."
— Tabitha Mueller
Understanding the numbers
The number of new COVID-19 cases reported on average each day is slightly up from last week, although still well below the Omicron peak.
As of Thursday, 729 new cases were reported on average each day over the previous seven days, up from 432 one week earlier. That number is still significantly less than the highest point of the winter Omicron surge, 6,410, which the state hit on Jan. 24
The statewide test positivity rate, which looks at the percentage of tests coming back positive out of the total people tested, has been dropping steadily since it hit a peak of 36 percent at the height of the Omicron wave.
The testing positivity rate is calculated as an average over a 14-day period with a seven-day lag. (It's worth noting that 14-day lag may be responsible for differing trends between cases and test positivity.)
As of Thursday, that number was 7.9 percent, down slightly from 11.2 percent last week. The state's test positivity rate remains above the World Health Organization's recommended 5 percent threshold.
The pace of vaccine distribution in Nevada is beginning to plateau with only a 0.31 percent increase in doses of the COVID-19 vaccine administered over the last week compared with a 2 percent increase over the first week in January.
As of Thursday, more than 74 percent of Nevadans have been either partially or fully vaccinated against COVID-19, with 37.5 percent fully vaccinated but with no booster and 22.2 percent fully vaccinated with a booster.
Since vaccinations started in December, a little more than 2.2 million people have received at least one dose of the COVID-19 vaccine, more than 1.8 million Nevadans have been fully vaccinated and more than 680,000 people have received the booster.
The latest wastewater sampling data from the Southern Nevada Water Authority shows decreased concentrations of the virus from sites in Clark County and Henderson, but increased concentration from samples taken in Las Vegas, North Las Vegas and Boulder City.
Overall, the concentration levels in Southern Nevada are lower than those seen at the peak of the Omicron surge in January.
Though concentrations of the virus in wastewater sampling in Washoe County have shown some increases last week, the levels are still lower than those tracked during the peak of the Omicron wave.
— Tabitha Mueller
Amid positive COVID-19 outlook, health officials reduce frequency of press briefings
In late January, Washoe County health officials called the Omicron surge "enormous" as they scrambled to understand the new variant and handle an unprecedented increase in case numbers.
Since then, however, cases have continued to decrease, with the county reporting only 23 new cases of COVID-19 Wednesday — its lowest number of reported cases since July 2021.
District Health Officer Kevin Dick said the low case numbers and the county's expanded access to more treatment and testing opportunities means the county is in a solid position. As of Thursday, the Centers for Disease Control and Prevention ranked the region as "medium risk,", and Washoe officials are now moving to a press briefing scheduled for every other week, instead of weekly. Dick is even considering taking a vacation.
"We also have the at-home test kits that are available and we're seeing increased availability of the antivirals and monoclonal antibody treatments," Dick said. "With those tools in our toolkit, we're in a much better position now than we have been in the past … We're fairly optimistic at this point."
The rapid decrease in cases is not exclusive to Washoe County. Southern Nevada has also experienced declining COVID-19 case and test positivity rates, and the Southern Nevada Health District announced Wednesday that it would no longer hold weekly press calls and instead move to an as-needed basis.
"The overall risk of severe diseases is now generally lower. Still the virus will continue to circulate in our communities, including the possibility [that] a new variant might emerge," said Dr. Cassius Lockett.
From Feb. 13-28, Clark County's test positivity rates dropped from 11.4 percent to 5.9 percent, which places the county within "moderate transmission" under the former CDC community transmission guidelines.
Though the Centers for Disease Control and Prevention's website indicates that community transmission is high in the region, Southern Nevada Health District Chief Medical Officer Fermin Leguen said those numbers appear to be the result of data anomalies. He said the data actually places Southern Nevada within moderate transmission rates.
"We are currently investigating the data discrepancy that shows the community transmission is high on the CDC website," Leguen said. "We have reached out to our state partners who have reached out to CDC to explore this further."
Though case rates are improving, hospitals continue to be strained because of staffing difficulties, not because of the COVID-19 case burden, Dick said. The issue was highlighted in January as Nevada's hospitals characterized their staffing shortages as "crisis" level for several consecutive weeks. At the time, the Nevada Hospital Association stated that employees in all departments were testing positive for COVID-19 or needed to be isolated after being exposed.
"We're in a much better position now than we have been in the past," Dick said. "I haven't heard a lot of comments from the hospital staff but I'm sure it's got to be a relief to see the reduced number of COVID-19 patients."
— Jannelle Calderón & Naoka Foreman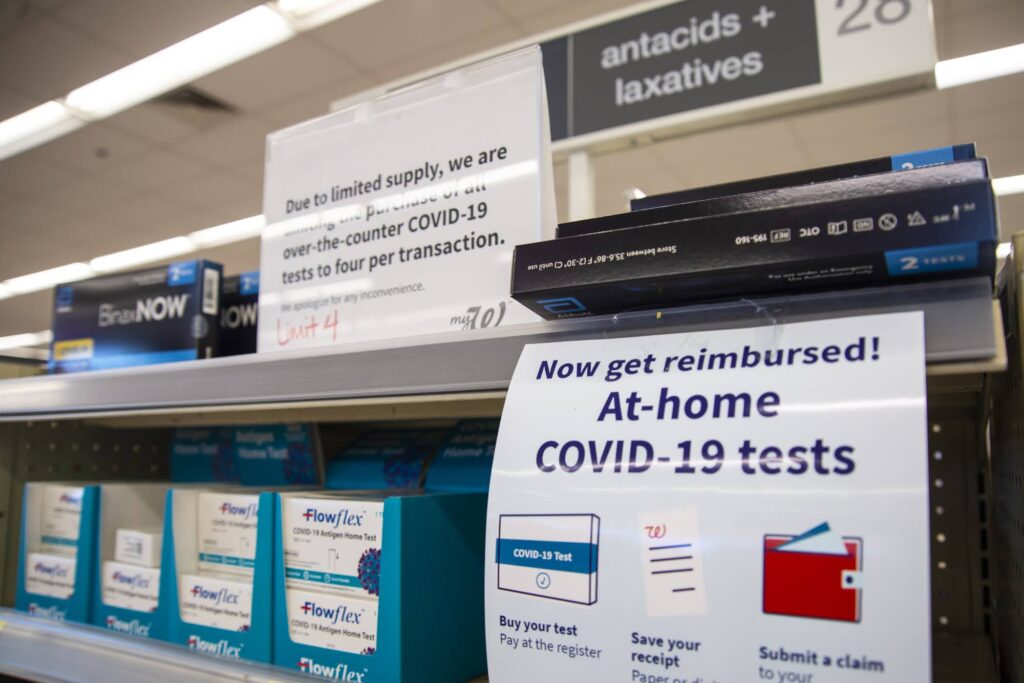 News you can use
Proof of vaccination
If you got your vaccine in Nevada, you can now access and download your COVID-19 vaccination records through the state's immunization information system here.
If you receive an error message as you try to sign into the system, call 1-800-401-0946 or email [email protected].
Searching for COVID-19 testing sites?
The Nevada Hospital Association's latest report indicates a continued decline in COVID-19 hospitalizations throughout Nevada. The report notes that "patients hospitalized with flu are virtually non-existent" and operations at hospitals are returning to normal. Though the association reported a "return to normalcy" with reestablished visiting hours and routine surgeries, staffing continues to be a concern, and discharges to lower levels of care remain challenging.
The association emphasized that individuals should get tested at testing sites, not hospital emergency departments.
To find a testing site in Nevada, including pharmacies, head on over to the state's COVID-19 test site finder.
Rapid Tests
Here's the link to order free at-home COVID-19 tests through the United States Postal Service.
Residential households can order one set of four free at-home tests. There's a limit of one order per address, but starting next week, U.S. households can place a second order (for a total of eight free at-home tests per household).
The United States Postal Service announced Wednesday that more than 270 million free tests have been sent to nearly 70 million households since the initiative launched in mid-January.
As part of a federal effort, private insurance companies will cover at-home test kits purchased at pharmacies. Companies will cover up to 8 kits per month, depending on the number of people on a health plan.
Here's a guide for getting your over-the-counter COVID-19 test reimbursed.
Updated COVID-19 Guidelines
The Centers for Disease Control and Prevention updated its COVID-19 guidelines, relying less on new cases to determine risk levels and instead focusing on a combination of three metrics: new COVID-related hospital admissions, percentage of hospital beds occupied by COVID-19 patients and new cases per 100,000 people.
The community levels of COVID-19 are broken into low, medium and high categories.
Recommendations for counties falling within the categories are as follows:
Low: Stay up-to-date with COVID-19 vaccines and get tested if you have symptoms
Medium: For those at high risk for severe illness discuss precautions, talk with a health care provider, get tested if you have symptoms and stay-up-to-date on COVID-19 vaccinations.
High: Wear a mask in indoor public places, stay up-to-date with COVID-19 vaccines and get tested if you have symptoms.
As of Thursday, under the new guidelines, Elko, Lander, Humboldt, Washoe, Pershing, Douglas and Mineral counties fall within the "low" COVID-19 community risk level category. Carson City, White Pine, Lyon, Lincoln, Clark, Nye, Eureka, Esmeralda, Churchill and Douglas counties are designated as "medium." No counties are demarcated as "high."
For complete guidelines and recommendations surrounding quarantine and isolation guidelines, head over to the CDC's COVID-19 Quarantine and Isolation page.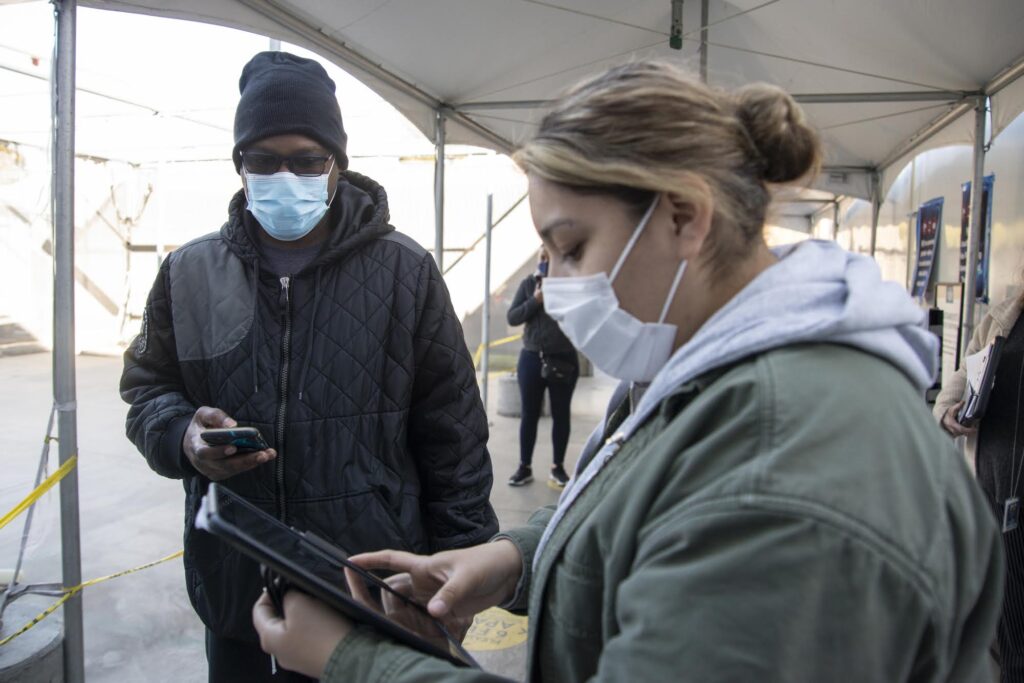 What we're reading
On Wednesday, President Joe Biden's White House outlined a new strategy to allow people to return to usual activities safely, noting that "we are no longer going to let COVID-19 dictate how we live." The Associated Press has the full details.
Gov. Steve Sisolak told the Reno Gazette-Journal that he could soon give up the emergency powers he claimed at the height of the pandemic.
Teen Vogue also examined how young people with long COVID have been affected by the virus, detailing how the condition has turned lives upside down.
As states ditch their masking requirements, Hawaii maintains its indoor masking mandate. But the holdout state announced Tuesday that it would lift its strict entry requirements on March 26 and no longer require travelers to show proof of a negative COVID-19 test or COVID-19 vaccination to bypass a five-day quarantine period. The quarantine period is also set to go away.
If you're curious about how Americans view Biden's response to COVID-19, check out these breakdowns of polling and trends from FiveThirtyEight. Hint – it's looking like the president's approval ratings have declined steadily since he took office.
Nevada Independent columnist Dr. Bayo Curry-Winchell addresses the question: Nevada's mask mandate has been lifted. Now what?
In some international-focused news, The New York Times reports that as Ukrainians flee the Russian assault, Ukraine and neighboring countries are likely to experience increasing case numbers and stress on health care systems.
The Nevada Independent is raising $200,000 by Dec. 31 to support coverage of the 2024 election.
Tax-deductible donations from readers like you fund this critical work.
If you give today,your donation will be matched dollar-for-dollar.
Give + Get Matched
Featured Videos