COVID in Context: Can addressing vaccine hesitancy slow the spread?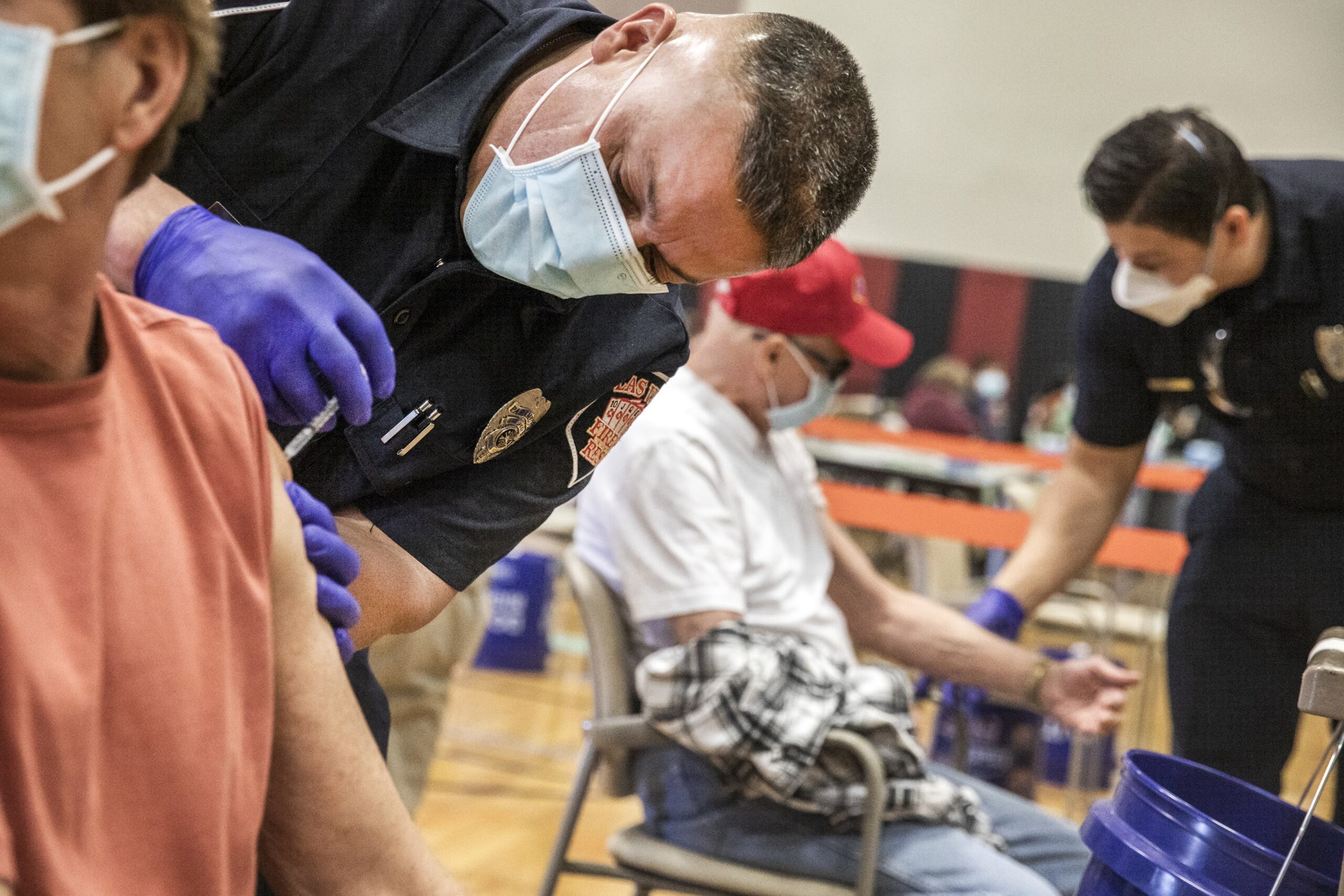 Welcome to COVID in Context, where staff at The Nevada Independent provide context and clarity on what's happening with COVID-19 in Nevada.
Last week, we focused on wastewater testing and what it can tell us about the spread of COVID-19. We're working on adding graphs showing wastewater sampling data to our COVID-19 dashboard. Those should be available to view by the end of next week.
COVID in Context will change depending on the situation at hand. If you have any questions, thoughts or suggestions, please reach out to [email protected] or send me a direct message on Twitter, or submit them using this form
For daily updates check out our constantly updating data page and follow @nvindycovidbot on Twitter.
— Tabitha Mueller
***
Understanding the numbers:
Since early January, Nevada has experienced a surge of new COVID-19 cases driven by the swift spread of the Omicron variant. The rapid increase in cases shattered records and hit a historic milestone: more than 643,000 recorded cases since the pandemic began.
Southern Nevada Health District Officer Dr. Fermin Leguen said during a press conference Wednesday that over the last week, the region has experienced a "consistent decline" in the number of coronavirus cases reported daily.
But plateauing case levels in the state's southern and most-populous region have not yet occurred in Nevada's second-most populous county.
Washoe County Health District Officer Kevin Dick told reporters Wednesday that the Reno-Sparks area continues to experience an "enormous amount of new cases." But officials estimate that a peak in cases is not too far out, and expect case numbers to begin declining sometime in mid-February.
Looming over both press conferences is the reality that the number of reported cases does not accurately capture every case of COVID-19, and it is only a matter of time before the next variant arrives. Dr. Cassius Lockett, Southern Nevada Health District's director of disease surveillance and control, said Wednesday that there are probably four positive cases undiagnosed in the community for every positive PCR test.
Health officials continue to push for mask-wearing, vaccinations and booster shots, but say current vaccination rates are not high enough. They are continuing to address vaccine hesitancy and dispel conspiracy theories and skepticism surrounding the vaccine perpetuated by public figures, including state and national GOP leaders and candidates.
As of Thursday, more than 72 percent of Nevadans have been either partially or fully vaccinated against COVID-19, with almost 38 percent fully vaccinated but with no booster and 20 percent fully vaccinated with a booster.
Among the counties, Carson City continues to have the highest percentage of residents fully vaccinated against COVID-19 at 61.5 percent, followed by Washoe County at 60.3 percent, Douglas County at 52.9 percent and Clark County at 49.5 percent. Tiny Storey County has vaccinated the least, with only 20.7 percent of its 4,100 residents fully vaccinated.
To understand more about vaccines and vaccine hesitancy, I interviewed Dr. Mark Riddle, a vaccinologist and professor of internal medicine and associate dean of clinical research for UNR's medical school.
Early in the pandemic, Riddle conducted a study in partnership with Immunize Nevada and the state Department of Health and Human Services, focusing on Nevadans' thoughts on COVID-19 vaccines and their readiness to accept the vaccine once it was publicly available.
Results showed older age groups, medically at-risk individuals, those with a higher level of education and white populations were more likely to get vaccinated than other groups. Riddle added that individuals from urban areas or who viewed the virus as a threat were also more likely to get vaccinated. Vaccine hesitancy also correlated with fear of needles, belief in conspiracy theories, distrust of government and individualistic mentalities.
Riddle said one often overlooked distinction is the difference between vaccine refusal and vaccine hesitancy. Vaccine refusal refers to people who will never get a vaccine and stems from a deeply rooted ideological belief that Riddle said is difficult to address. On the other hand, vaccine hesitancy could stem from a lack of knowledge about how vaccines work or why they are beneficial and can be addressed through targeted literacy campaigns and outreach programs.
"Most people don't understand the fundamental way vaccines work, and that may be part of the problem," Riddle said. "I don't think that's the full problem of hesitancy, but increase literacy around vaccines and how they work, and it could help."
Vaccines work by stimulating an immune response that raises antibodies to prevent infection from a virus. Some vaccines, including the COVID-19 vaccine, require multiple doses, often given weeks or months apart, that allow the body to produce long-lasting antibodies and develop memory cells. The vaccines train the body to fight the disease after exposure happens.
Riddle said the next major step in fighting the virus is to ensure people get a third dose of the vaccine. He said calling the third shot a "booster" is a bit of a misnomer, because it is essential for building long-lasting antibodies and memory cells and not as discretionary as the name might suggest
"One of the issues with these vaccines that we put out … is [messaging]. It was like, 'Okay, get your shots. It's one dose of Johnson & Johnson, two doses of Pfizer and Moderna,'" Riddle said. "But really, if we had the luxury of time, we would have included this third booster dose as part of the primary series."
One of the primary drivers of vaccination is fear of severe illness. As reports have come out that Omicron results in a more mild infection than other COVID variants, Riddle said those on the fence about getting a vaccine or finishing the third dose may choose not to complete the vaccination cycle.
Data from the Centers for Disease Control and Prevention (CDC) indicates that someone who is fully boosted but catches the Omicron variant has less risk of Intensive Care Unit admission, severe illness or death. Riddle added that vaccines contribute to the strain's relative decrease in severity compared to different variants such as Delta. But there's still danger with how fast the virus spreads.
"The fact of the matter is that it's more contagious," said Riddle. "You have 50,000 cases that cause a certain amount of deaths and so the death rate is in half with Omicron. But now you have 200,000 cases, so it ends up causing the same amount of deaths and hospitalizations or more, as we're seeing right now in our community and around the nation where hospitals are being stretched to the limit."
As to whether people will eventually need a fourth booster shot, Riddle said scientists, including a research team he is leading at the VA Sierra Nevada Health Care System, are still studying the need for a fourth dose. Though a fourth dose is not currently recommended for most people, the CDC has urged immunocompromised people to get their fourth dose.
As of Thursday, Omicron makes up 99 percent of the coronavirus cases in Nevada, with Delta making up less than 1 percent of the remaining cases. In its weekly report, the Nevada Hospital Association noted that researchers had detected a new subvariant of Omicron (B.A.2.) in several U.S. states and 40 countries. Health officials are monitoring the variant to see how it behaves, but there are few signs that it differs from the original Omicron strain.
"There's no guarantee that the next mutation won't completely evade the immune responses, because we know coronavirus is a seasonal virus. We get it all the time. It's just, this one [COVID-19] happens to be really severe," Riddle said. "It's hard to develop that level of protection across all the variations of that disease."
Riddle added that scientists and researchers are working to develop "universal" vaccines that could provide immunity not only against COVID but also against other coronaviruses, but those efforts often run up against political pressure against vaccines and other mitigation measures.
Recently, Republican gubernatorial candidate and surgeon Fred Simon said during a debate held in Elko, "The Omicron is a blessing as long as we don't vaccinate our children … if we vaccinate our children, we will never get herd immunity."
The World Health Organization defines herd immunity as "the indirect protection from an infectious disease that happens when a population is immune either through vaccination or immunity developed through previous infection."
Riddle said having a significant immune response in most of the population will occur either by vaccine or natural infection. The challenge with natural infection, he said, is that someone would need to get infected multiple times to build up long-term immunity, and it would need to happen a certain number of days after initial infection. That method of developing immunization also poses health risks to individuals who could become hospitalized and die.
"In kids aged 5 to 11, COVID is now one of the top 10 causes of death," Riddle said. "It's rare because children 5 to 11 don't die very often, but you want to risk that by natural infection spread? No. And there are thousands of kids who have been hospitalized, and it's just not a responsible way to induce immunity in a population."
Though herd immunity is not here yet, Riddle said that more contagious but less severe variants coupled with increased vaccination rates mean it's just going to take time to reach what scientists estimate is a roughly 90 percent vaccination rate needed to achieve herd immunity.
As for when herd immunity can be achieved? Riddle said no one has a crystal ball that can predict the future.
"For those that are unvaccinated, it's gonna take multiple repeated infections. For those that are vaccinated, it will take vaccines and boosters," he said. "But eventually, we'll get to the state where … there's going to be enough immunity that will handle variants and eventually things will go down."
— Tabitha Mueller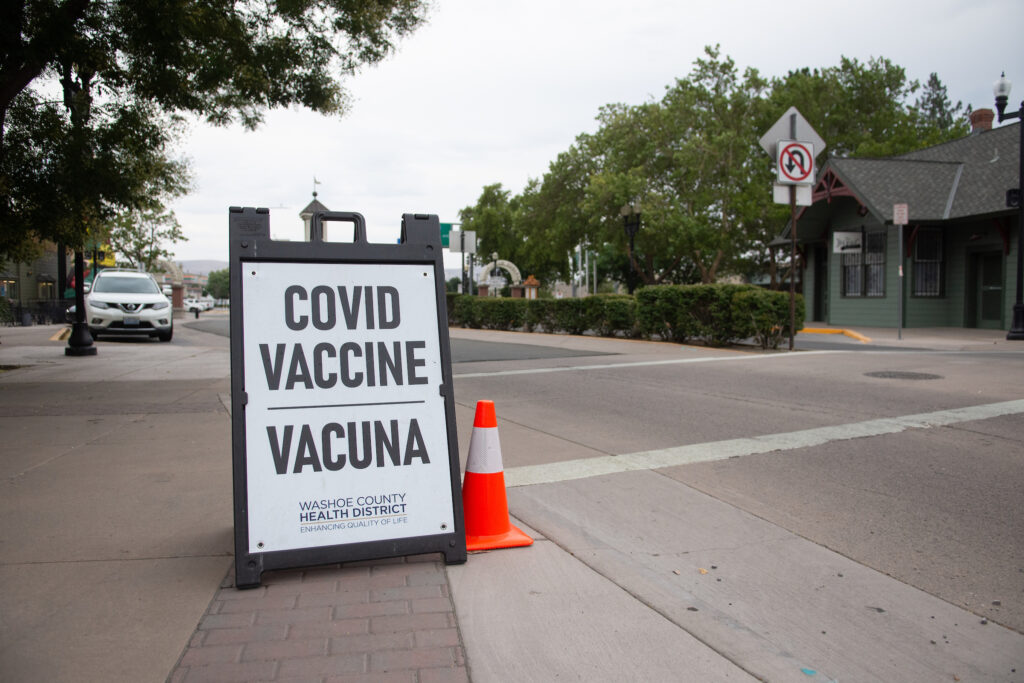 Washoe County re-deploys National Guard in light of Omicron case surge
Amid an "enormous" surge of Omicron cases in Washoe County, health officials are re-deploying the National Guard to help expand testing operations.
The seven-day case average in the county has more than doubled the record set in November 2020, before vaccines were available.
"On Jan. 20, we had 1,694 new cases reported that day," Dick said during a press briefing Wednesday. "From late November to mid-December, before we were really seeing the Omicron surge, it took about 20 days' worth of cases to get the number of cases that were reported in one day on Jan. 20."
Dick said there are probably "a lot" more cases out in the community because positive results from home tests are not reported.
With help from the National Guard, the health district will increase the number of appointment times at the Reno-Sparks Livestock Event Center, but times may vary depending on staff levels. With the additional appointment help, about 800 tests can be administered per day, up from 500 previously available.
The Nevada Hospital Association reported 192 people hospitalized in Washoe County on Wednesday, and officials are expecting that number to increase over the next several weeks, because hospitalizations tend to lag behind new reported cases.
But Dr. Tony Slonim, president and chief executive officer of Renown Health, believes hospital capacity is not a concern in Northern Nevada.
"In Northern Nevada, we're lucky we have capacity … Some of the wait times are a little bit longer, but we have hospital beds, we can care for people," Slonim said in a briefing with reporters. "The Omicron variant for the most part has been a primarily outpatient condition. The hospitalization rates are usually very, very low [for] Omicron unless you're unvaccinated, because then you have a higher propensity towards serious illness and even death."
— Jannelle Calderón
News you can use
Mask mandates
For the week beginning Friday, Jan. 28, all counties remain subject to universal indoor masking precautions regardless of vaccination status.
Counties automatically become subject to a universal masking mandate if they have two weeks of "substantial" or "high" transmission; those mask mandates will automatically be removed after two weeks of "low" transmission.
Updated masking guidelines are announced every Tuesday. For the most up-to-date information on masking mandates by county, click here.
Searching for COVID-19 testing sites?
The Nevada Hospital Association has said that though Omicron appears to be less severe than other variants, "the sheer volume of cases is stressing the hospitals combined with employee illness and required isolation days." The association emphasizes that individuals should get tested at testing sites, not hospital emergency departments.
To find a testing site in Nevada, including pharmacies, head on over to the state's COVID-19 test site finder.
For testing from the Washoe County Health District, click here.
For a complete list of testing sites in Southern Nevada, follow this link.
Rapid Tests
Here's the link to order free at-home COVID-19 tests through the United States Postal Service.
Residential households can order one set of four free at-home tests. There's a limit of one order per address and orders will ship for free starting in January. In a statewide press call Thursday, health officials said many of the issues surrounding difficulties ordering because of a P.O. box or apartment address have been resolved.
As part of a federal effort, private insurance companies will cover at-home test kits purchased at pharmacies. Companies will cover up to 8 kits per month, depending on the number of people on a health plan.
Here's a guide for getting your over-the-counter COVID-19 test reimbursed.
Trying to buy an effective mask?
Since the arrival of the Omicron variant, health experts have urged Americans to upgrade their cloth masks to an N95 or KN95 because the new variant is so transmissible. These higher grades tend to be costly and difficult to find.
As this article from The Guardian explains, try to use masks that fit tightly to your face and reduce the potential for "leakage." This guide to masks from Popular Science also has some good insight and tips when it comes to mask-wearing.
The Biden Administration announced last week that the federal government will provide 400 million free N95 masks to citizens from the Strategic National Stockpile. Nevada officials are still figuring out how to implement the distribution of masks and ensure they reach areas where there is a high risk of spread, such as schools.
For the initial rollout, N95 masks will be available to Nevada residents at some pharmacies and health centers. The Las Vegas Sun has a breakdown of where to find masks this week, and state officials promised more complete information soon.
Quarantine and isolation guidelines
If you are exposed, and you don't have a positive test, the CDC is asking you to monitor your symptoms, wear a mask, and then get tested if you're symptomatic. If you are sick or test positive, the CDC recommends you stay home for five days and isolate yourself from others. You can end isolation after five full days IF you are fever-free for 24 hours without medication. Once out of isolation, wear a well-fitting mask for 10 full days when around other people.
For complete guidelines and recommendations head over to the CDC's COVID-19 Quarantine and Isolation page.
What we're reading
Asked how a recent U.S. Food and Drug Administration decision to halt the use of antibody drugs that do not work against the Omicron variant will affect Nevada, officials said the decision was "not a surprise" in a press call with reporters Thursday. Officials added that the state has other treatments, including PAXLOVID, but those are limited.
Curious to learn about the new COVID-19 variant? The Independent has an excellent write-up with everything we know about the new COVID-19 variant B.A. 2., sometimes referred to as "stealth Omicron."
Have you received a negative rapid test result only to get a positive result from a PCR test later in the week? You're probably not alone. The Washington Post has a narrative-driven write-up examining how false negative results from rapid tests spur confusion, anger.
Here's an excellent Substack newsletter debunking the myth that the COVID-19 vaccine affects fertility.
"I feel like if we've learned anything over the past years of the pandemic, COVID requires nuance and flexibility and adaptability," said UNR graduate student Emily in a piece by The Indy's Jacob Solis examining the return to in-person learning as Omicron surges. "Instead, the one message that we're getting from university admin is — it has no nuance, it is flat, it is black and white. It is just what they say, and what they say is we are being in person, period."
This week, we focused on vaccines. Here's some more information about why we don't have COVID-19 vaccines specifically for new variants.
The World Health Organization released a statement earlier this week noting that, two years into the pandemic, we could be entering a new phase with "plausible hope for stabilization," but it is too early to drop our guard.
Here at The Indy, we love data and these community mobility reports compiled by Google give a fascinating look at movement trends over time by geography and across different categories of locations such as grocery stores, residential areas and workplaces.
The Nevada Independent is raising $200,000 by Dec. 31 to support coverage of the 2024 election.
Tax-deductible donations from readers like you fund this critical work.
If you give today,your donation will be matched dollar-for-dollar.
Give + Get Matched
Featured Videos