COVID in Context: Introducing our revamped Nevada coronavirus data page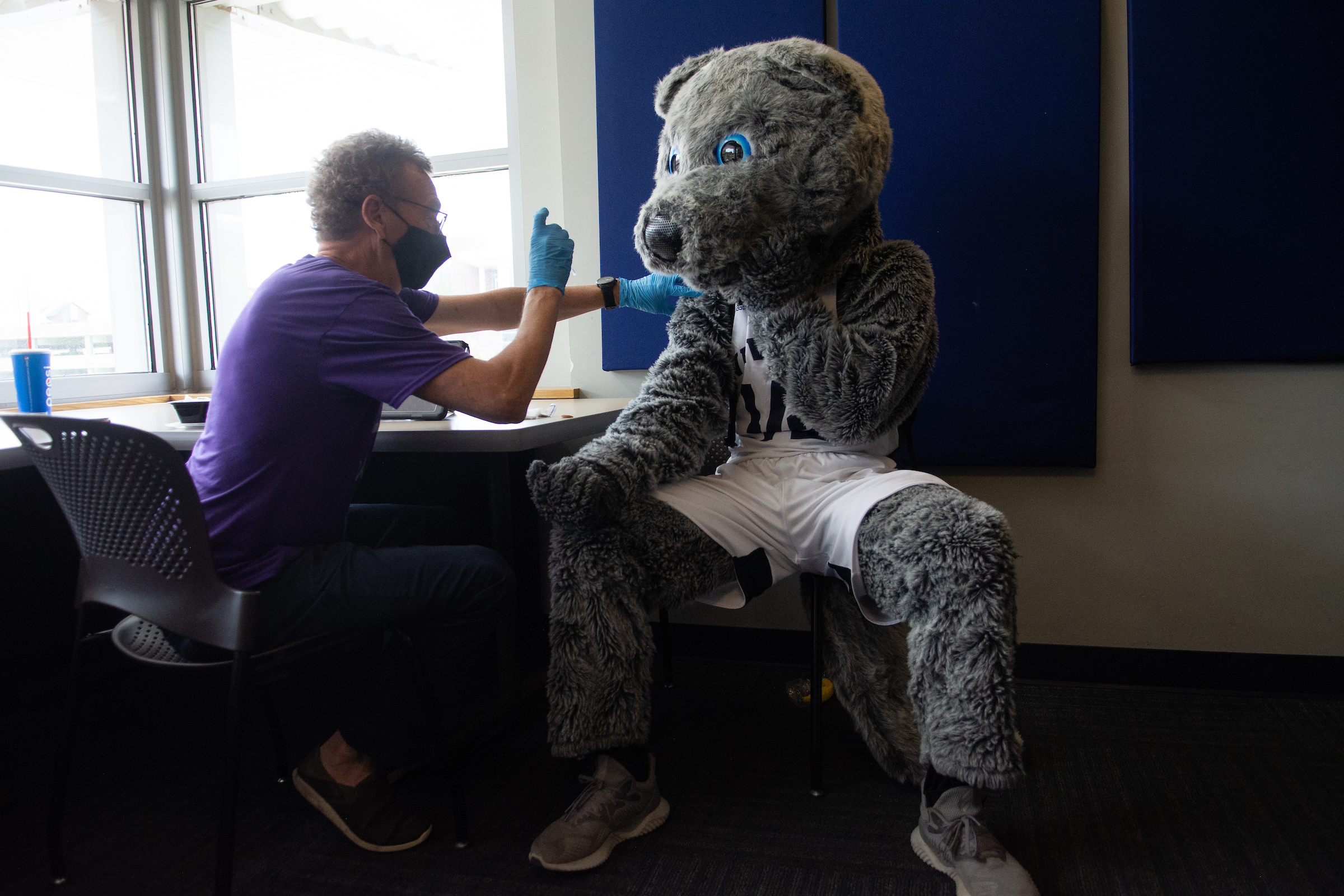 Welcome to COVID in Context, where staff at The Nevada Independent provide context and clarity on what's happening with COVID-19 in Nevada.
COVID in Context will change depending on the situation at hand. If you have any questions, thoughts or suggestions, please reach out to [email protected], send me a direct message on Twitter, or submit them using this form.
For daily updates, check out our constantly updating data page and follow @nvindycovidbot on Twitter.
— Tabitha Mueller
COVID-19 data page re-launches in line with state reporting
In early March, health officials announced that Nevada would be reducing how often it reports COVID-19 data, along with a host of other changes, joining at least 34 states that have made similar moves.
Since then, Nevada has experienced its lowest case incidences in nearly a year, but uncertainty remains about when the next wave of the virus will hit and what navigating the pandemic will look like in the coming months and years.
To help readers make informed decisions during the pandemic, The Nevada Independent created a COVID-19 data page that featured metrics such as test positivity rates, case numbers and information from wastewater sampling data. Our page pulled data in real time from various agencies, including the state of Nevada and the Centers for Disease Control and Prevention.
The state's data reporting changes meant we had to shift how we track COVID-19 data and what metrics we use to report that data. Over the last few weeks, Chief Technology Officer CJ Keeney and I, with the help of poker player and data analyst Andy Bloch, have been working to update our page. Today I'm excited to announce the re-launch of The Nevada Independent's COVID-19 data page.
Along with increasing the font size for readability, we removed metrics that are no longer available to us and added metrics that align with recommendations from the Centers for Disease Control and Prevention. Our data page updates weekly at the same time as the state page.
Changes to The Indy's data page were based on state reporting changes, including:
Shifting from daily reporting to weekly reporting, with data released on Wednesday reflecting COVID trends through the previous Monday
Removing the county tracker and dashboard pages related to testing volume and test positivity rates, or the percentage of all COVID-19 tests that are positive
Adding reinfections to case counts, meaning anyone testing positive more than 90 days after the original test result will count as a new case
For those wondering about what metrics to use as far as mask-wearing and other precautions, state officials said the CDC's updated indicators for community transmission should be considered the official resource for assessing community risks. The new CDC metrics focus on a combination of three factors: new COVID-related hospital admissions, percentage of hospital beds occupied by COVID-19 patients and new cases per 100,000 people.
My goal over the next few weeks is to interview more health officials to provide insight into what this new phase means for Nevadans, but until then, please keep an eye on our data page as we update it weekly and stay tuned for future updates.
— Tabitha Mueller
Understanding the numbers
The number of new COVID-19 cases reported on average each day is down from last week, although still well below the Omicron peak.
As of Friday last week, 99 new cases were reported on average each day over the previous seven days, down from 125 one week prior. That number is significantly less than the highest point of the winter Omicron surge, 6,410, which the state hit on Jan. 24.
The pace of vaccine distribution in Nevada is plateauing with only a 0.46 percent increase in doses of the COVID-19 vaccine administered week-over-week compared with a 2 percent increase over the first week in January.
As of Thursday, more than 85 percent of Nevadans have been either partially or fully vaccinated against COVID-19, with 30.8 percent fully vaccinated but with no booster and 14.3 percent fully vaccinated with a booster.
Since vaccinations became available in December 2021, more than 2 million people have received at least one dose of the COVID-19 vaccine, more than 1.7 million Nevadans have been fully vaccinated and more than 746,000 people have received the booster.
The latest wastewater sampling data from the Southern Nevada Water Authority shows decreased concentrations of the virus from sites in unincorporated parts of Clark County, increased concentrations from sites in Las Vegas and Boulder City and flatlined concentrations in North Las Vegas and Henderson.
Overall, the concentration levels in Southern Nevada are lower than those seen at the peak of the Omicron surge in January.
Though concentrations of the virus in wastewater sampling in Washoe County showed some increases last week, the levels remain lower than those tracked during the peak of the Omicron wave.
— Tabitha Mueller
Federal vaccine funding for uninsured dries up
Health providers will no longer be reimbursed for providing COVID-19 vaccines to uninsured and underinsured people because Congress has not yet replenished funding to fight the virus.
The Nevada Department of Health and Human Services (DHHS) announced that federal reimbursements would be curtailed effective Tuesday, April 5.
While White House officials have stressed the need to provide critical funds for COVID response, they have failed to persuade fiscally conservative GOP lawmakers who are reluctant to shell out the $15 billion. The two parties have not reached a new financing plan that they agree upon.
The Health Resources and Services Administration (HRSA)'s COVID-19 Uninsured Program was established to reimburse health care providers for the costs of COVID testing and treatment, along with providing vaccines to insured patients. According to the administration, claims submitted after March 22 for testing or treatment and claims submitted after April 5 for vaccine administration will not be processed.
Nevada is one of the 15 states that expanded Medicaid coverage for testing and testing-related services to uninsured individuals affected by COVID-19. While the coverage is not dependent on federal funding, it is only available through the end of the month in which the public health emergency ends. The current expiration date is April 15, unless renewed by the secretary of the Department of Health and Human Services.
Once the public health emergency ends, while the test will be provided at no cost, beneficiaries will face cost-sharing for testing-related office visits and other testing-related services. It's still unclear whether the beneficiaries will be required to pay for COVID-19 medications.
The federal government also said it does not have funding to purchase additional COVID-19 tests, treatments and vaccines once the current supplies run out, and that it also does not have a sufficient supply for fourth doses of the vaccine for everyone. There is enough for people 65 and older and the initial regimen for children under 5, but Congress will need to pass a stalled $15 billion funding package for the country to place advance orders for those in other age groups.
According to the Kaiser Family Foundation, the lack of federal funding could exacerbate existing disparities in health and financial security as people of color are more likely to be uninsured and face more barriers to accessing care. Additionally, without pre-purchasing vaccines, the U.S. may face difficulty in accessing the supplies if a new variant sweeps the country.
— Da Yeon Eom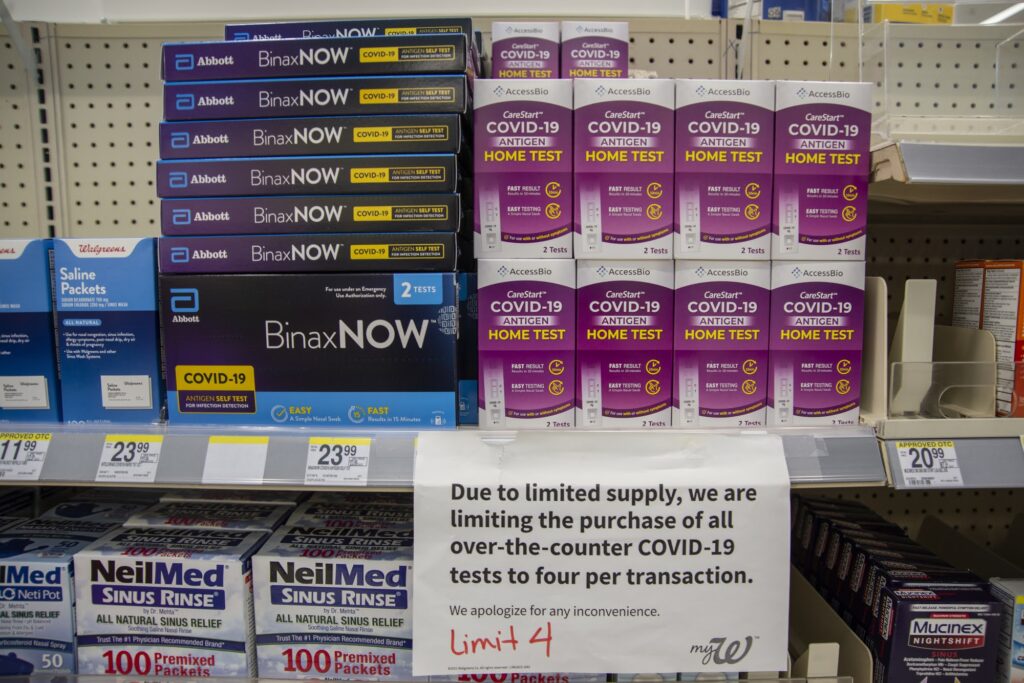 State targets at-home COVID-19 test giveaways to underserved communities
State health officials on Thursday touted their efforts to make at-home COVID-19 tests available to Nevada residents, especially those in underserved communities who have struggled to get access.
"The goal is to make the [test] kits available for free at convenient locations so families can have them at home and ready to use when needed and to supplement the federal mail-order program," said Julia Peek, deputy administrator of the Division of Public and Behavioral Health, during a media call about the state's COVID-19 response.
She added that the call center is available to help residents understand the implications of test results, such as calculating an isolation period, notifying close contacts and checking eligibility for COVID therapeutics.
The state has already ordered more than 100,000 test kits to be sent to almost 90 more locations and public health warehouses for future needs, Peek said. The testing program also includes an allocation to order a million point-of-care tests for schools, long-term care facilities, correctional settings, community-based testing locations and other health care facilities.
An agenda item for the Interim Finance Committee meeting on Thursday detailed
the addition of $17.5 million to fund COVID-19 test kits, community-based testing sites and a testing call center.
Peek said the COVID-19 testing program targets underserved populations, such as the Retired Senior Volunteer Program, tribal centers and many social services programs overseen by county government partners, who may struggle to gain access from other community locations.
Amy Koo, assistant director of outreach with the Asian Community Development Council (ACDC), said the council received a large shipment from the state with test kits earlier this year and has been giving them out from 10 a.m. to noon on Tuesdays and Thursdays at its food distribution site. Koo said ACDC also hosts community events in gathering spots for the Asian community, including Chinatown Plaza, Shanghai Plaza and locations on Rainbow Boulevard.
Julian Escutia Rodriguez, the consul of Mexico in Las Vegas, said the consulate has distributed 4,500 test kits and currently has 9,000 left. He said the consulate, located in downtown Las Vegas at Charleston and Sixth Street, has free medical appointments and vaccines for COVID-19 and other illnesses such as the flu.
"Maybe now we are not at a peak of COVID-19 infections, but we don't know what to expect with this virus as we have seen in the past," Rodriguez said. "So it is worth it and important to have these tests available whenever a person in the family has symptoms."
— Da Yeon Eom
News you can use
Proof of vaccination
If you got your vaccine in Nevada, you can now access and download your COVID-19 vaccination records through the state's immunization information system here.
If you receive an error message as you try to sign into the system, call 1-800-401-0946 or email [email protected].
Searching for COVID-19 testing and treatment options?
The Nevada Hospital Association has reported that there are free therapies available throughout Nevada for COVID-19 positive patients, including Evusheld, Sotrovimab, Paxlovid, Molnupiavir, and soon Bebtelovimab.
Patients can complete the pre-screening tool at https://nevadacovidtreatment.com/ or call 800-401-0946 (7 a.m. - 8 p.m. seven days a week) to locate and schedule these treatments.
For those looking for testing, individuals should get tested at testing sites, not hospital emergency departments.
To find a testing site in Nevada, including pharmacies, head on over to the state's COVID-19 test site finder.
Rapid Tests
Here's the link to order free at-home COVID-19 tests through the United States Postal Service.
Residential households can now order up to two sets of four free at-home tests for a total of eight free at-home tests per household.
The United States Postal Service announced in March that more than 270 million free tests have been sent to nearly 70 million households since the initiative launched in mid-January.
As part of a federal effort, private insurance companies will cover at-home test kits purchased at pharmacies. Companies will cover up to eight kits per month, depending on the number of people on a health plan.
Here's a guide for getting your over-the-counter COVID-19 test reimbursed.
Updated COVID-19 Guidelines
The Centers for Disease Control and Prevention updated its COVID-19 guidelines, relying less on new cases to determine risk levels and instead focusing on a combination of three metrics: new COVID-related hospital admissions, percentage of hospital beds occupied by COVID-19 patients and new cases per 100,000 people.
The community levels of COVID-19 are broken into low, medium and high categories.
Recommendations for counties falling within the categories are as follows:
Low: Stay up-to-date with COVID-19 vaccines and get tested if you have symptoms
Medium: For those at high risk for severe illness discuss precautions, talk with a health care provider, get tested if you have symptoms and stay up-to-date on COVID-19 vaccinations.
High: Wear a mask in indoor public places, stay up-to-date with COVID-19 vaccines and get tested if you have symptoms.
As of Thursday, under the new guidelines, all of Nevada's counties fall within the "low" COVID-19 community risk level category.
For complete guidelines and recommendations surrounding quarantine and isolation guidelines, head over to the CDC's COVID-19 Quarantine and Isolation page.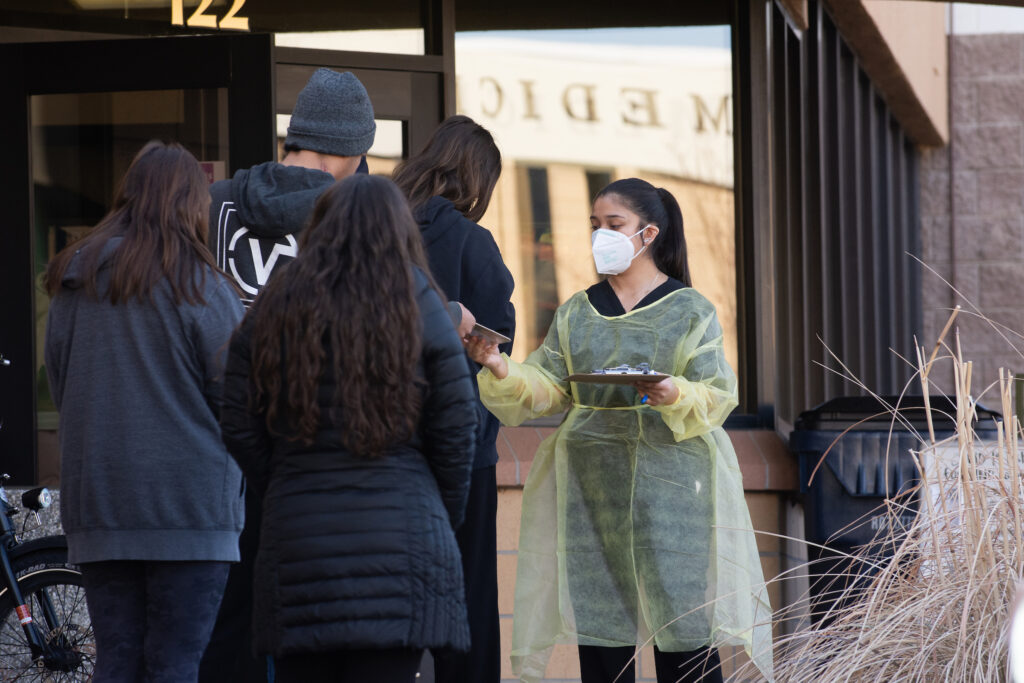 What we're reading
On Wednesday, the Food and Drug Administration's expert panel of advisers spent hours discussing the future of booster shots and COVID-19 vaccines. The Associated Press has more information from the meeting, which ended without any firm conclusions.
Studies have indicated that almost a third of unvaccinated people said they would wait to get the COVID-19 vaccine until the Food and Drug Administration gave it "full approval." A new study published in the Journal of the American Medical Association found that even after full approval, the number of people who got the first dose of the vaccine was 16 percent lower than expected.
Nevada health officials increased mass vaccination efforts after the federal government gave the green light for a second COVID booster shot. Nevada Independent reporter Da Yeon Eom has the details.
Curious about how well booster shots work? Reports from the CDC revealed that during the Omicron surge, boosted people were 21 times less likely to die from COVID-19 than unvaccinated people and seven times less likely to be hospitalized.
State tax officials told legislators that the pandemic accelerated marijuana sales but slowed alcohol purchases. Da Yeon Eom details the phenomenon in this write-up that also includes some snazzy graphics.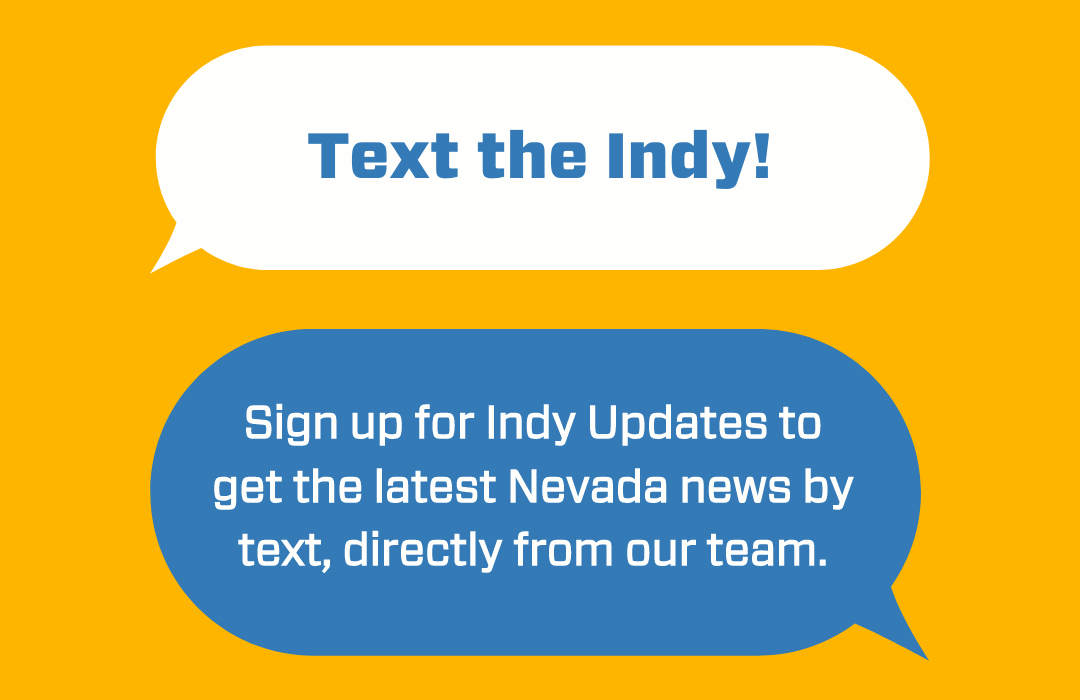 Featured Videos