Dem Zach Conine mounts early defense of treasurer seat as Fiore, others join race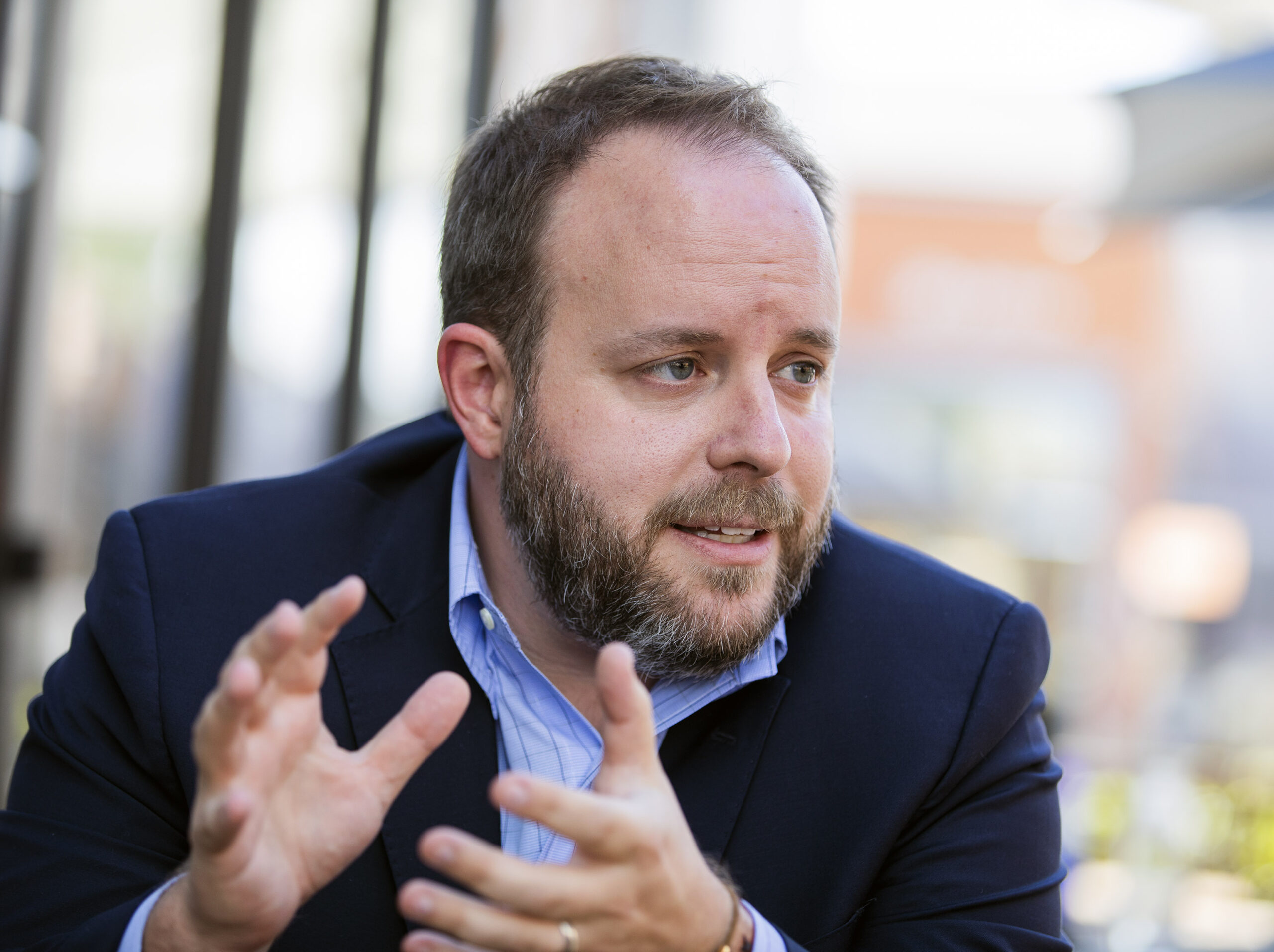 Democratic state Treasurer Zach Conine is sparing few expenses in his bid for re-election, reserving a massive amount of TV airtime for what is usually one of the lower-profile statewide elected offices and arguing that he is the only candidate with the expertise and temperament necessary to oversee Nevada's finances on a daily basis.
The show of strength comes after Las Vegas City Councilwoman Michele Fiore made a last-minute jump from the crowded governor's race to the treasurer's race last month. She is widely known for her pro-Trump credentials and attention-grabbing publicity stunts, including making a television commercial where she shoots bottles labeled "CRT" and "vaccine mandates," creating a glamour calendar of herself posing with assault rifles and joining anti-government activists during a major standoff.
She will face businessman and political newcomer Manny Kess in the Republican primary, and both may have a shot at ultimately winning the seat in a midterm cycle when the sitting president's party has historically lost ground.
The state treasurer's main responsibilities include investing state funds, managing college savings plans, keeping records of unclaimed property, and ensuring money is paid by the state as needed and that sufficient records are maintained.
Conine has signaled that he won't be giving up the job without a fight. He shot back at Fiore's entry into the race with a release highlighting the "serious work" of the office and vowing a campaign to underscore "the importance of keeping qualified and proven leader in this position."
"Serving as state treasurer is a serious job, and Nevadans deserve someone with the experience and qualifications that are necessary to manage a general portfolio of around $7 billion, nationwide college savings assets of more than $35 billion and perform debt service on $1.2 billion of outstanding general obligation bonds," Conine said in an email.
He added that the job requires "steady leadership" to ensure the state has the money it needs to pay state employees and funds vital government services such as public education and Medicaid.
Conine assumed the treasurer's position in 2019 after running unsuccessfully in 2016 for a state Assembly seat. He graduated from Cornell University's School of Hotel Administration and holds a law degree from UNLV. His private sector experience includes working as the director of operations at Golden Nugget Las Vegas and taking on management roles at various finance and consulting firms.
His website stated that since he assumed office, the state has received two bond rating increases, the first since 2006; has generated the highest investment returns since the recession of 2008; and has returned $150 million in unclaimed property to Nevadans through the Unclaimed Property Program.
During the pandemic, Conine's team took a lead role in disbursing hundreds of millions of dollars in aid from the federal government, including launching the Pandemic Emergency Technical Support Grant program. At $101 million, it's the largest small-business support program in the history of Nevada.
He also launched the Transforming Opportunities for Toddlers and Students Grant Program, which used $5 million in funds from the American Rescue Plan to provide grants to children with disabilities through ABLE accounts, which are tax-advantaged savings accounts designed for people with disabilities.
"Through my leadership, I not only protected Nevada's finances during the pandemic, but I also oversaw the largest small business aid program in state history," Conine said. "I helped distribute $278 million in emergency rental assistance to over 53,000 households and negotiated the bipartisan agreement that generated an additional $200 million for public education."
As the only Democrat in the race, Conine received endorsements from fellow Democrats Sen. Catherine Cortez Masto, Rep. Dina Titus, former Assemblyman Nelson Araujo and others.
Bryan Elliott, a Libertarian candidate, and Margaret Hendrickson, an Independent American candidate, have filed for the state treasurer race but do not have public profiles.
Conine reported raising $145,000 during the first quarter of 2022, a third of what he raised in the full year of 2021, spending $385,000 and ending the quarter with about $200,000 in cash on hand. He added that his campaign placed the largest television advertising buy in Nevada history in a state treasurer's race at $368,200.
"I'm looking forward to continuing to meet with residents across Nevada to highlight all that we've been able to accomplish since 2019, as we build a more resilient state going forward," Conine said.
Republican primary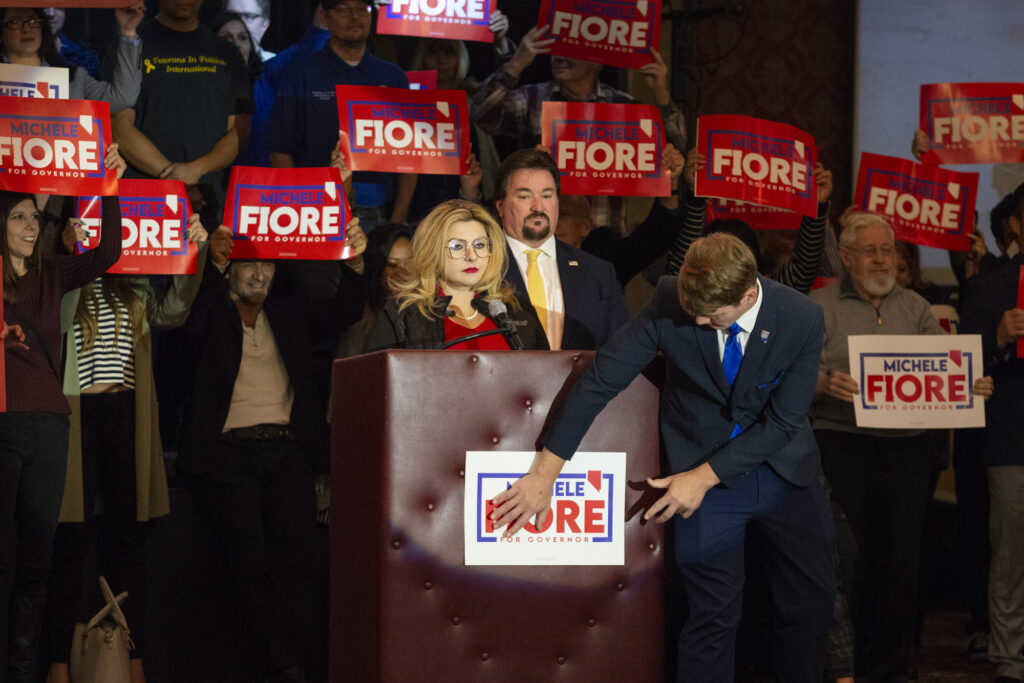 Both Republican candidates, Fiore and Kess, have called for changes in how the state has been managing its finances.
"I have spent my entire life fighting for Nevada and our America First agenda," Fiore wrote on Twitter on March 17. "With sky-high inflation, a crumbling economy, and gas over $5 a gallon, every patriotic American needs to get into the fight for our state and nation. That's why I'm running for Nevada State Treasurer."
Since 2017, Fiore has been a member of the Las Vegas City Council. She launched a campaign for governor last fall but withdrew and switched races just ahead of a deadline to formalize her candidacy, citing guidance from "Trump's team."
Fiore's campaign did not respond to multiple requests for an interview for this story.
Born in Brooklyn, New York, Fiore has lived in Nevada since 1993, according to her campaign website. She has worked as an actress, a film producer and the founder and owner of a home health care services company.
Fiore is a former member of the Assembly, representing a northwestern Las Vegas district from 2012 to 2016. She did not seek re-election to the Assembly in 2016, running instead for Nevada's 3rd Congressional District, a race she lost to Danny Tarkanian in the Republican primary by about 4,000 votes.
She has also served on the Metropolitan Police Department's Use of Force Review Board and as a volunteer for the Trauma Intervention Program and the Metropolitan Police Department's SWAT team. Additionally, Fiore is a member of the National Rifle Association, the Front Sight Firearms Training Institute and the Second Amendment Sisters.
Over the course of her political career, the outspoken Fiore has been at the center of several controversies. She has made "racially charged remarks" at the Republican Party convention in 2020 (leading to her stepping down as Mayor Pro Tempore) and called the vaccine mandate "unconstitutional." She has also been subjected to an ongoing campaign finance probe by the FBI; Fiore has said the federal investigators are just doing their duty and has maintained that the accusations are false.
Fiore raised $142,000 last quarter but spent nearly twice as much — almost $263,000. Of the amount, about $140,000 went to consulting firm McShane, LLC. She has just under $36,000 cash on hand heading into a Republican primary.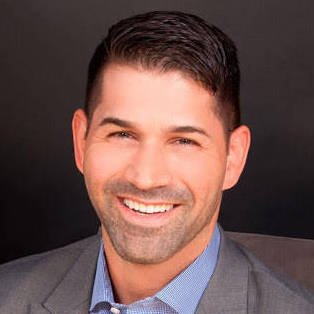 New to politics, Kess said he was motivated to run because of how the state managed the pandemic in 2020. He announced his intention to run in April 2021.
"[In 2020], we were devastated because we didn't know what was gonna happen," Kess said at the Hispanics in Politics event. "We thought it was the end of the world. Our state did a very poor job of handling the situation because we had one individual who decided to play God and said you are essential. So that's why I got off the couch and decided to run because I think we need accountability."
He said Conine hasn't used his position to its full capacity and that he would have done more to distribute federal relief during the pandemic.
"We received billions and billions of dollars that just sat in the state's coffers," Kess said. "It wasn't localized and mysteriously now, [the governor and the treasurer] are starting to put that money to work. Well, it shouldn't be political."
The funds were approved in March 2021 by Congress but lawmakers have until 2024 to allocate the state's $1.9 billion general use share, and the Legislature as of this month has disbursed about half of the allocation.
A native of New York, Kess moved to Nevada in 2011. He is the founder and owner of a Las Vegas hospitality company called The Kess Group — a custom-event creation agency. He said he has been in business for 20 years and has invested in half a dozen companies.
He argued that the state treasurer position requires someone who has owned businesses and knows how to make a payroll and balance a budget. However, records indicate that his previous employee filed suit in New York against Kess for unpaid wages and a settlement was reached.
Kess also came under fire for posting offensive tweets and defended himself in an email to a reporter at the site Occupy Democrats by saying, "Although far from perfect I do respect everyone." The original tweets have since been deleted.
Kess criticized state elected officials for contributing to "crippling" the state. And he said his GOP opponent, Michele Fiore, who has name recognition and a "vivid past," should be included in the list of politicians who did not help the people in times of need.
"I think people are aware that just because you've been in politics for many years doesn't mean you're the best candidate to be a state treasurer," Kess said.
If elected, Kess said one of the things that he would like to do along with legislators is seeing where the state's money is going, and making sure it's being used the right way.
Under the existing system, the governor and executive branch develop a detailed budget proposal, and the Legislature spends four months every two years vetting and adjusting the draft through frequent meetings during the legislative session.
"I've spoken with many legislators and they all say the same thing — that by statute, the budget is balanced," he said. "But in reality, nobody really takes a look and sees where the money's being spent."
Kess has received support from former Lt. Gov. Mark Hutchison. He has put a considerable amount of his own money, nearly $150,000, into the race so far, and reported having almost $517,000 cash on hand.
At an event hosted by Hispanics in Politics early this month, he said the state needs to rethink how to improve the quality of education in Nevada.
"In our state, all of our money's gone because we fund education," Kess said at the event. "Every year for the past 10 years, that number gets higher. And every year for the past 10 years, we have been the 49th in the country."
He added that Nevada has become a "flyover state," meaning people leave California and they either go to Tennessee or Florida because they have better school systems.
"Here's a fun fact," Kess said. "On average, a student in Florida and a student in Nevada pay the same amount of money. We are 49th and they are fifth."
Kess said the problem is caused by misappropriation of money and that it hasn't changed in 20 years because the same elected officials jump from position to position. He said the solution is to put people who care about the state and have careers outside of the elected positions in office.
"Everyone in this room needs to be held accountable," Kess said at the Hispanics in Politics event. "Because our state legalized marijuana years ago … So is the tax revenue going to education? It is not. But no one in this room is getting up and yelling and saying, 'Hey, assemblyperson, state senator, governor, where's our money?'"
Though complaints about marijuana tax money not flowing to education have become common, tens of millions of dollars in marijuana tax proceeds have in actuality been flowing to schools each year. While a legislative maneuver in 2017 meant marijuana proceeds were initially directed to the state's Rainy Day Fund, proceeds from a 10 percent excise tax on marijuana sales have been flowing directly to the state's main education account since 2019.
In a follow-up interview, he said there needs to be more transparency and clarity as to where the money is going (the Legislature's recent move to redesign its decades-old education funding formula was aimed in large part at increasing transparency about school spending). He called for auditing Clark County and Washoe County school districts for a "deep dive into the education budget."
Kess also defended his lack of direct experience in public sector finance.
"Although I don't have a ton of experience in the public sector on paper, I have over 25 years of business experience balancing budgets, handling payroll, stretching dollars," Kess said. "So you team that up with being able to motivate a staff and I think you have a recipe for success."