Brothel owner Dennis Hof as seen at the Moonlite Bunny Ranch outside of Carson City on May 17, 2018. Photo by John Byrne
Dennis Hof plans billboard campaign naming Heller and Laxalt — after they disavowed him
August 7th, 2018 - 1:47pm
Brothel owner and Republican Assembly candidate Dennis Hof says he's preparing a billboard campaign that links himself with Dean Heller and Adam Laxalt — two prominent Republican candidates who distanced themselves from him shortly after his primary victory.
Hof said an order was placed Monday for billboard trucks, billboard trailers, and more than a dozen static billboards that say "The Winning Team! Laxalt-Hof-Heller." He said the signs should be posted within a few days and will run for about a month at locations inside and outside of Assembly District 36, where he's running and which includes Nye and portions of various other counties.
"It is an off-handed F-U," Hof said, adding that "hell yes it's going to help them."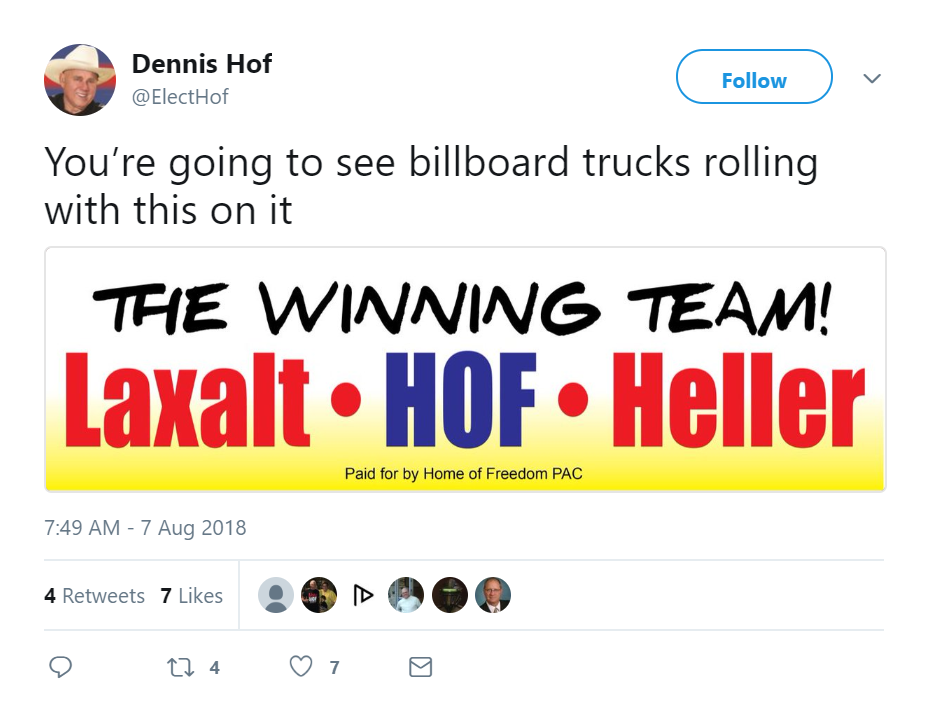 Heller's campaign said such a sign would be illegal because it's apparently paid for by Home of Freedom PAC, which is a state-registered entity.
"Dean Heller has made it clear he does not support Dennis Hof," said Heller campaign spokesman Keith Schipper. "This is being done by a third party and we assume that these billboards will not actually be displayed since it would be illegal for a state PAC to promote a federal candidate."
In response, Hof later tweeted that he would change the disclosure to read "Paid for by Dennis Hof."
The Laxalt campaign didn't immediately reply to an inquiry about whether it would seek to stop the use of Laxalt's name on the billboards because he doesn't want to campaign with Hof.
A few days before the June primary, Laxalt's campaign had sent a cease-and-desist letter to Hof's opponent, caucus-endorsed incumbent Assemblyman James Oscarson, telling him that Laxalt had not endorsed Oscarson or anyone in the race.
"It was a grave error and unacceptable for any Adam Laxalt references of images to be featured in Oscarson 2018 campaign material. Please remove Adam Laxalt references, quotes, photos, and likeness from all campaign material immediately," wrote Laxalt campaign Kristin Davison.
Soon after Hof defeated Oscarson in the primary, a cascade of top Republicans announced they wouldn't support his candidacy.
Attorney General Laxalt, the Republican gubernatorial nominee, was first to do so in a radio interview the morning after the election. Then, Gov. Brian Sandoval, attorney general candidate Wes Duncan, lieutenant governor candidate Michael Roberson and Sen. Dean Heller followed suit. Later, the Assembly Republican Caucus said it wouldn't endorse Hof.
"Adam respects the will of the voters in District 36. However, as a husband and a father of two young daughters, he has stated that he will not be supporting Mr. Hof's campaign," Laxalt campaign spokesman Parker Briden told the Las Vegas Review-Journal in June.
Hof is unabashed about his profession, which has given some Nevada leaders heartburn. Several women who previously worked in the brothels have accused him in media and police reports of sexual assault or unwanted sexual advances, although prosecutors have not filed charges in those cases (at least one report was filed after the expiration of a four-year statute of limitations).
Hof has called the allegations unsubstantiated and says they're the work of his political opponents.
In spite of the Republicans' trepidation about Hof, he is poised for a victory in the district because of its 19-point Republican registration advantage. He'll face off with Democrat Lesia Romanov, a teacher and political newcomer who hopes to pick up Republican votes and has taken centrist positions, including an openness to school choice and opposition to expanded gun control measures.
"We don't want our Legislature to be an embarrassment across the nation," she said in an interview last week with KNPR. "With my opponent, I see that his focus is how can he get more media coverage. How can he get more business for his own businesses."
Hof said he's planning to work with whoever is willing to join him if he's elected and then excluded from the Republican caucus. He also said he would also be interested in deposing Assemblyman Jim Wheeler, the leader of the GOP caucus that said it won't endorse or support any candidate in the AD36 race.
At the same time, he said he's still supporting Laxalt and Heller in the name of party unity.
"I'm going to be above these guys even though they're not supporting me," Hof said. "I'm a good team player."
Updated at 4:10 p.m. on Aug. 7, 2018 to reflect Hof changing the disclosure on the ad.
From the Editor
The Nevada Independent
is a 501(c)3 nonprofit. We need help to attain the elusive goal of sustainability. We depend on recurring donations from you, the readers who believe in our mission of nonpartisan, transparent journalism. I know you are busy. I know you have many commitments. But if you would take a moment to
support our work
or bump up your current donation, I would be forever grateful.
Thanks for all of your support.
Best,
Jon Ralston
get our morning newsletter,
The Daily Indy
Double your generosity!
Between now and Dec. 31, every donation of up to $1,000 will be matched by a group of national foundations in support of local, nonprofit journalism.
Your donation is also tax deductible, so don't delay — give today.
#NewsMatch
@TheNVIndy ON TWITTER