The Nevada State Legislature's building as seen in Carson City on Feb. 6, 2017. Photo by David Calvert.
Departing director of Nevada Department of Taxation to launch bid for Assembly
January 30th, 2018 - 1:07pm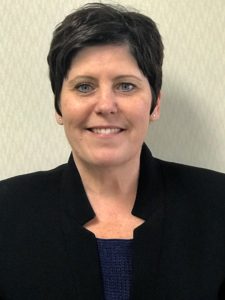 The departing director of the Nevada Department of Taxation plans to launch a bid for Assembly in a Reno-area district, and she's getting an endorsement from Assembly Democratic leaders.
Deonne Contine, who announced on Friday that she will leave the taxation agency on Feb. 9, said Tuesday that she'll be seeking the seat held by Democratic Assemblywoman Joiner. Joiner announced earlier that she wouldn't seek re-election, citing the financial strain of serving in the part-time Legislature.
"I am excited to take this next step in public service," Contine, 49, said in a statement. "I am committed to fighting to make healthcare more affordable and accessible for all Nevadans, increasing funding for our children and schools, and strengthening protections for Nevada's natural heritage and resources."
Assembly District 24, which includes the campus of the University of Nevada, Reno, has a 2-1 Democratic voter registration advantage over Republicans.
As head of the Nevada Department of Taxation since November 2014, Contine oversaw the implementation of the Commerce Tax on large businesses that passed in 2015, and the implementation of Nevada's recreational marijuana law.
Earlier this month, the Nevada Tax Commission passed permanent regulations on the marijuana industry, marking one of the last major milestones in getting Nevada's pot oversight up and running. The department has been praised by national observers for a smooth roll-out of its recreational marijuana law and for getting preliminary regulations in place that allowed sales to begin six months ahead of schedule.
Contine, who was born and raised in Las Vegas, was the first in her family to go to college when she started attending a junior college in her 20s. She later graduated with a political science degree from the University of California, Berkeley and went on to graduate with a law degree from UNLV's Boyd School of Law.
"I am interested in education. For me it honestly is the single most important decision I made that has allowed me to achieve what I've achieved," she said in an interview, adding that she wants all children to feel they have upward mobility.
Contine had been involved in politics in her younger years, completing an internship in Washington, D.C. during college, working on a half dozen campaigns including Al Gore's presidential bid in 2000 and working at the Democratic National Committee. She also served a stint on the Carson City School Board in 2015 and 2016.
She has one son, Will, who is 14 and now attends Davidson Academy, a school for gifted students that's located on the campus of UNR.
More recently, she worked in the Nevada Attorney General's Office and then as deputy director of the taxation department. She said she has Democratic values but is also familiar with the concerns businesses have as they seek to comply tax law, such as the Commerce Tax.
"I'm unique as a candidate," she said. "I do know that there's a lot of steps and there's a lot of stuff that goes into getting anything done, and I think that ability to get stuff done will serve the citizens."
When she leaves the tax department early next month, she'll be taking a job in Reno with the law firm Kaempfer Crowell, which has worked with marijuana industry clients to file license applications and comply with regulations and whose roster includes Carson City Mayor Robert Crowell as a retired partner. She said she expects to work on issues including regulatory compliance and tax compliance, but will avoid working with clients on audits that are active before the taxation department.
Contine said she'll also follow the advice of counsel to avoid conflicts between her day job at the firm and bills that come before the part-time Legislature if she's elected.
After helping stand up Nevada's recreational marijuana regulations, she said she's interested in ensuring the market does well.  
"I care about the marijuana program. I care about it being a well-regulated program that [promotes] public health and safety and allows businesses to flourish," she said. "I feel this is something we really need to get right."
Democratic Assembly Speaker Jason Frierson pointed to Contine's expertise in endorsing her.
"Deonne brings a wealth of institutional knowledge, experience, and expertise to both the Caucus and the State Legislature," he said in a statement. "I am confident Deonne will be a dedicated fighter for all Nevadans and I look forward to her joining the Assembly."
From the Editor
The Nevada Independent
is a 501(c)3 nonprofit. We need help to attain the elusive goal of sustainability. We depend on recurring donations from you, the readers who believe in our mission of nonpartisan, transparent journalism. I know you are busy. I know you have many commitments. But if you would take a moment to
support our work
or bump up your current donation, I would be forever grateful.
Thanks for all of your support.
Best,
Jon Ralston
get our morning newsletter,
The Daily Indy
Double your generosity!
Between now and Dec. 31, every donation of up to $1,000 will be matched by a group of national foundations in support of local, nonprofit journalism.
Your donation is also tax deductible, so don't delay — give today.
#NewsMatch
@TheNVIndy ON TWITTER