Dilemma for local governments: Approve new marijuana dispensaries during legal tumult?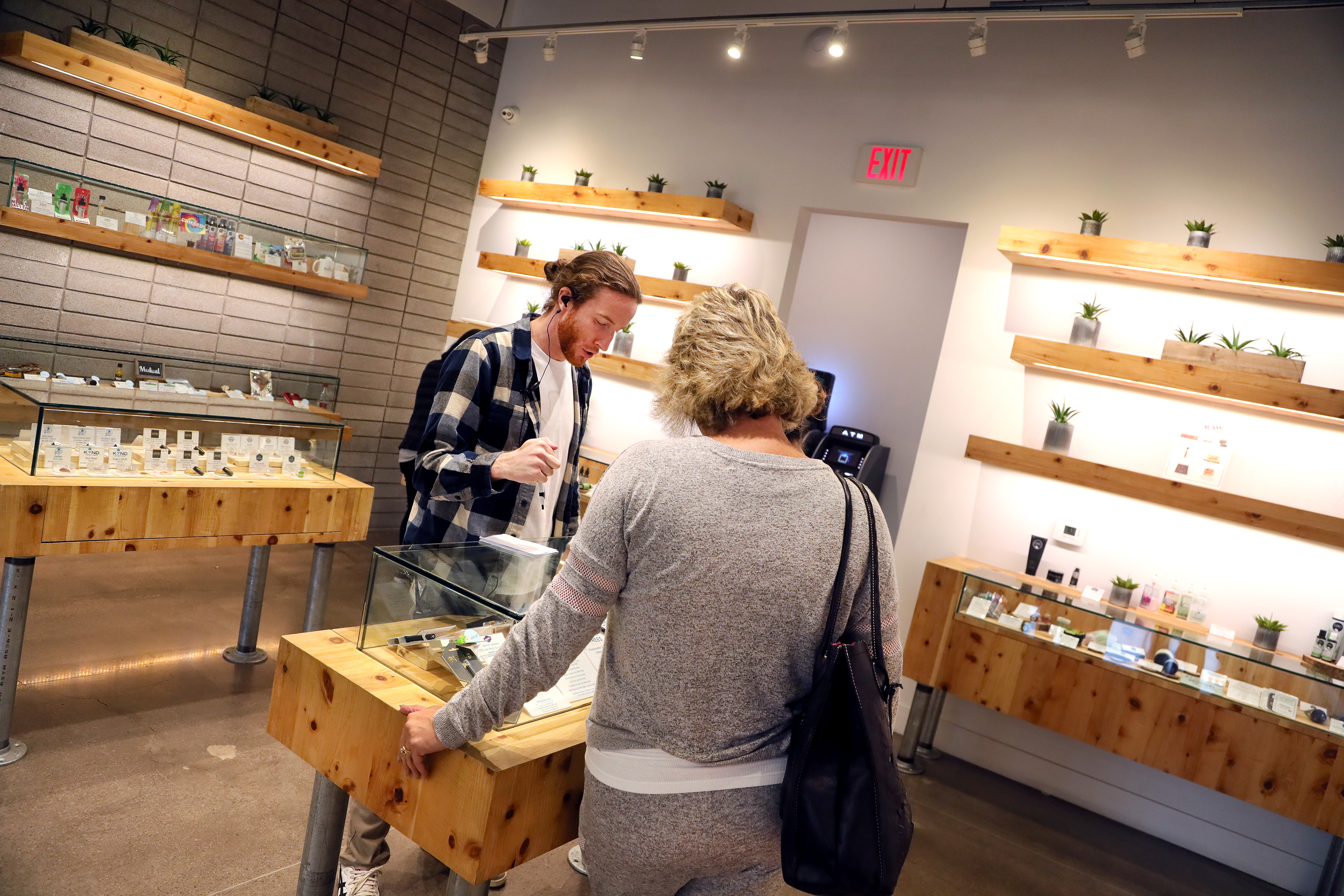 Ongoing lawsuits over marijuana dispensary licensing are creating extra headaches for local government officials, who have to decide whether to give local sign-offs to businesses whose fate is still an open question in the courts.
The dilemma was on display this week at the Clark County Commission and last week at the Reno City Council. Marijuana companies that won conditional licenses want to move forward with their projects before the permits expire in December, while elected officials fear the unresolved lawsuits in the background could put them on shaky legal ground by approving dispensaries.
"I feel like … because it's in the middle of a lawsuit, we're putting the cart before the horse," Reno Mayor Hillary Schieve said last week before casting the lone vote against licensing a new storefront for The Source. "Are there some council members that are fine with that? I'm not."
The problem stems from the state's decision in December to award 61 conditional licenses for marijuana dispensaries to 17 business entities. Some of the people who submitted the other 400-plus license applications that were unsuccessful have sued, arguing the vetting process was unfair, influenced by personal relationships between business people and state employees, and altered midstream.
After several months of court proceedings this summer, Clark County District Court Judge Elizabeth Gonzalez issued a partial injunction, agreeing that there were flaws with the state's process and the state should refrain from allowing certain dispensaries to open if there were not full background checks on all owners. The four businesses that are subject to the injunction — including the parent company of The Source, which won seven licenses in the disputed round — are working to get the freeze lifted.
But a separate lawsuit that was expanded and re-filed earlier this month makes further claims of malfeasance by state regulators, and is seeking for the licensing round to be thrown out.
In the middle of the legal wrangling, six marijuana businesses in Clark County who won licenses in December and are not subject to Gonzalez's injunction want to move forward and get permits from the county.
"I don't think we should be in the position of putting our fingers on the scale and saying, 'oh, because there's lawsuits, there's allegations, that we don't want to go forward,'" Commissioner Tick Segerblom, a longtime cannabis advocate sometimes described as the godfather of marijuana in Nevada, said in the meeting on Tuesday. "These people have licenses, they need to go forward, and there's no court stopping them so I would ask that we still go forward."
He said the risk of opening now is all on the dispensaries — they're on notice that the lawsuit exists, and if the plaintiffs prevail and they lose state authorization, any financial loss is on the business. Segerblom argued for letting the dispensaries move forward as a way to diversify the industry, pointing out that one company in Clark County has 10 percent of the Nevada market.
"I'd hate to see just a handful of people get rich because we are artificially limiting the people who can get involved," he said.
The county has not been sued, but county staff said it could be possible that down the road, companies that did not win a license might sue municipalities to prevent the process from moving forward. In the end, commissioners clarified that the six dispensaries could continue the process of seeking local-level approvals.
Meanwhile in Reno, the council gave its blessing for The Source to open a new location in the city, even though its parent company — Nevada Organic Remedies — is subject to Gonzalez's injunction and state regulators are not allowed to give it a final inspection. Council members likened their move to giving ordinary businesses a conditional license even if some steps — such as a health inspection — are not complete.
"I don't have a problem in light of my understanding that they are in compliance with all of our regulations and code," said City Attorney Karl Hall. "If the litigation results in their license being revoked … then that's an action taken by the court in Las Vegas and the state."
City Councilwoman Jenny Brekhus argued that the city should stay in its lane, saying that holding off on the local approvals would be "falling into that trap and becoming party to this drama, which may or may not have value."
And Will Adler, a lobbyist representing The Source, urged approval on the grounds that the dispensary would be serving a new section of Reno and employing 35 people.
"Please look at the dispensary as it is at a city level and for what it could do for the city of Reno," he said. "We're held up in the state's own injunction for now. That's being worked on.
Hopefully we're going to get a response from [the] Department of Taxation shortly. But as of today, we're ready at the city level to serve the City of Reno."
Schieve countered that in light of serious accusations questioning the validity of the state's licensing process, it was time for extra scrutiny.
"We're living in a different time from whenever we started to issue these licenses," she said. "That's just the ... nature of the beast that we're going to ask you these questions after seeing those things that come out."
In a later interview, she said she was disappointed the council pressed forward in spite of the shifts in the marijuana landscape.
"I just felt like we had an opportunity to put things on pause, wait to see what the direction was from court and be able to make that decision," she said. "I feel like the city rushed it."
Comment Policy (updated 4/20/2021): Please keep your comments civil. We reserve the right to delete comments or ban users who engage in personal attacks, use an excess of profanity, make verifiably false statements or are otherwise nasty. Comments that contain links must be approved by admin.