Districts work hard to adapt nutrition programs for online learning, but many children still face barriers to access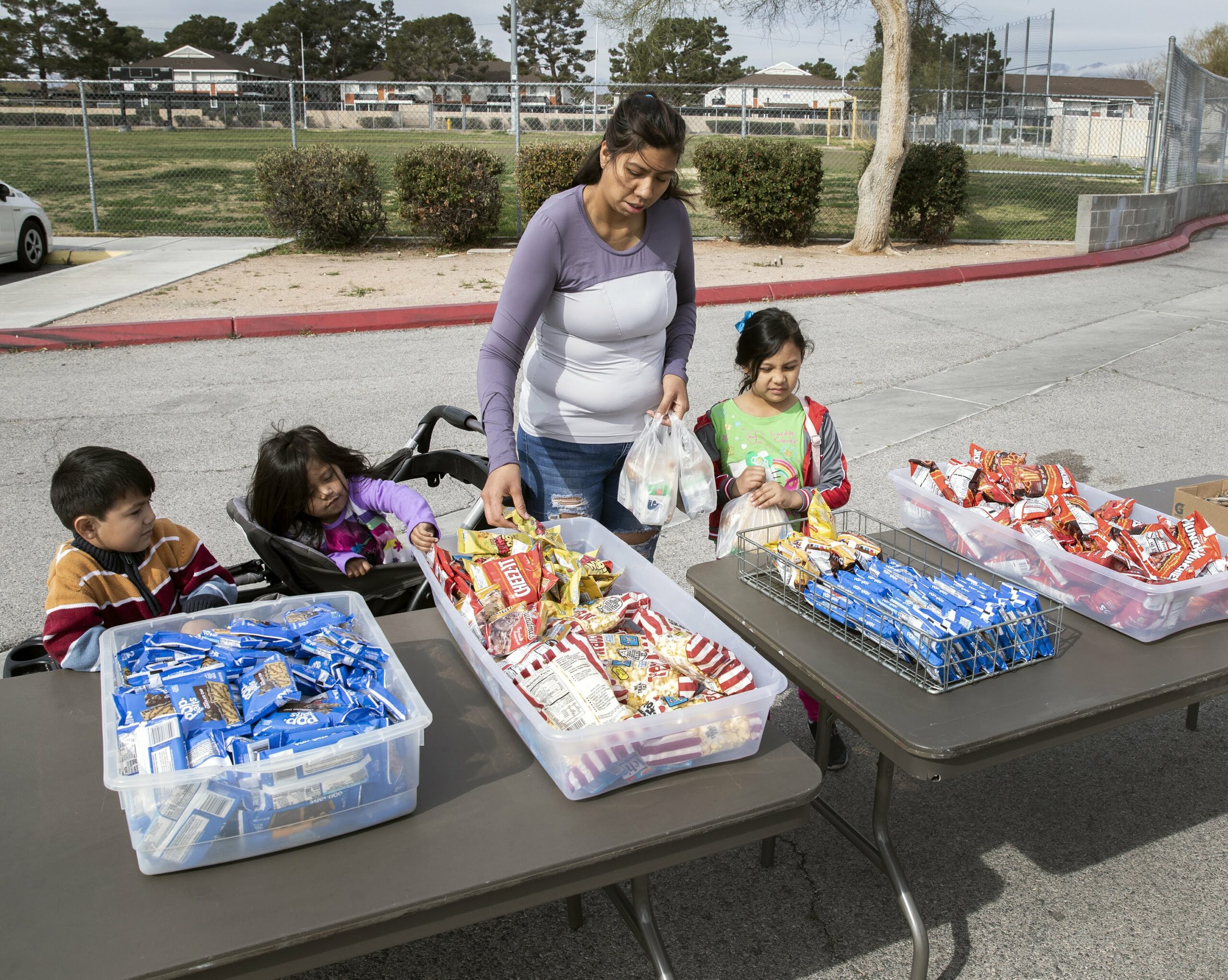 Editor's note: Please check out Kristyn's recently updated COVID-19 resource guide which includes a variety of back-to-school support for families.
Most Nevada students have had broad access to meals through school distribution sites since the pandemic began. But as school resumes, they face tighter ID restrictions, the continued hurdle of getting to the distribution site each day, and — for some — the obligation to start paying for the meals once again.
Free meal distribution sites operating in the state throughout the spring and summer allowed schools to provide free food to all children between the ages of 2 and 18. Clark County, the state's largest school district, has requested an extension of Department of Agriculture approval for a continuation of that service, but nothing has yet been granted. As of Monday Aug. 24, every district in the state will resume participation in the National School Lunch Program, which offers free meals to some, but not all, students.
"One of the tragedies of the circumstance is being able to get food to children, and schools are so vital in being able to feed children who are food insecure and without access. The school district is doing a really marvelous job to do everything they can, but we know and they know there's a gap," said Larry Scott, the chief operating officer of Three Square, the major food bank of Southern Nevada. "We're doing the best we can to fill the gap that they are unable to fill."
The National School Lunch Program is partially federally funded and helps provide nutritionally balanced meals to children by reimbursing schools that offer free and reduced-price breakfasts and lunches to eligible students from low-income households. National data shows that receiving free and reduced-price lunches reduces food insecurity rates by 3.8 percent and poor health rates by 29 percent.
Nevada's food insecurity rate, the number of households who don't have guaranteed access to nutritional meals, was at 12.9 percent pre-pandemic and has been growing since March. As of June 2020, of the 500,860 students enrolled in public schools in Nevada, more than 333,000 children qualified for free and reduced-price school meals through the program. 
As the program resumes, children who are not eligible for the free and reduced-price lunches and children who are not enrolled in schools because of age or homeschooling status will no longer be able to access meals through school sites, with students or their parents now required to present identification to receive their food. Under USDA waivers, meal sites throughout the state did not require any form of ID.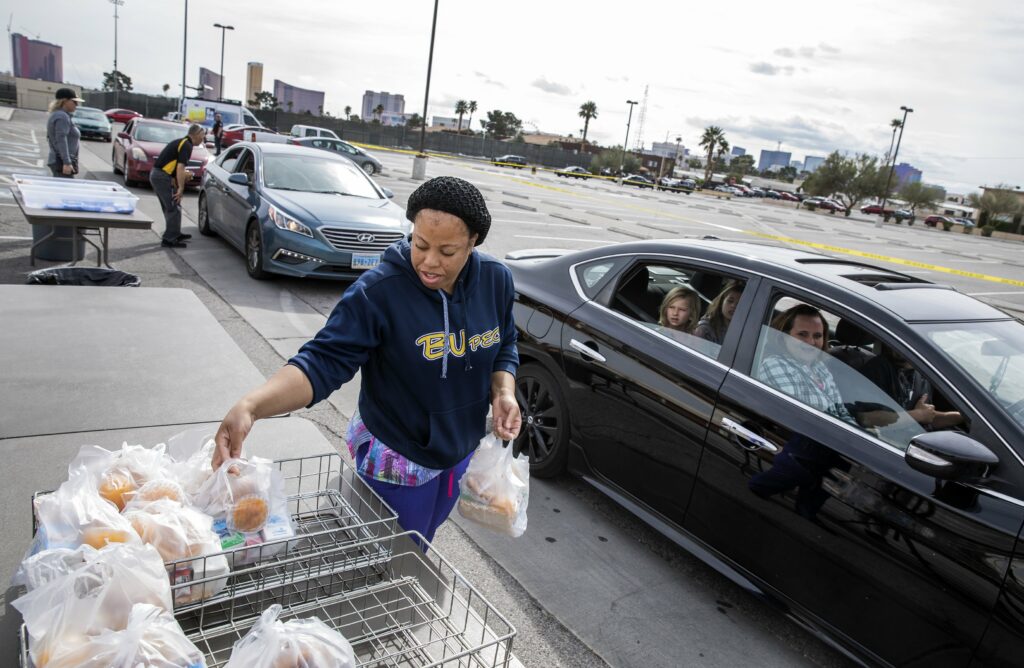 Variations by district
In order to re-open, each district in the state was instructed to develop three potential learning models for the 2020-2021 school year — one that would allow for students to fully return to campuses, one that allowed for hybrid learning, and one distance-learning model where students would work entirely from home.
Depending on the risks school boards in each county perceived and the ability for its schools to enact social distancing measures, each district determined how students will be learning — and obtaining meals — this fall.
For some, it's business almost-as-usual. In Esmeralda County, students will return full-time and be served meals in socially distanced cafeterias or will eat in individual classrooms. Students have a voluntary online option which, if they choose to use it, will require that families pick up meals from a nearby school each day.
In many other districts, including the Washoe County School District, the second-largest in the state, students will participate in a hybrid learning model with elementary school students returning to school full-time and middle and high school students attending school in person every other day on an A-B hybrid schedule.
Elementary students will receive daily meals and students on the A-B hybrid schedule will be served normally during their in-person days and have meals distributed to them at the end of each of those days for the following online day. In some smaller districts, students on hybrid schedules will have to come to the school on their online days to pick up meals.
Students who choose to use the full distance learning option in Washoe will have to apply online for meals and then pick them up from a nearby school. The same is true in many districts in smaller counties, including Douglas, where district staff say they plan to send parents enrolling their students in the distance learning option a Google form to help determine how many meals will need to be prepared and where to best serve them.
In the Clark County School District, where the school year will be fully online, students and parents will be able to pick up meals from one of more than 300 school meal sites open Monday through Friday. Individuals can pick up one breakfast and one lunch every day as long as they provide valid identification proving their child is enrolled in a CCSD school.
The district has applied for an extension of the waiver that would allow them to keep free meal sites running as they did throughout the spring and summer, but have not received any confirmation of its approval from the U.S. Department of Agriculture.
Joe Dibble, school nutrition supervisor for the Nevada Department of Agriculture, said the department has been working closely with school districts to make sure meal service options are available to students, and said it is important for families who think they may be eligible for free meals to apply as soon as possible.
Families must apply for these benefits through their own school districts. Applications for meals in Washoe and Clark counties are online. Some smaller districts, such as the Nye County School District and Churchill County School District, do not require applications for the program; instead, all students automatically qualify. Parents should contact their child's district for more information.
There are some policies that were in place even prior to the pandemic that may make it easier for students to access meals whether or not their parents apply, and are deemed eligible, for free and reduced-price lunches.
One of these, the Community Eligibility Provision, provides free breakfast and lunch to all students at schools in high-poverty areas even if their households are not individually eligible for free meals. This program is what has allowed smaller districts to provide free meals to all students without application.
The Clark County School District released a list in August of which of the more than 300 schools distributing meals are participating in the program. In Washoe, 39 schools participated as of the 2019/2020 school year.
Students at these schools will not need to fill out any applications to receive free meals, instead they must only present valid ID at the time of pick-up. Additionally, in Clark County, students at all schools receive free breakfasts without application.
Barriers to access
While districts are working to ensure that meals are still available for enrolled students regardless of the school's learning model, distance and hybrid learning still makes access to food less direct. Accessing breakfast and lunch provided by the schools now requires resources parents may not have.
Traditional summer meal programs operate similarly to new school meal distribution sites, where children must travel from home to a designated site to pick up a prepared meal. When schools are not in session, the national summer meal program reaches only 16 percent of children who need that food.
A contributing factor to children in need not receiving summer meals, even when made free through this national program, is a lack of transportation. Throughout a normal school year, many children rely on school buses, and when they are not available and parents are at work, there is no way for a child to get to a distribution site. This problem will be mirrored at sites operating for online students in the fall.
While the Clark County School District has been considering a program that would allow students to be driven to meal sites using school buses, no decision has been made on that point.
After school programs
Breakfast and lunches served during the school day are not the only meals schools serve that many children depend on. Programs such as Safekey serve snacks and nutritional meals for students before and after school throughout the state.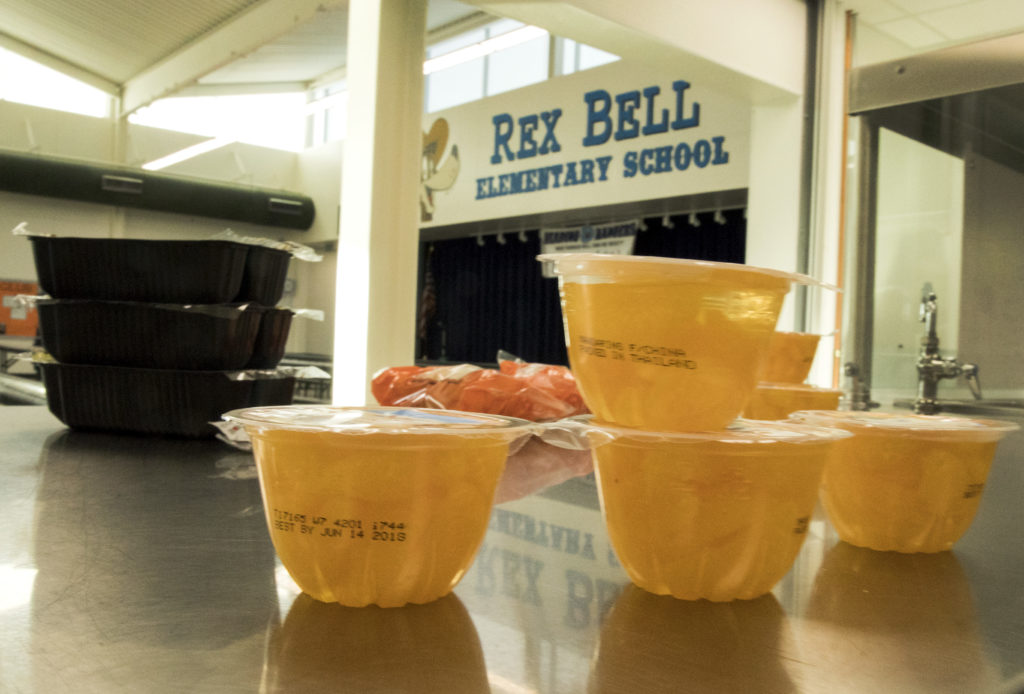 During a traditional school year, Three Square Food Bank in Southern Nevada partners with the Clark County School District to provide free food for after-school programs, preparing and serving 18,000 meals every day.
Three Square served, on average, 3,000 people per day at its emergency distribution sites between March and August. The organization operated 43 sites in partnership with CCSD during school closures in the spring and throughout the summer, but with the district returning to the National School Lunch Program and limiting free meals to eligible students, those free sites will close.
Social distancing guidelines have created multiple roadblocks to the operation of this program for the 2020-2021 school year. With CCSD operating fully online, in-person after school programs will not be taking place at district schools as they normally would.
Three Square is still serving meals at programs taking place at recreation and child care centers throughout the region, but these sites pose the same issues to parents who lack the time and transportation to pick up these meals.
"We're not going to the schools because they don't have the after school meal programs," Larry Scott, the chief operating officer of Three Square, said. "The kids are not being served at the schools, so the only places we can go to are the alternative sites with congregating recreation facilities."
Additionally, the organization is unable to prepare as many meals due to social distancing guidelines that are now enforced in its facilities. Scott estimates that with the limited number of employees that can prepare food, Three Square will be able to serve only 3,000 to 3,500 meals daily — only one-sixth of their previous count.
Supply issues continue
On top of issues with space and manpower, Three Square and the state's other major food bank, Food Bank of Northern Nevada, are facing supply issues that threaten to get worse as the year continues. While the organization has been able to make up for gaps in supply service for now, it may be more difficult going forward.
"For the most part, if we have not been able to secure one particular food item, we've been able to replace it with a nutritious alternative," Scott said. "And so I think we've been able to continue to provide nutritious meals for everybody."
Three Square has seen demand increase by 40 percent since the pandemic began and expects that need to consistently grow. Simultaneously, many of its normal supply sources have been diminished. Programs that previously allowed the organization to "rescue" food from resorts and restaurants yield very little when those businesses are limiting their operations.
To make up the supply gap, both food banks have been participating in the Coronavirus Food Assistance Program. Three Square obtains around 1.2 million pounds of food per month through that and other federal commodity programs. However, in October, Scott says, assistance from that program will end, and organizations will be forced to purchase food in order to keep up with growing demand.
"Our biggest concern right now is that we're going to have to turn towards purchased food far greater than what we've ever had to before," he said. "We're going to need more funding to be able to make up that big, big difference that we will lose in the federal commodities that will expire."
Representatives of both Three Square and the Food Bank of Northern Nevada are working with the Nevada Council on Food Security to develop potential bill proposals for the 2021 legislative session that would provide them with more resources to serve Nevada's food-insecure populations.
Potential proposals include a state food purchasing program, which would enable the state to provide cash grants to counties for the purchasing and distribution of food in order to supplement the donations received by food banks. The council will be meeting again in October to formally approve the bill proposals for the 2021 legislative session.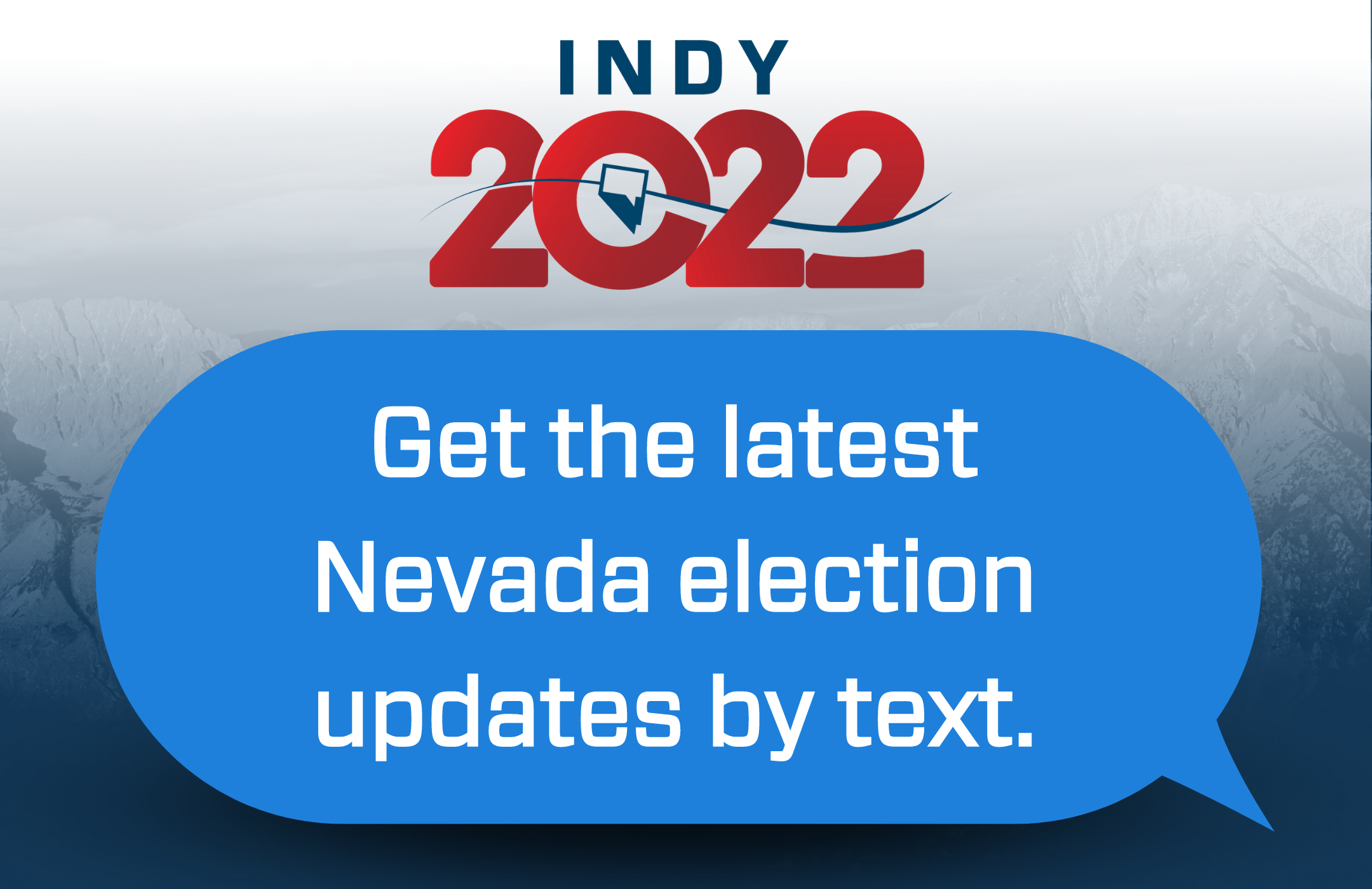 Featured Videos
Comment Policy (updated 4/20/2021): Please keep your comments civil. We reserve the right to delete comments or ban users who engage in personal attacks, use an excess of profanity, make verifiably false statements or are otherwise nasty. Comments that contain links must be approved by admin.