Election Day Live Blog: Rosen defeats Heller in Senate race; Sisolak wins the gubernatorial race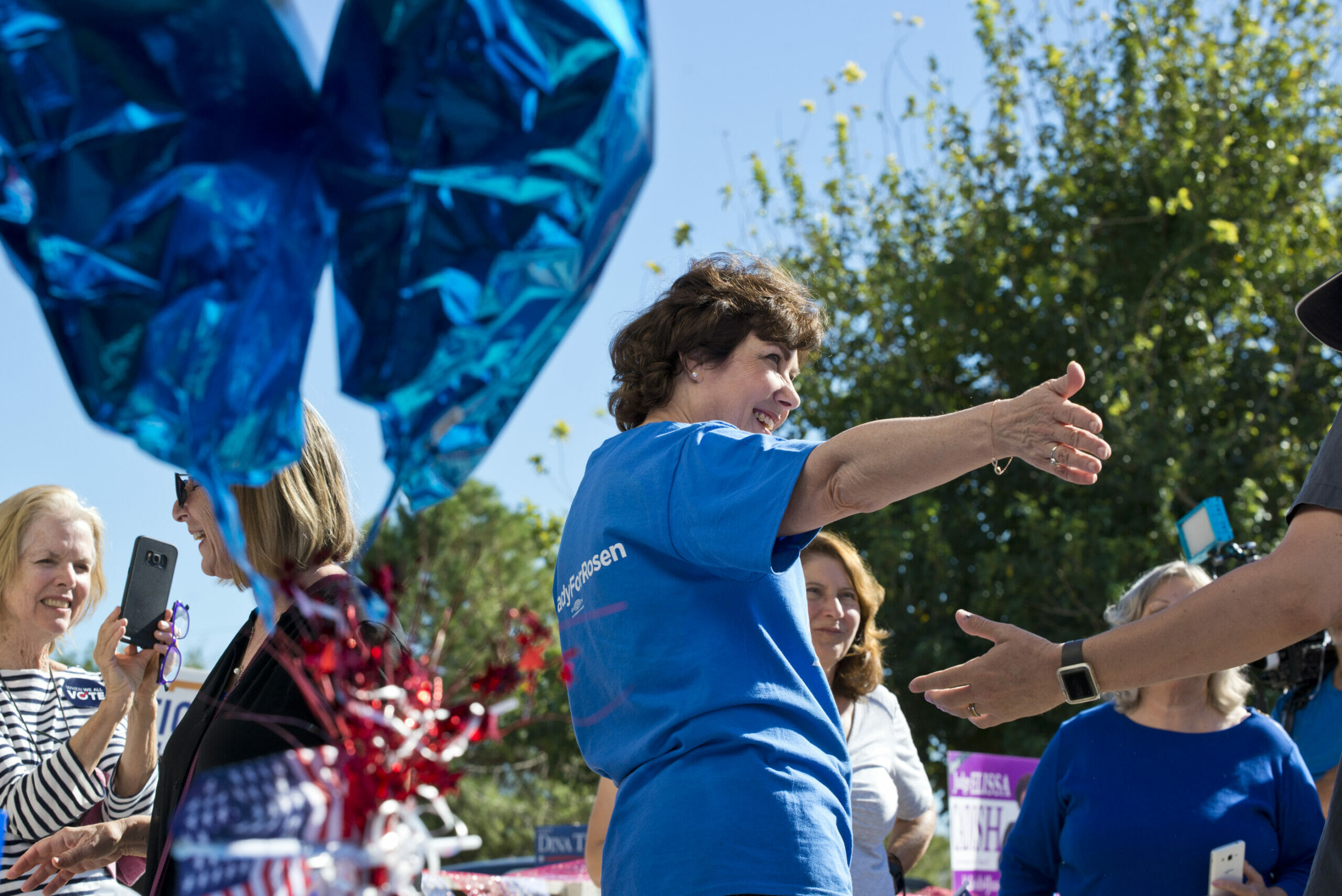 11:55 p.m. — Marshall defeats Roberson in the race for lieutenant governor
The Nevada Independent has called the race for lieutenant governor, declaring Democrat Kate Marshall the victor. Marshall, a former state treasurer, defeated state Senate Republican Leader Michael Roberson.
Democrat Rep. Dina Titus also easily sailed to re-election victory in Nevada's 1st Congressional District, beating Republican Joyce Bentley. And up north, Republican Rep. Mark Amodei did the same in Nevada's 2nd Congressional District. Amodei defeated Democrat Clint Koble in that race.
11:40 p.m. — Energy Choice Initiative fails but all other ballot measures pass
Voters approved all ballot measures with the exception of the high-profile question dubbed the Energy Choice Initiative, according to a Nevada Independent analysis of election results.
The Energy Choice Initiative, easily the most costly ballot question in Nevada history, will go down in defeat following Tuesday's results, a shocking turnaround after the same measure passed on a 72 to 28 percent difference in 2016.
The initiative, which proposed amending the state's constitution requiring a transition away from the current electric monopoly model to a competitive retail electric market by 2023, drove millions of dollars worth of TV, digital and radio ads over a complex energy policy into the homes of Nevada voters, who in turn decided to reject an initiative that many of them likely voted for just two years ago.
The key difference came in the form of an unprecedented $63 million spent by the state's primarily electric utility, NV Energy. After staying neutral on the measure in the last election cycle, the utility swung back hard, and spent more money to defeat the ballot question than raised by any other candidate.
The measure — on the ballot as Question 3 — was largely funded by two entities with a tense history with the utility — the Las Vegas Sands and data center giant Switch. Both companies chafed when assessed multimillion dollar exit fees after applying to leave the utility.
The ballot measures that voters approved include:
Question 1, also known as "Marsy's Law," which gives additional rights to crime victims.

Question 2, also known as the "Pink Tax" exemption, which ends the sales tax on feminine hygiene products such as tampons and sanitary napkins.

Question 4, which exempts durable medical equipment such as wheelchairs and oxygen tanks from the sales tax.

Question 5, which implements "automatic" voter registration.

Question 6,

which boosts the state's use of renewable energy.
11:18 p.m. — Rosen defeats Heller in Senate race; Sisolak wins the gubernatorial race
The Nevada Independent has called the U.S. Senate race for Democrat Jacky Rosen and the gubernatorial race for Democrat Steve Sisolak — indicating a blue wave sweeping the state.
Rosen's victory means the first-term congresswoman toppled incumbent Republican Sen. Dean Heller, who was first appointed in 2011. Sisolak, the chair of the Clark County Commission, beat his challenger, Republican Adam Laxalt, who is the state's attorney general.
Democrat Susie Lee won Nevada's 3rd Congressional District, defeating Republican Danny Tarkanian. Another Democrat — Steven Horsford — sailed to victory in Nevada's 4th Congressional District, garnering more votes than Republican Cresent Hardy.
Tarkanian conceded his race at the Nevada Republican Party's election event at the South Point Hotel and Casino.
"We lost," he said. "Our race is over."
10:30 p.m. — Deceased brothel owner Dennis Hof wins Assembly District 36 race
The Nevada Independent has called the Assembly District 36 race for deceased Republican brothel owner Dennis Hof. He defeated Democratic school administrator and political newcomer Lesia Romanov in a heavily Republican rural district.
Hof died at age 72 less than a month ago at the Love Ranch South in Crystal. Because of the timing of his death, his name remained on the ballot in that district.
His post-mortem victory triggers a complicated procedure that will involve each County Commission in District 36 nominating a person to fill that seat. Then the chairmen of those commissions will meet and cast votes proportional to the share of the population of the district in each district.
Signs were posted at polling places to inform voters in the district that Hof had died, but Republicans launched a campaign encouraging people to still vote for him and prevent the seat from falling into Democratic hands.
10:10 p.m. — Voting has ended in Nevada
All Nevada voters participating in the midterm elections have cast their ballots, roughly three hours after polls closed. Long lines at polling locations delayed the reporting of election results.
The Secretary of State's Office reported just after 10 p.m. that the final votes had been cast in Washoe County. 
8:43 p.m. — Voters still waiting in lines to cast ballots
The Secretary of State's Office tweeted that voters in Clark, Washoe and Lyon  counties were still waiting in lines to cast their ballots shortly after 8 p.m.
Around the same time, the first batch of ballots from polls arrived to the Clark County Election Department.
7:45 p.m. — Candidates await results at various election events
Candidates and their teams are gathering at various locations throughout the state as they wait for election results to roll in tonight.
Republican gubernatorial candidate Adam Laxalt is gathering with his family and supporters at the Grand Sierra Resort in Reno.
Nevada Democrats — including gubernatorial candidate Steve Sisolak, Rep. Jacky Rosen, who's running for Senate, Susie Lee, who's running in Nevada's 3rd Congressional District, and Steven Horsford, who's running in Nevada's 4th Congressional District, among others — are gathering at Caesars Palace for an election night event.
Meanwhile, the Nevada Republican Party is hosting its election night watch party at the South Point Hotel and Casino. The crowd cheered when Republican Sen. Ted Cruz was declared the winner in his Texas race against Democratic Rep. Beto O'Rourke.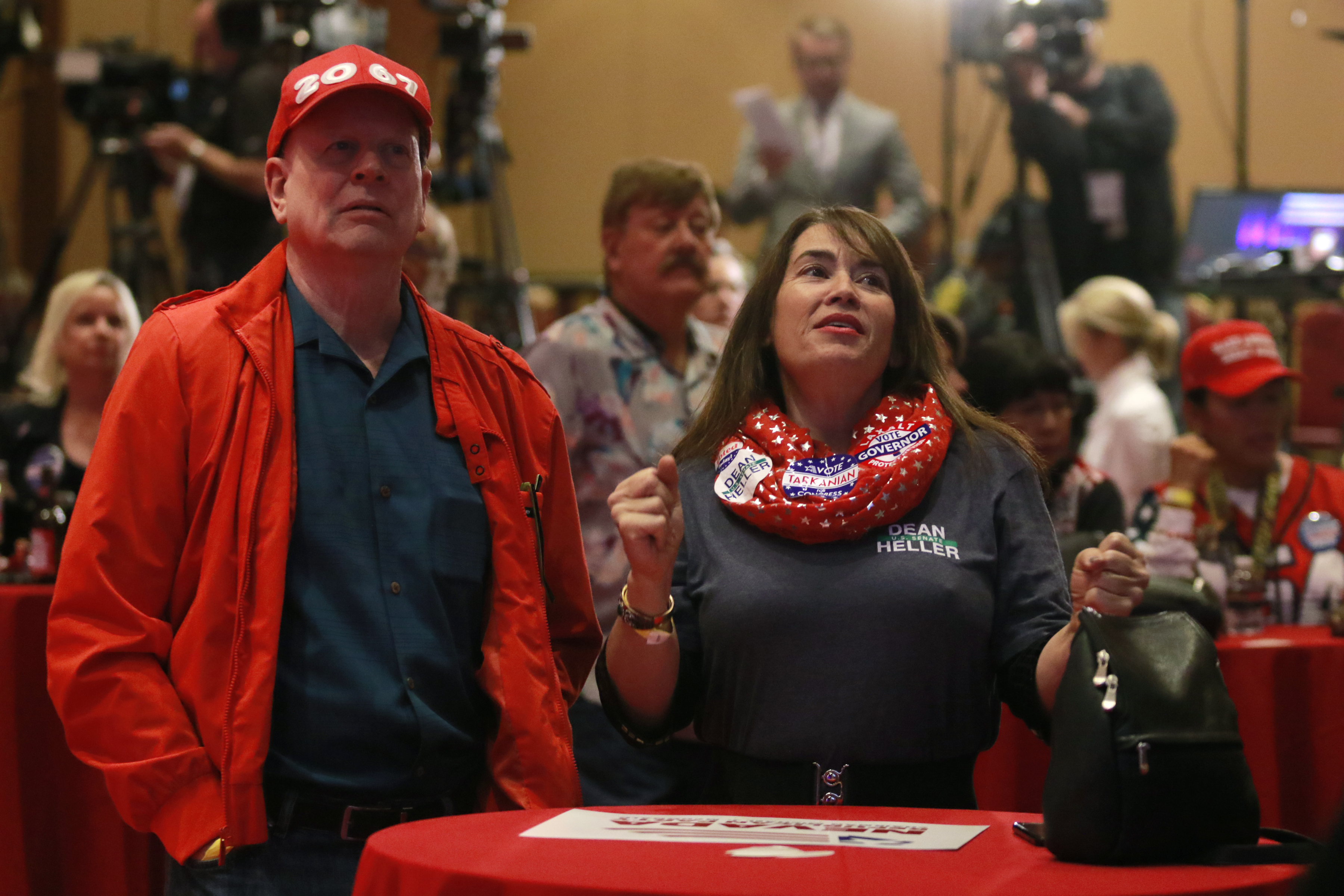 7:00 p.m. — Polls in Nevada have closed
Polls in Nevada closed at 7 p.m., but voters standing in line at that time will be able to cast ballots. The ACLU of Nevada tweeted that it has received reports of long lines at some voting centers in Clark County.
Earlier today, a judge ordered that Clark County Registrar of Voters Joe Gloria must allow Republican election observers to remain in polling places to watch their closure.
5:30 p.m. — Turnout outpacing 2014 midterms
More than 227,000 Nevadans — or nearly 15 percent of active voters — had cast their ballots on Election Day with three hours of voting left to go.
Those numbers come on top of 554,000 ballots cast early (36 percent of active voters) and 227,000 ballots cast absentee (5 percent of active voters).
The total turnout of about 856,000 so far represents 55 percent of active voters. That's already well above the 46 percent turnout rate in Nevada in the 2014 midterm elections.
Of those ballots cast, 580,695 came from Clark County, where about 53 percent of active voters participated. Esmeralda County — one of the least populated areas of the state — posted the best turnout so far, with two-thirds of active voters casting ballots.
Going into Election Day, Democrats had a statewide lead of about 22,000 voters.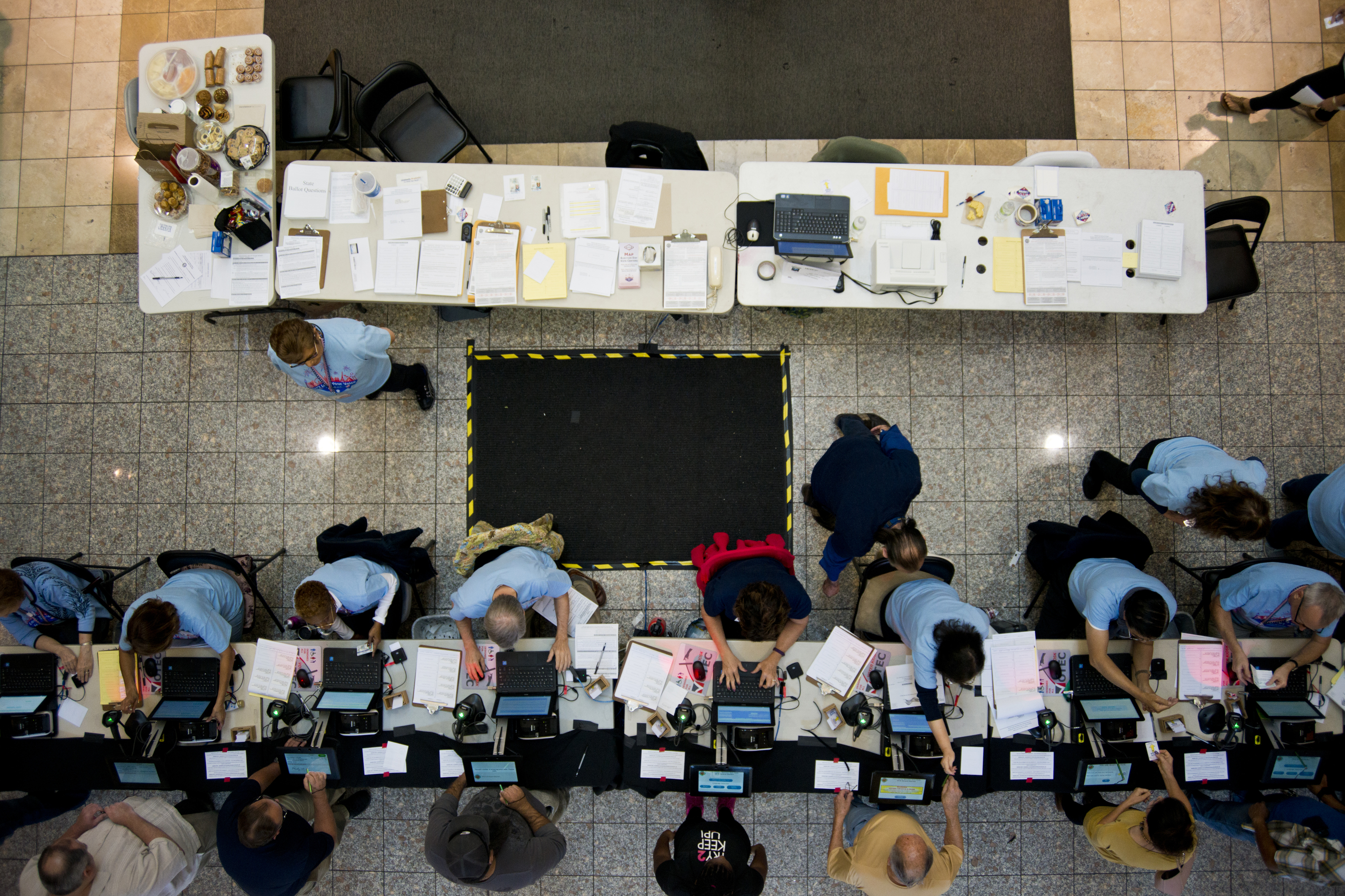 The Nevada Independent is raising $200,000 by Dec. 31 to support coverage of the 2024 election.
Tax-deductible donations from readers like you fund this critical work.
If you give today,your donation will be matched dollar-for-dollar.
Give + Get Matched
Featured Videos