Evictions proceed apace on eve of new moratorium, county commission scrutiny
On the last day before a new state-level moratorium was set to freeze evictions for more than three months, the Las Vegas Justice Court was teeming with people.
A crowd had gathered outside a courtroom on Monday afternoon well before the eviction hearings were set to begin, and as soon as Court Marshal Brian Biggs opened the double doors of the courtroom, people swarmed to form a line and check in first. Inside, the mood was somber — one woman cried as she testified before Judge David Brown on behalf of her mother, who she said could not make her court date because she was in the hospital.
The court has become ground zero of what experts believe will be a wave of evictions, driven by mass unemployment, a raging pandemic and what could be a hard stop at the end of the year in federal aid that has helped Nevadans avoid rock bottom. Nearly 6,000 eviction requests have been filed through the court since the last state-level moratorium ended in mid-October, and nearly 3,000 have been granted — figures that have set monthly records for the court dating back at least a decade.
By midday Monday, 33 people who were filing some kind of eviction document had sought assistance from the civil customer service windows at the Clark County Regional Justice Center.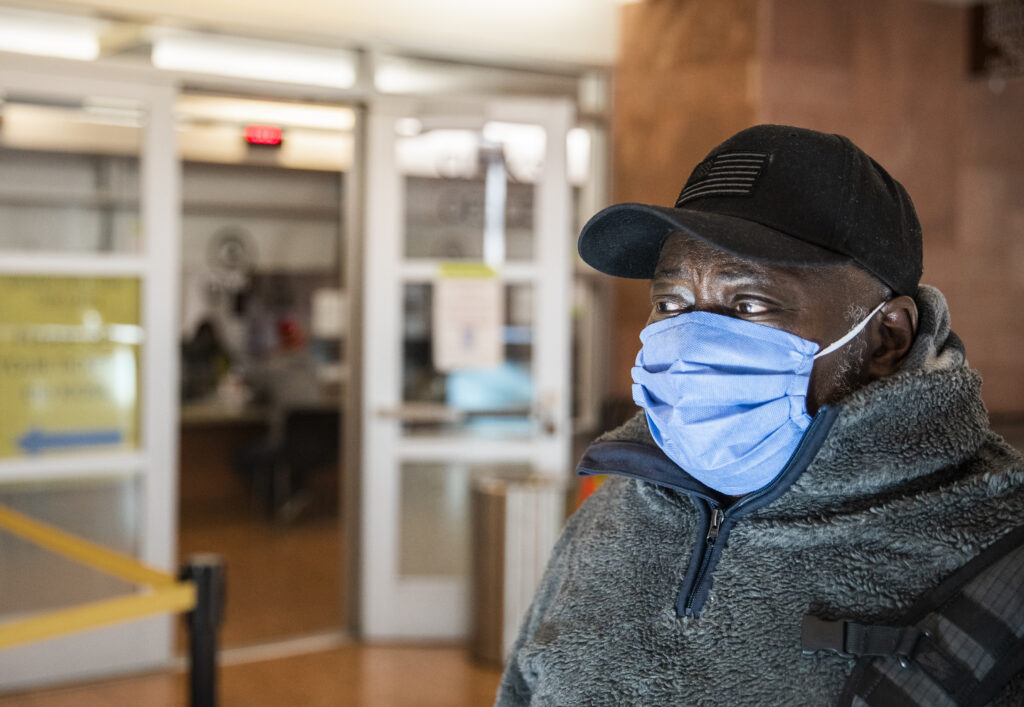 While Gov. Steve Sisolak previously said a federal eviction moratorium would serve as a safety net when the state-level protections lapsed, it has proved to be quite a porous one. He said his advisers encouraged him to implement one again to prevent thousands of people from ending up on the streets or in crowded living conditions just as the state experiences its worst COVID-19 transmission levels to date.
"When people are evicted, it is impossible to stay home. They are out looking for jobs and housing to desperately save their families," Sisolak said in announcing the moratorium on Sunday. "They will spread COVID-19 unintentionally, because they have no options."
His latest directive, issued Monday night, lays out the particulars of the new eviction moratorium. It functions in a similar manner to the existing Centers for Disease Control and Prevention moratorium, requiring tenants to proactively assert that they are struggling to pay rent for reasons related to COVID-19 and applying to people with incomes of less than $99,000 a year.
Tenants can invoke the protections before or during the eviction process. The moratorium puts proceedings on hold for covered evictions even if those began before the moratorium took effect, and it prevents landlords from physically removing covered people from the property even if the landlord has been granted a judgment for eviction.
The protections cover people who are behind on rent, except for "tenancies at will." Bailey Bortolin of the Legal Aid Center of Southern Nevada said she interprets that provision as excluding informal, contract-less housing arrangements such as extended family moving in, but including situations where a lease has expired and tenants are paying month to month. Those "no-cause evictions" have been a common method of eviction in spite of the federal moratorium.
"The situation was just feeling more and more desperate every single day as we ran out of resources for people, and so we are very relieved to have this," Bortolin said of the directive.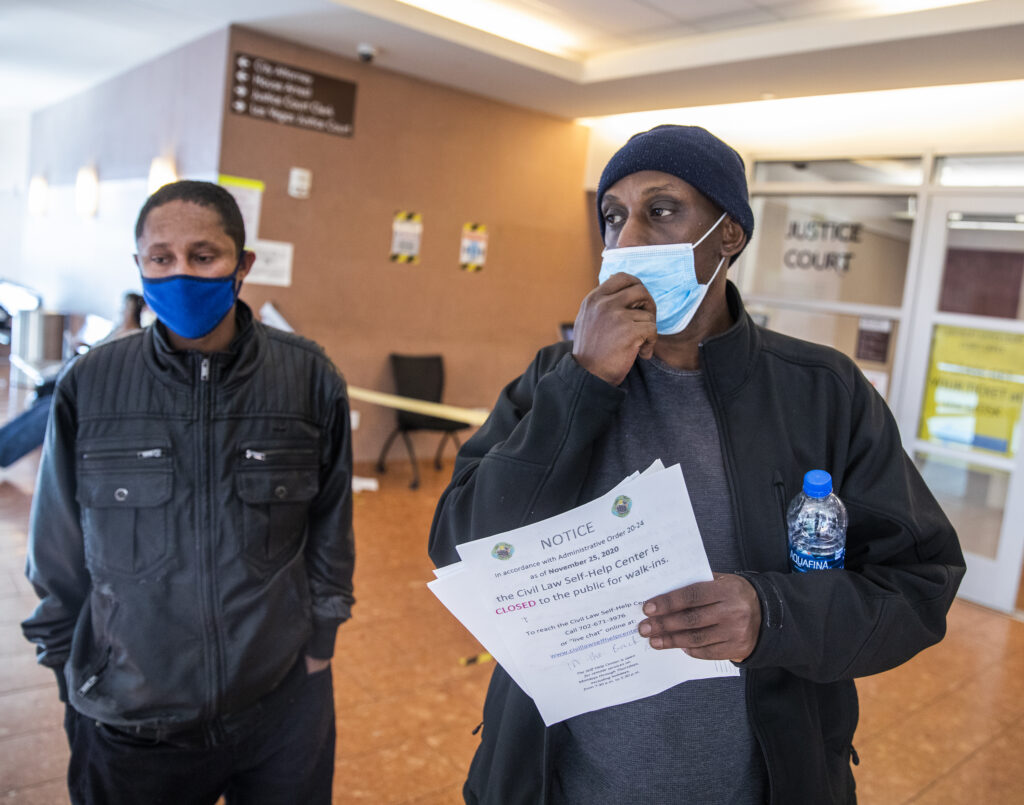 The moratorium allows evictions for contract breaches aside from nonpayment of rent, or if the property would be foreclosed on if the landlord could not evict, and provides a mechanism by which landlords can appeal a tenant's statement that they're protected by the moratorium.
Sisolak's directive makes a lengthy health and financial case for the action, including that Nevada's test positivity rate is about double what it was when previous declarations took effect. He cited statements from members of his medical advisory team, who tied evictions to further spread of disease and recommended such a moratorium.
"Housing is a public health issue. Homeless shelters are packed, not conducive to halting or slowing virus transmission," a member is quoted as saying at a Dec. 11 meeting. "Significant evidence shows spikes in housing eviction would only contribute to additional risk and spread of the virus within the community."
Sisolak said Sunday that he acknowledged the strain the moratorium places on landlords, and said he was pushing for resources to help them. Clark County also highlighted a process by which landlords can apply for rental assistance if tenants haven't paid.
At the courtroom on Monday, capacity was limited, and witnesses were asked to wait outside unless Brown decided it necessary to hear from them. Only 25 people were allowed in the courtrooms at a time, and courtgoers sat on spaces marked 6 feet apart on the benches by yellow tape.
Officials said that while the civil filings office had been crowded all morning, it's normal to have long waits and lots of filings on a Monday. Staff posited that there wasn't a rush to file on the day between Sisolak's announcement and the enactment of the moratorium because even if landlords file before the deadline, proceedings for covered people are suspended by the state moratorium.
Justice Court staff said they were operating "business as usual" on Monday even with the looming moratorium because without receiving the governor's official written directive, they could not guarantee that eviction proceedings would be suspended for anyone filing.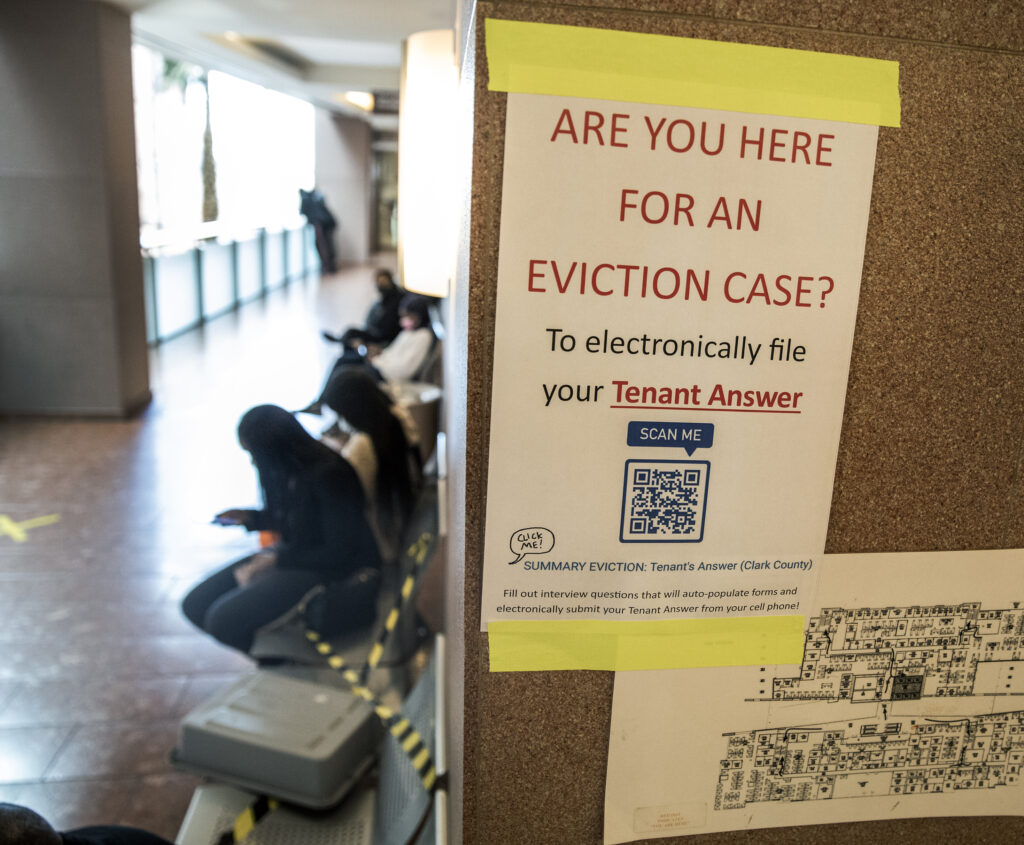 For tenants who have been given notice of eviction, the Justice Court has been directing them towards the Clark County CARES Housing Assistance Program (CHAP) to help cover the cost of rent. Unless something changes in Congress, governments will be required to spend all the money by the end of the year, with no more help coming from Washington.
In Clark County, about $73 million of the approximately $100 million in funds available to help people pay overdue rent has been spoken for, and nearly 12,000 applications for the money were in the queue as of Dec. 3.
In the remainder of the state, more than 6,000 applications for rental assistance have been submitted, but only about a quarter have been approved and agencies expect to have money left over by year's end. Meanwhile, hundreds of thousands of individual renters in Nevada are projected to have trouble paying by the end of the year.
Actions taken to date aren't enough for some policymakers. After an unsuccessful attempt earlier this month to persuade the justice court to stop evictions on health and crowding grounds, Clark County Commissioner Justin Jones said he wanted to explore the possibility of the commission using its emergency powers to intervene in the situation.
Clark County Commissioner Tick Segerblom called on Twitter for constables and the justice court to halt all eviction proceedings, even those in progress.
That could be a hot topic for a commission meeting Tuesday, where activists are expected to show up and testify about the impact evictions are having on Southern Nevada residents. Near the bottom of the commission's agenda is a simple line to encompass much of the strain and pain seen in the halls of the courthouse: "Discuss justice court evictions."
But the discussion will be missing some key players — Chief Judge Suzan Baucum wrote the commission a letter Monday saying she and other representatives of the court would not be attending because Jones was quoted in the Nevada Current as saying that to get the court to change its policies, "Perhaps public shaming is the only way to accomplish the goal." She said it was clear to her that the hearing was "not intended to include any productive dialogue."
Baucum's letter argues that the court had no authority to suspend eviction proceedings on health grounds absent a directive from the governor, and that she is now preparing an administrative order to ensure the court is in compliance with the directive Sisolak issued this week.
"I am confident that the Las Vegas Justice Court can conduct in-person proceedings safely for the narrow case types that are defined as 'essential,'" she wrote.