Feds rescind Obama-era marijuana enforcement policy, putting Nevada pot industry's future in doubt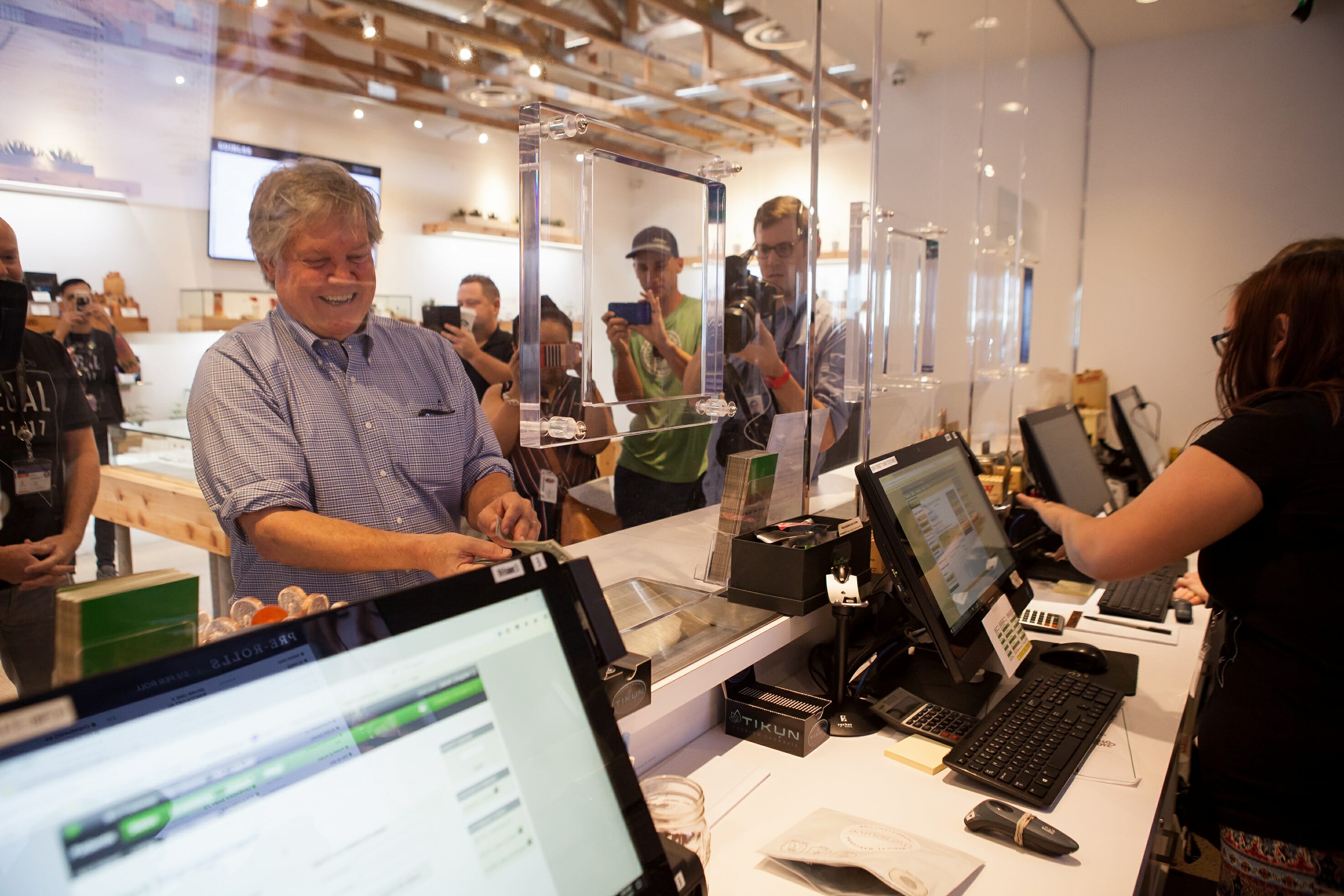 U.S. Attorney General Jeff Sessions announced Thursday that he's rescinding the Cole Memo, an Obama-era directive that gave states with legalized marijuana some certainty about enforcement of a federal pot prohibition.
The Cole Memo, drafted in 2013, lays out eight law enforcement priorities for marijuana and essentially assured states with legal weed that the federal government wouldn't meddle in their affairs if they keep their industries aboveboard. Sessions' new memo said "guidance specific to marijuana enforcement is unnecessary," pointed to broad prohibitions on marijuana cultivation and sale and the significant penalties for violating federal law.
"These statutes reflect Congress' determination that marijuana is a dangerous drug and that marijuana activity is a serious crime," Sessions said. "In deciding which marijuana activities to prosecute under these laws with the Department's finite resources, prosecutors should follow the well-established principles that govern all federal prosecutions."
The declaration drew outcries from Democratic members of Nevada's congressional delegation, and turns attention to Nevada's newly appointed top federal prosecutor, who is expected to take office on Friday.
It also elicited a statement from Republican Attorney General Adam Laxalt, a Trump supporter and marijuana legalization opponent who conspicuously fought against what he called federal overreach during the Obama Administration. While he didn't take a stance on the decision, he was careful to highlight that he'd "vigorously" defended the state's marijuana laws in court in the past year.
Thursday's announcement raises questions about both adult-use and medical marijuana, and injects new uncertainty into an industry that had developed on the tenuous Cole Memo promises that the federal government wouldn't shut down businesses authorized by individual states' voters.
"It was very important because it gave people assurance so that when they invested millions of dollars they were basically on something," Democratic state Sen. Tick Segerblom, the main point person on marijuana issues in the Legislature, said in an interview Thursday about the announcement. "It's a disaster if it actually changes our policy."
Dispensaries have been open in Nevada since 2015 — after the Legislature formalized a structure for medical marijuana — and they started selling recreational marijuana last July. Proceeds have significantly exceeded expectations, and tax revenue from marijuana is part of the state budget.
In the first four months since recreational marijuana has been legal in Nevada, there have been about $126 million in sales and $19 million in marijuana excise and wholesale taxes for the state; that doesn't count sales tax and state and local licensing fees for marijuana businesses. The industry has made a significant economic splash in the state: The Nevada Dispensary Association estimates the nearly 300 licensed marijuana businesses in the state employ 6,750 people and have made $280 million in real estate investments alone.
Nationwide, retail cannabis sales totaled more than $4 billion in 2016, with industry analysts predicting more than a tripling of growth by the end of the decade as a growing number of states legalize medical and recreational marijuana.
Pot legalization opponents with the group Smart Approaches to Marijuana cheered the move, saying it will slow the growth of "Big Marijuana." They point out that federal auditors have said there's not sufficient monitoring of state pot industries to determine whether they're being regulated effectively.
"This is a major blow to an industry that is corrupting our politics and lying to voters in a steadfast pursuit to put profit over public health and safety," said Kevin Sabet, head of the group. "Today's policy change will undoubtedly extend a chilling effect we have seen on marijuana legalization initiatives across the nation this year, and - hopefully - encourage lawmakers to stop and look at what science tells us about the unintended consequences of legal marijuana."
According to the AP, Sessions' policy would let U.S. attorneys across the country decide the level of federal resources they want to devote to enforcing federal marijuana laws "based on what they see as priorities in their districts."
Sessions announced on Wednesday that Nevada would be getting a new interim U.S. attorney, Dayle Elieson, effective on Friday. She has served as an assistant U.S. attorney in the Dallas area and has a law degree from Brigham Young University's J. Reuben Clark Law School, although her position on marijuana enforcement was not immediately clear.
"We need to wait and hear from her on what kind of feedback she has and what her take is on the situation," said Riana Durrett, head of the Nevada Dispensary Association, which represents a large swath of the state's marijuana industry.
Nevada's top federal prosecutor is currently Steven W. Myhre, the acting U.S. attorney who will return to his role as an assistant when Elieson takes over. The prior U.S. attorney, Daniel Bogden, had served since 2001 but resigned this spring after Sessions requested that he and several dozen Obama-era holdovers in his role leave their jobs.
Nevada leaders react
Democratic Sen. Catherine Cortez Masto called on Sessions to reverse his decision and appealed to his sensibilities about states' rights.
"Attorney General Sessions says he is a headstrong advocate for states' rights. However, his decision giving free rein to federal prosecutors to target the cannabis industry in states where voters and legislatures have chosen to legalize and regulate the use of marijuana exposes his hypocrisy," she said in a statement. "In states like Nevada, voters have spoken loud and clear that marijuana must be regulated and taxed, and that the state should be able to enforce its marijuana laws without federal interference. By rescinding the Cole memo, this administration is trampling on the will of Nevadans and creating unnecessary confusion for our state."
Democratic Rep. Ruben Kihuen criticized the impact the decision will have on Nevada's economy.
"Mr. Sessions and the Department of Justice are reversing a years-long policy of respecting the rights of states in order to take out a personal vendetta," he said. "This decision will not only impact the marijuana industry and the thousands of jobs it is creating, but it will put at risk a stable source of vital tax revenue for our state."
Democratic Rep. Dina Titus vowed to protect the nascent industry and called for congressional action. She also raised the possibility that the decision would affect medical marijuana, subjecting children with epilepsy and chemotherapy patients to prosecution.
"I will fight for businesses that are legally operating in states, contributing to tax bases, & creating jobs," she wrote. "We don't need a crackdown. We need to protect states' rights, respect the voice of voters, and pass laws to prevent this from happening again."
Democratic Rep. Jacky Rosen also criticized the decision, saying the federal government should respect states that have legalized recreational marijuana.
"This federal overreach by President Trump's Department of Justice will create uncertainty and confusion for Nevadans," she said in a statement. "These reported actions are an insult to Nevada voters, an affront to states' rights, and a threat to our local economy."
Republican Sen. Dean Heller did not respond to multiple requests for comment from The Nevada Independent, but provided a statement to a Las Vegas Review-Journal reporter.
"Knowing Attorney General Sessions' deference to states' rights, I strongly encourage the DOJ to meet with Governor Sandoval and Attorney General Laxalt to discuss the implications of changes to federal marijuana enforcement policy," the statement said. "I also urge the DOJ  to work with the congressional delegations from states like Nevada that have legalized marijuana as they review and navigate the new policy."
The U.S. attorney's office didn't immediately comment early Thursday.
Gov. Brian Sandoval said he and his staff are reviewing the memo and Nevada's options, but defended the state's handling of marijuana legalization. He also said he looked forward to the incoming U.S. attorney's arrival and more guidance from the U.S. Department of Justice.
"Since Nevada voters approved the legalization of recreational marijuana in 2016, I have called for a well-regulated, restricted and respected industry," he said in a statement. "My administration has worked to ensure these priorities are met while implementing the will of the voters and remaining within the guidelines of both the Cole and Wilkinson federal memos.  We have been largely successful in these efforts.  I believe Nevada's marijuana industry is a model for other states."
Republican Attorney General Adam Laxalt, a gubernatorial candidate who opposed legalization and appeared at a joint event with Sessions last year, said his office was evaluating the memo and its effects on Nevada. Although he didn't offer a clear-cut position on the decision, he notably touted his office's work defending the state's marijuana laws and regulations in court.
"Although I opposed the Question 2 ballot initiative proposing the legalization of recreational marijuana in Nevada, I also pledged to defend the measure were it approved by the voters," he said in a statement. "Since Questions 2's enactment, my office has vigorously defended it against two related lawsuits that threatened to slow or even halt the implementation of the law, and has further assisted with the formulation and adoption of regulations to allow dispensaries to commence sales of recreational marijuana within just six months of the law's enactment. My office has expeditiously facilitated the implementation of the law in the face of considerable uncertainty about the status of federal enforcement activity."
Democratic gubernatorial candidate Steve Sisolak, chair of the Clark County Commission, said in a statement said he opposed the move and that the Trump administration was attempting to "create a costly and confusing process to overrule the will of the voters and undo what has been a success so far." His fellow commissioner and Democratic primary opponent, Chris Giunchigliani, tweeted about the decision: "This is wrong."
State officials, including Sandoval and Laxalt, took a wait-and-see approach to any potential action on the Cole Memo throughout 2017. Sandoval said he met with Sessions in April and informed him that the state was moving forward with marijuana sales.
Both Nevada senators have also urged the Department of Justice to keep existing treatment of recreational and medical marijuana in place. Democrat Catherine Cortez Masto joined a group of 11 senators in May 2017 asking the department to uphold current standards, while Republican Sen. Dean Heller sent a similar letter to Sessions at the time asking him to keep the rules in place.
"In light of recent statements regarding a possible change in federal marijuana enforcement policy and knowing your views about and deference to states' rights, I respectfully ask that you preserve the Cole Memorandum," Heller wrote at the time.
Marijuana remains a Schedule 1 controlled substance in the eyes of the federal government — on par with drugs such as heroin. While public opinion has shifted in favor of legalization, there's been virtually no concrete movement toward legalization in Congress; proponents attribute that to marijuana foes holding key leadership positions in the House and the Senate.
The Cole Memo
Although not a law, the marijuana industry has relied on guidance derived from a 2013 memo by then-Deputy Attorney General James M. Cole. He wrote that a tightly regulated, effective state-level marijuana market allays the concerns the federal government has about pot in general.
Limited federal resources, he wrote, should focus on the following eight priorities:
Preventing the distribution of marijuana to minors;

Preventing revenue from the sale of marijuana from going to criminal enterprises, gangs and cartels;

Preventing the diversion of marijuana from states where it is legal under state law in some form to other states;

Preventing state-authorized marijuana activity from being used as a cover or pretext for the trafficking of other illegal drugs or other illegal activity;

Preventing violence and the use of firearms in the cultivation and distribution of marijuana;

Preventing drugged driving and the exacerbation of other adverse public health consequences associated with marijuana use;

Preventing the growing of marijuana on public lands and the attendant public safety and environmental dangers posed by marijuana production on public lands; and

Preventing marijuana possession or use on federal property.
Segerblom said he's waiting to see if Sessions truly plans to change the policy underlying the Cole Memo and start aggressively enforcing a federal marijuana ban, or whether the announcement will be more symbolic.
"If he's serious and he is going to start recriminalizing this thing, then that's huge," Segerblom said.
Riley Snyder contributed to this report.
AG Jeff Sessions Memo on Marijuana Enforcement by Michelle Rindels on Scribd
The Nevada Independent is raising $200,000 by Dec. 31 to support coverage of the 2024 election.
Tax-deductible donations from readers like you fund this critical work.
If you give today,your donation will be matched dollar-for-dollar.
Give + Get Matched
Featured Videos