Finance reports reveal aggressive spending in the gubernatorial race, big money for the Energy Choice Initiative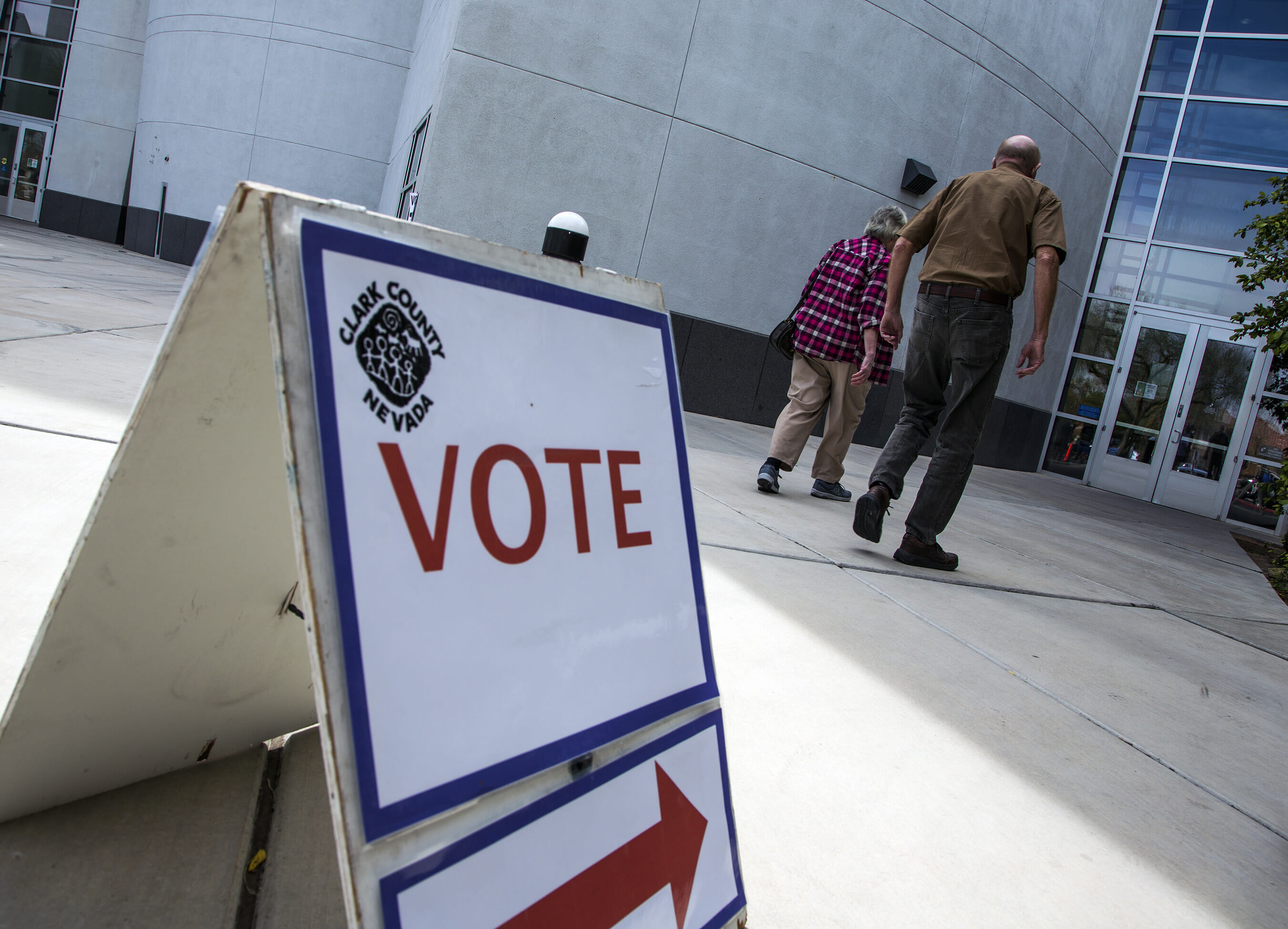 As candidates dash to the primary finish line, their latest campaign expense reports offer a telling look at their respective races — particularly in the gubernatorial world.
On the Republican side of the governor's race, Attorney General Adam Laxalt remains the cash king. His campaign bank account far exceeds that of his opponent, state Treasurer Dan Schwartz. If Laxalt wins the primary, he'll have a healthy sum heading into the general election.
That may not be the case for the Democratic victor. Campaign finance reports show aggressive spending in the Democratic primary race, which could leave Steve Sisolak and Chris Giunchigliani with fairly empty pockets afterward.
But big money didn't just flow to candidates running for office. The Energy Choice Initiative spurred more than $30 million from supporters and opponents.
Here's a closer look at the latest campaign finance reports, which track fundraising and spending from Jan. 1 through May 22:
Republican governor candidates
Adam Laxalt, the perceived frontrunner in the Republican gubernatorial primary, has raked in more than 28 times the amount his challenger, Dan Schwartz, did in campaign contributions so far this year.
Laxalt reported a fundraising haul of $1,877,614 for the first reporting period of this year, while Schwartz brought in $66,252. Schwartz, who currently serves as state treasurer, loaned himself $60,000 of that fundraising total. Glen Lerner, a personal injury attorney in Las Vegas, paid for billboards for Schwartz's campaign, according to campaign finance reports.
As for Laxalt, casino money helped propel him forward. Casinos owned by billionaire Sheldon Adelson donated $30,000 to Laxalt so far this year, and properties associated with Caesars Entertainment gave him $25,000. Peppermill Casinos, which are located in Northern Nevada, contributed $10,000 to Laxalt's campaign, as did Westgate Casino in Las Vegas. Additional campaign donations came from the Orleans Hotel and Casino ($5,000), Atlantis Casino Resort ($5,000) and El Cortez Hotel and Casino ($5,000).
Laxalt also scooped up $10,000 from Rob Roy, founder and CEO of Switch, and $5,000 from Dana White, president of the Ultimate Fighting Championship.
The family of former U.S. Sen. John Ensign, who resigned after he had an affair with a woman who worked for a political action committee supporting his campaign, contributed $34,000 to Laxalt.
Laxalt reported spending $729,864 so far this year for his campaign.
Democratic governor candidates
Gubernatorial candidate Steve Sisolak spent roughly $5.2 million so far this year in his quest to beat his challenger, Chris Giunchigliani, in the primary election. He raised about $1.4 million during that same time period.
Sisolak's aggressive primary spending could put him at a disadvantage heading into a general election race if he beats Giunchigliani. Previous campaign finance reports indicate Sisolak had roughly $5.9 million in the bank at the start of this year — meaning he has spent about 88 percent of that initial cash on hand.
The new $1.4 million Sisolak picked up so far this year came primarily from the gaming and construction industries. Station Casinos and affiliated properties donated at least $100,000, while the laborers union pumped $30,000 into his campaign.
Other casinos that donated to Sisolak include M Resort ($5,000), Tropicana ($5,000), Peppermill Casinos ($10,000) and the Orleans Hotel and Casino ($2,500). Harmony Homes also donated $20,000 to Sisolak.
Giunchigliani reported raising $813,169 so far this year — mostly from individuals who donated as little as $5 to her grassroots-style campaign. She only received five $10,000 donations, including from the Westgate Las Vegas.
Like her competitor, Giunchigliani also spent more than she received this year. Her campaign expenses totaled $1,070,222. A hefty chunk of her expenses — more than $500,000 — went toward television ad buys.
Giunchigliani had roughly $841,000 in the bank to start the year.
Energy Choice
Supporters and opponents of a proposed constitutional amendment requiring Nevada to switch to a competitive retail electric market brought in an unprecedented fundraising total of more than $30 million — and just among three donors.
Nevadans for Affordable, Clean Energy Choices — the PAC supporting the ballot question — reported raising $19.4 million over the reporting period, all from the Las Vegas Sands ($8.5 million) and data center giant Switch ($10.9 million). The two corporations have largely bankrolled the initiative in the past.
But after staying neutral on the ballot question in 2016 and 2017, NV Energy struck back in a big way, contributing almost $12 million to the Coalition to Defeat Question 3 over the reporting period. The utility company was the only donor to the group, which was registered in February.
Nevadans for a Clean Energy Future, the group supporting a ballot measure raising the state's Renewable Portfolio Standard to 50 percent by 2030, reported raising $1 million, all from NextGen Climate Action, an environmental nonprofit funded by California billionaire Tom Steyer.
Recall spending
The Republican State Leadership Committee — an organization dedicated to electing down-ballot Republican candidates in all 50 states — reported raising $3.8 million over the reporting period. The organization reported transferring a combined $125,000 to the committees attempting to recall Democratic state senators Joyce Woodhouse and Nicole Cannizzaro, and reported receiving $55,000 in in-kind donations from the law firm of Hutchison & Steffen, which has represented them in court.
A District Court judge found both recalls to fall short of the needed signature threshold to qualify for a special election in April, though the groups could still appeal the decision.
Party fundraising
The Nevada State Democratic Party raised $396,870 in the first few months of the year, including $250,000 from Democratic donor Steve Cloobeck, $40,000 from the Assembly Democratic Caucus and $29,365 from the Democratic Governors Association, including other transfers from the party's federal account. The bulk of the party's expenses related to paid staff and office expenses.
Over the same time period, the Nevada Republican Party raised $395,951, including $377,949 from the Republican National Committee. The party spent the bulk of its money on office expenses, paid staff, travel and some advertising.
State Senate fundraising
The Senate Republican Leadership Conference, which raises money on behalf of all the Senate Republican candidates, reported raising $30,350 in the first few months of the year, including $10,000 from former state Sen. Becky Harris's campaign account (she resigned to chair the Gaming Control Board), $5,000 from Sunrise Hospital and $3,500 from the Reno-Sparks Indian Colony. The committee doled out $31,200 over the same time period, including $10,000 each to state Senate candidates Valerie Weber, Keith Pickard and Tiffany Jones.
The Nevada Senate Democrats, meanwhile, raised $156,013, including $10,000 from the Laborers Local 169, $20,000 from the Campaign to Elect Julia Ratti, and $10,000 from IGT. The account spent $145,298 over the same time period, mainly on staff and office expenses.
Assembly leadership
Assembly Speaker Jason Frierson, a Democrat, reported raising nearly $214,000 so far this year. Some of his biggest donors included the Las Vegas Sands and its associated properties, which gave $15,000, as well as Citizens for Justice Trust ($10,000), MGM Resorts ($10,000), Altria, the parent company of Philip Morris ($5,000), the Nevada Home Builders Association PAC ($5,000), Golden Entertainment ($5,000) and Atkinson, Watkins & Hoffman ($5,000).
So far, Frierson has spent $ 94,538 this year.
Meanwhile, Jim Wheeler, the leader of the Assembly Republicans, announced a fundraising haul of $70,050 this year. Among the contributions he received: $10,000 from the Las Vegas Police Protective Association, $5,000 from Wynn, $5,000 from Boyd Gaming, $5,000 from the Citizens for Justice Trust and $5,000 from South Point. His expenses during that same time period totaled $55,188.
For a rundown of what all the statewide and legislative candidates raised in the first few months of the year and highlights from each fundraising report, check out the table below. Be sure to click between the "Statewide" and "Legislature" tabs at the bottom to see all the races. (This spreadsheet will be continually updated throughout the day.)
Disclosure: Many Indy donors are mentioned in this story. You can see a full list of donors here.
The Nevada Independent is raising $200,000 by Dec. 31 to support coverage of the 2024 election.
Tax-deductible donations from readers like you fund this critical work.
If you give today,your donation will be matched dollar-for-dollar.
Give + Get Matched
Featured Videos