Former Las Vegas man facing charges of double voting in 2016 election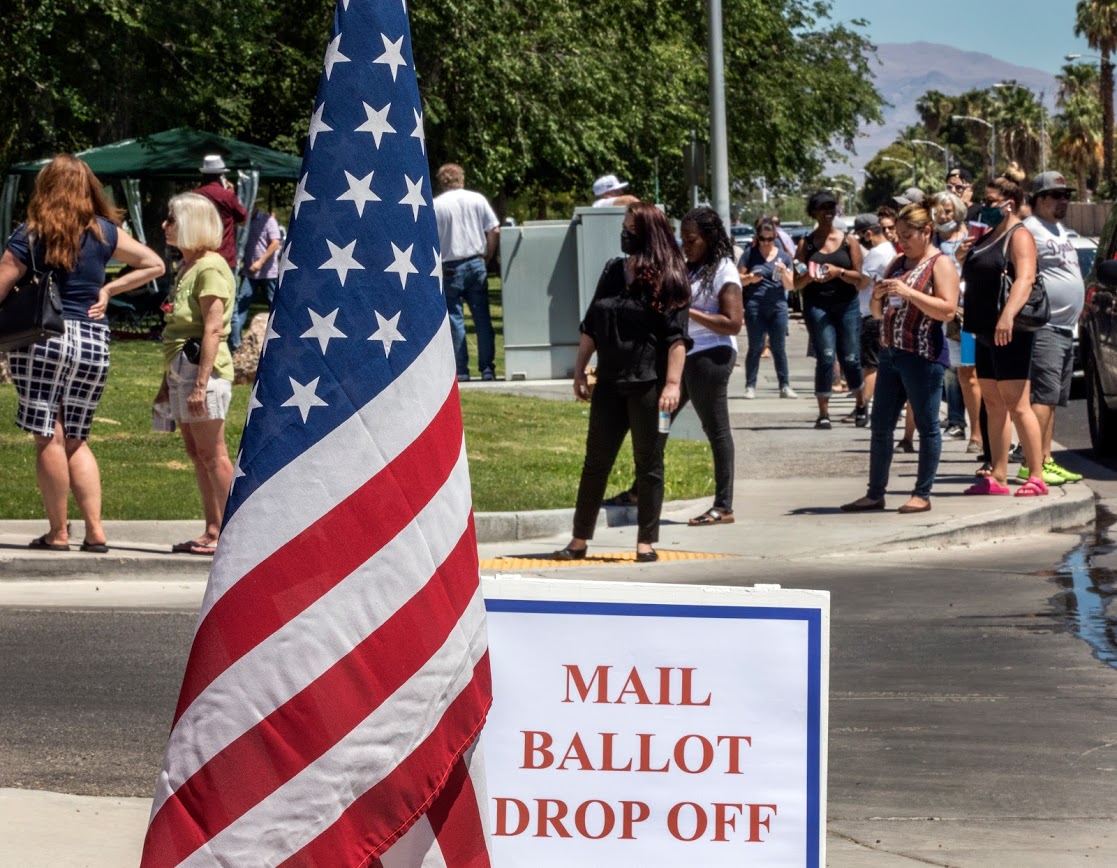 Nevada officials are charging a former Las Vegas resident with double voting in the 2016 election, a relatively rare charge that nonetheless has received more attention amid unsubstantiated claims of widespread voter fraud.
Prosecutors with Attorney General Aaron Ford's office brought the charges against Craig Frank last year, accusing him of voting in both Nevada and Arkansas during early voting periods for the 2016 election. The case was filed on Aug. 13, 2019 in Clark County District Court, and has a jury trial set for February 2021.
The prosecution, which was touted in the attorney general's recently released 2019-2020 biennial report, was not publicized or reported at the time it was filed. Some of the details of the case were reported last month by the Associated Press.
It's the first prosecution related to double voting brought by Ford, a Democrat, since he's taken office in 2018, and just the third prosecuted case of double voting in the state since at least 2011.
Nevada law holds that double voting in an election is punishable by a Category D felony, with a sentence of up to one to four years in prison.
Ford has faced criticism from Republicans (namely former Sen. Dean Heller) that his office is not taking the alleged threat of voter fraud seriously. Heller said on a press call last month that Ford's office isn't prosecuting cases of double voting.
"While voter fraud is rare, it undermines trust in our election system," attorney general's office spokeswoman Monica Moazez said in an email. "After an investigation and review, our office has charged Craig Frank with voting twice, in-person, and he was indicted in the 8th Judicial District Court. This case remains on-going and we cannot provide any further details at this time."
According to court records and grand jury testimony, Secretary of State Barbara Cegavske's office reached out to state law enforcement with information about people who potentially voted twice during the 2016 presidential election.
Nevada is one of 30 member states of the Electronic Registration Information Center (ERIC) nonprofit, a data-sharing operation that helps states update their voter registration information based on individuals who move out of state, die, or duplicate registrations within the same state.
In 2018, a subgroup of states in the ERIC compact agreed to share, analyze and compare voter data from the midterm election to see whether there were any instances of voters casting a ballot in more than one state. The system checked not only names, but also birthdates, social security numbers and signatures either on a mail ballot or polling places.
That cross-check identified a potential 22 voters who may have cast a ballot in Nevada and another state in the 2018 election; the secretary of state's office forwarded that information to the state Department of Public Safety's Investigation Division, which is under state law required to help with cases of possible election fraud.
All 22 cases are active, and none have been formally charged. Part of the reason may be the wording of Nevada's prohibition on voting in the "same election" — a term that is undefined and could be challenged given differences in state ballots during midterm elections.
But in the 2016 presidential election, Nevada instead used a data analysis run by former Kansas Secretary of State Kris Kobach called the Interstate Voter Registration Crosscheck (now suspended and subject to litigation) to identify instances of voters casting a ballot in more than one state.
Deputy Secretary of State for Election Wayne Thorley said in an interview that the system identified 21 individuals who may have voted in two states during the 2016 election, including Frank. Of those 21 individuals, two were prosecuted in Arizona for voting twice, several suspected voters have since died, and the rest have not yet been prosecuted.
Investigators said they obtained records showing that Frank voted early at a polling place in Benton, Arkansas on Oct. 28, and then cast another vote in Clark County on Oct. 31. According to voting records on file with the Clark County Election Department, Craig was a registered Republican at the time of the 2016 election.
A state investigator told a grand jury that they contacted Frank directly before obtaining those records "to determine if there was any value in conducting a criminal investigation or not." Frank allegedly told the investigator that he had indeed voted in both states, and had moved to Nevada to start a job as a teacher with the Clark County School District.
Frank sent an email to the investigator the same day, saying "he had voted in both elections and that he hadn't intended to violate the law and he wasn't aware he couldn't do that."
Frank has since pled not guilty in the case. Attorneys representing him told the court at an arraignment hearing last year that he has since moved to North Dakota and is working to become a train engineer.
An attorney for Frank did not return a request for comment on Tuesday.
Nevada has seen just a handful of cases of double voting in recent election cycles, a miniscule number compared to the more than a million ballots typically cast during elections in the state.
There have been at least two prosecutions related to double voting in Nevada since 2011; one was a Republican woman who attempted to vote twice in the 2012 election to try to "show how easy it would be to commit voter fraud with just a signature." The other was a woman who registered to vote under two names in the 2012 election (as both a Republican and Democrat) and then cast a ballot under each name. Both individuals pled guilty to those charges.
The secretary of state's office said it had evidence that three noncitizens illegally cast a ballot in the 2016 election, and in 2018, Clark County election officials were forced to call a special mail-only election in the Republican primary for public administrator, after discovering up to 43 possible double votes had been cast because of faulty instruction by poll workers.
The Nevada Independent is raising $200,000 by Dec. 31 to support coverage of the 2024 election.
Tax-deductible donations from readers like you fund this critical work.
If you give today,your donation will be matched dollar-for-dollar.
Give + Get Matched
Featured Videos