Former Nevada assemblyman, election denier Jim Marchant running for US Senate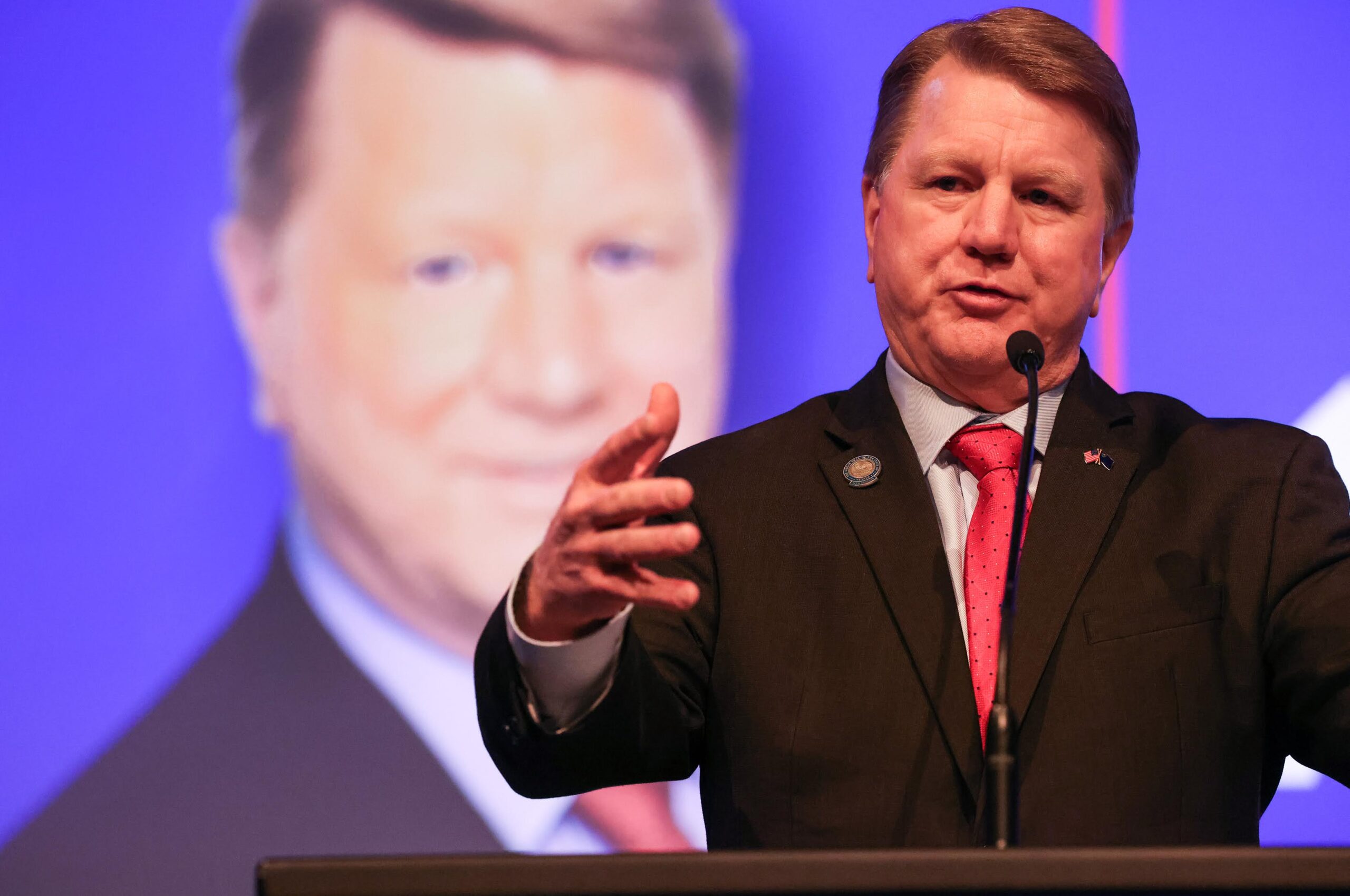 Jim Marchant, a former Republican state assemblyman and one of the state's most prominent election deniers, is planning to run for Nevada's U.S. Senate seat in 2024.
Marchant, 66, announced his bid Tuesday at a "Make America Great Again" rally at Fervent Church in Las Vegas, where advertised guests included Rep. Paul Gosar (R-AZ), a member of the far-right House Freedom Caucus with ties to white nationalists, and commentator Wayne Allyn Root. In a speech, he portrayed himself as a principled conservative who would "expose and overcome" what he referred to as deep state media bias, take on censorship of right-wing speech online, and secure the U.S. border with Mexico.
"I'm running for United States Senate to protect Nevadans from the overbearing government, from Silicon Valley, from big media, from labor unions, from the radical gender change advocates, where Jacky Rosen has failed you," Marchant said. "But I will not fail you."
He also touted his business experience in Internet service in Florida, including lobbying then-Gov. Jeb Bush on cyber law and tax issues.
Notably, Marchant made no mention of election fraud during his campaign launch — a departure after the topic had become one of his signature issues during a failed 2022 campaign to become Nevada's secretary of state. Marchant suggested in a 2022 debate that Nevadans' votes have not counted for years, and alleged in a January interview with The Guardian that a global "cabal" has been manipulating voting machines for years.
He also played a key role in pushing several rural Nevada counties to drop electronic voting machines ahead of the 2022 election, citing unsupported conspiracy theories about the machines' lack of reliability.
Marchant is the biggest Republican name so far to enter the race challenging Sen. Jacky Rosen (D-NV), who is up for re-election in 2024. Rosen holds a crucial seat in the Senate, where Democrats hold a slim majority.
In his announcement speech, Marchant ran down a host of issues, ranging from typical Republican talking points on crime and undocumented immigrants to saying the Biden administration is pushing digital currency in order to track citizens' spending as well as kill small banks. In describing each issue, Marchant concluded with a dig at Rosen, saying she was doing nothing to stop the administration, Silicon Valley and communists from having their way.
"If America goes to the communists, there's no place else to go," Marchant said, discussing why the "Hispanics of Nevada" move to the U.S. "Too bad that fact never dawned on Jacky Rosen."
Last cycle, Sen. Catherine Cortez Masto (D-NV) narrowly defeated Republican former Nevada Attorney General Adam Laxalt by less than 1 percent or fewer than 8,000 votes, making the Nevada Senate seat a tantalizing prospect for Republicans this time around.
No other prominent Republicans have announced a bid for the seat. If Marchant comes out victorious, Democrats would lose a seat in a Senate that Democrats control 51-49.
The National Republican Senatorial Committee, the fundraising and campaign strategy arm for Senate Republicans, declined to comment on Marchant's campaign. But Nevada Democrats and Democrat-aligned Senate Majority PAC were quick to slam Marchant as a conspiracy theorist.
"Now running for Senate, Marchant will set the standard that all his potential Republican primary opponents will have to chase after," Senate Majority PAC spokesperson Sarah Guggenheimer said. "Given the extent of his conspiratorial thinking, we can't wait to see them try."
Rosen's campaign issued a statement calling Marchant as a"MAGA election denier who opposes abortion rights even in cases of rape and incest."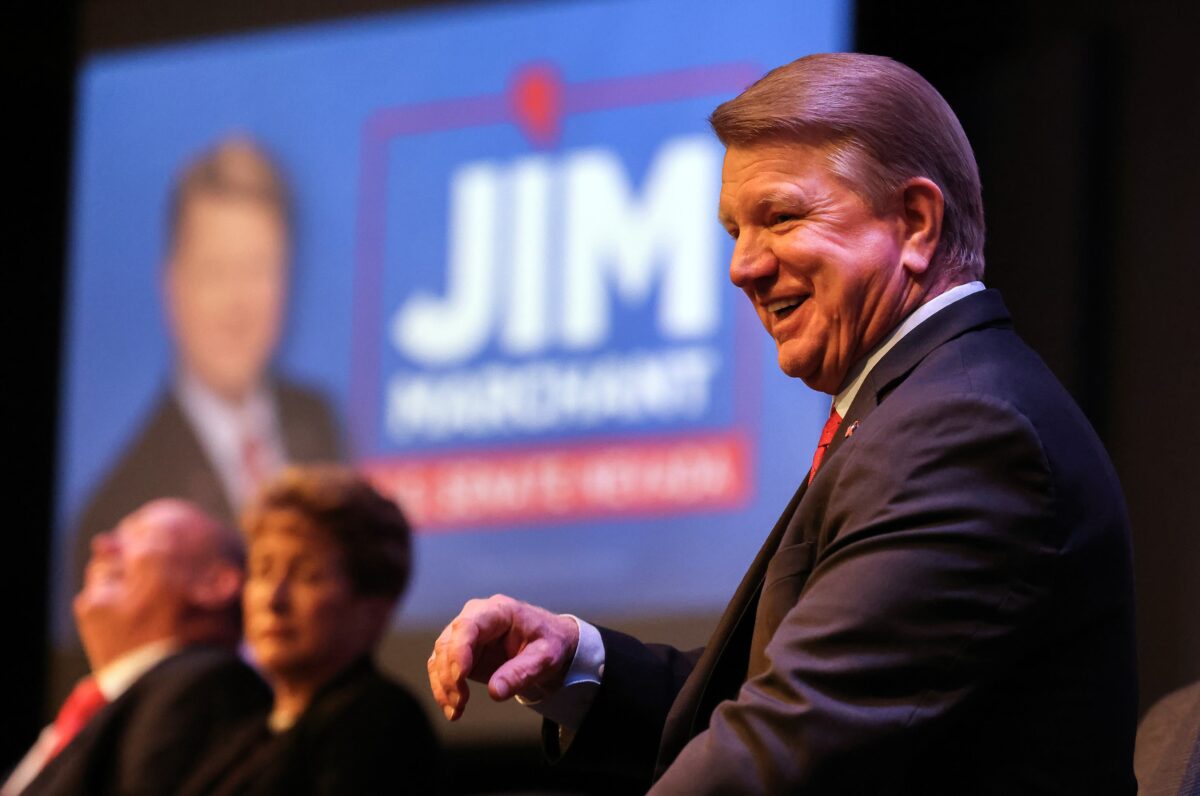 Background and campaign strategy
Marchant, born in Gainesville, Florida, won the crowded Republican secretary of state primary in 2022 with 37.6 percent of the vote with a campaign that promoted replacing electronic voting machines and implementing hand counting and bolstered false claims that President Joe Biden did not win Nevada during the 2020 presidential election.
He lost the bid to political newcomer and Democrat Cisco Aguilar by 2 percentage points or nearly 22,000 votes.
He also unsuccessfully ran for Congress in 2020 but was defeated by incumbent Steven Horsford by nearly 5 percent, or more than 16,000 votes. He has described himself as "a victim of election fraud" in his 2020 race, but a judge dismissed a lawsuit in which he made claims of voter fraud and sought a re-do of the election.
Marchant said his motivation to later run for secretary of state came from QAnon leader Wayne Willott, who suggested he go out for the job in 2022.
Policies he promised to push forward included withdrawing Nevada from Electronic Registration Information Center (ERIC), an electronic system that helps member states share voter registration information with each other and with the federal government, and allows states to identify duplicate registrations in order to keep their respective voter rolls updated.
Marchant also scrutinized mail-in voting and said he would ban mail-ballot drop boxes. He said he would also implement voter ID laws, which would require state identification to vote.
He has also expressed "pro-life" or anti-abortion statements, called for the opening of the Thacker Pass lithium mine in Humboldt County and backed a ban on "underage transgender treatment."
In an interview following the event, Marchant said he wouldn't be surprised if he gained the support of former President Donald Trump.
But, he added, "I think I can win just on my record."
When asked if he's worried about capturing voters from certain demographics, he said he is confident that his messaging would resonate with "everybody and all minorities."
He said he heard other Republicans might challenge him, including Sam Brown, who unsuccessfully ran for Senate last year but lost during the primary to Adam Laxalt by 22 percentage points, and April Becker, who unsuccessfully challenged Rep. Susie Lee in Nevada's 3rd Congressional District during the same election. A representative for Brown declined to comment.
Other speakers at the event, including Clark County Republican Party chair Jesse Law and Washoe County Republican Party chair Bruce Parks, touted Marchant's conservative bona fides. They described a nation leaving its Christian values behind to pursue a socialist agenda. Many of the speakers also waded into election conspiracies.
Dick Morris, a former political advisor to Bill Clinton who resigned over a prostitution scandal and now contributes to Newsmax, plans to advise Marchant's campaign. He spoke of a campaign strategy that would minimize attacks on Biden and instead focus on "the mob in the street" in order to persuade independent and Democratic voters to join his cause.
Morris said he would spotlight a number of issues he believes can win over voters unmoved by crime, immigration and inflation. Referencing popular conspiracy theories, Morris said voters care about the use of genetically modified organisms, government-backed digital currency (which he said would morph into a surveillance operation tracking social credit), bank failures, COVID vaccines and the presence of carcinogens in breast milk.
Marchant's campaign, he said, would be innovative in its message — and puncture the "soft underbelly" of the coalition that has voted for Rosen and other Democrats. He also dinged Rosen as having a low profile. In a recent poll conducted by The Nevada Independent / Noble Predictive Insights, Rosen polled favorably, though 13 percent of voters said they had no opinion of her or did not know her.
"Jacky Rosen is going to lose because she successfully hides from anybody the fact that she exists," Morris said, to laughter. "You never hear from her, and she never does anything. What's the Jacky Rosen bill? What's the Jacky Rosen amendment? What's the last thing she said?
"She's a rubber stamp made by Harry Reid, grandfathered into these terms," he continued. "And there's no constituency."
Gosar and former National Security Advisor Michael Flynn also contributed supportive video messages to the event.
Marchant's message, repeated consistently throughout, was that America's biggest challenges come from actors within the country: the media, the left, the tech sector and Rosen herself.
"The most serious threats come not from Beijing, Moscow, Tehran, North Korea," Marchant said. "They come from Washington. I am running for the U.S. Senate seat from Nevada to preserve our personal liberty in the face of these perils."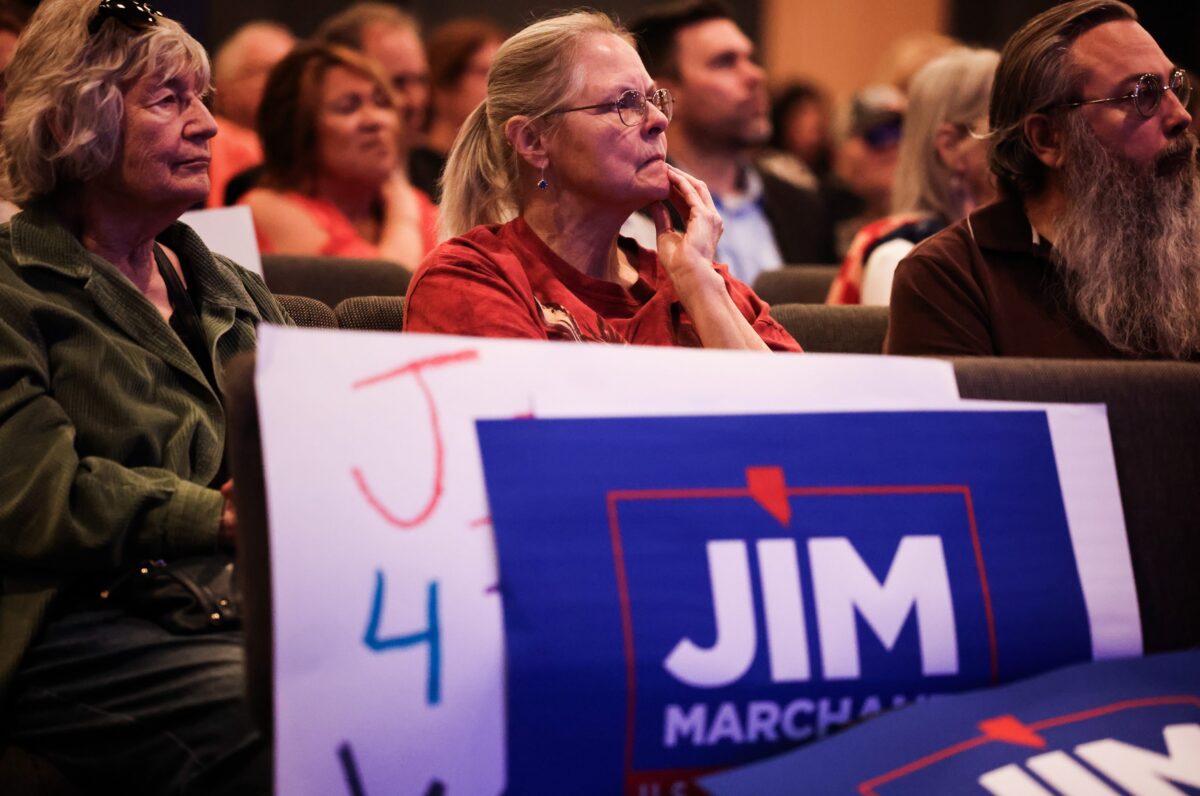 Attendees weigh in
In interviews after the announcement, voters who attended the event cited a variety of reasons for supporting Marchant in his bid for Senate.
Kimmy Linsday, 36, said there should be no separation of church and state in the U.S. and that she will vote Republican down the ticket in next year's election because she aligns with conservative principles.
"I think there's a lot of issues within the Republican Party, but as long as it represents my values, then that's where I'm gonna put my vote," Linsday said.
She also said she would vote Republican because she trusts the party to address the rise of fentanyl overdoses after losing her sister to the drug about three years ago. Linsday said her sister earned about $200,000 a year as a software engineer in Arizona but began using fentanyl during the pandemic to manage pain.
"She got addicted to it, and then within six months she died," Linsday said.
Air Force veteran and local physician Jon Maxham, 42, was apolitical up until the 2020 election. He said he "got into the fight" that year because he believed that many of the freedoms he had in his 20s, such as freedom of speech and the right to bear arms, would not exist for his newly growing family.
"Many of the ideals that I'm willing to die for were being challenged," Maxham said.
Retired registered nurse Theresa Diaz, 46, said she campaigned for Barack Obama during his first election in 2008 but switched parties at the ballot box that year after a church leader told her that supporting a candidate who supports abortion rights means she will answer to God for the abortions that may follow.
Since then, Diaz, who is Roman Catholic, said she hasn't turned back.
"We're all gonna die and I don't want God to say 'I gave you wisdom, why did you not use it?"' she said.
Updated on 5/2/23 at 4:31 p.m. to add additional details from the announcement speech and at 8:41 p.m. to add interviews with Marchant and attendees.
Michelle Rindels and Riley Snyder contributed to this story.
The Nevada Independent is raising $200,000 by Dec. 31 to support coverage of the 2024 election.
Tax-deductible donations from readers like you fund this critical work.
If you give today,your donation will be matched dollar-for-dollar.
Give + Get Matched
Featured Videos