On the Record: Republican secretary of state candidate Jim Marchant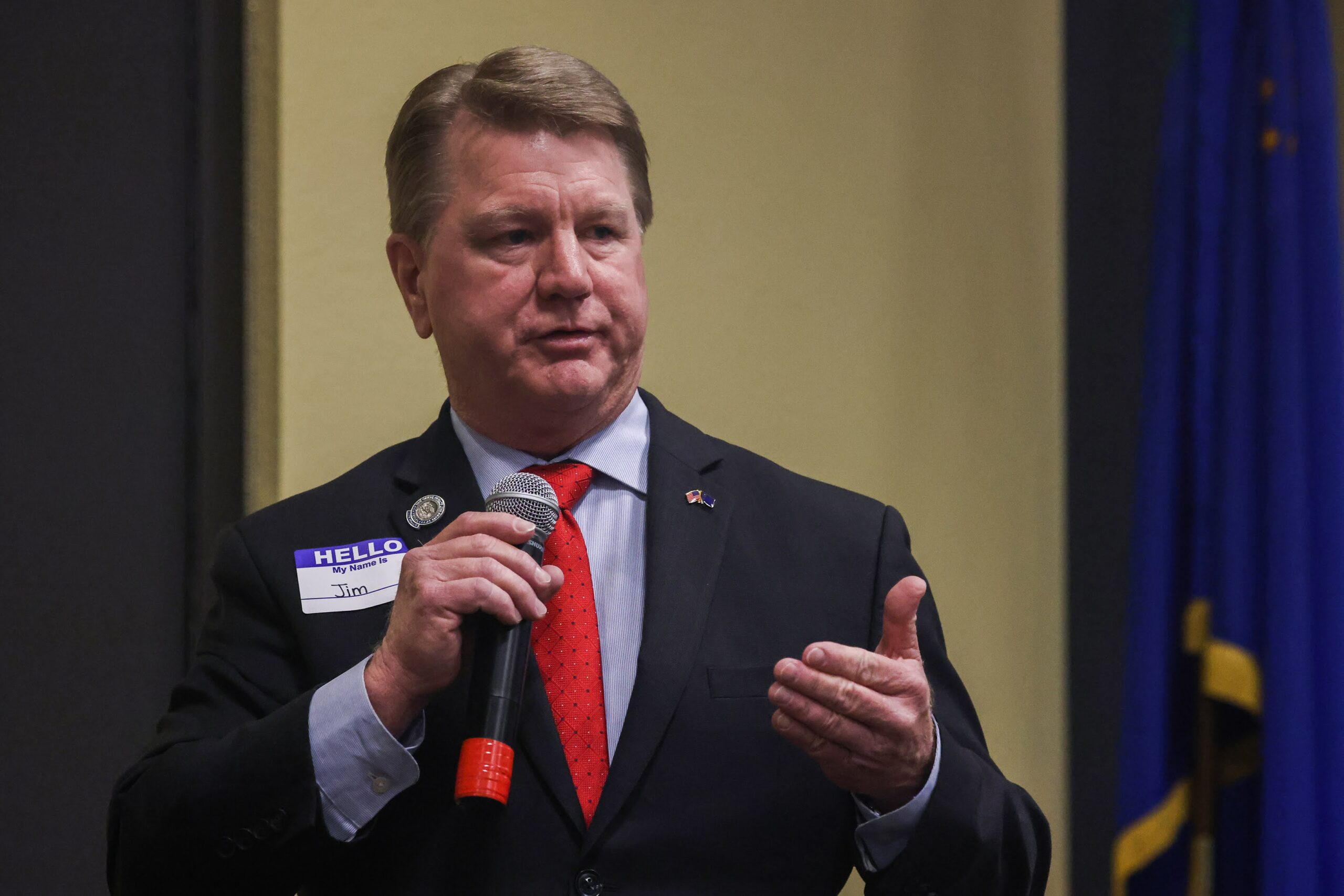 This is an installment in a series of "On the Record" pieces highlighting the policy stances of candidates running for major offices in the 2022 Nevada election. Check back in the coming days and weeks for additional coverage. You can find our coverage of Marchant's opponent, Cisco Aguilar, here.
In the race for Nevada secretary of state, former Republican assemblyman and one-time congressional candidate Jim Marchant has cut a national profile as a prominent denier of the legitimacy of the 2020 presidential election and vocal critic of the state's election administration.
Marchant — who also unsuccessfully sued for a new election in his lost congressional bid following unfounded fraud claims — was among the first Republicans to launch a campaign for secretary of state. Though he was out-fundraised in the Republican primary by Reno-area real estate developer Jesse Haw, he secured the secretary of state nomination in a crowded primary field with 37.6 percent of the vote.
On the trail, he has most often talked about elections, including saying that he would not have certified President Joe Biden's electoral victory had he been secretary of state and that Nevada votes have not counted "for decades," because of a "cabal" rigging elections.
A review of fraud claims from the 2020 election by outgoing Republican Secretary of State Barbara Cegavske found no "evidentiary support" for claims of widespread fraud. Her office said later that, following a review of machines and office protocols, that it was "certain" Nevada voting machines were not compromised.
Marchant is among a national "America First" slate of secretary of state candidates who deny the legitimacy of the 2020 election, he has been backed by prominent election deniers like MyPillow founder Mike Lindell, has said QAnon influencer Juan O Savin urged him to run for secretary of state, and has seen a financial boost from a national-level apparatus of Republicans built around the post-2020 fraud claims.
Most notably, that includes the America Project — a group founded by former Overstock CEO Patrick Byrne and former Trump National Security Advisor Michael Flynn that has so far given more than $136,000 to a political action committee, Conservatives for Election Integrity PAC, controlled by Marchant.
That PAC has drawn at least two formal complaints, including one from his former GOP opponent, Haw, in May, and another from the Democrat-aligned PAC End Citizens United, which accused Marchant of using his PAC's resources to boost his own election bid and flout campaign finance limits.
Nevada's secretary of state maintains a number of duties, though the job primarily involves election administration, maintaining the state's campaign finance database and filing systems, and overseeing business licensing, corporate registration and notaries.
Marchant is running against Democrat Cisco Aguilar, a lawyer and former member of the state's athletic commission. The winner will replace Cegavske, who is termed out of office.
Marchant's campaign did not respond to multiple requests for an interview for our "On the Record" series. A summary of his policy positions, taken from public statements and media appearances, is included below.
On elections
During a candidate forum last month in Pahrump, Marchant told an audience that he took a "deep dive" into the state's election administration policies following his loss in Congressional District 4 in 2020, and that "what I learned is horrifying," in part because election systems were too complex.
"One of the things we're going to do when I get there is simplify the election system," he said. "One of the things that I learned, it's so complicated right now to put on an election. It's amazing we have the integrity that we have there, which is not a lot. So we're going to change that. We're going to simplify the system, and most importantly, we're going to open it up."
Marchant's push for simplicity and transparency, in his view, has already begun under the auspices of a multi-county effort to ditch the use of electronic voting machines and implement hand-counted paper ballots instead.
Earlier this year, Marchant and others pitched the use of hand-counted paper ballots as a solution to unfounded claims of vote-rigging.
"With the paper ballots, hand-counted at the precinct level, decentralized — we're going against what the forces want," Marchant told Nye County commissioners in March. "They want centralized [systems] so they can manipulate it. So if we go against that and get back to decentralized … that's how we're going to guarantee that we have a fair and transparent election."
During the Pahrump forum, Marchant claimed that voting machines were "easy" to hack, and called for a "non-computer" election system.
Commissioners later adopted the proposal, joining Esmeralda County in ending the use of voting machines. More recently, the county's newest clerk, Mark Kampf — who also denies the legitimacy of the 2020 election and has promoted election conspiracies — sparred with Cegavske's office over new regulations for hand-counting. Eventually, state election officials approved a compromise that saw those regulations implemented — without applying to Nye.
Nye County would be by far the largest county hand-counting ballots with more than 32,000 registered voters. Esmeralda and Lander counties, which hand-counted primary ballots this year, counted just 317 and roughly 1,500 ballots, respectively. Outside groups have raised concerns that the move would introduce human error into the counting process. 
Marchant has also promised to "get rid of ERIC," or the Electronic Registration Information Center. A nonprofit managed by 33 member-states, ERIC allows states to share voter registration information with each other and with the federal government, and allows states to identify duplicate registrations in order to keep their respective voter rolls updated.
In the wake of the 2020 election, ERIC emerged as a target for right-wing election deniers, who accused the program, without evidence, of functioning as part of a vast left-wing conspiracy funded by billionaire George Soros.
Marchant, in the mold of many Republicans both in Nevada and across the country, has backed the implementation of voter I.D. laws that would require showing state identification to vote. He has also frequently criticized the implementation of universal mail-in voting, and implicitly linked the introduction of vote-by mail with alleged fraud.
He has also called for a ban on mail-ballot drop boxes, and as late as October of last year, called for a nationwide audit of 2020 election results. Republicans in key battleground states have jockeyed for such audits, often in a bid to justify fraud claims. However, those audits have also not found evidence of widespread fraud, and election officials were especially critical of the most prominent audit in Arizona's Maricopa County.
In the summer of 2020, Nevada Democrats approved sweeping election changes during a special legislative session, including the creation of universal mail ballots designed as a response to the pandemic. Later, during the regular legislative session in 2021, the Democratic majority made much of the changes permanent with AB321.
In June, Marchant told a conservative radio host that he backed a proposal that would force all voters to re-register — an idea similar to one floated by Pennsylvania Republican governor candidate Doug Mastriano. Such programs would likely violate federal law, and echo laws from the Jim Crow South that required re-registration annually in order to keep Black voters from the polls.
Last September, Marchant also told Reuters that he would look to end early voting and ban the use of voting machines until they could be inspected for evidence of fraud.
On business policy
In a primary debate in February, Marchant proposed reducing or eliminating the state's business licensing fee. The state's annual business license fee runs $500 for corporations and $200 for other businesses, though a number of other fees are also still applicable.
More recently, he has more specifically proposed a "business filing fee holiday" as "the first of my promises to Nevadans." He also has argued in campaign tweets that the filing process must be streamlined and said that "starting a business should only take one form."
During the Pahrump forum, he argued the fee holiday should last "until we get out of this malaise that we're having right now," and, separately, called for "less and less burdensome regulations on business, just like President Trump did."
Marchant has touted his own business record, highlighting a decades-long career as a tech business entrepreneur on his campaign website. However, the Las Vegas Review-Journal reported last month that one of Marchant's businesses, a telecommunications company called Maxcess, paid out millions of dollars in legal settlements in 2002 and 2003.
During the primary, Marchant also frequently campaigned or tweeted about issues unrelated to the office of secretary of state, including calling for a ban on "underage transgender treatment in Nevada," casting himself as anti-abortion and "pro-life," calling for the opening of the controversial Thacker Pass lithium mine in Humboldt County, and attacking Democrats, namely Gov. Steve Sisolak and President Joe Biden.
The Nevada Independent is raising $200,000 by Dec. 31 to support coverage of the 2024 election.
Tax-deductible donations from readers like you fund this critical work.
If you give today,your donation will be matched dollar-for-dollar.
Give + Get Matched
Featured Videos