Clark County Commissioners Chris Giunchigliani, left, and Steve Sisolak listen while personal injury attorney Robert Englet with the law firm Eglet Prince addresses the County Commission during a hearing pursuing lawsuits against major opioid manufacturers and distributors on Tuesday, Dec. 5, 2017. (Jeff Scheid/The Nevada Independent)
Gubernatorial candidate Giunchigliani unveils her gun policy in ongoing fight against the NRA
April 12th, 2018 - 2:15am
If Democrat Chris Giunchigliani is elected governor, she wants to bolster gun background checks, keep firearms out of classrooms and ban assault rifles and bump stocks.
Those are a few of the policy positions Giunchigliani takes in her six-point plan, which she is releasing Thursday, to reduce gun violence. The Clark County commissioner is the first gubernatorial candidate to unveil a comprehensive policy approach to guns — a perennial campaign issue that has garnered more attention after a series of mass shootings at a Las Vegas music festival, Texas church and Florida high school.
"I'll be a governor who will tackle the epidemic of gun violence," Giunchigliani wrote in the opening lines of her policy document. "​It's long past time for our leaders to act and we can no longer allow the gun lobby to hijack our public policy."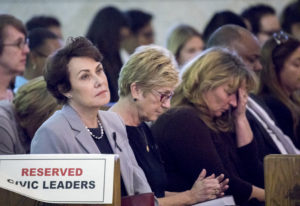 The Valentine's Day shooting at Stoneman Douglas High School in Parkland, Florida, galvanized teens nationwide who organized walkouts and marches to urge stronger gun-control measures. The school-safety conversation turned to arming teachers after President Trump suggested that certain highly qualified educators should be allowed to carry weapons as a defense against shooting tragedies.
The topic came up when Republican Gov. Brian Sandoval convened school superintendents last month — a precursor to his formation of a school safety task force that will provide recommendations. Attorney General Adam Laxalt, a Republican running for governor, also broached the subject at his own school-safety summit in March, saying he wouldn't force teachers to carry guns but would be open to letting educators who have military or law enforcement backgrounds do so.
Giunchigliani, however, has taken a firm stance against allowing guns in classrooms. She notes in her policy outline that she would veto any measures that would arm teachers.
The former special-education teacher said she's waiting to see what school-safety recommendations come out of Sandoval's task force. But Giunchigliani vowed to find funding for safety fixes deemed most crucial, saying the protection of students and staff must be paramount.
As community members, educators and elected officials ponder ways to enhance school safety, Giunchigliani said she hopes they look for solutions that don't ruin the positive atmosphere, where students are inspired to learn and make memories.
"I don't want schools to become prisons or to become so locked down that you can't instruct," she told The Nevada Independent. "You lose that collegiality and the fun that should also be contained within a school."
A large chunk of Giunchigliani's gun platform lies in keeping firearms out of the wrong hands.
The gubernatorial candidate said she wants to work toward implementing Question 1, the voter-approved but long-stalled ballot measure that would require gun buyers to undergo a background check through a federal system rather than a state one. Laxalt's office in 2016 issued an advisory calling the measure "unenforceable" because the FBI would not perform the checks.
But Giunchigliani's larger aim is passing legislation that would require a triple background check through local, state and federal systems. She said requiring comprehensive background checks for all gun sales would help alleviate gaps in individual systems, which sometimes happens when a governmental agency experiences lag time updating records and information.
"I don't want finger-pointing to come about," she said, describing her push for comprehensive checks. "Let's make sure it works well."
Giunchigliani isn't stopping with background checks, though. She's calling for a ban on possessing and selling assault weapons, which she said serve no sporting purpose.
Under her proposal, Nevada residents who already own such a weapon could apply for a "certificate of possession" — her way of easing into the outright ban. People moving to the state, however, would need to either render those weapons inoperable or sell them, she said.
Giunchigliani said she considers a ban on assault weapons a "common-sense" gun policy that doesn't infringe on citizens' Second Amendment rights. She questions why anyone needs a "weapon of war" or a bump stock, which accelerates the rate of gunfire.
The latter came under scrutiny following the mass shooting on the Las Vegas Strip, which left 58 people dead and hundreds others injured. The gunman had used bump stocks as he fired down on concertgoers from his perch in a Mandalay Bay hotel room.
Giunchigliani has proposed banning the sale of aftermarket gun modifications, including bump stocks, and high-capacity magazines. Recent tragedies locally and across the nation, she said, have made more people supportive of these type of bans.
Bills that proposed banning or more tightly regulating bump stocks emerged in Congress in the days and weeks after the Las Vegas shooting, but federal lawmakers haven't acted. After the Parkland, Florida, school shooting — which did not involve a bump stock — Trump ordered U.S. Attorney General Jeff Sessions to develop a regulation that would ban the device. The Justice Department, in turn, released a 55-page proposed regulation in late March that would essentially render bump stocks illegal.
"It takes guts to stand up to the NRA," she said, referring to the powerful gun lobbying organization. "And I have already shown that I can do it."
The NRA, which grades politicians on their friendliness toward pro-gun policies, gave Giunchigliani a "C+" in 2002 and 2004 when she was an assemblywoman. She received a "C" grade in 2010 as a county commissioner. Sisolak, her commission colleague who's challenging her in the Democratic primary, received an "A-" from the NRA in 2012. (Sisolak previously told The Nevada Independent that his views on guns have changed since the massacres at Sandy Hook Elementary School and in Las Vegas. He now supports banning bump stocks, military-style weapons, silencers and high-capacity magazines.)
Giunchigliani's gun policy also touts empowering local governments and municipalities to enact their own provisions to keep their communities safe. She intends to repeal a portion of Senate Bill 240 — a Republican-backed measure in 2015 — that expanded the Legislature's right to regulate firearms.
Additionally, she plans to enact "red flag" legislation that would allow judges to sign an order requiring individuals to temporarily surrender firearms if evidence indicates they're a risk to themselves or others.
Shortly after the October 1 shooting in Las Vegas, Giunchigliani met with loved ones of victims killed in other mass shootings across the country. Those conversations, she said, further compelled her to craft what she's calling her "gun safety reform commitment."
"After that, I have to say it was crystal clear in my mind that we absolutely have to take a stand against the NRA," she said.
Chris Gguns by Jackie Valley on Scribd
Disclosure:

Steve Sisolak

 and 

Chris Giunchigliani

 have donated to The Nevada Independent. You can see a full list of donors here.
INDY FAST FACTS
Steve Sisolak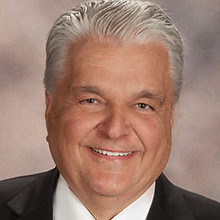 Job:
Clark County commission chairman
Party:
Democrat
In current office:
2009-present Commission chairman since 2013
Birthdate:
December 26, 1953
Education:
University of Wisconsin—Milwaukee (B.S.) University of Nevada, Las Vegas (M.B.A.)
Other public offices held:
Nevada System of Higher Education Regent (1999-2009)
Total donations:
$9,647,261 (1/12/11-6/7/18)
Top donors:
MGM Resorts International $174,359 Station Casinos/Zuffa: $90,000 Las Vegas Sands $75,000 Fidelity National $61,600 Marnell Companies LLC $55,000
INDY FAST FACTS
Jacky Rosen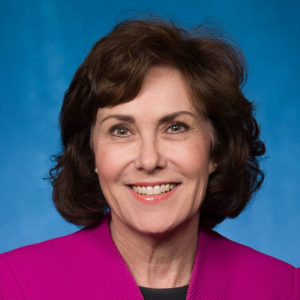 Job:
 Member of the U.S. House of Representatives Nevada's 3rd Congressional District
Party:
Democrat
In current office:
2017-present
Birthdate:
August 2, 1957
Education:
University of Minnesota, Twin Cities (B.A.)
Other public offices held:
None
Total donations: 
$
9,013,380
 (
1/1/16-5/23/18
)
Top donors:
EMILY's List $178,768 League of Conservation Voters $80,270 DE Shaw & Co $69,500 University of Nevada $40,038 Omni New York $32,400 Last Report: 6/1
1/18
Credit: Center for Responsive Politics
INDY FAST FACTS
Chris Giunchigliani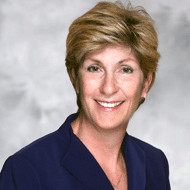 Job
: Clark County Commissioner
Party
: Democrat
In current office
: 2007-present
Birthdate
: November 27, 1954
Education
: Avila College (B.A.) University of Nevada, Las Vegas (M.A.)
Other public offices held
: State Assemblywoman, District 9 (1991-2006)
Total donations
: $2,895,819 (5/08/13-6/7/18)
Top donors
: Giunchigliani (Chris, Jeanne, JM, Larry, Myrna, Ellen): $65,000 MGM Resorts International $43,165 Caesars Entertainment $35,000 Buck and Aurora Wong $30,000 South Point Hotel & Casino/F&M Advertising $30,000
INDY FAST FACTS
Adam Laxalt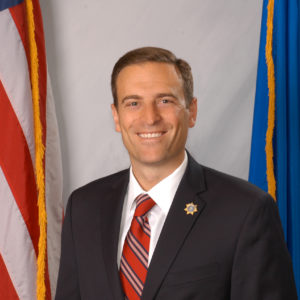 Job:
 Nevada State Attorney General
Party:
Republican
In current office:
2015-present
Birthdate:
August 31, 1978
Education:
Georgetown University (B.A.) Georgetown University Law Center (J.D.)
Other public offices held:
None
Total donations:
$8,262,050 (1/08/14 - 6/07/18)
Top donors:
Station Casinos/Zuffa/Fertitta $208,500 Las Vegas Sands $75,000 Marnell Properties LLC $42,500 Starpoint Resort Group/Partners $40,000 MGM Resorts $35,000
INDY FAST FACTS
Brian Sandoval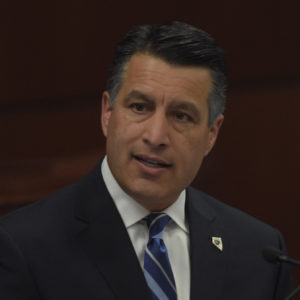 Job:
 Nevada Governor
Party:
Republican
In current office:
2011-present
Birthdate:
August 5, 1963
Education:
University of Nevada, Reno (B.A.) Ohio State University (J.D.)
Other public offices held:
U.S. District Court Judge (2005-2009) Nevada State Attorney General (2003-2005) Nevada Gaming Commission Chair (1999-2001) Nevada Gaming Commission Member (1998-2001) State Assemblyman, District 25 (1994-1998)
Total donations:
$5,035,808 (1/7/11 - 7/5/17)
Top donors:
Caesars Entertainment $245,000 Station Casinos $158,072 MGM Resorts International $160,000 Wynn Resorts $80,000 Marnell Properties LLC $70,000
From the Editor
The Nevada Independent
is a 501(c)3 nonprofit. We need help to attain the elusive goal of sustainability. We depend on recurring donations from you, the readers who believe in our mission of nonpartisan, transparent journalism. I know you are busy. I know you have many commitments. But if you would take a moment to
support our work
or bump up your current donation, I would be forever grateful.
Thanks for all of your support.
Best,
Jon Ralston
get our morning newsletter,
The Daily Indy
Stars & Struggles
Take a peek into today's education world through the lens of Sunrise Acres Elementary School in Las Vegas.
@TheNVIndy ON TWITTER