Harris criticizes Trump's handling of COVID-19, touts Biden's coronavirus response plan at roundtable in first Nevada visit as VP nominee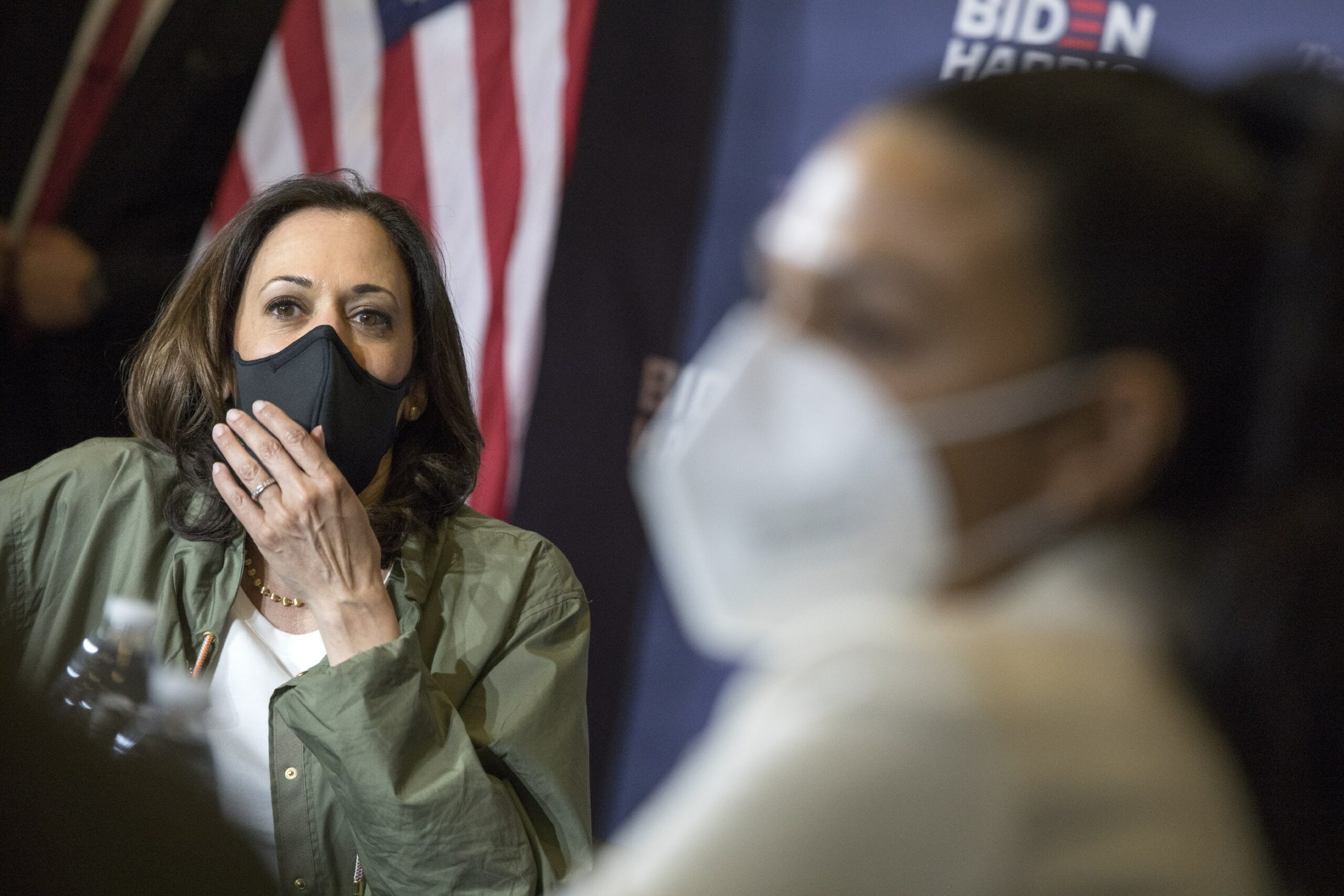 Democratic vice presidential nominee Kamala Harris criticized President Donald Trump for holding two rallies of thousands of people in Nevada this weekend, telling attendees at a small roundtable in Las Vegas on Tuesday that the president didn't care whether rally goers were wearing masks or socially distanced.
Harris said that Trump "deceived the American people about the seriousness of the virus," referencing the president's February interview with journalist Bob Woodward in which he acknowledged that COVID-19 was airborne and "deadly stuff."
"He knew it was deadly and yet still even most recently here in Nevada, in Henderson, where I have been, he brought thousands of people together and wasn't concerned about whether they were wearing masks or socially distanced," Harris said.
At the same time Tuesday night, during an ABC News town hall, Trump said that he didn't regret anything about his response to the pandemic.
During the town hall, Harris also noted the president's efforts to cast doubt on the integrity of the electoral process. At a rally in Minden this weekend, Trump said, without evidence, that Gov. Steve Sisolak controls "millions of votes" and that the only way that he would lose the election is if Democrats rigged it.
"I would urge everyone to sit back and think, why is he trying to put in place all these obstacles to having people vote?" Harris said. "Why go through the effort? What is that about? I'll tell you I believe what the answer is, because he knows that when people vote, things change."
Harris's roundtable, which was held at the Rafael Rivera Community Center in East Las Vegas, marked her first visit to the Silver State as the Democratic vice presidential nominee. The California senator made 10 trips to Nevada during her presidential campaign last year.
The roundtable, which was closed to the public but livestreamed, was attended by Las Vegas City Councilwoman Olivia Diaz, Dream Big Nevada executive director and immigrant rights activist Astrid Silva, Caesars Palace employee and Club Migrantes de Uruapan President Eddie Ramos, immigrant rights activist Dulce Valencia and Regina Simmons, owner of the vegan Mexican restaurant Tacotarian. Harris and all of the panelists wore masks and practiced social distancing during the event.
Harris spent most of the 45-minute roundtable listening to stories about how members of the Latino community in Las Vegas have been affected by the coronavirus pandemic and sharing portions of Democratic presidential nominee Joe Biden's plans. The Biden campaign has been ramping up its outreach to the Latino community, including during Biden's visit to Florida on Tuesday, and as Nevada Democrats fret about what Latino turnout will look like in November.
However, according to a new Equis Research poll released Monday, Biden is significantly ahead of Trump with Latino voters in Nevada, with 62 percent support for the former vice president compared to only 26 percent support for the president.
Simmons, an immigrant from Mexico City who has lived in Las Vegas for 16 years, shared her struggles as a business owner deciding how and when to open her restaurants after the lockdown this spring. Simmons said that Tacotarian had to "get creative and find new ways to bring people in" but at the same time make sure that both customers and employees alike felt comfortable coming in.
Harris said that the Biden plan on reopening the economy would provide guaranteed paid leave for sick employees, provide grants to businesses to secure personal protective equipment and other supplies, such as plexiglass, to keep their establishments safe and offer federal funds to allow employers to rehire workers and ramp their businesses back up.
"The reality is it's so much bigger than just reopening your doors," Harris said. "All of the things you're going to need to do in your business including spacing out the tables, outdoor service, so many things that a lot restaurants just were not doing before and there's an expense associated with doing that."
She said that the Biden-Harris administration would also extend unemployment benefits and pay 100 percent of COBRA benefits when someone loses their employer-based health insurance coverage because they just lost their job.
She talked about Biden's plan for higher education, which would make two-year college free for all students, offer free four-year college to all students whose family makes less than $125,000 a year if the college is a public school or minority-serving institution and forgive student loans for those who take jobs that pay less than $25,000. On K-12 schools, she said that their administration would focus on building up infrastructure in schools.
"Some of the reasons that some of our children cannot go back to school is our public schools, those schools are so old," Harris said. "None of us would let our children drink from the water fountain because that is pretty much toxic. And the ventilation system in some of the buildings is so bad that they can't even be indoors, even if they're socially distant, and be safe."
Harris also criticized the Trump administration's ongoing lawsuit challenging the constitutionality of the Affordable Care Act — which includes protections for people with pre-existing conditions — noting that the millions of people who contract COVID-19 may suffer health complications related to the virus their entire life.
"If they get rid of the Affordable Care Act, then that means they will also get rid of the protections that we got for people with pre-existing conditions," Harris said. "There are over six million people who have contracted the virus and, you know, through God's grace have lived. We still don't know the long-term health impact."
Trump does, however, say he supports protections on pre-existing conditions and said that he plans to sign an executive order that would protect people with pre-existing conditions, though it is unclear whether such a policy could be enacted via executive order.
She also discussed Biden's immigration plan, which she said includes sending a bill to Congress "on day one" that would create a path to citizenship for 11 million undocumented immigrants, ending the Trump administration's family separation policy and ensuring that people have access to COVID-19 testing and treatment regardless of their immigration status.
After the rally, Harris greeted a couple dozen supporters who had gathered outside with masks on, telling them how important of a role Nevada would play in the November election.
"Let's get this done," she said. "Hard work is good work. Hard work is fun work."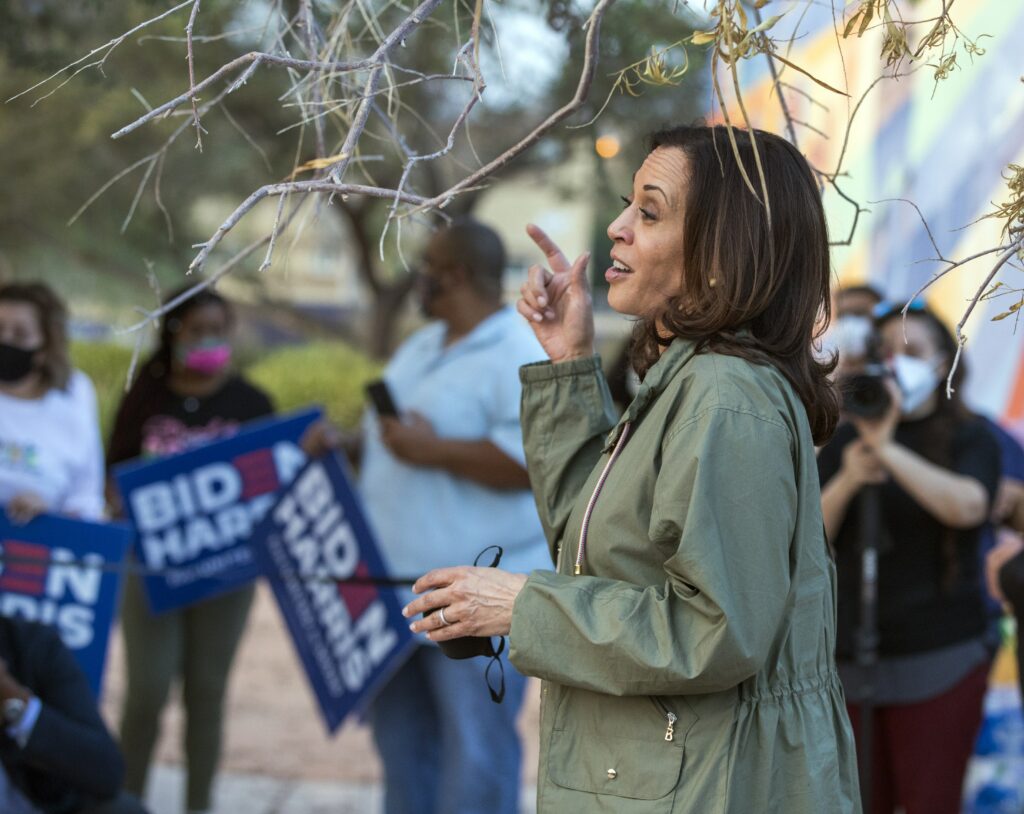 The Nevada Independent is raising $200,000 by Dec. 31 to support coverage of the 2024 election.
Tax-deductible donations from readers like you fund this critical work.
If you give today,your donation will be matched dollar-for-dollar.
Give + Get Matched
Featured Videos