Erika Castro, lead at the Nevada Immigrant Coalition, during the Family Preparedness and Immigration Forum at First African Methodist Episcopal Church on Saturday, June 22, 2019. (Jeff Scheid/Nevada Independent)
Immigrants brace for the worst after president's on-again, off-again plans for mass deportations
This story has been translated and edited from its original Spanish version. The Nevada Independent is not publishing the last names of certain attendees interviewed for the story because of the sensitivity of their immigration status.
Wooden pews and the modest altar of the First African Methodist Episcopal Church in North Las Vegas provided the backdrop for a forum aimed at educating the public what to do if mass arrests and deportations announced earlier this month by President Donald Trump come to pass.
The event, organized over the weekend by the Nevada Immigration Coalition, came a few days after the president said on Twitter that Immigration and Customs Enforcement (ICE) would start deporting "millions" starting Sunday morning. He tweeted Saturday that he would delay operations for two weeks to work on the issue with Congress, but anxiety over the announcement persisted among the dozens of people who came to the event.
Aracely, a forum attendee who is undocumented and has been in the U.S. for 15 years, said she heard about Trump's plans on the news. Her first thought was for her four children; only one was born in the U.S. and the others have not sought protections through DACA because they worried doing so would put the family on the radar of immigration authorities. 
"My children. What will happen if he deports us?" she said in Spanish about her first thoughts when hearing the plan. "It's a lot of terror, a lot of insecurity, too much pressure ... Hope is all we have left."
Yoselyn, whose husband is undocumented, said she didn't feel comfortable enough to bring him to the event because they weren't sure it was safe to do so. The fear is so pervasive that she said she doesn't know what she should do if she encounters the police — Is it OK to make eye contact? What questions are they going to ask?
"It's scary because we do have a family, and not knowing what to do because he's also the head of the family," she said. "I try to hide it, but I can't. It's a scary thing to think about."
Last week, acting ICE Director Mark Morgan confirmed the planned operation, saying the agency sent letters to about 2,000 undocumented families who sought asylum in the United States recently. The letters informed recipients that after their cases had been processed, they were subject to deportation.
On Friday afternoon, several news media outlets cited unnamed sources from the Department of Homeland Security (DHS) in reporting that these immigration arrests, known as family ops, would begin during the early hours of Sunday morning in 10 cities across the United States. Trump took to Twitter Saturday morning to explain the deportations.
"The people that ICE will apprehend have already been ordered to be deported. This means that they have run from the law and run from the courts. These are people that are supposed to go back to their home country. They broke the law by coming into the country, and now by staying," he said in a message, adding another: "When people enter our country illegally THEY WILL BE DEPORTED!"
But at noon on Saturday, Trump tweeted again, saying that he would postpone the operation for two weeks:
"At the request of Democrats, I have delayed the Illegal Immigration Removal Process (Deportation) for two weeks to see if the Democrats and Republicans can get together and work out a solution to the Asylum and Loophole problems at the Southern Border. If not, Deportations start!"
Yoselyn noted that the change of plans gave her little comfort. 
"They don't stay to what they say they're going to do," she said about the administration.
With the exception of Northern Nevada Republican Rep. Mark Amodei, representatives for five members of Nevada's congressional delegation and Gov. Steve Sisolak attended the event to emphasize they are available to address public concerns.
"We know these moments are difficult ... The information we have has already been made public by the media, so we don't have any more details," Nelson Araujo, state director for the office of Nevada Democratic Senator Jacky Rosen, told the audience. "But we do want to assure you that we are with you."
Jorge Silva, deputy chief of staff at Rosen's office, said on Saturday they don't know whether Nevada will be affected by the operation.
Response in Nevada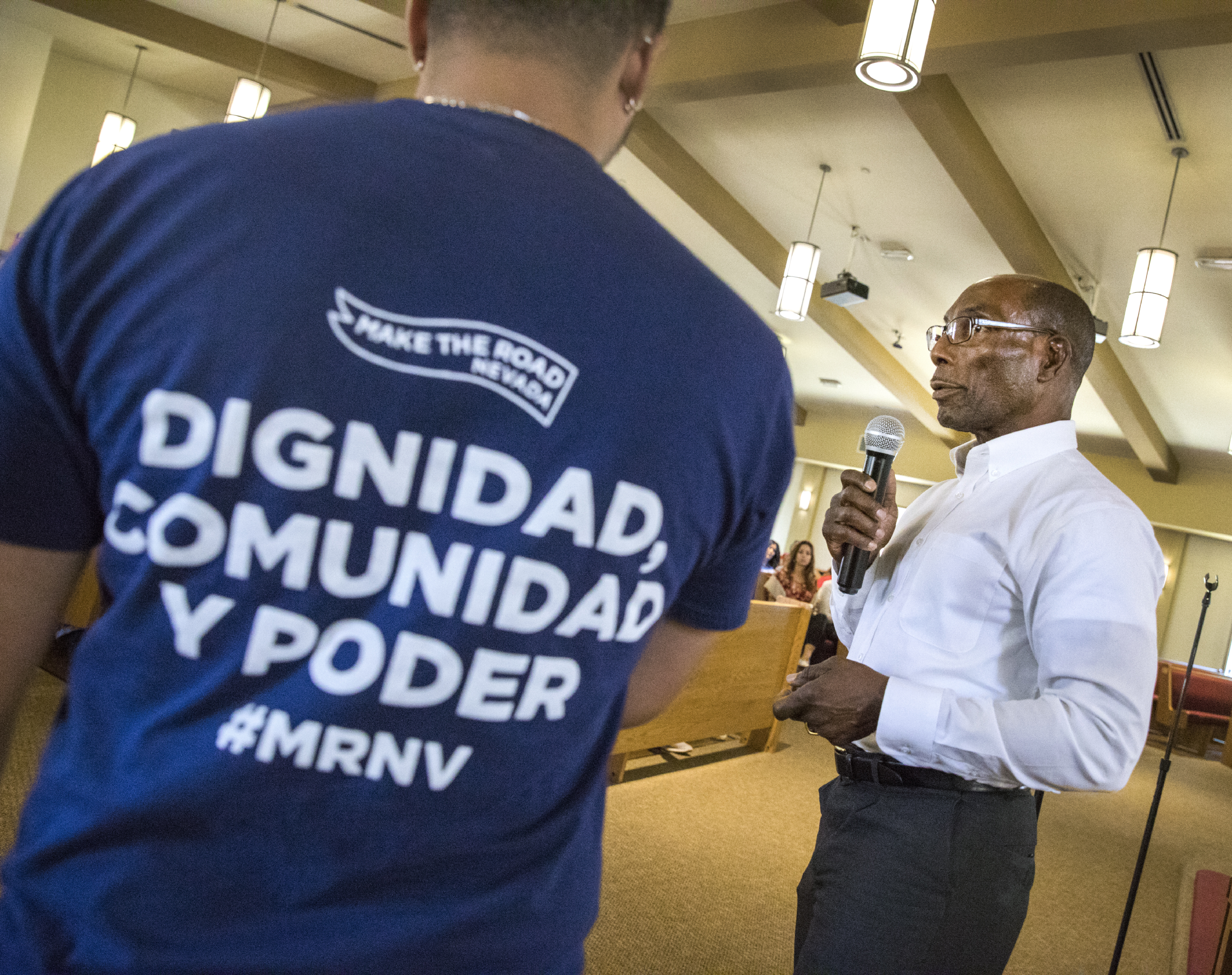 Saturday's event wasn't the only attempt from advocacy groups in recent days to calm the immigrant community and educate them about their rights when they encounter immigration authorities. DREAM Big Nevada organized an informational forum on Thursday. 
Astrid Silva, founder of the group, accused Trump of announcing policies through Twitter to stoke fear among the public. The delay he announced will only mean that the operation could happen during the July 4 weekend, when people might not be paying attention, she said.
"In two weeks, we will be celebrating and this won't be on our mind," she said in an interview in Spanish. "That's what I'm afraid of, that we must always be vigilant of what [the president] is doing and what is happening every day in the offices of ICE."
Among those attending the forum on Saturday was Ezekiel, originally from Mexico, who has been in the United States for the past 21 years and recently was released after spending six months in an immigration detention center for a misdemeanor. He said the forum was a good opportunity to share information, and he hoped his experience would help others.
"It wasn't very nice," he said about the time he spent behind bars, noting that all detainees were worried about their families and uncertain about where they themselves would head next. "It's not a detention center. It's a frustration center."
Erika Castro, who heads the immigrant coalition, said representatives of other organizations attended the forum to show solidarity with immigrants.
"And there will be many community organizations to ensure they feel like part of a community, so they feel they are here to help each other and to defend ourselves and not to cause more panic," she said in Spanish.
Preparing for an encounter with ICE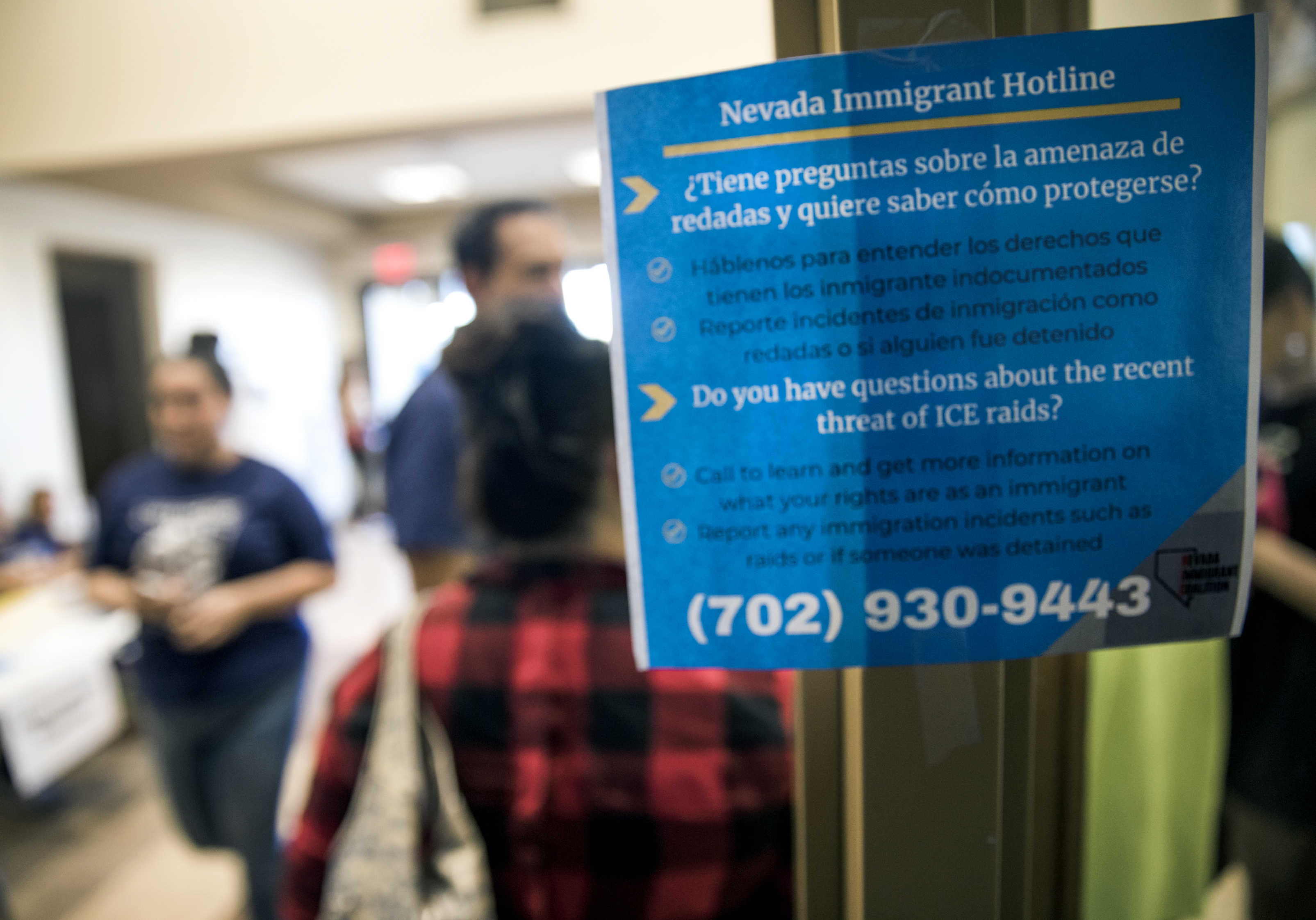 Organizers at the event reviewed with attendees the rights they have if they encounter immigration officials, including the right to remain silent.
The American Civil Liberties Union (ACLU) notes that immigrants are entitled to a lawyer, but the government won't provide them one for free as it would if they were accused of a crime in the state or federal court system. Those who might be affected should also keep a list of free or low-cost legal advice resources on hand, organizers advised.
The ACLU also points out that immigrants have the right to contact their consulate or to have an officer notify the consulate of their arrest, and emphasizes that people shouldn't sign anything, especially voluntary departure documents or a removal order.
The organization adds that immigrants don't have to open their door unless agents can show an order signed by a judge — not simply an immigration officer — and they can ask to see this order through a window or under the door.
Silva also suggested that people maintain information about their bank accounts and payments up to date and legally designate a person to be a guardian of their children if the family is separated. 
Immigration lawyers Mayra Salinas and Nallely Abad told attendees that the potential operations Trump announced are aimed at people with deportation orders who have not shown up for immigration court hearings in recent years or for several years, as well as those with convictions.
Sometimes it's clear to a person that they fall into that category, but Silva said that not all people are aware they have a deportation order. She said her father didn't know for a decade that a deportation order had been lodged against him.
Salinas advised attendees to prepare a list of information in case someone is arrested by ICE or the police, such as phone numbers of at least three lawyers and contact information for people who can care for the children and the house.
"Be organized so you will not fall into custody," Abad said. "Because that's when you're most at risk."
Stories
Candidate Trackers
Endorsements, Ads, Policies, Visits
& More
visit now
Comment Policy (updated 10/4/19): Please keep your comments civil. We reserve the right to delete comments or ban users who engage in personal attacks, use an excess of profanity, make verifiably false statements or are otherwise nasty.