Democratic presidential candidate Sen. Kirsten Gillibrand, center, during a roundtable on immigration at Mar Y Tierra Restaurant on Monday, May 6, 2019. (Jeff Scheid/The Nevada Independent)
In Las Vegas campaign swing, Gillibrand looks to make headway with activists, organizers
Sitting at a long, crowded table at a Mexican restaurant in East Las Vegas, Democratic presidential candidate Sen. Kirsten Gillibrand was ready with a laundry list of policy priorities — reversing tax breaks for the wealthy, enacting gun control and fundamentally reshaping Immigration and Customs Enforcement and the immigration system at large — during a roundtable with local activists and organizers Monday.
During roughly 40 minutes of questions and answers, Gillibrand dug into the details of her campaign platform — especially as it pertained to immigration — and cast herself as a candidate ready to wield the bully pulpit of the presidency if it means yielding results.
"I'm very effective at passing bipartisan legislation, it's one of the reasons why I decided to run for president," Gillibrand said. "I do believe we need a president that's going to be brave enough to take on her own party when they're wrong and brave enough to bring people together, and to do the right thing even when it's hard, especially when it's hard, and that's who I am."
Gathered around her were a dozen community activists, organizers and even a few children, all there to pepper the senator from New York with questions about what she planned to do if she ever makes it to the White House.
One of those activists was Kimberly — still in grade school — who was born in the U.S. to undocumented parents. With her mother already deported, she told Gillibrand she was now afraid it would happen again, this time to her father. 
"Well, that sounds really frightening Kimberly," Gillibrand told her. "You're a very brave young girl to be here, to give me your thoughts and advice and to be participating in this democracy. It really matters."
But Kimberly's story struck at the core of Monday's round table: what should the U.S. do about immigration? Confronted with stories of what the activists called a fundamentally flawed system, Gillibrand fit a number of policies under a broad umbrella of what she called comprehensive immigration reform: an earned path to citizenship, reshaping ICE and the immigration court system and reversing the Trump Administration's "inhumane and un-American" immigration enforcement at the U.S.-Mexico border.
"I think we need to have more robust immigration, and more ability for more families to be here," Gillibrand said. "I will change what he's doing from top to bottom."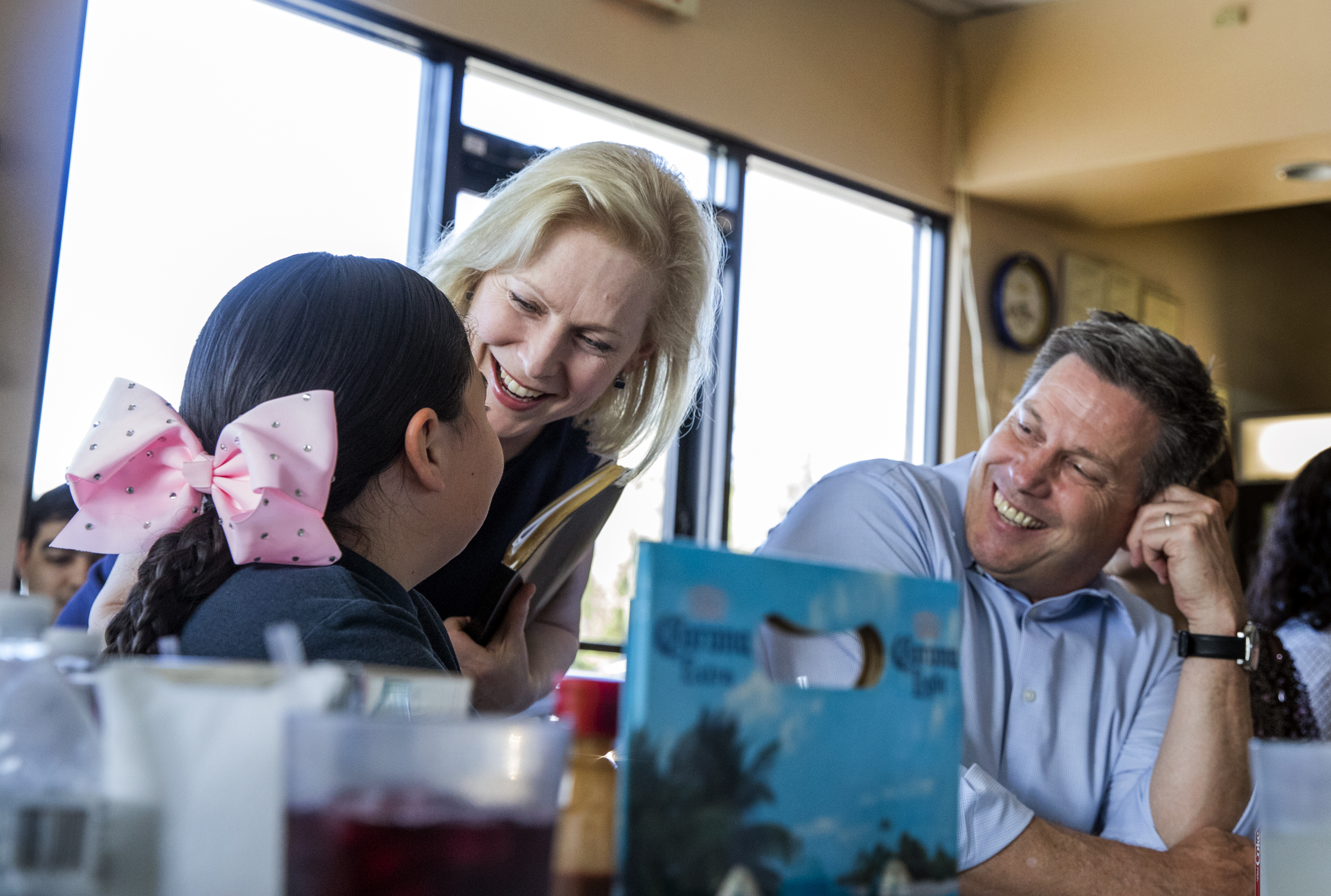 Wendy Losada, who works as a mediator for a local organization that helps victims of violent crimes, told Gillibrand she worries that some undocumented people are now reporting fewer abuse incidents because they're afraid of being deported.
Losada, who has worked in her field for nine years, said she has noticed the trend for about two years — since President Donald Trump took office.
"How can we convince our victims that they have the right to report crime and seek help?" she said in Spanish. "They're more afraid of the system that is supposed to protect them than their abusers."
Losada also told Gillibrand that while there are resources for victims such as the U Visa, which is reserved for immigrants who have been victims of crime and can help law enforcement or government authorities investigate or prosecute cases, she would like the federal government to increase the number of such visas. The maximum allowed per year is 10,000, and there is a long waiting list to obtain it.
Lupe Arreola, a volunteer for the immigrant advocacy group Dream Big Nevada, said that although she is concerned about immigration issues because she has a niece who is a DREAMer, she is also interested in making sure that gun control and school safety are priorities for the next president.
Arreola, who at the end of the meeting handed the candidate an image of the Lord of Mercy and a scapular — tokens of her Catholic faith — said she trusts that Gillibrand and the other presidential candidates will keep their promises.
"May God bless them and open the roads," she said in Spanish. "We need the new president of the United States to worry about the problems minorities face."
Arreola, a native of Mexico, said that even if she can't vote because she's not a U.S citizen, she has participated in previous campaigns by organizing phone banks from home to encourage Latinos to vote.
For Astrid Silva, a prominent DREAMer and co-founder of the immigration advocacy organization DREAM Big Nevada, the event provided a "good foray" into 2020 for a community that has long lacked widespread political engagement.
"It's important that people, normal people, people that are not involved in politics, get this opportunity to meet with candidates and share their stories, because in Nevada, we are the most important state because of our diversity, because of our makeup," Silva said.
Among the first four early primary states, Nevada is unique; it is the only early state with any meaningful number of Latino voters, and more so than Iowa, New Hampshire or even South Carolina, it aligns closely with the demographics of the Democratic electorate nationwide.
At the same time, Latinos are a growing force among Nevada's electorate and proved to be a key constituency for Democrats in elections in 2016 and 2018. An April study from research firm Latino Decisions found the Latino electorate grew by 5 points over four years, enough to shift support in last year's hotly contested U.S. Senate race toward Democrat Jacky Rosen.
Still, Silva says getting Latino voters to turn out on Election Day remains a challenge, especially as immigration policy and immigration enforcement have chipped away at the relationship between the community at large and the government.
"Right now one of the big fears is signing their kids up for school," Silva said. "The schools sent out the registration for next year and we're having people call us asking, 'Is it okay to register my kid? Because I'm afraid, what if they share my information with ICE?' This is a school district, where we know ICE cannot interfere with it, but people are afraid and the trust is eroding."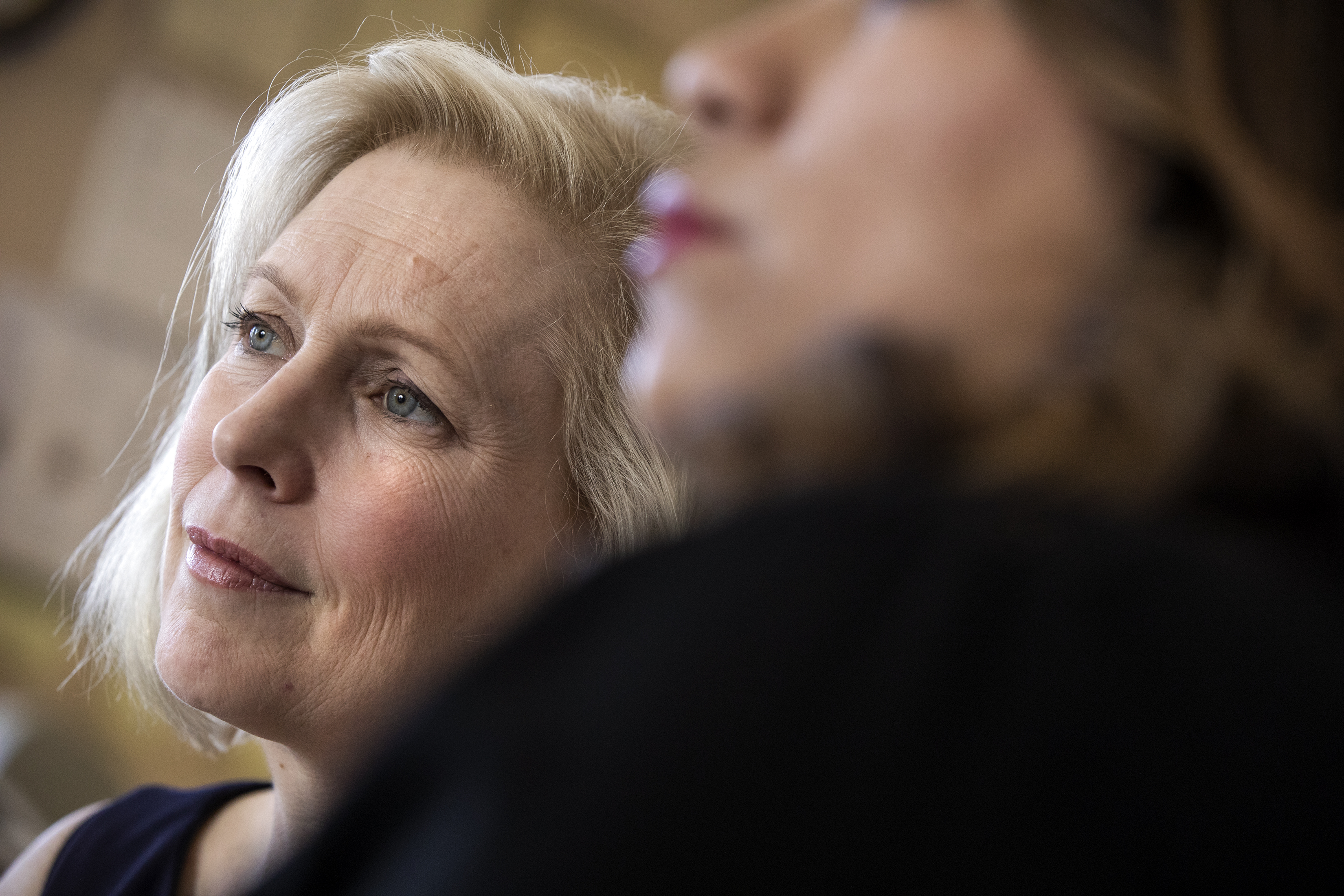 The roundtable came as part of Gillibrand's second visit to Nevada since kickstarting her campaign earlier this year and comes as the senator looks to define her brand among the widest Democratic presidential field since 2004.
In an interview with The Nevada Independent, she vowed not to fund a nuclear waste storage facility at Yucca Mountain, instead backing a process that would allow states to choose to store high-level waste.
"The people of Nevada don't want it, and I think it's really important that states and voters actually get to decide whether they're going to take nuclear waste into their state," Gillibrand said.
Ultimately, Gillibrand said she was confident she could win over Nevadans when the time comes.
"I'm going to lift up their voices and I'm going to fight for them as hard as if they were my own family," she said.
Among a slew of Democrats jockeying to be different from the pack, Gillibrand has cast her presidential effort as "the cool campaign," playing beer pong in New Hampshire one week and using the footage as a Twitter fundraising push the next.
Still, since launching her campaign in March, Gillibrand has lagged behind a number of her Senate colleagues who have also joined the race. Sen. Bernie Sanders has long been among the top candidates in early polls, while Sens. Elizabeth Warren, Amy Klobuchar and Cory Booker trail with polling averages anywhere from 2 to 8 percent.
With her own polling average barely above 1 percent on a handful of key polls, Gillibrand has technically qualified for the Democratic debates this summer — a feat equaled by all but a handful of presidential challengers.
But her overall polling average is just .5 percent, and she has yet to meet the debate's secondary cut off — 65,000 individual donors — meaning she could be in danger of missing future debates if too many candidates qualify and party leaders look to prioritize candidates who meet both criteria.
Gillibrand's swing through Las Vegas also included stops with the Service Employees International Union and the local Asian American and Pacific Islander community. But she's not the only Democrat to stop by Nevada on Monday; California Rep. Eric Swalwell met with Washoe County Democratic leaders Monday night, while former Vice President Joe Biden is slated to make a stop in Henderson on Tuesday.
For a full accounting of presidential visits, including who visited, where and when, visit our 2020 presidential candidate tracker.
Comment Policy (updated 10/4/19): Please keep your comments civil. We reserve the right to delete comments or ban users who engage in personal attacks, use an excess of profanity, make verifiably false statements or are otherwise nasty.