Indy Environment: The strange logic of taxing renewable exports in retaliation for raising the mining tax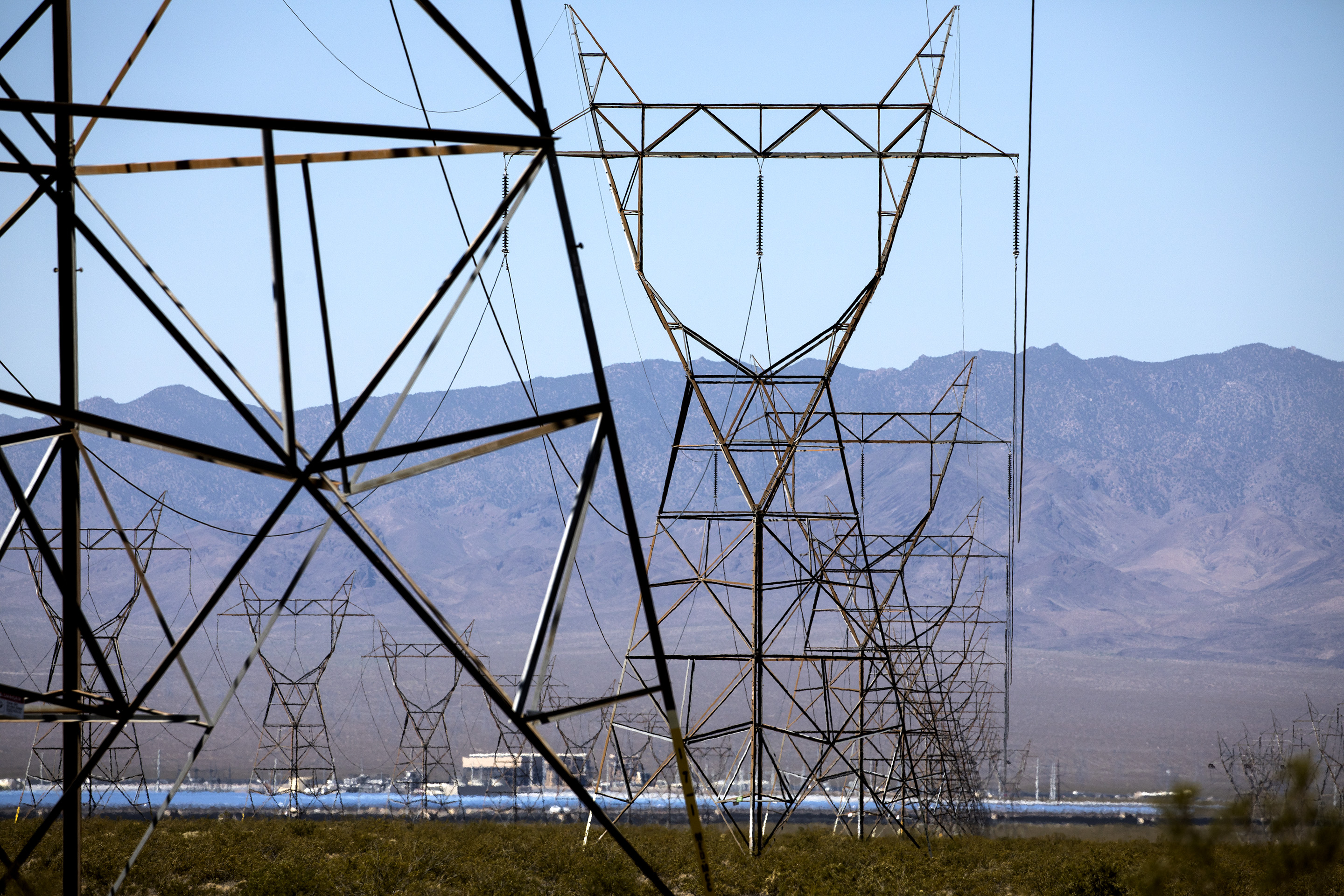 Good morning, and welcome to the Indy Environment newsletter.
To get this newsletter in your inbox, subscribe here.
As always, we want to hear from readers. Let us know what you're seeing on the ground and how policies are affecting you. Email me with any tips or suggestions at [email protected].
---
Having reported on both energy and mining, I had some thoughts on how strange it was to see a Republican proposal to tax renewable exports at #nvleg — seemingly a knee-jerk response to a proposal from Democrats, rushing what should be a thoughtful debate on mining tax reform.
Maybe it makes political sense in Wyoming, where the wind tax was once described as "lashing out at clean energy as payback for federal policy aimed at scaling back the coal industry."
But in Nevada?
The dynamic between mining and energy is different here. Nevada does not mine coal. There is little oil and gas potential. It is hard to see in what world taxing renewables is a win for mining.
At best, it is disconnected from the context of where it's being presented, defying years of state energy policy. For a decade, two administrations (Republican and Democrat) have seized at the business opportunity to expand and export renewables. At worst, it was a politically tribal move, applying a national debate (fossil fuels vs. renewables) to a state where "that is not the story."
Even nationally, the interests of coal mining and hardrock mining are not always aligned. A recent E&E News story on this tension quoted a former coal executive who said this: "There is some built-in conflict there because the copper guys do really well in the renewable world." 
What are the miners looking for here? The answer, at least in part, is a renewable supply chain. Take it from the Nevada Mining Association, which said on its site last April: "With the increased demand for renewable energy also comes an increase in the minerals needed to make these new resources a possibility. Fortunately, Nevada mining is prepared to meet these demands."
Gold extraction still comprises most of Nevada's mining activity. But mining developers are now taking a serious look at lithium. Nevada has the only active lithium operation in the U.S. And the Nevada Division of Minerals says "lithium exploration in Nevada has drastically increased in the past couple years." There are nearly 10,000 active placer claims for lithium, as of June 2020.
That is not to say that the industry does not use a lot of energy, including fossil fuels. Nevada's largest mining company operates one of the two remaining coal mines. But Nevada Gold Mines plans to convert it to natural gas as early as 2022, with the possibility of building a solar array. In fact, the Nevada Mining Association hosted a whole panel on renewable energy last year.
One of the first things I thought of when I saw the renewable tax proposal last week is that one of Nevada's largest renewable firms (if not the biggest) is subject to the mining tax. It develops geothermal energy and exports a lot of it to Los Angeles. The story is not mining vs. fossil fuels.
In all, out-of-state exports account for about 36 percent of the current renewable power capacity in the state, according to data compiled by the Governor's Office of Energy. Anecdotally, every time I have interviewed a solar developer in the last five years, they cite Nevada as a hot-spot for development because a) it's sunny and b) its proximity to other states that want renewables.
Yes, the renewable export tax proposal was not taken very seriously, dead-on-arrival and raises constitutional issues. And yes, as my editor Jon Ralston wrote, it was keeping with the general spirit of the session, "The No Heroes Session." And yet, it's a proposal that was difficult for me to skip over because of how out-of-context it felt with the state's policy trajectory, for a decade.
The short legislative session, meant to close the budget hole caused by coronavirus, somehow unearthed an ancient debate over mining taxes (not surprising) that gave way to a proposal for a renewable tax (surprising). Perhaps the interplay between these industries is more complex?
This tension, the one that Jon asked about at the Democratic debate, is the more interesting one.
Here's what else I'm watching:
---
Military expansions in a veto message: Two proposals to expand military bases in Nevada are not quite dead, despite opposition among state leaders and little appetite in Congress to push them through. The Air Force, in recent years, has sought to expand a training range in Southern Nevada, a move that would give the military more control over the Desert National Wildlife Refuge, the largest refuge in the lower 48 states. In northern Nevada, the Navy has sought to expand its training range in and around Fallon by about 600,000 acres. Congress, with the recent intervention of the Nevada delegation, did not authorize either expansion in its annual military defense bill. Now the White House is stepping in. In a veto message released this week, the White House said it was concerned that the bill left out the expansion language.
Nevada joins a 20-state coalition suing the EPA: The states say a recent EPA rule "limits the power of states to block infrastructure projects, such as interstate oil and gas pipelines, on water quality grounds," Amena Saiyid reported in Bloomberg News on Tuesday. The rule, the states argue in court, is a "drastic curtailment of state authority" and violates the Clean Water Act.
A push to reform oil and gas leasing: Montana Democrat Sen. Jon Tester introduced a bill last week that would end noncompetitive oil and gas leasing on federal public land, a practice that allows oil speculators, including in Nevada, to pick up below-market leases. I wrote about this issue for The Nevada Independent last year. Conservation groups worry that the practice encourages speculative leasing and ties up federal public land that could otherwise be used for conservation or recreation. "Of the 2.5 million acres offered for lease since 2017 in Nevada, less than 10 percent of the acreage offered has been sold at competitive auction," Pam Harrington, a field staffer for Trout Unlimited, said in a statement. "Anonymous entities nominate thousands of acres and the agencies must act on this." In January, Sen. Catherine Cortez Masto proposed banning oil and gas leasing on public land with little to no geological potential for development.
---
A climate-focused recovery? Nevada, through the U.S. Climate Alliance, is pushing Congress to prioritize a stimulus that takes climate change into consideration, laying out some specific policies that Congress could push in future legislation. On Tuesday, Gov. Steve Sisolak tweeted: "Nevada is proud to join with other @USClimate states urging Congress to consider a stimulus supporting economic recovery, community resilience, reduced greenhouse gas emissions, and public health. Diversifying NV's economic base is key to a vibrant future. #NevClimateAction."
A big solar project: Vernon Robison, managing editor for the Moapa Valley Progress, wrote a story about the Battle Born Solar Project, a proposal by Arevia Power to build what would be the country's largest solar array over roughly 9,000 acres. The same firm is developing the Gemini solar project, spanning about 7,000 acres and currently the largest approved project in the U.S. Sisolak, the article said, sent a letter earlier this year to designate the Battle Born project as a FAST-41 project, with the goal of speeding up the permitting process. "The Battle Born project will bring robust economic benefits to the State of Nevada as well as contribute significantly to the supply of clean, renewable energy in the western United States," Sisolak wrote in a letter.
More visitors, funding gaps: Shea Johnson, with the Review-Journal, took a look at the increase in visitors to local parks and public lands — and the strains that are placed on both maintenance and the enforcement of COVID-19 rules. From the article: "It has been difficult to stay on top of maintenance needs and the enforcement of public health guidelines, particularly with limited staff." The Great American Outdoors Act, which will fully fund the Land and Water Conservation Fund, could bring more funding to local, state and federal parks. But it is not a panacea for the climate or extinction crises, as Carl Segerstrom writes in High Country News.
---
'The river basin is more than a plumbing system:' Excellent story by Judy Fahys, writing for InsideClimateNews, about what's at stake as water managers along the Colorado River begin to look at how to balance a shrinking water supply. The article, published this month, looks at the issues through the lens of endangered humpback chub "alien abductions." From the article: "Now, nearly a century after the original Colorado River Compact was forged, river stakeholders also find themselves in alien terrain as they try to reconcile an old management scheme with new realities, such as tribal rights, environmental protection and, especially, climate change."
Rosen pushes back on Pendley appointment: Democratic Sen. Jacky Rosen called Acting Bureau of Land Management Director William Perry Pendley "unfit" to permanently lead the agency during a press call on Tuesday. The Trump administration is seeking to permanently nominate Pendley for the position. The agency is charged with managing about 67 percent of the land within the state, balancing conservation, recreation and development. "It is clear to me that Mr. Pendley does not respect this balance," Rosen said. "When it comes to our public lands, Mr. Pendley has a long and documented history of working to destroy and eliminate them." The Montana Free Press' Chris Aadland wrote more about the press call and the brewing nomination fight.
Labor board alleges 'unlawful conduct:' In court filings, the National Labor Relations Board accused Nevada Gold Mines, the state's largest mining company, of "unlawful conduct" for not recognizing a union that represented a portion of its workers for more than fifty years. Several labor lawyers on Twitter pointed out that the move was notable under the Trump administration and signaled the labor board's belief that the allegations were serious. In fact, lawyers for the National Labor Relations Board told the court as much. They said taking the issue to federal court, before an administrative process played out, was rare and a decision it did not take lightly. Oral arguments, scheduled for Tuesday this week, were postponed after the board informed the court that it was engaged in settlement discussions with the company to settle the dispute.
The Nevada Independent is raising $200,000 by Dec. 31 to support coverage of the 2024 election.
Tax-deductible donations from readers like you fund this critical work.
If you give today,your donation will be matched dollar-for-dollar.
Give + Get Matched
Featured Videos