Indy Explains: Question 5, an effort to automatically register people to vote at the DMV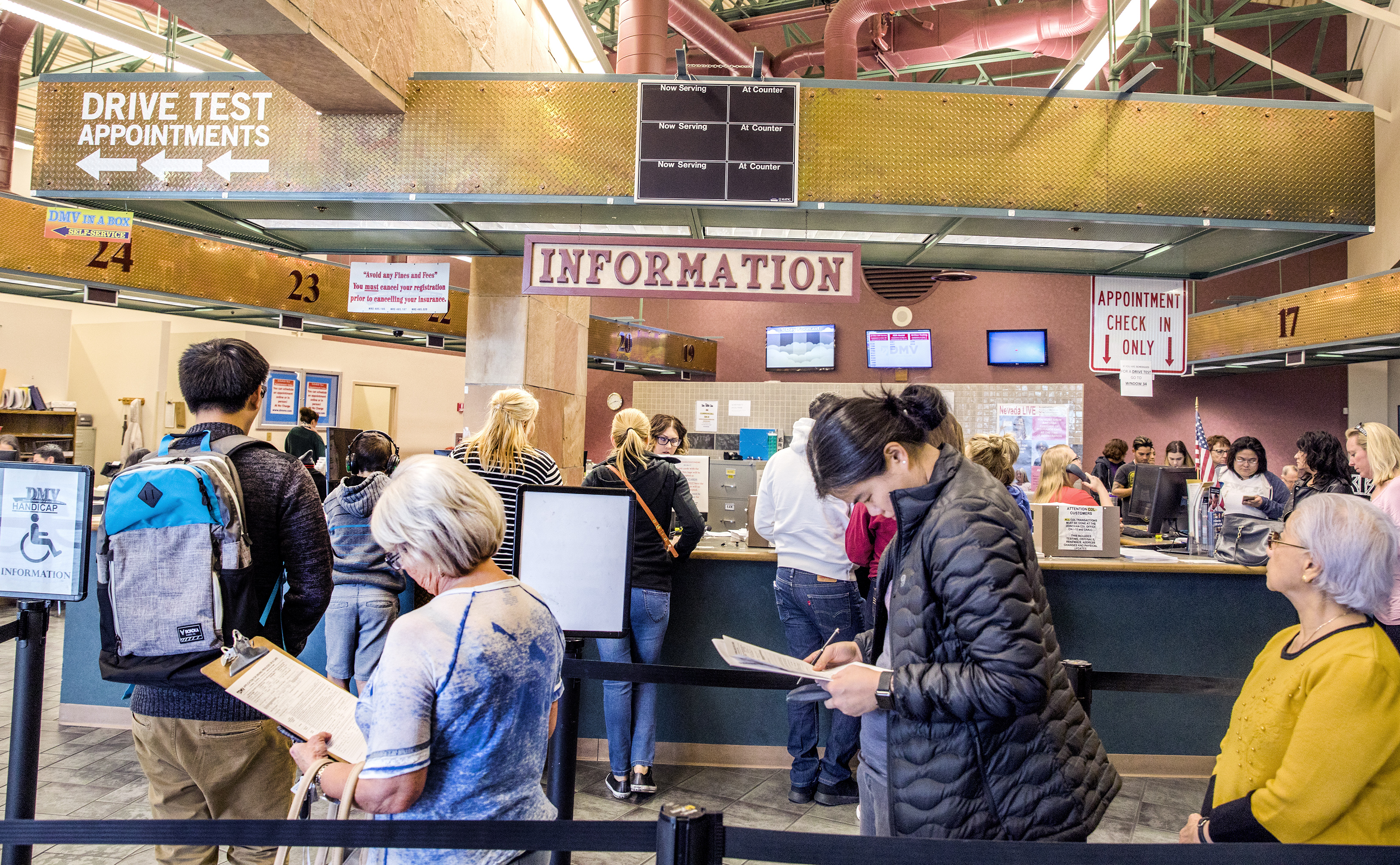 Question 5: Automatic voter registration
Formal name: The Automatic Voter Registration Initiative
Type of measure: Statutory initiative petition
Group sponsoring: Nevadans for Modern and Secure Elections PAC, affiliated with the Washington, D.C.-based voter advocacy organization iVote. The latter organization was started by Jeremy Bird, who led President Barack Obama's voter turnout campaign. It is financially supported by the Nevada Election Administration Committee.
How did it qualify for the ballot: Supporters collected more than 125,000 signatures to qualify it for the ballot in 2016. Statutory initiative petitions always must come before the Legislature for approval, which this one did in 2017 as Initiative Petition 1. Lawmakers approved the measure on party lines in both the Senate and Assembly, but it was vetoed by the governor. Now, it heads to the 2018 ballot box.
Summary of what it does: The measure would change the Department of Motor Vehicles' voter registration process from an opt-in system to an opt-out system. People would be automatically registered to vote either when they apply for a driver's license or identification card or when they renew their license, unless they choose not to do so.
What this amounts to is a slight change on the forms for a new driver's license. Current forms direct ID applicants to fill out an optional page at the back of the form if they wish to register to vote. The new form would include a new checkbox asking applicants if they do not want to register, but still includes the same voter registration form as before.
Registering to vote online, even through the DMV, requires an applicant to register through the secretary of state's office, which oversees elections in Nevada. Should the measure pass, it would require the DMV and secretary of state's office to develop software to transfer new voter registration data electronically between the two parties.
What have other states done?: Fourteen states and Washington, D.C. have approved automatic voter registration.
Oregon was the first state to adopt the measure in 2015, followed closely by California. Proponents of automatic voter registration have touted a study by the left-leaning Center for American Progress that found nearly 5 percent of all registered voters in Oregon in 2016 were registered through the state's Office of Motor Vehicles, and that overall voter turnout increased about 4 percent.
However, because automatic voter registration is relatively new, there is little data on its effectiveness in either increasing voter registration or increasing overall voter turnout.
Arguments for Question 5: Supporters of Question 5 say it is necessary to make it easier for eligible voters to become registered voters -- in this case through the use of automatic voter registration. They also say the initiative will help modernize voter roll systems, saying new software related to implementation will help cut back on registration errors and streamline the process. (The software will primarily work to send voter registration data electronically from the DMV to the secretary of state, which proponents say will cut down on paperwork errors.)
The measure has also drawn support from the ACLU, which committed $1.5 million this month toward supporting Question 5 and echoing much of the same sentiments supporters gave while IP1 was moving through the Legislature.
"The right to vote is essential for a thriving democracy and it's essential that that right extends to every eligible voter," said ACLU of Nevada Executive Director Tod Story in a statement about the group's support of the measure. "[Automatic Voter Registration] will further secure our voter registration system at the DMV and simplify the registration experience for first-time voters, members of the armed forces, communities of color, young people, and improve participation in our elections."
Arguments against Question 5: Opponents of Question 5 have questioned its necessity, as Nevada already has an opt-in motor voter law in place that, they argue, functions well as-is. They also say replacing the opt-in system with an opt-out would remove agency from individuals who otherwise would have had the choice to decide to register themselves.
In his veto message of Initiative Petition 1, Gov. Brian Sandoval said the measure would "[extinguish] a fundamental, individual choice — the right of eligible voters to decide for themselves whether they desire to apply to register to vote — forfeiting this basic decision to state government."
Sandoval also expressed concerns the measure might increase the likelihood of unqualified individuals registering to vote, a felony punishable by up to $20,000 in fines. Opponents say the problem is compounded by a state law that prohibits DMV workers from discouraging people — even ineligible people — from registering to vote, as well as a disconnect between the requirements for a driver's license and the requirements to vote.
However, driver's authorization cards — which require less proof of identity than a driver's license or identification card and are often used by undocumented immigrants — were not included in the language of IP1.
Primary funders: The Nevada Election Administration Committee has received $742,800 from iVote to support this measure here in Nevada. Nationally, iVotes' top contributors include Democratic super PAC American Bridge 21st Century, family farm advocacy group Farm Aid and the private investment firm Centerbridge Partners, according to Open Secrets.
Some of these groups see Question 5 as a way to secure victories for Democratic candidates, who are most likely to benefit from an increase in overall turnout. The Democratic base is comprised of constituents who are statistically less likely to vote than the Republican base — namely minority voters and young people. Increasing turnout among those groups could be key for Democrats in tight races, such as when strong turnout among Nevada Latinos buoyed Catherine Cortez Masto in her 2016 U.S. Senate race.
Financial impact: The DMV has estimated that implementing the measure could cost anywhere from no money to as much as $4.8 million. Best-case scenario: The DMV works with county clerks and registrars to develop a system to electronically transfer voter registration information collected by the DMV. Worst case scenario: The secretary of state's office would work with the DMV, county clerks and county registrars to develop a statewide voter registration database compliant with the federal Help America Vote Act of 2002. The DMV also estimates that it will need $53,000 for a one-year supply of updated voter registration forms, with half that cost borne by the state highway fund and the other half borne by the state general fund. Counties have also estimated that implementing the measure will cost between $3,000 per county for smaller counties to about $40,000 in Clark County.
Status: Will become law if it passes a statewide vote this year.
The Nevada Independent is raising $200,000 by Dec. 31 to support coverage of the 2024 election.
Tax-deductible donations from readers like you fund this critical work.
If you give today,your donation will be matched dollar-for-dollar.
Give + Get Matched
Featured Videos